Azure DevOps Training in Hyderabad
100% Placement Assistance
OFFER: Pay Once and attend the running batch and an additional batch at Free of Cost.
Azure DevOps Training Batch Details
Azure DevOps Course Curriculum
Key Points Of Azure DevOps Training in Hyderabad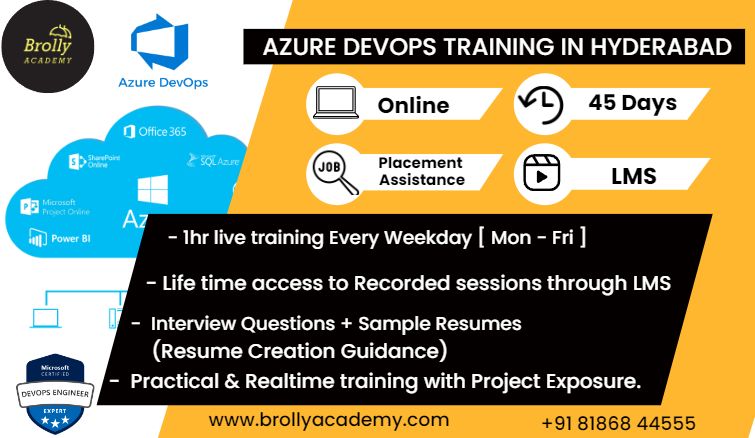 Software as a service (SaaS) platform from Microsoft called Azure DevOps offers a whole DevOps toolchain for creating and deploying software.

In order to enable continuous delivery of value to your end users, DevOps brings people, processes, and products together.

Microsoft Visual Studio Team Services (VSTS) is another name for Azure DevOps.

It also connects with the majority of popular tools on the market, making it a perfect choice for managing a DevOps toolchain.

Everything required to convert an idea into a functional piece of software is provided by Azure DevOps. With Azure tools, a project can be planned.
About Azure DevOps Training In Hyderabad
Azure DevOps is the most advanced solution for continuous integration, delivery, and deployment of software projects. 
It is a powerful cloud-based platform that offers a suite of integrated services for the continuous delivery and deployment of applications.
 It is widely used by companies worldwide and is one of the most popular tools. 
Brolly Academy is one of the best Azure DevOps Training In Hyderabad providing d that is verified by Brolly Academy and comes with global accreditation. 
Whether you're looking to become a certified Azure DevOps Administrator, or you're already an experienced DevOps professional, Brolly Academy can help you achieve your goals. Azure DevOps training in Ameerpet and Azure DevOps training in Kukatpally.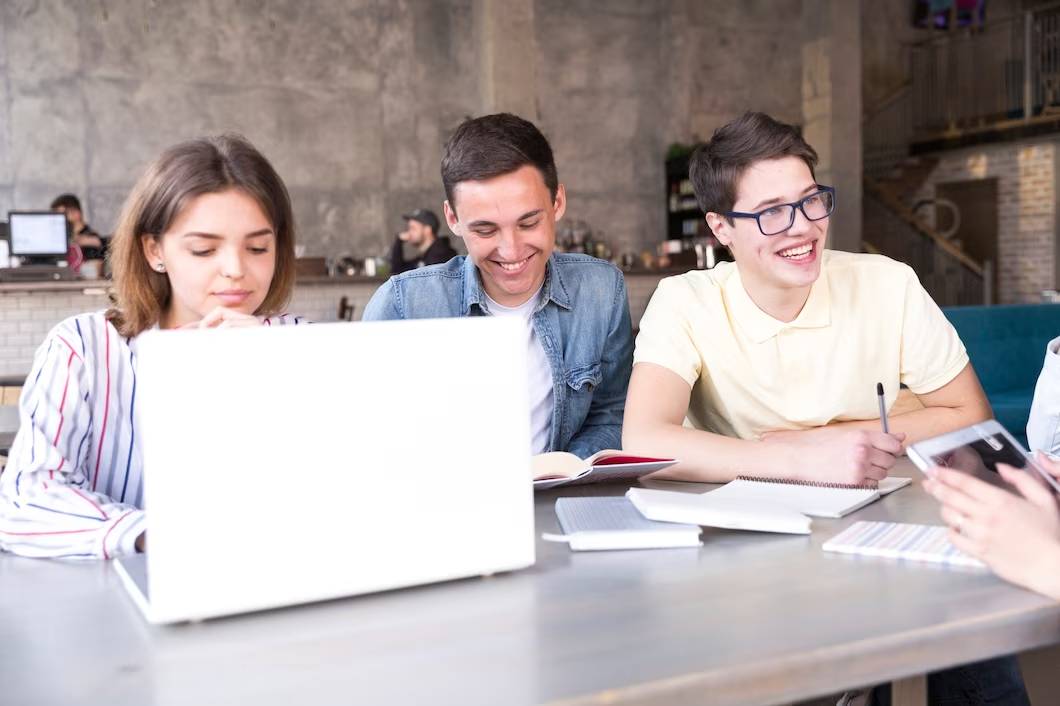 We are known for our excellent approach to tutoring students with an emphasis on practical and technical practical sessions. some of the topics covered in our Azure DevOps course syllabus are –
CI/CD
Code Analysis
Windows Powershell
Azure test plans 
Linux 
My SQL database
We conduct our training both online and offline to cater to every student's requirements with convenient class timings and help them with Azure DevOps Training In Hyderabad and placement. 
We have excellent Azure DevOps trainers who can train you on how to implement a full DevOps pipeline to automate your release and deployment process. 
Our DevOps training is designed to teach you how to work with these tools and techniques to build quality solutions.
You will also be given a course completion certification after the successful training period
Modes of Training For Azure DevOps Training in Hyderabad
Why choose us for Azure DevOps Training?
Market Trend in Azure DevOps
The size of the global DevOps market was evaluated at $6.20 billion in 2020.
DevOps Market size exceeded $7 billion in 2021.
According to the research by 2030, the estimated value will reach up to $55.0 billion.
In order to automate application modernization, 61% of IT and business experts are stepping up their digital transformation activities.
Nearly 30% of the DevOps market share in Germany was recorded by the IT and telecom industry in 2021.
Testimonials of Azure DevOps Training in Hyderabad
Azure DevOps Certification
Azure DevOps certification training program which provides you with a comprehensive understanding of Azure DevOps and how to use it to automate your infrastructure, deployment, and application lifecycle management. 
Brolly Academy offers Azure DevOps Training In Hyderabad and certification for all the participants enrolled in the Azure DevOps course in Hyderabad. 
We provide an in-house Brolly Academy verified course completion certificate that can be issued as a hard copy or in a digital format. 
You will be well accomplished and prepared for the Azure certification exams upon completion of our Azure DevOps Training In Hyderabad.
 We have the best DevOps trainers and experts who will guide you and walk you through the major concepts of the tool. 
This will give you the technical knowledge that can help you during the Microsoft Azure certification exam. 
It has 12 Microsoft Azure certifications with 14 exams. And these certifications are organized into 3 levels.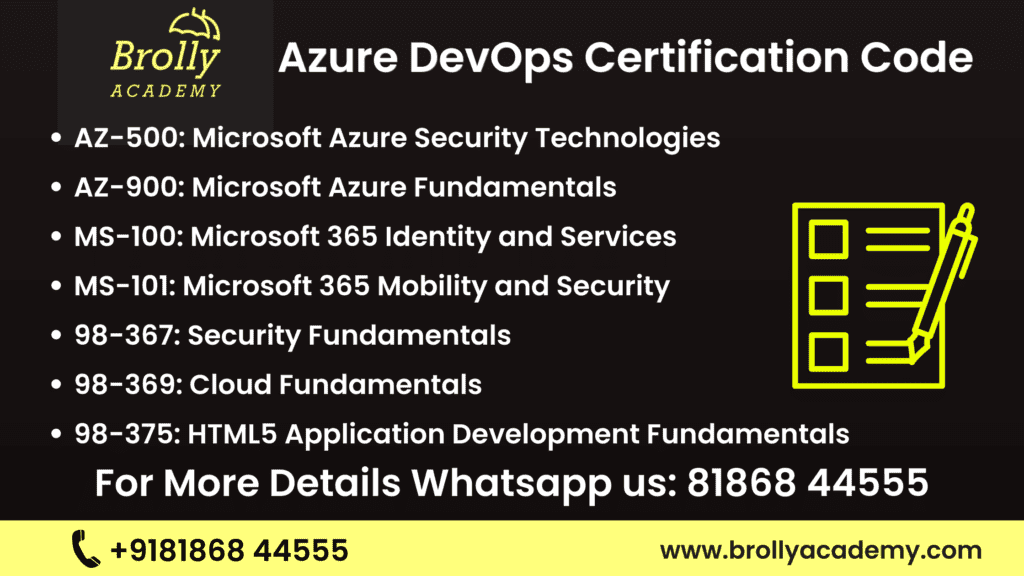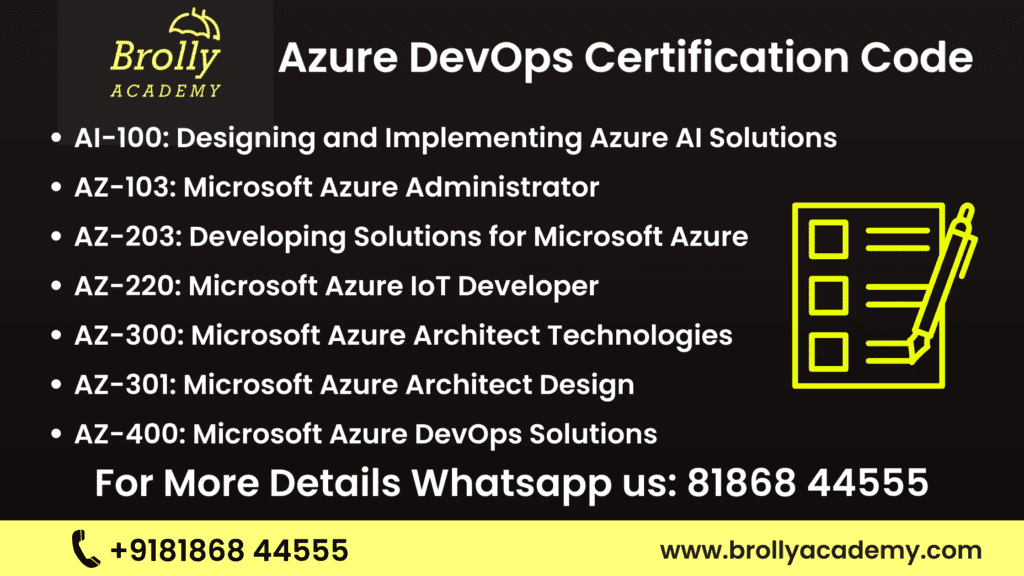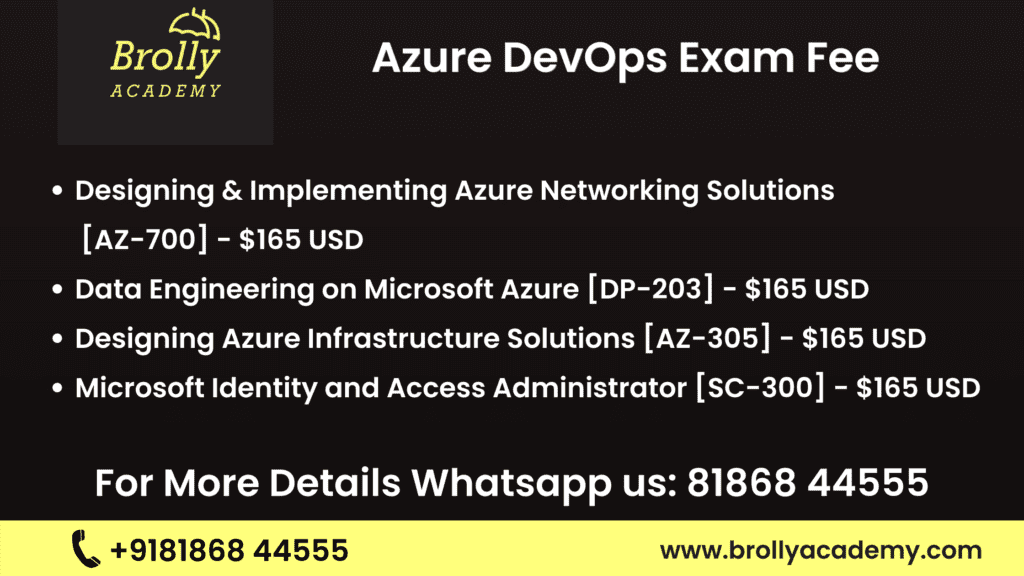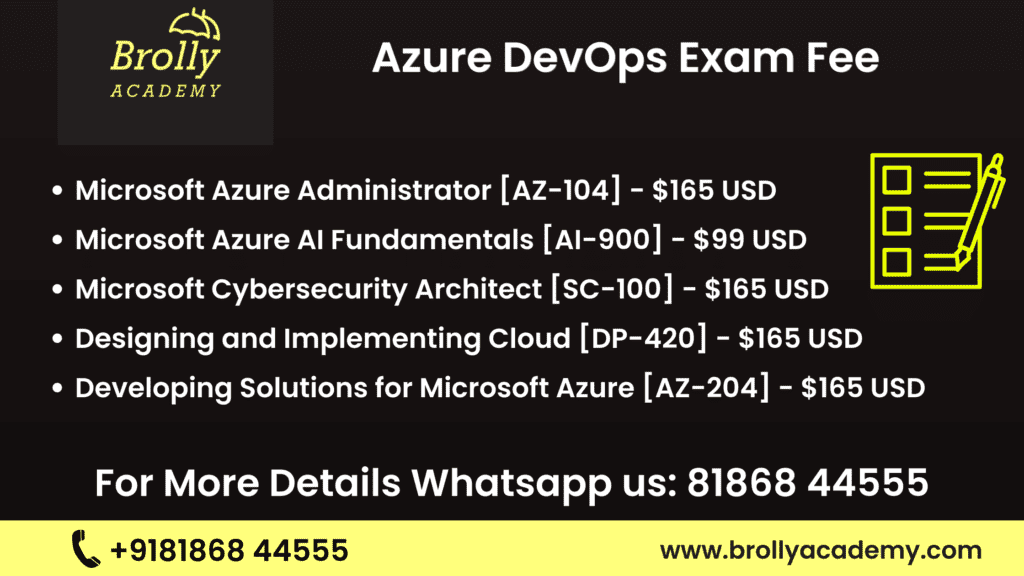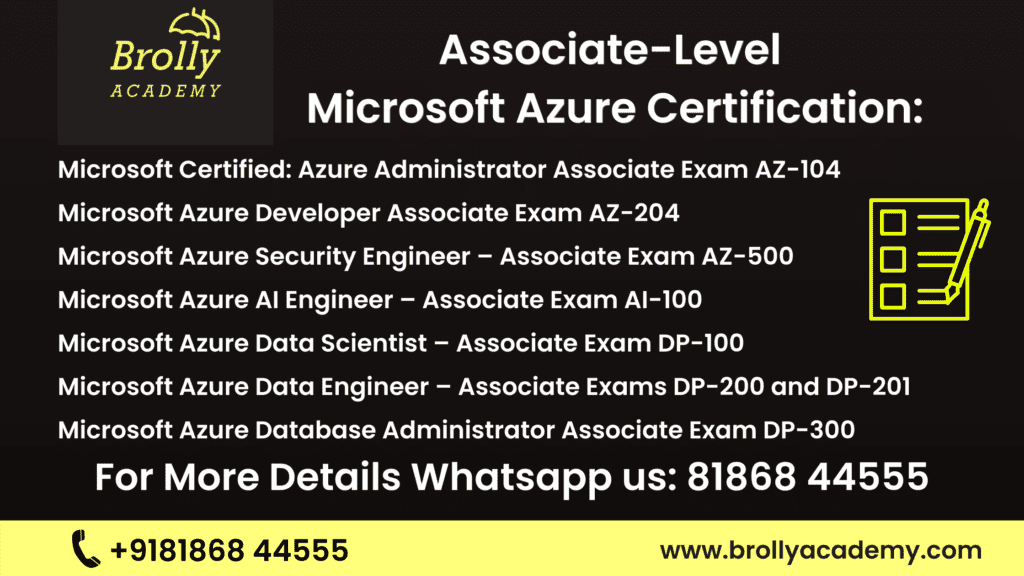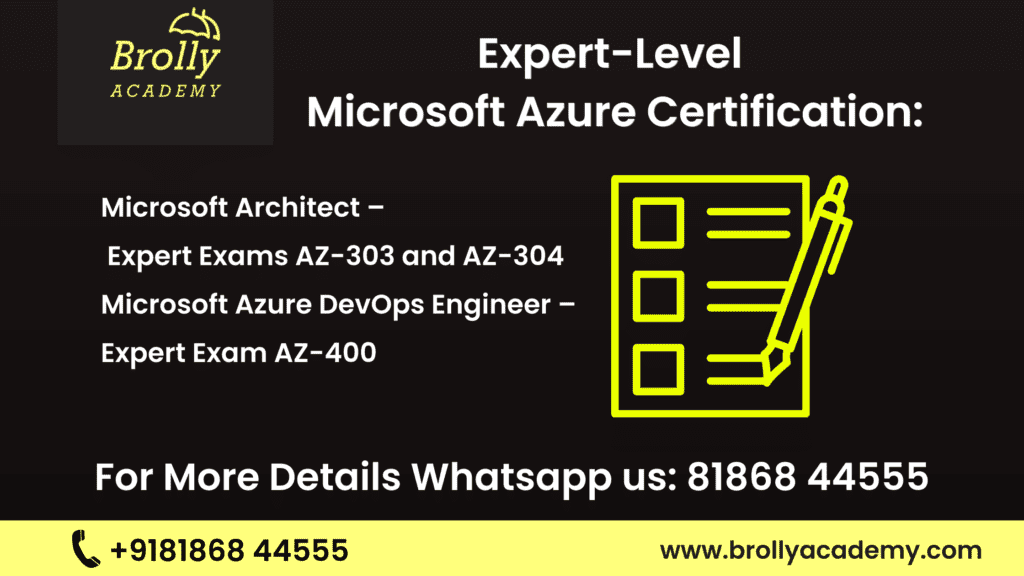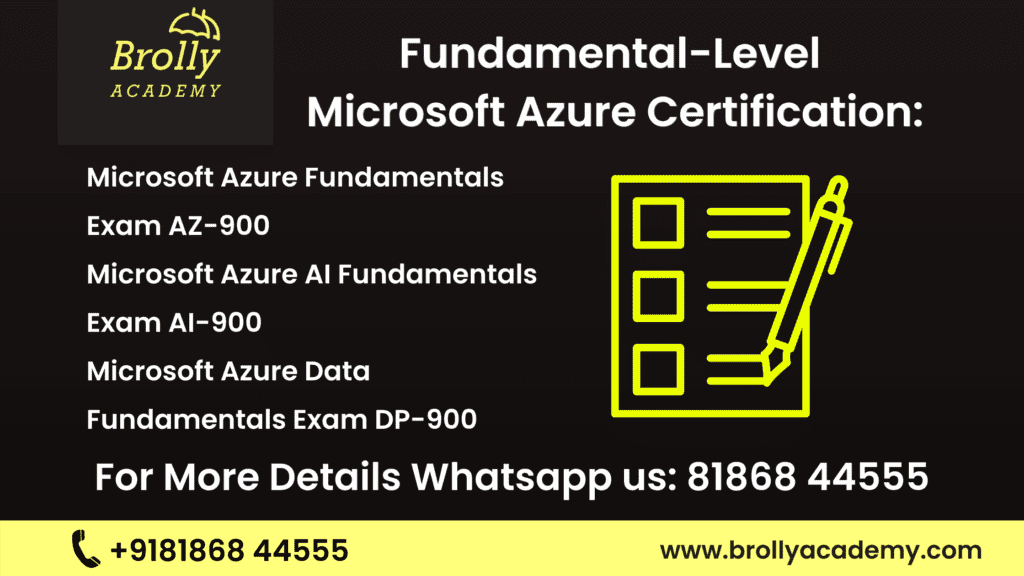 Skills developed Post Azure DevOps training in Hyderabad

You will achieve thorough understanding and cognizance in

Integrating Azure Pipelines

Hands-on Git version controlling knowledge

Surveilling AKS clusters from Azure monitor

Manage project planning and deployment


Infrastructure deployment automation using pipelines

Managing security and compliances with DevOps
Prerequisites of Azure DevOps Training In Hyderabad
In order to pursue Azure DevOps training in Hyderabad, the candidate must meet basic criterion with some of the prerequisites being –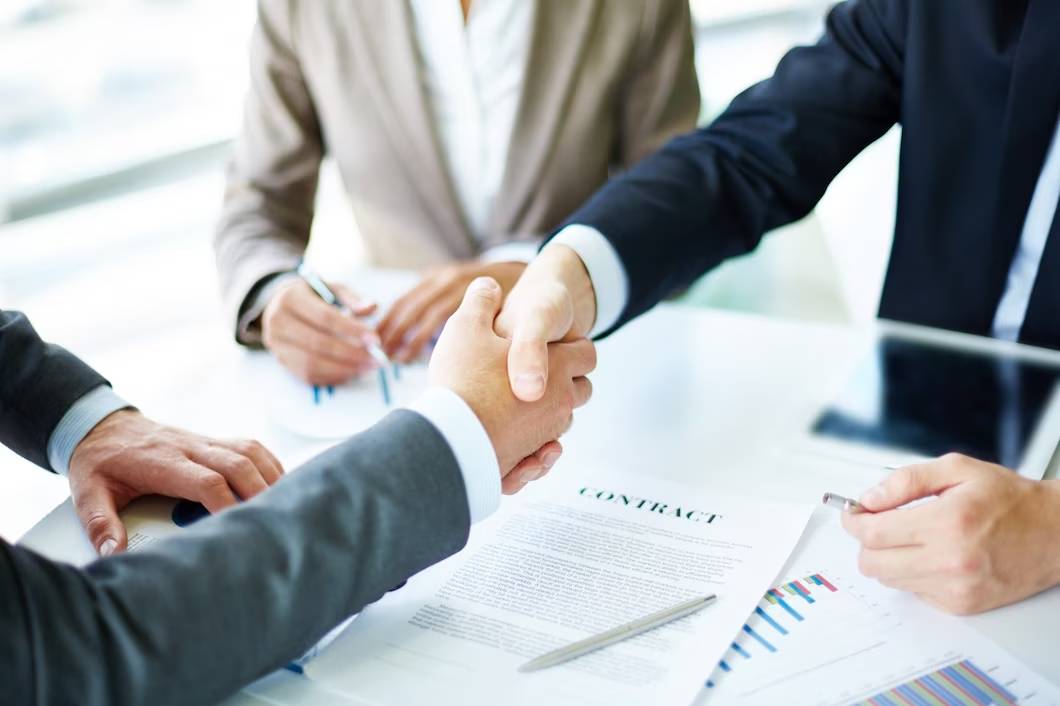 Career Opportunities in Azure DevOps
Microsoft Azure is one of the most powerful cloud services available today.  Microsoft Azure offers a number of career opportunities, from software development to cloud infrastructure to big data analytics.  
Some of the jobs in Azure DevOps are –