Azure DevOps Training in Hyderabad
100% Placement Assistance
Azure DevOps Training in Hyderabad, Ameerpet.
| | |
| --- | --- |
| Trainer Name | Mr. Ramesh Kumar |
| Trainer Experience | 15+ Years |
| Next Batch Date | 14-11-2022 |
| Training Modes: | Online Training (Instructor Led) |
| Course Duration: | 30 Days |
| Call us at: | +91 8186844555 |
| Email Us at: | brollyacademy@gmail.com |
| Demo Class Details: | ENROLL FOR FREE DEMO CLASS |
Key Points Of Azure DevOps Training in Hyderabad
Azure DevOps Course Curriculum
About Azure DevOps Training in Hyderabad
Azure DevOps is the most advanced solution for continuous integration, delivery and deployment of software projects. 
It is a powerful cloud-based platform that offers a suite of integrated services for continuous delivery and deployment of applications.
 It is widely used by companies worldwide and is one of the most popular tools. 
Brolly Academy is one of the best azure devops training institutes in hyderabad providing d that is verified by Brolly Academy and comes with global accreditation. 
Whether you're looking to become a certified Azure Devops Administrator, or you're already an experienced DevOps professional, Brolly Academy can help you achieve your goals.Azure DevOps training in Ameerpet and Azure Devops training in Kukatpally.
We are known for our excellent approach of tutoring students with emphasis on practical and technical practical sessions. some of the topics covered in our azure devops course syllabus are –
CI/CD

Code Analysis

Windows Powershell

Azure test plans 

Linux 

My SQL database
We conduct our training both online and offline to cater every student's requirements with convenient class timings and help them with azure devops training and placement. 
We have excellent Azure Devops trainers who can train you on how to implement a full Devops pipeline to automate your release and deployment process. 
Our Devops training is designed to teach you how to work with these tools and techniques to build quality solutions.
You will also be given a course completion certification after the successful training period
Modes of Training For Azure DevOps Training in Hyderabad
Devops Online Classes

Azure DevOps Online Training is a fully interactive online, instructor-led course that covers all the key concepts and practices needed to get started with Azure DevOps. The Azure DevOps training online will be conducted via e-learning platforms, on weekdays with a one-on-one learning experience wherein you get to interact and clear your queries with our trainer.

Azure DevOps Classroom training

Our Azure Devops offline training will be taken at our classrooms Azure DevOps training in Ameerpet and Azure DevOps training in kphb. It is designed to give a personalized training experience with live practical demonstrations of the tools and software. We provide devops classroom training that teaches you how to build, deploy, and manage cloud-based applications.

Self-paced course

The Azure DevOps video course is a collection of exclusive classroom recordings and assignments. It offers a self-paced learning experience that covers all the core topics of DevOps and is curated in a way that makes learning easy. You can educate yourself from any part of the world at any given time, with access from any device along with weekend doubt clarification sessions.
Why choose us for Azure DevOps Training?
Interactive GDs

We promote an equal learning environment for our students and encourage them to participate in DevOps group discussions where students can exchange their learnings and discuss theories for a shared knowledge.

Certification Prep

Our trainers give you full-fledged training and prepare you for the Azure DevOps certifications. The training is designed to provide the necessary knowledge and skills to pass the exam and is available in both classroom and online modes.

Qualified trainers

We have a team of well experienced Azure DevOps instructors who have vast experience in working with Azure Devops and are well-versed with its concepts. They will guide you through the basics and advanced concepts.

Small training batches

We only take in small batches of 20 students for training. We believe that this approach is far more effective and offers a personalized learning experience. the batches are scheduled at flexible timings on the weekdays

Job-oriented curriculum

The devops course curriculum is designed to be job-oriented with the majority of azure devops course syllabus being focused on topics that are relevant to the needs of development, with a focus on how to implement DevOps practices.

Lifetime access

You can now get premium access to our DevOps study guides, including our customized DevOps material, curated LMS, and 3-days DevOps free demo class, created in collaboration with some of the top experts in DevOps.
Testimonials of Azure DevOps Training in Hyderabad
Azure DevOps Certification
Azure DevOps certification training program which provides you with a comprehensive understanding of Azure DevOps and how to use it to automate your infrastructure, deployment and application lifecycle management. 
Brolly academy offers DevOps training and certification for all the participants enrolled in the Azure DevOps course in Hyderabad. 
We provide an in-house Brolly Academy verified course completion certificate that can be issued as a hard copy or in a digital format. 
You will be well accomplished and prepared for the Azure certification exams upon completion of our Azure DevOps course training.
 We have the best DevOps trainers and experts who will guide you and walk you through the major concepts of the tool. 
This will give you the technical knowledge that can help you during the Microsoft Azure certification exam. 
The  Microsoft Azure DevOps certifications are –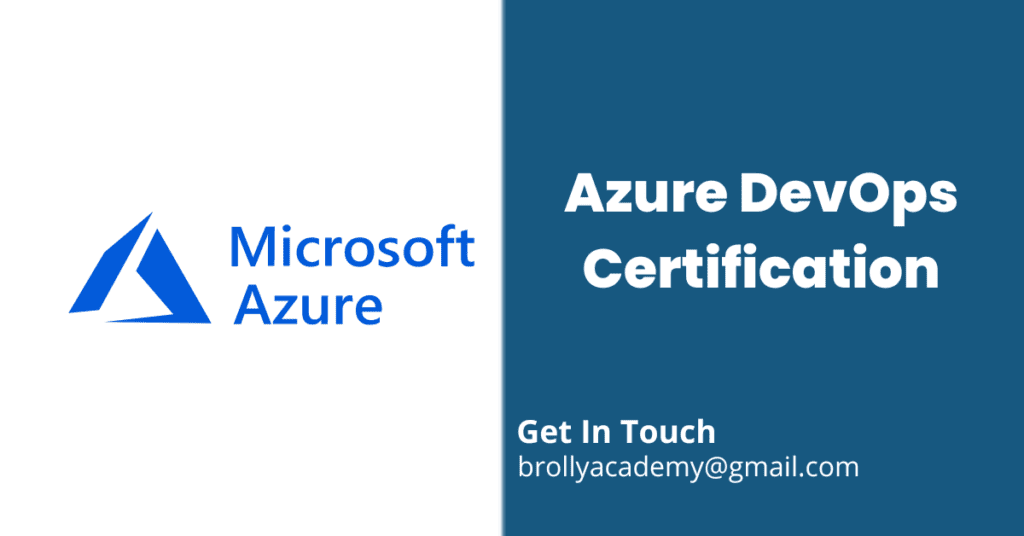 Skills developed Post Azure DevOps training in Hyderabad
Prerequisites of Azure DevOps training course in Hyderabad
In order to pursue Azure DevOps training in Hyderabad, the candidate must meet basic criterion with some of the prerequisites being –
Career Opportunities in Azure DevOps
Microsoft Azure is one of the most powerful cloud services available today.
 Microsoft Azure offers a number of career opportunities, from software development to cloud infrastructure to big data analytics.  
Some of the jobs in Azure DevOps are – 
Is Azure DevOps easy to learn?
Azure DevOps is fairly easy to learn provided you understand the concepts, system architecture, application development and tools involved in the course subject.
Does Azure DevOps require coding?
Yes, Azure DevOps requires coding, programming knowledge and skills.
Why is Azure DevOps used?
Azure DevOps is an open source, cloud-based automation tool that is easy to use. Azure DevOps provides the ability to manage the entire software development life cycle, from planning to deployment.
Azure DevOps vs AWS DevOps which is better?
While both AWS DevOps and Azure DevOps are the top providers, AWS DevOps is much easier to use in comparison with Azure DevOps while Azure DevOps on the other hand, offers a larger variety of integrated services.
How to get Azure DevOps certification?
You will be required to attend and clear the AZ-400 examination and we at Brolly Academy, one of the best azure devops training institutes in hyderabad have experts who can train and prepare you well for the Azure DevOps Certifications.
How to become an Azure DevOps engineer?
You will be required to have thorough knowledge and practice in Linux admin, networking skills with prior work experience along with Microsoft Azure Administrator Associate or Azure Developer Associate certification in-hand to become an Azure DevOps engineer.
What is the Azure DevOps training cost?
We offer affordable Azure DevOps training costs to make it easy for students to enroll with us and learn the course from experienced trainers.
How long does it take to learn Azure DevOps?
Brolly academy is offering a 60- day Azure DevOps course in Hyderabad which will give you an extensive knowledge about the platform
What if I miss a class?
You will be provided with backup classes or you can also attend our next consecutive live sessions with the trainer.
Where are Brolly Academy's training centers located?
Brolly Academy offers Azure DevOps training in Azure DevOps training in Ameerpet and Azure DevOps training in kphb in Hyderabad.