GST Training in Hyderabad
100% Placement Assistance
GST Training in Hyderabad Batch Details
| | |
| --- | --- |
| Course Fee | 20,000 Rs |
| Course Duration | 2 Months |
| Timings | Monday to Friday (Morning to Evening) |
| Next Batch Date | 18-09-2023 AT 11:00AM |
| Training Modes | Classroom [HYDERABAD] / Online |
| Location | Hyderabad |
Key Features Of GST Training
About GST Training in Hyderabad
Goods and Services Tax (GST) is an indirect tax imposed on the supply of goods and services. It is a multi-stage, destination-oriented tax that replaces multiple other taxes like VAT, excise duty or service taxes. GST is a multi-stage tax system that applies to the sale of goods and services throughout India. Its main goal is to curb the cascading effect of other Indirect taxes, by making sure that all parties involved in a transaction pay their fair share.
The GST Training Program was designed by real-world experts and mentors at Brolly Academy to help learners understand the whole GST concepts. Brolly Academy offers GST training courses starting from basic to advanced levels. Our training process help you get a job after the completion of GST training certification provides by expert trainers with real-world GST experience. We have designed our GST course content, syllabus, and teaching methods based on students' requirements to achieve their career goal. 
With this comprehensive GST training course you will learn fundamental skills as well advanced concepts such as – GST, J2EE, Hibernate, Spring, GST Collections, GST Thread, GST Servlet, GST Array, GST OOPs, GST Function, GST Loops, and Web Services etc. Brolly Academy's GST placement program will prepare you for interviews, practice Q&A sessions and develop strategies that make you ready for real-world situations.
 At Brolly Academy, we offer three types of GST training: online training, classroom training and self-paced video training. Our video training includes class recordings as well as study materials and everything students need to learn how to implement the GST technology at their jobs. The Brolly Academy offers a certification course for GST. On completion of this training, you will receive a certificate.
Enroll in Brolly Academy for GST training in Hyderabad and build a lucrative career
Why choose our Brolly Academy Institute?
Brolly Academy is a leading Training institute in Hyderabad, is known for its method of teaching. In Brolly Academy our GST expert trainers have over 15+ years of experience in the GST Industry. Our GST Training course provides you with the skills and expertise in the field. Our GST Course will help you get ready for your mock interviews, resume creation and question-and-answer sessions. Here are some reasons why you should enroll in our GST Training course in Hyderabad:
Tailored Course Curriculum
Brolly Academy's training curriculum is tailored to the latest industry trends. Its expert designers ensure that it meets the highest standards of quality.
Attendees will receive access to the recorded sessions of their instructor-led live classes, which helps them to review and recap concepts. They can also watch missed sessions from anywhere via Brolly's LMS.
Brolly Academy offers a combination of classroom learning, online instructor-led courses, and eLearning that provides its learners with a comprehensive experience.
Once a student completes the training at Brolly Academy, he or she can continue to receive help from instructors through interactive forms like forums and social media platforms.
Brolly Academy offering GST training to students around the world with remote study facilities.
We only accept a small (maximum 10) number of students in one group, so that each one receives the individual attention they deserve.
Brolly Academy trained many students and professionals to find jobs in top companies, where they earn high salaries
Our GST certification will be provided to each student in our institute after the successful completion of the training. With this certificate you have an excellent chance of landing a great job opportunity.
Testimonials of GST Training in Hyderabad
This GST training course is designed for clearing Brolly Academy's GST certification. By enrolling in this GST Training, you will receive access to real-world industry scenarios and projects that are directly tied to your success as an employee. At the end of this GST Training program, there will be quizzes that test your knowledge of core concepts on GST. You can take these quizzes to prepare for your GST certification exams or just to check your understanding the course. Upon the successful completion of the training  Brolly Academy will award you with a GST course completion certificate.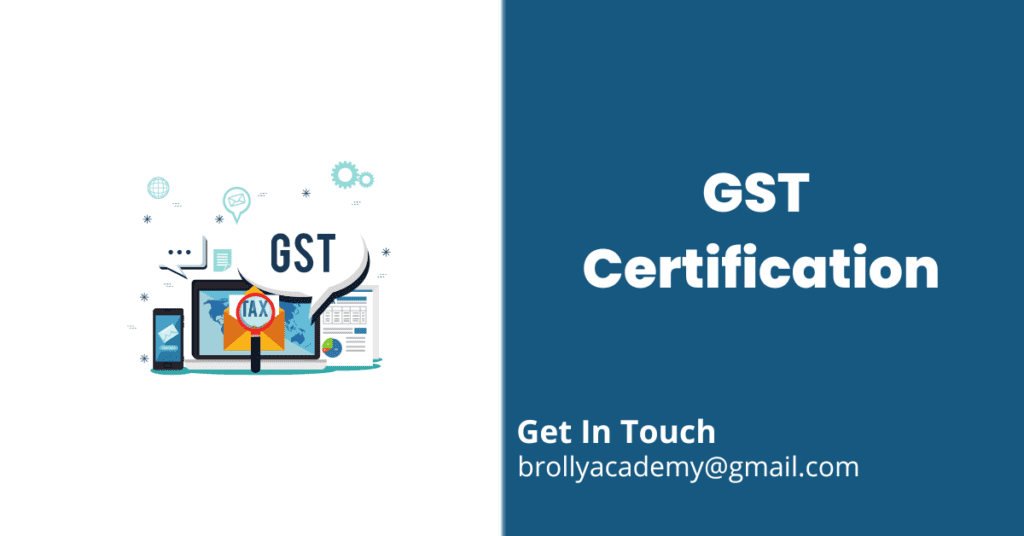 Advantages of Learning GST course
Employment possibilities in GST -
Completion of the GST course you will learn -
Prerequisites to Learn GST
Will I be getting a free demo before enrolling in GST Training?
Brolly Academy offers free, free demo classes on GST to give you a chance to learn about our training program before enrolling.
Will I get placement assistance program in the GST Training Course at Brolly Academy?
We help you prepare for job interviews and assist with writing updated resumes that we send to employers by providing placement assistance.
How much can a GST practitioner earn?
GST Practitioner salary in India ranges between ₹ 0.4 Lakhs to ₹ 5.0 Lakhs with an average annual salary of ₹ 2.4 Lakhs.
Can I learn GST training without having prior experience in programming?
Yes, you don't require prior programming experience for learning GST.
Who can take the GST Training?
● CA aspirants
● CA
● CS
● Tax practitioners
● Accountants
● ICWA
● Students
● Professionals who have to deal with taxation.
What will be the batch size of GST class at Brolly Academy?
Our expert instructors give personal attention to each student. We don't exceed more than 10 people in a batch.
What are the training modes offered by Brolly Academy for this GST Course?
At Brolly Academy, we offer various types of GST training such as classroom instruction, one-on-one tutoring, self-paced video learning and online courses.
What if I miss any GST training class?
Our instructors provide you with recorded copies of each class so that you can listen to them again atyour own.