100% Placement Assistance
Pega Course in Hyderabad - Training Details
| | |
| --- | --- |
| Trainer Name | Mr. Ganesh P |
| Trainers Experience | 8 Years |
| Course Duration | 2 Months |
| Timings | Monday to Friday |
| Next Batch Date | 20th Aug 2022 @ 11:00AM IST |
| Training Modes | Online & Classroom (hyderabad) |
| Location | Hyderabad |
Key Points Of Pega Course in Hyderabad (Online training)
Pega Online Course Curriculum
About Pega course in Hyderabad
Pega is one of the most widely used and robust (Business Process Management) BPM tools created and developed using Java concepts. Pega increases the work quality and performs better than Java based applications with an economical pricing and faster efficiency.
Brolly Academy offers the best Pega training in Hyderabad with an all-inclusive program. The training will scan topics including sample Pega application creation, ruleset management, data modeling, decision rules, chaining, PRPC Database concepts, data transformation and more.
We use practical in-house projects to train the students, imparting both theory and technical knowledge of the course subjects. The Pega training course will also train you in debugging tools, PEGA guardrails, performance tools, portal delegation, rule delegation, deployment and packaging and integration.
Brolly academy offers a wide range of courses that are both IT and software course training in Hyderabad with each customized curriculum and course information. A personalized certification will be rewarded to the students that is completely valid and accepted by all the companies.
This Pega certification will only be given on the successful completion of the course. The trainers will carefully access the students and their capabilities to track and keep tabs on the student performance throughout the training period.
The pega certificate can be included in your CV and resume to upskill your skillset and job opportunities. The pega course offered by us is perfect for both beginners and professionals who wish to expand their skills and certifications.
Real-time projects and case studies will be assigned to the students to implement theoretical teachings that can greatly impact their learning capacity and technical expertise.
Brolly academy offers pega online training in Hyderabad, pega classroom training in Hyderabad and pega self-paced video course, each with customisations that improve and upgrade the students. We have a dedicated team of Pega trainers with industrial experience in training students and professionals across the city.
We offer top notch Pega training in Hyderabad with assured placement assistance.
Enroll with Brolly Academy for the best Pega Training in Hyderabad.
Modes of Training - Pega Course
Why choose us for Pega Training?
We conduct our training with not more than 10 students per batch to pay individual and dedicated attention towards each enrolled candidate, ensuring equal distribution of knowledge and curriculum.
Brolly Academy is led by a team of highly competent and well-experienced Pega trainers with a minimum of 8+ years of qualified working experience to guide and train the students in the field.
Students will be given an opportunity to work and assist on real time Pega projects to enhance and improve their practical exposure in the field. 
We have a committed group who are available to  address the student's needs and queries regarding the course.
You will be given a certified Pega course certification on the successful completion of the course with lifetime validity and global acceptance.
Free LMS + study materials
As a part of our Pega training in Hyderabad, you will be given access to exclusive LMS and study guides with lifetime availability.
We comply with our students and schedule our classes at flexible timings that align with working professionals as well as students.
We have trained an impressive number of 60+ students with 25+ top Pega placements in Hyderabad within the span of 7 months. 
Reviews from our old students - pega course
You will be given a certified Pega certification on the successful completion of the Pega training in Hyderabad. The certificate can be downloaded as a hard copy or a digital form depending on your desirability and requirement. The Pega certificate offered by Brolly Academy can be linked to your CV or resume for better enriching work opportunities.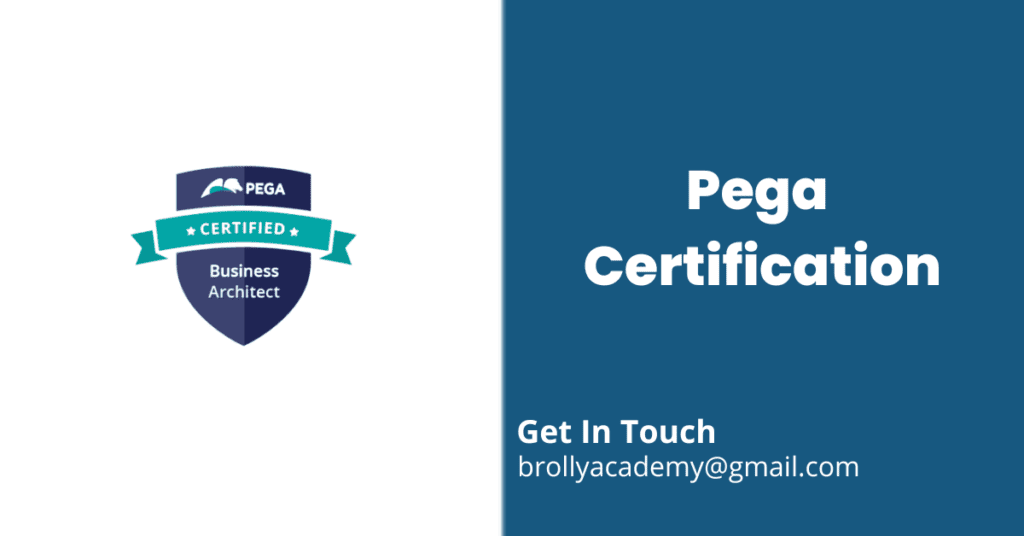 Advantages of learning Pega
Brolly academy offers one of the best Pega training in Hyderabad with a well-developed and sorted curriculum to enhance the student knowledge with adaptive and effective Pega technical training assistance that will enforce a valuable career for the students and developmental range in the field.
Skills developed after the Pega course training
Prerequisites of Pega BPM training course in Hyderabad
There are not many required skills and set prerequisites for learning Pega, some of the required skills include  –
Career Opportunities in Pega
Which is the best Pega training institute in Hyderabad?
Brolly Academy offers the best technical Pega training in Hyderabad with advanced curriculum and expert trainers.
What is the Pega training fee in Hyderabad?
The pega training fee in Hyderabad depends on the type of training institute and the features offered by them. The Pega training cost could vary with every training institute.
What is the average salary of a Pega developer in Hyderabad?
The average salary of a pega developer in hyderabad is ₨ 6,65,726 per year.
Where can I find Pega training near me?
We offer Pega training in Kphb and Pega training in Ameerpet, you can visit us or get in touch with us for further queries.
What if I miss a class?
If you happen to miss a class, we can always arrange for backup classes or you can even attend the next consecutive training session taken by our trainers.
Do you provide placement assistance?
Yes, of course. We offer Pega placement assistance in Hyderabad to help students channelize their skills and knowledge in the right direction.
Who are the trainers at Pega training in Hyderabad?
We have highly experienced Pega trainers with professional expertise and knowledge lasting for almost 8 years to conduct and supervise the Pega training in Hyderabad at Brolly Academy.