iOS Training in Hyderabad
100% Placement Assistance
iOS Training in Hyderabad Batch Details
Key Features Of iOS Training
About iOS Training in Hyderabad
iPhone Operating System (iOS) is a mobile operating system developed by Apple Inc.
 It runs on the iPhone, iPad, and iPod Touch devices manufactured by Apple. 
It is a powerful, efficient operating system that provides business professionals with the tools they need to succeed.
iOS apps are programmed in Objective-C or Swift while Macs run OS X Yosemite which combines elements of Unix with an interface similar to that found on iPhones and iPads. 
iOS uses a graphical user interface (GUI) and the GUI was designed to use touchscreen input rather than legacy keyboard and mouse input. 
Mobile devices, due to their popularity and more widespread use, are making operating systems like iOS differentiate themselves from other operating systems by providing stronger security for user data. 
iOS's app sandboxing keeps other apps from tampering with the process and scans your applications in the background, keeping them virus-free. 
Brolly Academy offers advanced iOS training in Hyderabad from expert trainers who use case studies and projects to help our students better understand the core concepts of iOS technology. 
Our iOS lessons are designed to be more practical and include real-world projects, helping you secure a job at a high-salary company in iOS technology quickly! 
We offer iOS training in two different modes: online iOS training led by expert trainers, and self-paced recorded iOS lectures.
In this iOS course, our most comprehensive offering you'll learn how applications work by building them yourself, make a complete self-contained app, make apps for multiple devices etc. some of the topics covered in our iOS course syllabus are – 
Design Patterns

Understand UI Design

Network Communication

Language Programming etc.
We will also provide you with an iOS Certification Training completion certificate upon completing the course. 
This iOS certification denotes your expertise in using iOS Basics to develop advance level of training in iOS technology, and it will help to launch a successful career as a skilled mobile app developer. 
Besides offering high-quality iOS training, Brolly Academy's job placement assistance program helps our trainees find work soon after finishing the course. 
This iOS placement program by us will assist them with mock Interview preparation, Resume making guidance, Interview Q&A preparation etc…
Enroll in our iOS Training in Hyderabad at our Brolly Academy and get a chance to make a lucrative career in the IT sector.
iOS Online Training

Our iOS online training is available to anyone who wants to gain in-depth knowledge of iOS technology and became an iOS expert. Our expert trainers will guide you through the entire process, to Learn the trending updates and Microcontrollers, Ethernet, Arduino IDE, Nano, Node MCU, Sensors, Relays, Displays, Keypads and more in this iOS training program. You can access our online training program through e-learning platforms anywhere around the world.
iOS Self Paced Video course

Our recorded video courses are perfect for learning iOS Program and gain maximum knowledge with the support of our highly-skilled training team. They're taught by industry experts, and you can watch them as many times as necessary in order to understand the technology completely. You will get experience with hands-on live projects and working with iOS products, PCB designing using Fritzing, Persisting Data, Program Triggers, and connecting to cloud iOS Platforms. Instead of a traditional approach to learning, take advantage of the latest technology in order to better grasp material and perform at a higher level.
Why choose Brolly Academy for iOS Training?
Expert level Training

Get trained by industry experts on the latest advancements in app development for Android and iOS operating systems. Our expert faculties have years of experience in handling and completing the real-world IT and app projects successfully and have a deep understanding of iOS application architecture.
Theory and Practical based learning

With our practical learning approaches instead of traditional learning, we will help you grasp more knowledge in the iOS program, which will enable you to perform better. Our updated technologies are used to teach you in a more effective and understandable manner. We will provide you with real-time projects and assignments specially designed by industry experts, and this will help you gain high-level knowledge at every step of your learning.
Learning Flexibility

We offer both online and self-paced video training to students, as per their desire and request. We have our own world-class online education portal and also use e-learning platforms (Zoom and Google Meet) for online training purposes. Our self-paced learning environment is ideal for professionals who have limited time and would like to learn new skills or update their knowledge in their spare time.
iOS Certification

You will be provided with an iOS training course compilation certificate after immediate completion of the training program. Our trainers will give you full-fledged training and prepare you to clear the certification in iOS. This course compilation certificate will be available in both online and video learning modes. We provide an in-house Brolly Academy verified course completion certificate that can be issued as a hard copy or in a digital format.
Placement Assurance

We have a complete iOS training system at Brolly Academy that provides post training assistance to the students. We specialize in helping people get the right job and internship through our assistance by fully preparing them for real-time interviews. We are a one-stop shop for all your professional career needs, From resume preparation to mock interviews, we provide you with everything you need to achive your goal.
Code reviews/guidance by Professionals

We trained our students to learn the concepts from scratch through step-by-step guidance on tools and techniques. This will help them learn theory backed up by practical case studies, exercises, and coding practise that can be effectively applied in the real world. They will also get the benefits of personalized one-to-one sessions with our professional developers to get reviews and feedback on their final projects
Testimonials of iOS Training in Hyderabad
Certification in iOS Training
Brolly Academy's iOS Certificate Training was developed by real-time expert tutors based on scenario-based concepts and real-world practices, which is very effective. 
We facilitate the option of getting the certificate in a digital format or as a hard copy based on your personal requirements. 
Our certification is recognized by companies around the world, and this iOS development certification will greatly enhance the value of your resume and will bring you a better salary and promotions. 
With our certificate in hand, You can greatly impact your career prospects in the field of iOS technology. 
Note – There is no official certification for iOS.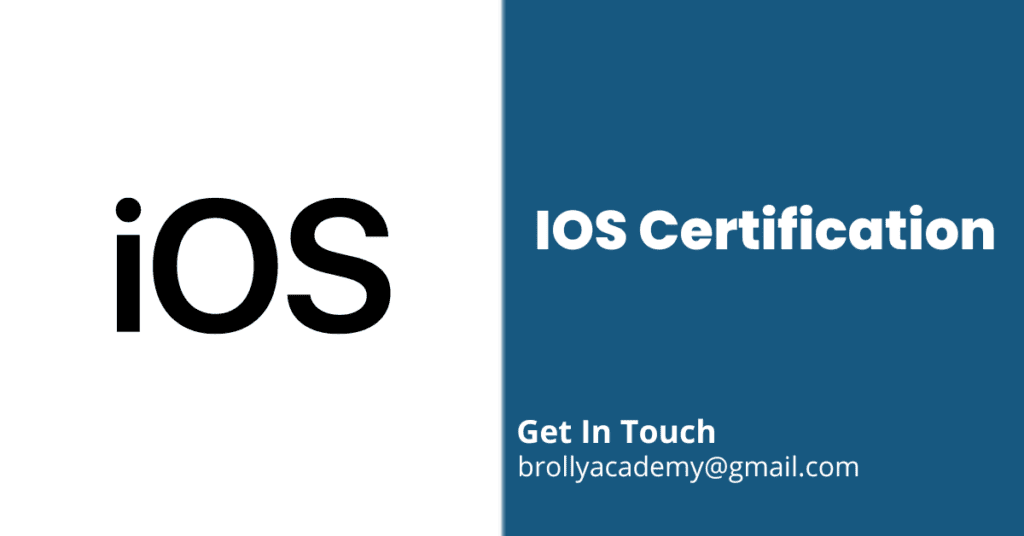 Advantages of this iOS course
Prerequisites to Learn iOS
Why learn iOS development?
By mastering the iOS development course you will be able to use problem-solving skills on a daily basis, and also know how you tackle issues, even in what you develop in the first place, especially if you develop your own personal apps.
The iOS Platform is Growing Rapidly and the growth will be driven by the increasing demand for high-quality apps from consumers all over the world.
You can take advantage of this growing market and create innovative apps that meet the needs of consumers worldwide by becoming an iOS developer.
What is the iOS course?
The iOS course will give you the detailed process of the app development using Xcode and Swift. It will also provides deep knowledge on the core functionality of iOS, iOS architecture, Objective-C, Core Data, testing, with real-time use cases and projects.
ios course full form?
The iOS course full form is iPhone Operating System.
Which programming languages are used to develop iOS apps?
iOS app developers use objective-C and Swift programming languages to develop iOS apps.
Mention the name of the current generation of iOS?
The latest version of iOS, as well as iPadOS, is 15.3. 1.
Is iOS apps performance oriented?
Yes, all iOS apps are performance-oriented, because of the ability of iOS apps to come with tight integration capabilities.
Is it possible to run iOS apps on a PC running Windows OS?
Yes, we can run iOS apps (and games) on PCs running Windows 10 (and above) operating systems by using Air iPhone Emulator.
How much does an iOS developer earn in India?
In India, you can earn INR 33,300 – INR 51,500 per month on average.
What skill set required for a iOS Developer?
The iOS developer general skill set required such as: ● Xcode IDE knowledge. ● Able to use the programming language Swift or Objective-C. ● Cocoa Touch and UIKit experience in APIs; RESTful APIs comprehension. ● Knowledge of Apple Human Interface Guidelines and UI and UX design standards.
What are the major frameworks in iOS?
There are some major frameworks in iOS such as: ● VideoToolbox framework ● AV Foundation framework ● Safari Services framework. ● Social Framework ● Multifunctional Connectivity Framework
How much is course Fees?
Please contact us to get the best discounted course fees on iOS training at Brolly Academy.
Who are the trainers at Brolly Academy for iOS Training?
Our dedicated and experienced faculty members at our Brolly Academy provide students with personal attention as well as real-world insight into the iOS technology.
What is the duration of this iOS training at Brolly Academy?
The iOS course duration is depending on the choice of course and mode, durations vary as per the course curriculum.
Will I get placement assistance after the compilation of this iOS Training at your Brolly Academy?
Yes, our placement assistance team helps our candidates prepare for interviews and create resumes. This service is available to all students who complete our iOS Training certification program.
What if I miss any classes on the iOS Course?
If you have difficulty finding time to attend our regular iOS classes, we will be happy to schedule a special session for you.