iOS Training in Hyderabad
100% Placement Assistance
iOS Training in Hyderabad Batch Details
| | |
| --- | --- |
| Course Fee | 20,000 Rs |
| Course Duration | 2 Months |
| Timings | Monday to Friday (Morning to Evening) |
| Next Batch Date | 7th Feb 2022 AT 11:00AM |
| Training Modes | Classroom [HYDERABAD] / Online |
| Location | Hyderabad |
Key Features Of iOS Training
About iOS Training in Hyderabad
iPhone Operating System (iOS) is a mobile operating system developed by Apple Inc. It runs on the iPhone, iPad, and iPod Touch devices manufactured by Apple. iOS apps are programmed in Objective-C or Swift while Macs run OS X Yosemite which combines elements of Unix with an interface similar to that found on iPhones and iPads. iOS is a mobile operating system that uses a graphical user interface (GUI). The GUI was designed to use touchscreen input rather than legacy keyboard and mouse input. Mobile devices, due to their popularity and more widespread use, are making operating systems like iOS differentiate themselves from other operating systems by providing stronger security for user data. iOS's app sandboxing keeps other apps from tampering with the process and scans your applications in the background, keeping them virus-free. iOS is a powerful, efficient operating system that provides business professionals with the tools they need to succeed.
Brolly Academy offers advanced iOS training in Hyderabad from expert trainers who use case studies and projects to help you better understand the core concepts of iOS technology. Brolly Academy will also provide you with an iOS Certification Training completion certificate upon completing the course. This iOS certification denotes your expertise in using iOS Basics to develop advance level of training in iOS technology, and it will help to launch a successful career as a skilled mobile app developer. We provide the best iOS training in Hyderabad with the guidance of our experienced trainers. Our iOS lessons are designed to be more practical and include real-world projects, helping you secure a job at a high-salary company in iOS technology quickly! At Brolly Academy, we offer iOS training in three different modes: live iOS classroom sessions led by expert trainers, online iOS courses and self-paced recorded iOS lectures. In this iOS course, our most comprehensive offering you'll learn how applications work by building them yourself. Besides offering high-quality iOS training, Brolly Academy's job placement assistance program helps our trainees find work soon after finishing the course. This iOS placement program by Brolly Academy will assist you with mock Interview preparation, Resume making guidance, Interview Q&A preparation etc…
Enroll in our iOS Training course in Hyderabad at our Brolly Academy and get a chance to make a lucrative career in the IT sector.
Why choose our Brolly Academy Institute for iOS Training?
Brolly Academy's iOS training methods have been recognized as being among the best in Hyderabad. Our expert iOS trainers have over 9+ years of experience in the industry and can prepare you for your future career. Our training is designed for professionals who want a jump start on their IT careers. Our iOS Training course will give you in-depth knowledge of the subject, making it easier for your resume to stand out when compared with other job applicants. Our iOS training course will help you get the best possible preparation for your mock interviews, resume creation, and question-and-answer sessions. Here are some reasons why participation in our iOS training program is crucial:
Industry experts will share their expertise and teach you the latest knowledge in iOS development. You'll learn what it takes to build an app live, from start to finish!
Our trainers are real-time experts who have trained thousands of students, professionals and corporations. To develop your skills and knowledge, they will give you assignments to work on each day. Focus on the topics where you need more practice.
We offer classes throughout the day at scheduled times. Sign up for one as soon as you're ready to begin.
Course Completion Support
We at Brolly Academy are passionate about helping our students build confidence, self-esteem and independence. We provide dedicated support so that no one faces hurdles in pursuing their education, regardless of any challenges they may face. With the help of our team, each student is able to meet their own goals no matter if they are large or small.
Upon completion of our iOS certification course in Hyderabad, students will be able to use the software program proficiently. You will be provided with an iOS Training Certificate after immediate completion of the training program.
Study materials and access to an online learning management system will be made available throughout your studies, as well as after the course is completed. You can just revise the concepts and basics by accessing Live classes and presentations present online whenever you need or struck somewhere.
Our placement team finds jobs for you based on your skills and experience, negotiates a fair salary with the employer that is consistent with what other candidates are earning in similar positions. In addition, our HR professionals coach you how to give interviews well.
Market Awareness though Learning
We teach you not only the technical aspects of your profession but also how to learn and apply market strategies.
Testimonials of iOS Training in Hyderabad
Certification in iOS Training
Brolly Academy's iOS Certificate Training, developed by real-time expert tutors based on scenario-based concepts and real-world practices, is very effective. Our certification is recognized by companies around the world, and this certification will greatly enhance the value of your resume. With our certificate in hand, you can apply for a leading job post and we guarantee that only those who have successfully completed our training program will receive one!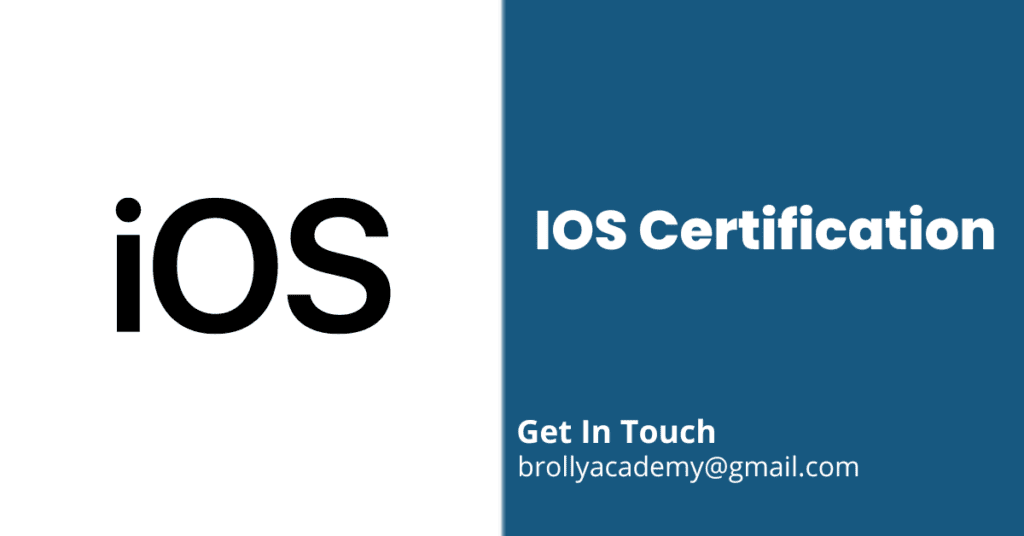 Advantages of this iOS course
Prerequisites to Learn iOS
Who Is The Target Audience?
Business and non-technical people who want to learn the basics of iPhone app development. This is a step by step beginners course for aspiring developers and people who are new to iOS development, including: ● Product Managers ● Designers ● Marketers ● Aspiring Developers ● Startup Founders
How much is course Fees?
Please contact us to get the best discounted course fees on iOS training at Brolly Academy.
What Software and System required to learn iOS?
You do not required any software to learn iOS and for system you required 1GB RAM or higher.
Who are the trainers at Brolly Academy for iOS Training?
Our dedicated and experienced faculty members at our Brolly Academy provide students with personal attention as well as real-world insight into the iOS technology.
What is the duration of this iOS training at Brolly Academy?
The iOS course duration is depending on the choice of course and mode, durations vary as per the course curriculum.
Will I get placement assistance after the compilation of this iOS Training at your Brolly Academy?
Yes, our placement assistance team helps our candidates prepare for interviews and create resumes. This service is available to all students who complete our iOS Training certification program.
What if I miss any classes on the iOS Course?
If you have difficulty finding time to attend our regular iOS classes, we will be happy to schedule a special session for you.
What skill set required for a iOS Developer?
The iOS developer general skill set required such as: ● Xcode IDE knowledge. ● Able to use the programming language Swift or Objective-C. ● Cocoa Touch and UIKit experience in APIs; RESTful APIs comprehension. ● Knowledge of Apple Human Interface Guidelines and UI and UX design standards.
What are the major frameworks in iOS?
There are some major frameworks in iOS such as: ● VideoToolbox framework ● AV Foundation framework ● Safari Services framework. ● Social Framework ● Multifunctional Connectivity Framework
What skills that you'll gain after the completion of the course?
You will gain the following skills : ● Creating simple Swift Projects ● Make iOS Applications that run on multiple devices ● Best practices while making iOS Apps ● Writing Programs in Swift