Oracle Apps HRM Training in Hyderabad
100% Placement Assistance
Oracle Apps HRM Training in Hyderabad Batch Details
| | |
| --- | --- |
| Trainer Name | Mr. Srinivas Chinta |
| Trainer Experience | 7+ Years |
| Next Batch Date | 19-04-2023 |
| Training Modes: | Online Training (Instructor Led) |
| Course Duration: | 30 Days |
| Call us at: | +91 81868 44555 |
| Email Us at: | brollyacademy@gmail.com |
| Demo Class Details: | ENROLL FOR A FREE DEMO CLASS |
Key Features Of Oracle Apps HRM Training
Oracle Apps HRM Course Curriculum
About Oracle Apps HRM Training in Hyderabad
Oracle Human Resources Management System (HRMS) is a core component of the Oracle E-Business Suite. HRMS is an integrated suite of applications that supports all aspects from hiring to retirement of human resources management within your organization's business processes. Oracle HRMS applications are designed to meet the needs of a global workforce. For example, HRMS allows you to manage information in multiple languages by supporting various date formats and national identifiers.
Brolly Academy offers advanced Oracle Apps HRM training in Hyderabad from expert trainers who use case studies and projects to help you better understand the core concepts of Oracle Apps HRM technology. We at Brolly Academy helps students to clear the Oracle Apps HRM certification exams. Our course covers all the key concepts such as key fundamentals of oracle HRMS, flexfields, core HR, payroll, SSHR and Irecruitment, etc. During the training period, you can get full support and real-time project assistance from experienced professionals. You will get an Oracle Apps HRM Certification Training completion certificate upon completing the course at Brolly Academy. This Oracle Apps HRM certification denotes your expertise in using Oracle Apps HRM Basics to develop an advanced level of training in Oracle Apps HRM technology, and it will help to launch a successful career as a skilled Oracle app developer. We provide the best Oracle Apps HRM training in Hyderabad with the guidance of our experienced trainers. Our Oracle Apps HRM lessons are designed as real-world projects, helping you secure employment at a high-salary company quickly. At Brolly Academy, we offer Oracle Apps HRM training in three different modes: live Oracle Apps HRM classroom sessions led by expert trainers, online Oracle Apps HRM courses and self-paced recorded Oracle Apps HRM lectures. In this Oracle Apps HRM course, our most comprehensive offering you'll learn how applications work by building them yourself. Besides offering high-quality Oracle Apps HRM training, Brolly Academy's job placement assistance program helps our trainees find work soon after finishing the course. This Oracle Apps HRM placem­ent program will assist you with mock Interview preparation, Resume making guidance and Interview Q&A preparation.
Enroll in our Oracle Apps HRM Training course in Hyderabad at our Brolly Academy and get a chance to make a lucrative career in the IT sector.
Modes of Oracle Apps HRM Training
Why choose our Brolly Academy Institute for Oracle Apps HRM Training?
Brolly Academy's Oracle Apps HRM training methods have been recognized as being among the best in Hyderabad. Our expert Oracle Apps HRM trainers have over 15+ years of experience in the industry and can prepare you for your future career. Our Oracle Apps HRM Training course will give you in-depth knowledge of the subject, making it easier for your resume to stand out when compared with other job applicants. With our Oracle Apps HRM training placement assistance program course will help you get the best possible preparation for your mock interviews, resume creation, and question-and-answer sessions for your interview. Here are some reasons why participation in our Oracle Apps HRM training program is crucial:
Industry experts will share their expertise and teach you the latest knowledge in Oracle Apps development. You'll take an immersive, hands-on approach to learning about how to build a database from scratch
Our professional trainers have trained thousands of students and professionals, and they will give you assignments to work on each day. They'll focus on the topics where you need practice.
We provide all are candidates training guidance even after completion the course, they will get help with interview preparation, resume making, Q&A Sessions and many more. 
We conduct small group to provide dedicated support so that no one faces hurdles in pursuing their education, regardless of any challenges they may face. With the help of our team, each student is able to meet their own goals no matter if they are large or small.
Get Oracle Apps HRM Certificate
After completion of our Oracle Apps HRM certification course in Hyderabad, students will be able to use the Oracle Apps HRM program proficiently. You will be provided with an Oracle Apps HRM Training Certificate after immediate completion of the training program.
Study materials and access to an online learning management system will be made available throughout your studies, as well as after the course is completed. You can just revise the concepts and basics by accessing Live classes and presentations present online whenever you need or struck somewhere.
Our placement team finds jobs for you based on your skills and experience, negotiates a fair salary with the employer that is consistent with what other candidates are earning in similar positions. In addition, our HR professionals coach you how to give interviews well.
Testimonials of Oracle Apps HRM Training in Hyderabad
Certification in Oracle Apps HRM Training
Brolly Academy's Oracle Apps HRM Certificate Training, developed by real-time expert tutors based on scenario-based concepts and real-world practices, is very effective. Our certification is recognized by companies around the world, and this certification will greatly enhance the value of your resume. With our certificate in hand, you can apply for a leading job post and we guarantee that only those who have successfully completed our training program will receive one!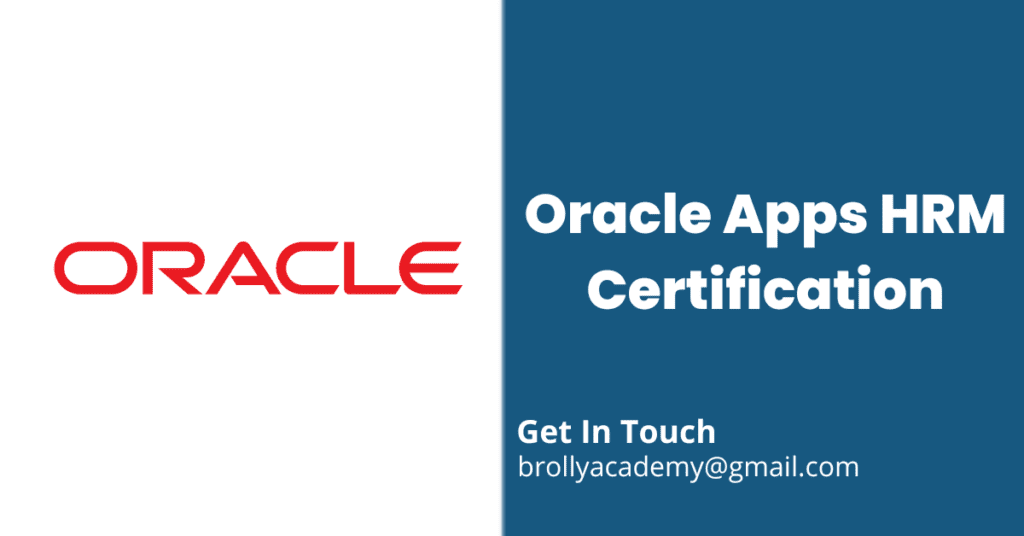 Advantages of this Oracle Apps HRM course
Job Roles in Oracle Apps HRM
Objective of Oracle Apps HRM course:
Prerequisites to Learn Oracle Apps HRM
The Prerequisite of Oracle APPS Technical HRMS are:
Is Oracle Apps HRM a good career choice?
A career in Oracle Human Resources Management is a good choice. My advice is to learn Global HR well and then move on from there, becoming an expert at delivering Oracle HRM Solutions.
What is the scope of Oracle Apps HRM in the IT field?
Being tagged to Oracle apps HRM is a welcome sign that your career's taking off. Oracle-apps (ERP) are complicated but useful, allow you to understand the business world in technical terms. A lot of learning and earning opportunities here.
Do I required coding knowledge to learn Oracle Apps HRM training course?
All Oracle Human Resource Management Systems (HRMS) share data tables in the Oracle database, which eliminates duplication of information and creates a single record for each worker. Within that framework, however, you can create a human resources model suited to your enterprise's structures and policies.
Will I Be Given Sufficient Practical Training In Oracle Apps HRM?
Our course ware is designed to give students a hands-on approach to Oracle Apps HRM. The course is made up of both theoretical and practical classes that teach students what they need to know in order to be successful within their chosen field.
Top reasons to consider a career in Oracle Apps HRM?
Oracle Apps HRM is a tool that lets you capture, store and share information across your organization. It can be used to manage all kinds of data, including employee records as well as financial details. Oracle Apps HRM allows for lean integration. The Oracle Apps HRM training course covers Data house basics, and control focus. Oracle Applications Human Resources Management is building automation into our devices with the goal of making associations more efficient and scalable by developing ways to utilize information in clients' cases.
Who should take this Oracle Apps HRM course?
● Database administrators, ● System analysts, data modelers, business analysts, ● Who are aspiring to learn Oracle HRMS
What if I am not able to attend any class?
All classes are recorded so that you can review them at any time. If you miss a class, the trainer will clarify any doubts in the next one.
Do you provide free Oracle Apps HRM Demo class to candidates before enrolling the course?
Yes, we provide a demo of the training before beginning. You can ask us any questions you have about it during this time or after our session is completed.
Who are the faculty at Brolly Academy for Oracle Apps HRM training?
Our trainers are real-world experts who apply their skills to the platforms that they teach.
Do we offer placements to the Oracle HRMS Training job seekers?
Yes, we offer job placements to our Oracle Apps HRM Training job seekers as we have Job Placement Team to help you in getting the best job. Once you're enrolled in our Oracle HRM training course, we will prepare your updated CV and teach you how to make your certifications clear. Our expert Oracle HRMS trainer also conducts an interview session with each student and assigns them a project too. We do forward your resumes to all the companies that we have collaboration with, so you can get a job in the HRM sector. This way, each student who completes our Oracle training will receive valuable industry experience.