CyberArk Training in Hyderabad
100% Placement Assistance
CyberArk Training in Hyderabad Batch Details
| | |
| --- | --- |
| Trainer Name | Mr.Ranjeet |
| Trainer Experience | 10+ Years |
| Next Batch Date | 22-05-2023 |
| Training Modes: | Online Training (Instructor Led) |
| Course Duration: | 30 Days |
| Call us at: | +91 8186844555 |
| Email Us at: | brollyacademy@gmail.com |
| Demo Class Details: | ENROLL FOR FREE DEMO CLASS |
CyberArk Training Curriculum
Key Points of CyberArk Training in Hyderabad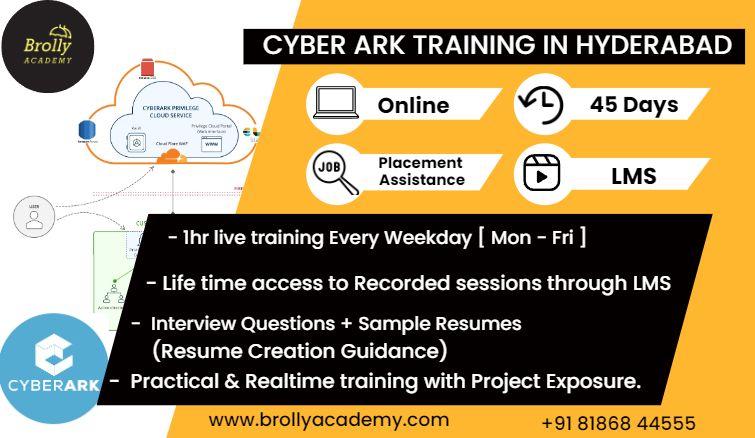 CyberArk is an Identity and Access Management (IAM) security tool you can use as a privileged access management tool.

It allows you to store, share, and manage passwords in a secure way.

CyberArk is a security software solution that focuses on eliminating cyber threats using insider privileges to attack the heart of the enterprise.

It is a complete Identity Security and Access Management Solutions that enable secure access across any device, anywhere, at just the right time.

It is an information security software that can help a company mitigate the cyber security risk associated with privileged accounts and secure privileged accounts and credentials in an effective manner
CyberArk provides solutions that help organizations store, manage and share confidential passwords.

It offers a computerized password management capability that can help to remove manual processes, reducing password management time consumption.

CyberArk provides administrators the tools they need to work and effectively modify privilege guidelines for users.

CyberArk uses proven cybersecurity measures like access control, authentication, encryption, firewalls, and VPNs to protect your company against hacks, attacks, and other cybercriminal activities.

It protects your server or vault, but it also safeguards your user data with authenticated access security.

CyberArk's privileged account management solution gives IT units an easier way to use and access local admin accounts, domain admin accounts, emergency accounts as well as other types of privileged accounts.
About CyberArk Training in Hyderabad
CyberArk is an information security company that provides technology like network vaults to customers. It is used to secure accounts and passwords that are highly sensitive and confidential.
It can be deployed on-premise, in the cloud, or across a company's OT/SCADA environment and it surrounds sensitive data with multiple layers of security.
A majority of companies use CyberArk to protect and safeguard details relating to their systems and database queries.
Brolly Academy offers the best CyberArk training in Hyderabad with a detailed course program to its learners. Our Cyberark's course content covers all the essential privileged account security concepts.
Our CyberArk course covers intensive topics such as –
CyberArk Architecture

The scope and the dimension of the CyberArk PIM suite

CyberArk solution components

CyberArk functions

Installation of infrastructure in CyberArk

Policy creation and configuration in CyberArk

CyberArk safe management

Vault backup activities in CyberArk.
Our CyberArk Course training modes are available in both online and offline facilities, including the CyberArk self-paced video learning option, so that it will be convenient for both students and working professionals to enroll in our CyberArk course.
We also offer CyberArk placement assistance to all our candidates that seem interested in getting hired via the right guidance and counseling of our placement support team.
After the completion of CyberArk course Brolly Academy provides the CyberArk course completion certificate to all students.
Our CyberArk course certificate is highly valued and accepted by various companies and can be linked to your professional resume to mark your CyberArk skill as a qualified pursuit during job trials.
Enroll with Brolly Academy for the best CyberArk Training in Hyderabad
Industries belonging to different domains use CyberArk, Some of the sectors using CyberArk include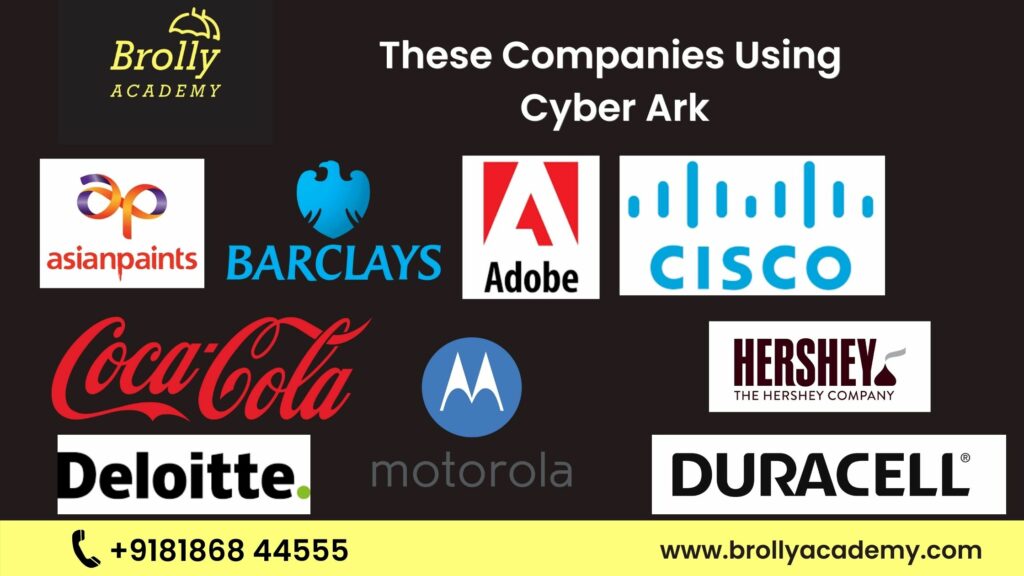 Modes Of CyberArk Training
Cyber Ark course online learning

Brolly Academy provides CyberArk online training. Our CyberArk training is highly advanced with expert trainers guidance and live interactive sessions that come with top notch learning facilities. These CyberArk online training sessions can be accessed through the E-learning platform and can attend from anywhere in the world.
Offline CyberArk Training

Our CyberArk offline training is conducted under the supervision of our trainers in well-equipped classrooms located in our study centers in Ameerpet, Hyderabad, India. This classroom training provides students with a personalized training experience with live demonstration of CyberArk training from our experts.
Self-paced CyberArk Video Learning

The CyberArk training videos are flexible and highly convenient with the availability to be learnt at your own pace and timings. This video course is packed with live classroom recordings of CyberArk training. You can learn and master the CyberArk course from anywhere and anytime with your own convenience and get a digital CyberArk course completion certificate from Brolly Academy.
Features of CyberArk Training
Industry Expert Trainers

We have well-acclaimed industrial CyberArk trainers with established experience in training students and professionals across all domains and fields.
Limited batch

To ensure that all students receive equal and quality CyberArk training, we do not encourage large-scale batches. Each batch consists of 10 students guided by a CyberArk training staff member.
Study guides + LMS access

Brolly Academy provides free CyberArk training study materials, CyberArk training pdf and LMS access to all its students with a lifetime validity and accessibility upon enrollment in the course.
CyberArk training and certification

Brolly academy certified CyberArk course completion certificate will be handed over to each student enrolled in the CyberArk training in Hyderabad with lifetime validity and acceptance by most of the companies.
Placement support

Brolly Academy's CyberArk training in hyderabad placement support team will guide all our trainees to find a job in CyberArk field that's right for their talents. They will also guide you how to negotiate salary and benefits with employers on their behalf.
Learning with live case studies

Our students are presented with live case studies at Brolly Academy, and projects that enable them to apply what they learn in a practical training in CyberArk training certification. Our instructors guide students through these scenarios so that concepts become easier for them to learn.
CyberArk Training Testimonials
CyberArk Training and Certification
There are 3 main certification levels for CyberArk certifications. 

The CyberArk Certification levels include – 
Defender

– The holder of this certification has proven their theoretical and hands on expertise in the daily maintenance and operation tasks of the Identity Security Solution.

Sentry

– The holder of Sentry certification has proven their skills, both theoretical and hands on, with the deployment and configuration of the CyberArk solution.

Guardian

– Holders of this certification have proven their advanced skills with the various CyberArk solutions and their ability to combine organizational architecture with Identity Security strategy.
CyberArk exams are available via Pearson VUE OnVUE online proctoring, which allows you to take any exam from almost any location and at any time. 

You can

register

for the exam and schedule it accordingly. 

You must create a

community account

on CyberArk to track and write the exam. 

Your exam history is linked to your Certified Professional ID number granted the first time you create a Pearson VUE account.

You can retake the exam after 5 days if you don't clear it.  If you do not pass an exam on your second attempt, you must wait at least 30 days between each additional attempt. 

You are allowed a maximum of three attempts in a 12-month period.

Every candidate seated for an exam in a Pearson VUE Testing Center, they will be given 5 minutes to read and sign CyberArk's examination Non-Disclosure Agreement. 

Signing the NDA is required for candidates to proceed with the exam. 

CyberArk is also partnered with the digital credential provider Credly and launched a series of digital badges that you can earn after completing specific achievements.

Once you have passed the specific badge achievement criteria, you will receive the certification Badge.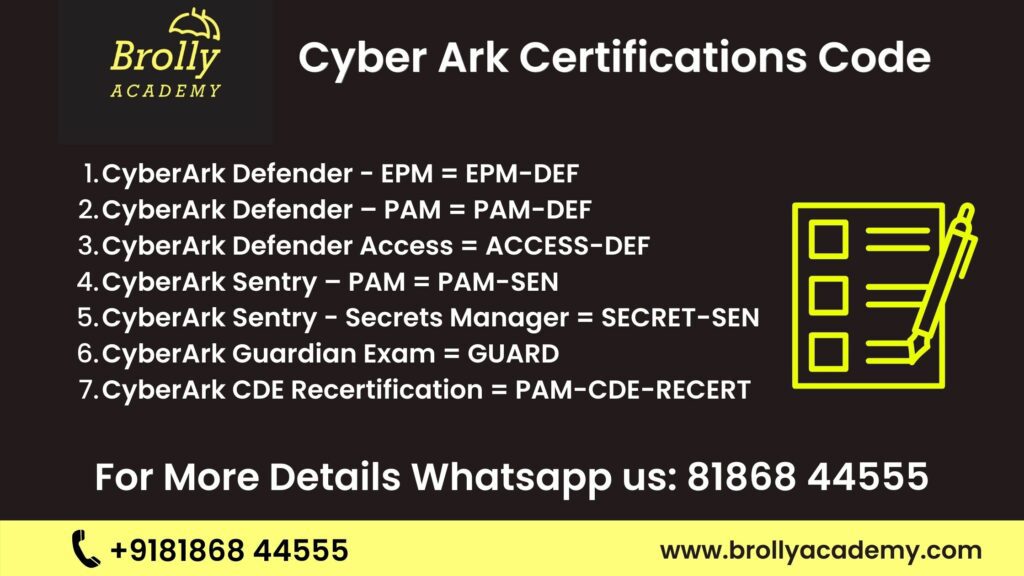 Who should learn CyberArk Course
Advantage of learning CyberArk Course
Skills Developed After Completion of CyberArk Training in Hyderabad
Prerequisites to attend CyberArk Training in Hyderabad
Career Opportunities in CyberArk