CyberArk Training in Hyderabad
100% Placement Assistance
CyberArk Training in Hyderabad Batch Details
| | |
| --- | --- |
| Course Fee | 20,000 Rs |
| Course Duration | 2 Months |
| Timings | Monday to Friday (Morning to Evening) |
| Next Batch Date | 7th Feb 2022 AT 11:00AM |
| Training Modes | Classroom [HYDERABAD] / Online |
| Location | Hyderabad |
Key Points Of CyberArk Training in Hyderabad (Online Classes)
CyberArk Course Curriculum
About CyberArk Training in Hyderabad
CyberArk is a security tool or information security software that is used to secure accounts and passwords that are highly sensitive and confidential. It follows a password management process in order to establish security. With CyberArk, you can store and maintain the security of data of all the given accounts to prevent malware attacks. A majority of companies use CyberArk to protect and safeguard details relating to their systems and database queries. Brolly Academy offers the best CyberArk training in Hyderabad with a detailed course program. The training course covers intensive topics including Privileged identity management, CyberArk description, CyberArk solution components, CyberArk functions, installation of infrastructure in CyberArk, policy configuration in CyberArk, policy creation in CyberArk, CyberArk safe management, account integrations, vault backup activities in CyberArk, CyberArk DR and much more. Project based tutoring will be implemented as a part of our training program to improve the practical skills of our students. Brolly academy offers a wide scope of courses that include both IT and software training courses in Hyderabad with updated course curriculums and modules. Brolly academy offers a customized CyberArk certification to every student enrolled in the training program. This certificate is highly valued and accepted by various companies and can be linked to your professional resume to mark your skill as a qualified and established pursuit during job trials. The CyberArk course supports both beginners as well as professionally advanced candidates and will be trained by trainers with over 8+ industrial working experience. Brolly academy offers three different modes of training that includes CyberArk online training in Hyderabad, CyberArk video course training in Hyderabad and CyberArk classroom training in Hyderabad that has been put on hold considering the covid situation. Students will get a complete and thorough training that includes extensive knowledge and practical project based learning to promote the right skills of the enrollees. We also offer CyberArk placement assistance to the candidates that seem interested in getting hired via the right guidance and counseling. Enroll with Brolly Academy for the best CyberArk Training in Hyderabad.
Modes of Training For CyberArk Training in Hyderabad
Why choose us for CyberArk Training?
We have well-acclaimed industrial CyberArk trainers with established experience in training students and professionals across all domains and fields.
We organize study groups both online and offline to get students to practically implement the theory of the core concepts that require technical guidance and expertise. The study groups will be supervised by our CyberArk trainers.
We do not encourage large scale batches for our training to endorse equal and quality CyberArk training to all our students. Every batch consists of 10 students guided by CyberArk training staff.  
We have trained over 60+ students with 20+ placements in the duration of 6 months.
Our CyberArk classes are scheduled at flexible timings to allow the ease of access to students as well as professional working employees.
You will be given free CyberArk study materials and LMS upon enrollment with a lifetime validity and accessibility.
A Brolly academy certified CyberArk certification will be handed over to each student enrolled in the CyberArk training in Hyderabad with lifetime validity and acceptance by most of the companies.
We have a team of experts who are available round the clock to help and guide students with queries related to CyberArk course and its attributes
Testimonials of CyberArk Training in Hyderabad
You will be given a certified CyberArk certification on the successful completion of the CyberArk training in Hyderabad. The certificate can be downloaded as a hard copy or a digital form depending on your desirability and requirement. The CyberArk certificate offered by Brolly Academy can be linked to your CV or resume for better enriching work opportunities.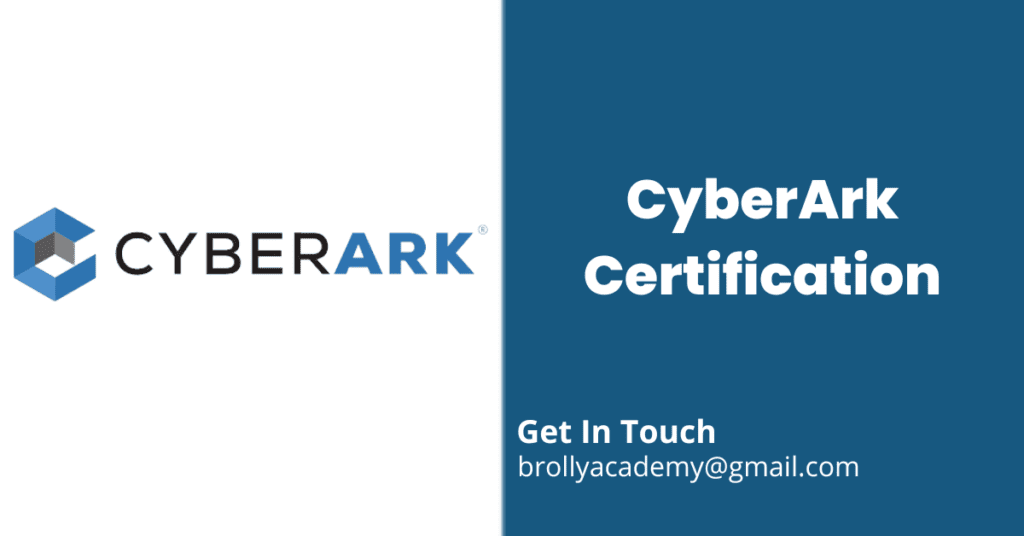 Advantages of learning CyberArk training in Hyderabad
Brolly academy offers one of the best CyberArk training in Hyderabad with a well-developed and sorted curriculum to enhance the student knowledge with adaptive and effective CyberArk technical training assistance that will enforce a valuable career for the students and developmental range in the field.
Skills developed after the CyberArk course training –
Prerequisites of CyberArk training course in Hyderabad
The student must have a keen understanding of networking and Windows administration.
Career Opportunities in CyberArk
Which is the best CyberArk training institute in Hyderabad?
Brolly Academy offers the best technical CyberArk training in Hyderabad with advanced curriculum and expert trainers.
What is the CyberArk training fee in Hyderabad?
The CyberArk training fee in Hyderabad depends on the type of training institute and the features offered by them. The CyberArk training cost usually rests on the types of services offered by the institute. You can get in touch with us at Brolly academy for more details.
What is the average salary of a CyberArk engineer in Hyderabad?
The average salary of a CyberArk engineer in Hyderabad is ₨ 7.5lakhs per year.
Where can I find CyberArk training near me?
We offer CyberArk training in Kphb and CyberArk training in Ameerpet, you can visit us or get in touch with us for further queries.
Do you provide placement assistance?
If you happen to miss a class, we can always arrange for backup classes or you can even attend the next consecutive training session taken by our trainers.
Will I get proper practical training in MATLAB?
Yes, of course. We offer CyberArk placement assistance in Hyderabad to help students channelize their skills and knowledge in the right direction.
Who are the trainers at CyberArk training in Hyderabad?
We have highly experienced CyberArk trainers with professional expertise and knowledge lasting for almost 8 years to conduct and supervise the training in Hyderabad at Brolly Academy.