Oracle PeopleSoft Finance Training in Hyderabad
100% Placement Assistance
Oracle PeopleSoft Finance Training in Hyderabad Batch Details
| | |
| --- | --- |
| Trainer Name | Mr. Srinivas Chinta |
| Trainer Experience | 7+ Years |
| Next Batch Date | 19-09-2023 |
| Training Modes: | Online Training (Instructor Led) |
| Course Duration: | 30 Days |
| Call us at: | +91 81868 44555 |
| Email Us at: | brollyacademy@gmail.com |
| Demo Class Details: | ENROLL FOR A FREE DEMO CLASS |
Key Features Of Oracle PeopleSoft Finance Training
Oracle PeopleSoft Finance Course Curriculum
About Oracle PeopleSoft Finance Training in Hyderabad
Oracle's PeopleSoft Financial Management automates, centralizes, and standardizes global transactional processes to reduce costs. It Manages risk and reduces compliance costs with end-to-end processes for governance, risk management, and compliance. PeopleSoft Financial makes sure your business is making the right investments and operating efficiently with integrated performance management and analytics. 
Using Oracle's PeopleSoft Financial Management, companies can increase their efficiency and gain a better understanding of critical business information. With PeopleSoft Financial Management Training, you will gain an understanding of different ways to implement and use applications for processes related to finances. Our PeopleSoft Financials Training course provides quality training that covers solid fundamental knowledge of core concepts and is presented in a practical way. Such exposure to current industry use-cases and scenarios will help learners apply the skills they are learning in real projects.
Brolly Academy provides real-time and placement-focused Oracle PeopleSoft Finance training in Hyderabad. The Oracle PeopleSoft Finance training includes topics like the Navigating PeopleSoft, Understanding System Structure, Business Units and Set IDs, Utilizing Chart Fields, Journal Processing, Implementing Chart Field, PeopleSoft General Ledger, Defining Banks, and much more. Brolly academy in Hyderabad offers a wide range of courses that include both IT and software training courses in Hyderabad with updated course curriculums and modules. 
After completing Brolly Academy's Oracle PeopleSoft Finance training program, you will receive a course completion certificate that recognizes your expertise in Oracle PeopleSoft Finance field. The certificate will be awarded to you upon completing all the training modules of Oracle PeopleSoft Finance training. With this Oracle Peoplesoft Financial Certifications, you'll develop the skills to provide world-class finance processes. You can then use this value to enhance your customer's business insight and deliver a better solution. 
The Oracle PeopleSoft Finance training certificate will include your Bio-data and details of the course and a description that can be shared on LinkedIn. Our trainers focus on giving students a technical and theoretical understanding of their craft so that learning becomes easier for them. We offer both online and in-person training and Self-paced video courses to help you choose the one that is best for you, as well as a placement program that includes an intensive interview preparation workshop.
Enroll with us to get the most comprehensive Oracle PeopleSoft Finance training in Hyderabad.
Modes of Oracle PeopleSoft Finance Training
Why choose our Brolly Academy Institute?
Brolly Academy is a leading Software training institute in Hyderabad, is known for its method of teaching. Our expert trainers have over 12+ years of experience in the Oracle PeopleSoft Finance Industry and can prepare you to launch your career. Whether you're a fresher looking for certification or an experienced professional with expertise. 
Our Oracle PeopleSoft Finance Training course provides you with the skills and expertise you need to apply at companies that use this technology. Our Oracle PeopleSoft Finance Course will help you get ready for your mock interviews, resume creation and question-and-answer sessions. Here are some reasons why you should enroll in our Oracle PeopleSoft Finance Training course in Hyderabad:
Best Oracle PeopleSoft Finance Trainers
Our Oracle PeopleSoft Finance instructors are among the most knowledgeable in their field, and you will benefit from this expertise. Our Oracle PeopleSoft Finance trainers share their expertise about key concepts in technology, and teach both current and emerging skills. They've spent years training professionals and students alike.
Our Oracle PeopleSoft Finance virtual classes are engaging and informative with videos that allow you to learn from experienced instructors who are experts in their field. We offer both Video course training as well as online training sessions.
We have trained 50+ trainees with 20+ successful placements in some of the top companies in Hyderabad with excellent packages.
Get Trained From Anywhere Anytime
Enrolling in our Brolly Academy, you can now learn Oracle PeopleSoft Finance training program anywhere in the world at your preferred time.
Our counselors help students learn job skills and gain professional polish. We assist them with everything from resume writing to interviewing techniques, and we match their skill sets with jobs that make the most sense for their career paths. In addition to resume and cover letter review, interview prep workshops are available for those seeking employment.
Limited Oracle PeopleSoft Finance Batches
We work with a limited number of students at a time so that we can give each student the personalized attention they deserve.
Oracle PeopleSoft Finance Certification
Brolly's Oracle PeopleSoft Finance certification will be given to every student enrolled in our training program. This certificate is widely accepted and recognized throughout the world, which accelerates your chances of securing amazing job opportunities.
Doubt Clarification Sessions
We offer dedicated doubt clearing classes each week for students to meet with our trainers and pose questions about concerns they have regarding Oracle PeopleSoft Finance course training. Our trainers will clear up any confusion during these individual sessions.
Testimonials of Oracle PeopleSoft Finance Training in Hyderabad
Certification in Oracle PeopleSoft Finance
This Oracle PeopleSoft Finance training course is designed for clearing Brolly Academy's Oracle PeopleSoft Finance certification. The entire course content is in line with this certification and prepares you to tackle it easily, getting the best jobs at top MNCs. By enrolling in this Oracle PeopleSoft Finance Training, you will receive access to real-world industry scenarios and projects that are directly tied to your success as an employee.
 At the end of this Oracle PeopleSoft Finance Training program, there will be quizzes that test your knowledge of core concepts on Oracle PeopleSoft Finance. You can take these quizzes to prepare for your Oracle PeopleSoft Finance certification exams or just to check your understanding the choice is yours! Upon the successful completion of students' project work, Brolly Academy will award them with a Oracle PeopleSoft Finance course completion certificate.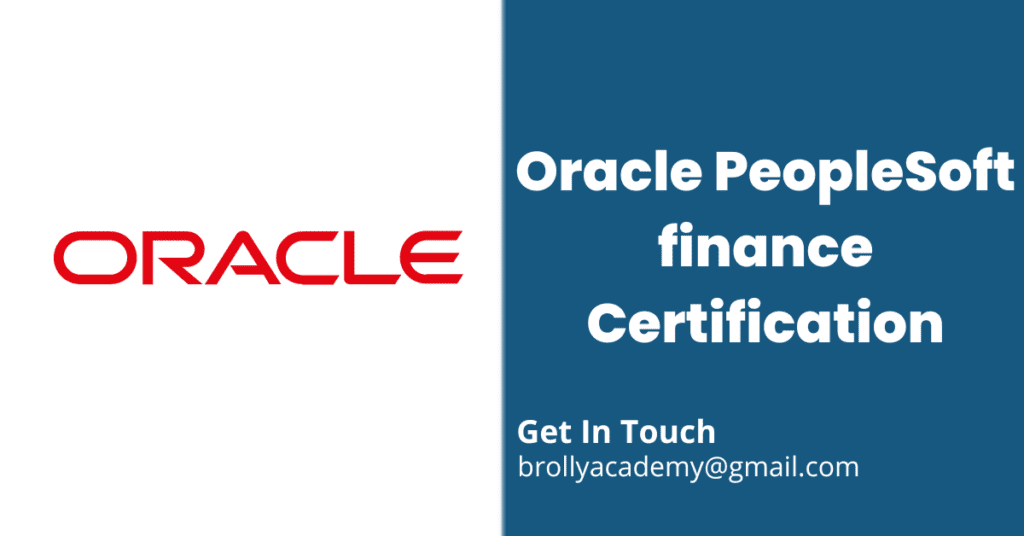 Advantages of Learning Oracle PeopleSoft Finance course -
Employment possibilities in Oracle PeopleSoft Finance-
Completion of the Oracle PeopleSoft Finance course you will learn -
Prerequisites to Learn Oracle PeopleSoft Finance
Who should learn the Oracle PeopleSoft Finance Technology?
● Business Analyst ● Web Developer ● Application Developer ● Financial Consultant ● Technical Consultant ● HRIS Analyst ● Financial Analyst
What will I learn throughout the Oracle PeopleSoft Finance training period?
This Oracle PeopleSoft Finance training will help you gain expertise in the following: ● Developing exhaustive comprehension of Financial Management Vs. Peoplesoft Financials ● ERP with a comprehensive approach ● Utilize Enterprise Level Cost Management
Why should I consider a career in Oracle PeopleSoft Finance Technology?
Generally, it is expected that an Oracle PeopleSoft professional possesses knowledge and expertise in most (if not all) of its modules. For organizations, hiring a single person to manage various kinds of business processes as well as human resources can be more viable than using multiple staff members from different areas.
Does Oracle PeopleSoft Finance also do Payroll?
PeopleSoft Payroll for North America is a program that calculates gross-to-net earnings and deductions-related taxes. Integrated with PeopleSoft HR, Time and Labor, and General Ledger applications to coordinate a wide range of salary/reward payments.
What software is PeopleSoft?
PeopleSoft is a line of business software created by Oracle that provides human resources and accounting applications
What are the benefits of Oracle Peoplesoft Finance?
Consolidating PeopleSoft applications onto an Oracle infrastructure can provide numerous business benefits, including improved business continuity, greater protection and integrity of confidential information as well as increased productivity and agility.
Will I get help on my Resume Preparation at Brolly Academy?
Yes, our experts help you create the perfect resume that matches your desired job roles.
Will you provide Practical Training In Oracle PeopleSoft Finance at Brolly Academy?
Our Oracle PeopleSoft Finance training provides an in-depth introduction to the software, including both theoretical and practical classes. Through this course, students will gain knowledge of each module before applying that information as they face real-world challenges during high-intensity sessions.
Is Brolly Academy providing a free demo class before enrolling in Oracle PeopleSoft Finance Training?
Yes, Brolly Academy provides free demo classes on Oracle PeopleSoft Finance to all interested students, giving them the chance to experience our training program before enrolling.
What if I miss any Oracle PeopleSoft Finance class at Brolly Academy?
In case you could not attend the class you can join in our next live course or we can provide you with backup classes. You can also go throw the previous class recordings available in the LMS.
Will I get job assistance in the Oracle PeopleSoft Finance Training Course at Brolly Academy?
Yes, we help you with placement assistance through mock interviews, resume making, and by forwarding your profile to our corporate clients seeking trained resources.