Softskills Training in Hyderabad
100% Placement Assistance
Softskills Training in Hyderabad Batch Details
Key Features Of Softskills Training
Softskills Training Course Curriculum
About Softskills Training in Hyderabad
Soft skills, or people skills, are complex personal traits that enhance an individual's interactions in the workplace and help him or she perform better. it is best defined as a wide variety of people skills, employability skills, social skills, professional skills, negotiation skills, marketing skills, customer skills, and business skills. Softskills are traits that can help employees work better together and get results, such as Assertiveness Communication, Emotional intelligence, Communication skills, Creative Thinking, Innovative Ideas, Out-of-the-box thinking, etc. Each of these is valuable Softskills for leadership.
Brolly Academy is an excellent choice for those looking for a thorough and expert-level of Softskills training course in Hyderabad. By taking this Softskills training from Brolly Academy you will not only improve your career but also boost your personal growth. Soft skills are a set of attributes and behaviors that contribute to success in the workplace. They complement hard or technical skills rather than replace them. They are usually offered to people who have demonstrated a strong track record of achievement, and they help employees attain new levels of performance. 
Our Trainees will receive Softskills certification upon completion of the training program which is approved by most companies. Our training staff has more than 10+ years of experience in delivering successful courses and coaching students through learning experiences with three different modes of training that include Softskills online training, Softskills video course training, and Softskills classroom training in Hyderabad. At Brolly academy we also prioritize training the students by making them job-ready with our Softskills placement assistance training programs. Interview questions, resume preparation, mock tests, mock interviews, and much more can be accessed as a part of our Softskills Placement program.
Join Brolly Academy at our Softskills Training in Hyderabad, where we will provide an overview of how Softskills has evolved and why it is important to understand them.
Modes of Softskills Training in Hyderabad
Why choose Brolly Academy for Softskills Training in Hyderabad?
Brolly Academy is a leading Software Training institute in Hyderabad and is known for its method of teaching. In Brolly Academy our Softskills expert trainers have over 10+ years of experience in the field and can prepare you for your career development. Whether you're a new graduate looking to boost your resume or an experienced professional seeking personal development, our Softskills Training course provides the skills and expertise needed. Our Softskills Course will help improve the communication level between employees at the workplace. Here are some reasons why you should enroll in our Softskills Training course in Hyderabad:
People looking for a training program can find one that will meet their needs and fit into their schedule.
Highly Experienced Trainers
We provide training only from highly experienced trainers, who have worked in the field for at least 10 years.
We will help you overcome any hurdle that may stand in the way of your success, and provide you with a hassle-free experience.
Our Brolly Academy's dedicated team members are available online 24/7 to help you troubleshoot any issues you may be facing.
We offer two kinds of Softskills training online courses and video classes. Both options let you train on your own schedule, whether in the big city or small town.
We do more than just teach: we also organize live group discussions so students and tutors can share their experiences.
Our training program offers a certificate to each student who completes the course. This certification provides graduates with an excellent opportunity to find jobs in their chosen fields.
Testimonials of Softskills Training in Hyderabad
Certification in Softskills Training at Brolly Academy
This Softskills training course is designed for clearing Brolly Academy's Softskills certification. The entire course content is in line with this certification and prepares you to tackle it easily. At the end of this Softskills Training program, there will be quizzes that test your knowledge of core concepts on Softskills . You can take these quizzes to prepare for your Softskills certification exams or just to check your understanding and communication skill. Upon the successful completion of the course Brolly Academy will award you with a Softskills course completion certificate.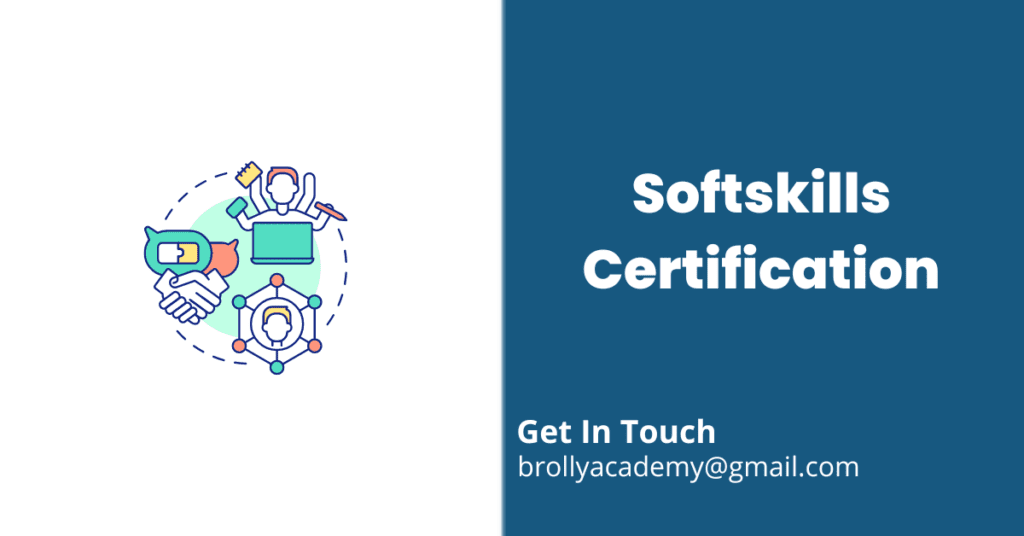 Advantages of Learning Softskills course -
Employment possibilities in Softskills
Completion of the Softskills course you will learn
Prerequisites to Learn Softskills
What are the skills you will learn during this Softskills training?
We at Brolly Academy train both Professionals and Students on
● Interpersonal Communication
● Assertiveness
● Art of effective Pitching
● Email, and Virtual Communication
● Presentation Skills
● Team work
● Negotiation Skills
● Leadership Management etc.
Who can take this Softskills training?
Anyone who wants to improve their soft skills and reach new heights in their professional and personal career can take Softskills training Such as -
● All Leaders
● Managers
● Entrepreneurs
● Students
● Teachers /Professors /Lecturers
● Retired Personnel
● Social Activists
● Homemakers
● Marketing People
How Softskills Training benefits your business?
Softskills training provides Personal and professional effectiveness and helps to improve :
● Personal Accountability
● Degree of Collaboration
● Interpersonal Negotiation
● Conflict Resolution
● Adaptability and Flexibility
● Creative Thinking
● Benefits for Empowerment
● Mastery & Purpose ability to communicate effectively with co-workers, employers, clients and customers, friends and family members etc.
What are the Top 10 Softskill a person need to know?
● Communication
● Teamwork
● Adaptability
● Problem solving
● Creativity
● Work ethic
● Interpersonal skills
● Time management
● Leadership
● Attention to detail
How much Brolly Academy charge for Softskill training in Hyderabad?
Brolly Academy offers training at several locations throughout the country. Moreover, we offer special rates for our corporate clients and government agencies.
How will this Softskill training at Brolly Academy be beneficial for my career?
Soft Skills certification training will help you to enhance your critical thinking, communication, team-leading skills, etc. Whether you're working by yourself or in a team, this soft skill training course is perfect for anyone. This certification will help you get a promotion and increase your career prospects.
Will I be getting a free demo before enrolling in Softskills Training?
Yes, Brolly Academy offers free, hands-on classes on Softskills to help you decide if our training program is right for you.
Which institute is best for learning Softskills Training in Hyderabad?
Brolly Academy is the best provider of training in Softskills. Our expert trainers can help you become a skilled professional by learning all aspects of this language including how to apply it on your job.
Who are the trainers at Brolly Academy for Softskills training?
Brolly Academy is a leading provider of Softskills training. Our experts help individuals and organizations throughout the world master their use of Softskills technologies and they have more then 10+ years of experience in the same field.
What if I am not satisfied with the Softskills training provided by Brolly Academy?
We provide special training to any student who is not satisfied with the general course we offer.