Workday Payroll Training in Hyderabad
100% Placement Assistance
Workday Payroll Training in Hyderabad Batch Details
Workday Payroll Training Curriculum
Key Points of Workday Payroll Training in Hyderabad
About Workday payroll Training in Hyderabad
Workday Payroll is a piece of software used to oversee all aspects of payroll. The Payroll and HCM solutions from Workday offer a user-friendly and attractive core system of record for handling the whole onboarding to retirement process for both permanent employees and contingent workers. It may be set up in a variety of ways, which makes it simple to use.
Learn Workday payroll using Brolly Academy in a step-by-step fashion to become an expert user. You will learn how to set it up, create a framework for payroll processing, specify the number of terminologies, banking, tax reporting, and settlement, business processes, and roles and security access to the software.
Using Workday Payroll will give you the flexibility to handle payroll how you see a good fit. Gain power, adaptability, and knowledge to manage payroll as you see fit. With just one HCM, timekeeping, and payroll management system, Workday completely transforms your hire-to-pay process.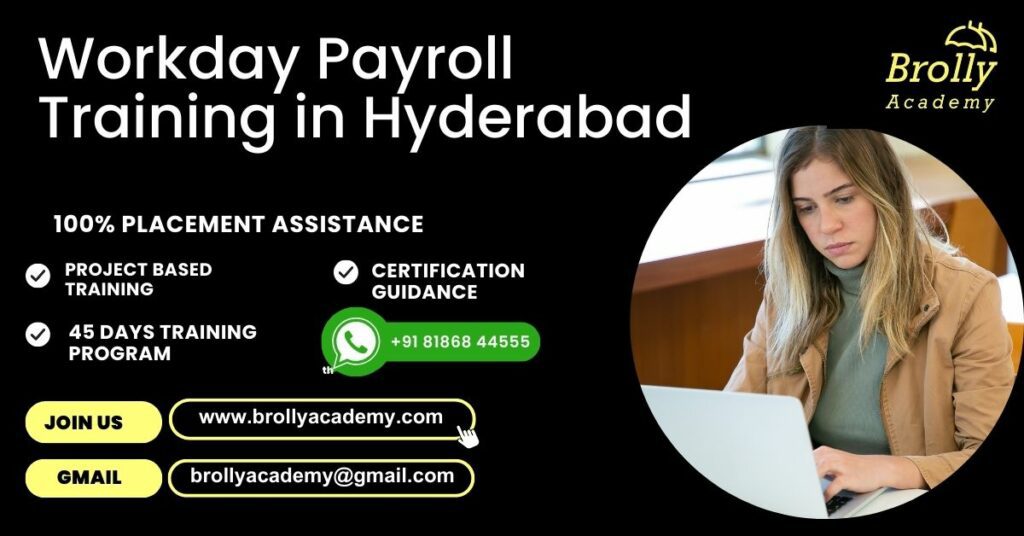 Modes of Course - Workday Payroll
Workday Payroll Course Online

Online Workday Payroll training makes it possible for anyone to obtain the skills and knowledge needed to understand the platform. Online Workday Payroll courses with hands-on exercises are available from Brolly Academy to assist students in developing their skills and gaining a practical understanding of the platform.
Workday Payroll Classroom Training

For those who prefer a more traditional and regulated learning environment, classroom training offers an interactive and hands-on learning experience. Brolly Academy offers Workday Payroll courses, which are instructed by experienced instructors who are familiar with the industry.
Workday payroll Self-paced Video Training

Self-paced video training can be a fantastic choice for people who like to learn on their own timetable and may not have the time or flexibility to attend classroom or online training programs. To assist students develop their abilities and gain practical experience, Brolly Academy offers self-paced Workday Payroll training that includes recorded classroom videos, quizzes, assignments, and practical projects.
Why choose us for Workday Payroll Training?
Industry Experts and Certified Instructors
Our Workday Payroll Training is delivered by professional teachers with vast experience in setting up and running Workday Payroll systems. They enrich the training sessions with an extensive range of practical expertise and insights, allowing participants to absorb the greatest knowledge available.
We provide a thorough curriculum that covers every crucial aspect of Workday Payroll. With regard to configuration, processing, reporting, compliance, and interaction with other HR systems, our training sessions are created to give a comprehensive grasp of payroll management inside the Workday ecosystem. You may be sure that our training course will give you the knowledge and abilities needed to deal with any payroll-related issues.
Hands-on Practical Exercises
Our teaching methodology is built around learning by doing. To ensure that participants receive actual experience with the Workday Payroll system, we offer hands-on practical activities and real-world scenarios. You will gain the abilities and self-assurance needed to manage payroll procedures, address problems, and enhance system efficiency by working on these activities.
Customized Training Options
We are aware that every person and every organization has different training needs. We provide various training choices in order to meet your individual demands. We offer the ideal training option for you, whether you like in-person meetings, online classrooms, or on-demand self-paced learning.
We are dedicated to your success in ways that go beyond the training course. We provide post-training assistance to help you with any issues you may have with the Workday Payroll system or during its implementation. To ensure a seamless transition to utilizing Workday Payroll in your professional capacity, our devoted support team is always available to offer direction and assistance.
Our training courses combine in-depth subject matter, qualified instruction, practical application, and continuing support to deliver outstanding value for your money. We are dedicated to providing the best training possible while also making sure that it is affordable and provides a good return on your training investment.
Testimonials for Workday Payroll Training
Workday Payroll Training Certification
We at Brolly Academy are proud to provide a thorough and well-respected Workday Payroll Training Certification program. Our certification is designed to strengthen your professional credentials, certify your understanding of Workday Payroll administration, and open doors to new employment options. 
After successfully completing our Workday Payroll Training Certification program, Brolly Academy will award you with an industry-recognized certification. This certification demonstrates your dedication to professional growth while validating your abilities and expertise in Workday Payroll management. It gives you a competitive edge in the job market by showcasing your knowledge to prospective employers and clients.
Advantages of learning Vue.js training in Hyderabad
Skills Developed Post Workday payroll Training in Hyderabad
Job Roles & Designations in Workday Payroll
Market Trend in Workday Payroll
Prerequisites of the Workday Payroll Course
Career Opportunities in Workday Payroll
There is a high demand for specialists in this field due to the increasing use of Workday Payroll by businesses throughout the world. Wide-ranging employment options are provided by Workday Payroll, allowing people to pursue fulfilling careers in payroll management, HR administration, and related industries. 
Here are some of the career opportunities in Workday Payroll:
What is Workday Payroll?
Workday Payroll is a cloud-based payroll administration system that enables businesses to automate and streamline their payroll procedures. It offers a complete solution for handling employee self-service functions, tax compliance, reporting, and payroll computations.
What are the benefits of using Workday Payroll?
Workday Payroll has a number of advantages, such as quick payroll processing, precise calculations, employee self-service options, connectivity with other HR systems, real-time reporting and analytics, and improved data security, and more.
Is Workday Payroll suitable for small businesses?
Yes, Workday Payroll meets the requirements of organizations of all sizes. Both small and large organizations can use it for their payroll needs because of its scalability and flexibility.
Can Workday Payroll integrate with other HR and finance systems?
Yes, Workday Payroll is compatible with other HR and financial management systems. In order to ensure accuracy and consistency across the payroll, HR, and finance divisions, it enables smooth data transmission.
Is Workday Payroll secure?
Data security is a top priority for Workday Payroll. To guard against unauthorised access or breaches, it uses encryption, role-based access controls, and frequent security updates.
Does Brolly Academy provide any certification upon completion of the Workday Payroll training?
Yes, participants who complete the Workday Payroll training program successfully receive a certification of completion from Brolly Academy. Your knowledge and proficiency in Workday Payroll are validated by this certification.
Can Brolly Academy assist with job placements after completing the Workday Payroll training?
Yes, Brolly Academy may offer participants advice or help with finding jobs. They might provide assistance with resume writing, career counseling, and connecting participants with appropriate job openings inside the Workday ecosystem.
How can I enroll in the Workday Payroll training program at Brolly Academy?
To enroll in the Workday Payroll training program at Brolly Academy, you can visit our official website or contact or admissions team team directly.