GCP Training in Hyderabad
100% Placement Assistance
GCP Training Batch Details
Key Features Of GCP Training in Hyderabad

The Google Cloud is a collection of cloud computing services.

Because of its cutting-edge tools and services, Google Cloud stands out among other cloud providers.

machine learning and management services that utilize the same cloud infrastructure that Google uses internally for its consumer products, including Google Search, Gmail, Google Photos, and YouTube.

The Google Cloud Platform (GCP) is a collection of cloud services that provide internal networks, VPN connections, disk storage, etc.

Google Search was first introduced in 1998. Google has built one of the world's biggest and most powerful IT infrastructures.
About GCP Training In Hyderabad (Google Cloud Platform)
Google Cloud Platform (GCP) offered by Google, is a suite of cloud computing services that runs on the same infrastructure that Google uses internally for its end user's products such as google search and youtube. 
It offers various cloud computing services that are categorized under different domains such as – computing, networking, storage, cloud machine learning, big data, identity and security & more.  
The GCP Training in Hyderabad from Brolly Academy will give you the skills you need to advance your google cloud career and become a certified Professional in GCP. 
Our experts in the field designed this GCP course that meets industry standards. 
This google cloud platform course will enable you to design the infrastructure, develop dynamic solutions and a highly-available cloud-based system to meet your company's requirements.
Some of the topics covered as a part of our GCP course include –
Introduction to Cloud Computing 
Overview of Google Cloud Platform
The basic architecture of cloud computing
Identity and Access Management
Compute Engine
Networking Basics
This GCP certification training in Hyderabad from brolly academy consists of assignments, exercises, and other tasks that assist you in understanding the basics.
We offer both online and offline gcp training and certification courses for students and professionals along with guaranteed course completion certification, with global accreditation. 
You will also get GCP certification exam prep support and placement assistance support from our team. 
Enroll with Brolly Academy for (GCP) google cloud platform training in Hyderabad.
Modes of Google Cloud Platform Training (GCP )
Why choose us for GCP Training?
Testimonials of GCP Training in Hyderabad
GCP Training in Hyderabad Certificate
Although GCP is meant to be user-friendly, several Google Cloud Platform certifications can make your work more productive, tell your technical expertise, and boost your career.
What are they?
There are three main tracks available.
Google Cloud foundational-level certifications

Google Cloud associate-level certifications

Google Cloud professional certifications
Google Cloud presently provides 10 certifications as of December 2021:
Google Cloud foundational-level certifications:
Google Cloud associate-level certifications:
Google Cloud professional certifications:
Cloud Architect

Data Engineer

Cloud Network Engineer

Cloud Security Engineer

Cloud Developer

Machine Learning

Cloud DevOps

Collaboration Engineer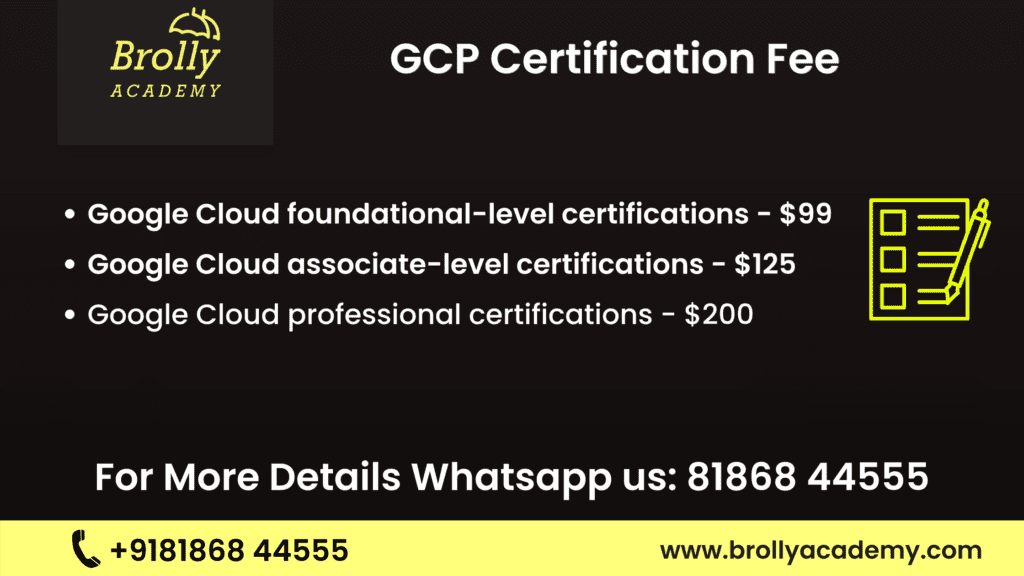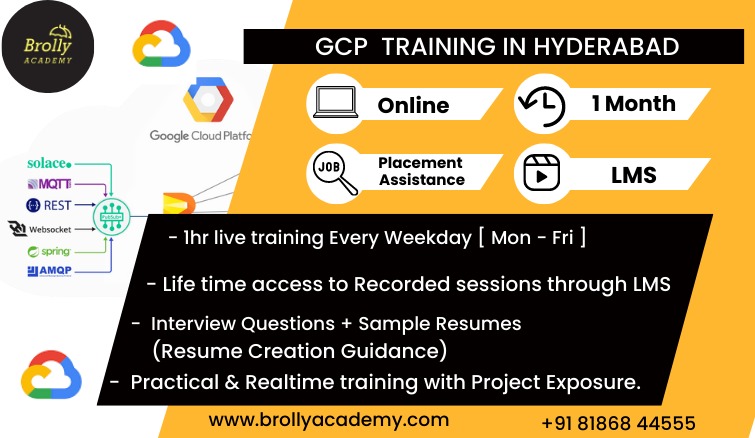 Advantage of Learning this google cloud platform training (GCP)
Google Cloud Platform have been able to establish a reliable infrastructure which is growing across the globe. 
Google cloud is expending their global infrastructure with new regions to bring faster and reliable connectivity.
Google cloud location is available in 35 regions, 106 zones, 173 network edge locations, and 200+ country and territories. The gcp certification benefits are – 
Objective of learning this GCP Training in Hyderabad
Our google cloud platform training In Hyderabad course syllabus has specially been designed by our expert instructors to fit the present industry standards. 
By enrolling in our GCP course program students will get to learn different concepts in gcp such as – 
GCP certification jobs you will get after completing the course, such as 
Who can Learn the GCP course?