GCP Training in Hyderabad
100% Placement Assistance
GCP Training in Hyderabad (Google Cloud Training)
| | |
| --- | --- |
| Trainer Name | Mr. Sanotsh Kumar K |
| Trainer Experience | 15+ Years |
| Next Batch Date | 28-11-2022 |
| Training Modes: | Online Training (Instructor Led) |
| Course Duration: | 30 Days |
| Call us at: | +91 8186844555 |
| Email Us at: | brollyacademy@gmail.com |
| Demo Class Details: | ENROLL FOR FREE DEMO CLASS |
Key Features Of GCP Training in Hyderabad
GCP Training in Hyderabad Curriculum
About GCP Training in Hyderabad (Google Cloud Platform)
Google cloud platform (GCP) offered by google, is a suite of cloud computing services that runs on the same infrastructure that google uses internally for its end users productssuch as google search and youtube. 
It offers various clous computing services that catogorized under different domains such as – compute, networking, storage, cloud machine learning, bigdata, identity and secirity & more.  
The GCP Training in Hyderabad from Brolly Academy will give you the skills you need to advance your google cloud career and become a certified Professional in gcp. 
Our experts in the field designed this GCP course that meet industry standards. 
This google cloud platform course will enable you to design the infrastructure, develop dynamic solutions and a highly-available cloud-based system to meet your company's requirements.
Some of the topics covered as a part of our gcp course include –
Introduction to Cloud Computing 

Overview of

Google Cloud Platform

Basic architecture of cloud computing

Identity and Access Management

Compute Engine

Networking Basics
This gcp certification training in Hyderabad from brolly academy consists of assignments, exercises, and other tasks that assist you in understanding the basics.
We offer both online and offline gcp training and certification courses for students and professionals along with guaranteed course completion certification, with global accreditation. 
You will also get gcp certification exam prep support and placement assistance support from our team. 
Enroll with Brolly Academy for (GCP) google cloud platform training in hyderabad.
Modes of Google Cloud Platform Training
Why choose us for GCP Training in Hyderabad?
We have certified experienced google cloud platform trainers with more than 13+ years of experience in gcp. 
Our trainers will teach you the skills to build, manage and maintain the gcp environment.
Our training program is designed for both beginners and professionals who want to learn google cloud platform course from scratch. 
We offer comprehensive GCP certification training at our institute along with a well-recognized GCP course completion certificate that will be accepted by companies all over the world including many of today's top ones. 
After completing this curriculum, you will receive a Google Cloud certificate officially signed by Brolly Academy, which is widely accepted by companies and can greatly enhance your career prospects in GCP technology. 
This certificate can be downloaded in both hard copy and digital format.
We believe in providing quality training that covers solid fundamental knowledge on core concepts of gcp course with a practical approach. 
Such exposure to the current industry use-cases and scenarios will help our students scale up their skills and perform real-time projects with the best practices.
Our gcp course syllabus up to date and offers practical-learning to our students on google clouds different types of services, computing, and migration to google cloud. 
We asure that our students receive the most industry relevant training in gcp and acquire on job skills to maintain gcp infrastructure. 
We have a unique training technique that provides post gcp course training assistance to the students. 
In this we will give you access to some of the top gcp certification questions and assist you with interviews and internships in google cloud platform training. 
We provide our students with the knowledge they need and help them develop skills that will prepare them for a career even after the training is completed. 
Placement team for job assurance
We have a dedicated support team for training and development. Our team helps students learn job skills and gain professional polish. 
We assist them with everything from resume writing to interviewing techniques. 
we match their skill sets with jobs that make the most sense for their career paths. In addition to resume letter review, interview prep workshops are available for those seeking employment.
Unlimited access to media
To provide you with the best possible training experience, we offer course content, video recordings, LMS access to all our trainees, during the training period also post training. 
Learners will have a lifetime access to our google cloud platform training media files.
We ensure that they will receive a link to the gcp certification study material, which includes the entire course content to learn the skills needed to get a job as a cloud engineer.
At our training institute we only conduct our training batches with not more than 20 students in each batch.  
We believe that it is preferable to hold a training session for as few participants as possible in order that everyone may benefit from the training.
You can benefit from the real-time interaction and support that comes with being a part of our training program.
GCP Training in Hyderabad - Testimonials
GCP Training in Hyderabad Certificate
Brolly Academy offers gcp training and certification courses in Hyderabad from professionals with more than 13+ years of experience in the Cloud Computing platform. 
Our Google Cloud Platform certification training is a professional accreditation that shows that the candidate has mastered the necessary technical skills of the GCP applications. 
Having this GCP Certification alongside your resume increases the value of your CV being prioritized during the interview and opens up to more career opportunities in the domain. 
upon the completion of the training, Brolly Academy will provide you with a course completion certificate of GCP course. 
Our google cloud platform training programme will prepare you for certifications. The gcp certification types are:
Level 3: G Suite Google Cloud Certified Certification Exam

Level 4: Additional Certification, Google Cloud Certified Certification Exam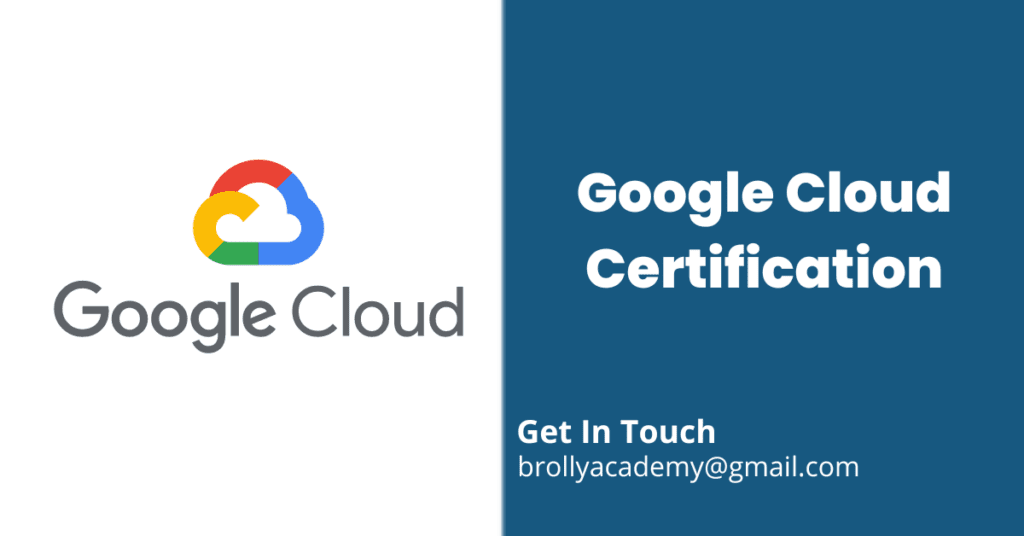 Advantage of Learning this google cloud platform training
Google Cloud Platform have been able to establish a reliable infrastructure which is growing across the globe. 
Google cloud is expending their global infrastructure with new regions to bring faster and reliable connectivity.
Google cloud location is available in 35 regions, 106 zones, 173 network edge locations, and 200+ country and territories. The gcp certification benefits are – 
Objective of learning this GCP Training in Hyderabad
Our google cloud platform training In Hyderabad course syllabus has specially been designed by our expert instructors to fit the present industry standards. 
By enrolling in our GCP course program students will get to learn different concepts in gcp such as – 
GCP certification prerequisites
Job Possibilities in GCP -
gcp certification jobs you will get after completing the course, such as – 
Who can Learn the GCP course?
Is GCP easy to learn?
Google Cloud Platform is a free platform that lets you build, run, and scale web applications—and it's easy to learn because the same tools used to create websites can be applied in developing apps.
You can use many of the same programming languages, tools, operating systems and databases.
Which GCP certification is best for beginners?
GCP Associate certification is for beginners seeking to gain basic skills such as cloud services deployment.
Is GCP certification worth it?
Yes, the Google Professional Cloud Architect certification is definitely worth it for anyone who wants to work as a cloud architect.
In your role as a network or cloud architect, you'll be required to implement complex technical solutions and configurations.
What is Google Cloud Platform in simple terms?
Google Cloud is a set of physical assets (such as computers and hard disk drives) and virtual resources (virtual machines, or VMs)—all contained in Google's data centers around the globe. Each location contains one or more regions.
Does GCP require coding?
There are plenty of services available in GCP where some of them require coding while other services does not required coding.
GCP certification full form?
The full form of GCP certification is - Google Cloud Platform Certification.
Who should I contact if I want to know more about the GCP training program?
To know more about the GCP training program, you can either contact us through a phone call, or you can send us an email.
Our customer service team will reach out to you and can provide a detailed explanation, they will resolve your queries about the gcp program.
Will I get placement assistance?
At Brolly Academy, we provide placement assistance after your gcp course training but we cannot guarantee a job as it depends on your overall performance during the real-time interview.
Will I get a demo before enrollment?
Yes, of course. You can attend our free demo class before enrolling for our gcp course training.
Where can I find the best gcp training in Hyderabad?
You can find the best gcp course online at Brolly Academy in Hyderabad.