VLSI Training in Hyderabad
100% Placement Assistance
VLSI Training in Hyderabad Batch Details
Key Points Of Core Java Training in Hyderabad (Online Classes)
About VLSI Training in Hyderabad
Very Large Scale Integration, or VLSI, is a technique for building integrated circuits by packing millions of transistors onto a single chip. 
A wide range of electrical equipment, including computer peripherals, satellites, cell phones, defense aerospace, set-top entertainment boxes, consumer electronics, and many other devices, are using this design, which has developed as the most popular area of electronics. 
The Brolly Academy offers training programs in VLSI technology for anyone interested in pursuing a career in the field. 
These programs are created to match the most recent industry demands. Our VLSI technologies course provided training for candidates in a variety of chip design fields.
Our VLSI technology training program is the perfect combination of classroom instruction, practical training, and workplace interactions. 
In the initial training program, the applicants receive this instruction through classroom instruction and practical sessions, and in the subsequent training program, they complete projects are driven by the industry. 
After finishing the training program successfully, the candidate mastered a variety of VLSI Logic and Physical design topics and was prepared for the job. 
The complete VLSI training course is structured so that applicants can grasp the concepts and gain a clear understanding of the design specifications.
Modes of Training For VLSI Training in Hyderabad
Why choose us for VLSI training?
Testimonials for VLSI training
Providing all the technical training prerequisites needed to master the VLSI course for a better work experience and accountability, Brolly Academy's certification programs in VLSI offer structured and customized training to improve practical abilities.
Students who successfully complete the VLSI course and project assignment will receive a certificate from Brolly Academy and be eligible to apply for jobs in the industry.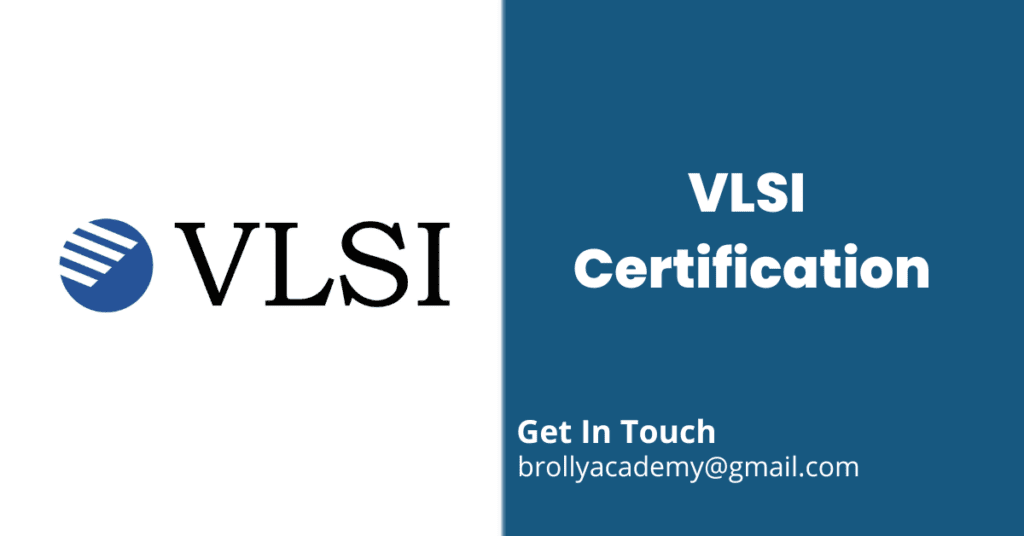 Skills developed Post VLSI training in Hyderabad
Career opportunities in VLSI
At IC design firms, there has been a rising demand over time for qualified VLSI engineers. This is because smart ICs have become increasingly important in technologies like artificial intelligence (AI), electric vehicles (EVs), and smartphones. VLSI design, which stands for Very-Large-Scale-Integration, refers to both chip design and production as a whole.
The following is a list of career options in the VLSI industry:
What are the Prerequisites?