WhereScape Red Training in Hyderabad
100% Placement Assistance
WhereScape Red Training in Hyderabad Batch Details
| | |
| --- | --- |
| Trainer Name | Mr.Ramesh |
| Trainer Experience | 15+ Years |
| Next Batch Date | 02-02-2023 |
| Training Modes: | Online Training (Instructor Led) |
| Course Duration: | 30 Days |
| Call us at: | +91 8186844555 |
| Email Us at: | brollyacademy@gmail.com |
| Demo Class Details: | ENROLL FOR FREE DEMO CLASS |
WhereSpere Red Course Curriculum
Key Features Of WhereScape Red Training
About WhereScape Red Training Course
WhereScape RED, helps to develop and iterate collaboratively with users to deliver projects faster, respond more quickly to changing business requirements and do all of this at a lower cost than ever before.
Developers can extract and load data from multiple sources without writing any code with WhereScape RED. It also streamlines deployment by auto-generating documentation to boost productivity five times over.
WhereScape RED is an IDE that can be used to design, build and maintain a company's data infrastructure–including data repositories and vaults, lakes, and marts.
The software can be used to generate and handle a Target Data Warehouse within a variety of supported data platforms such as Amazon Redshift, Microsoft SQL Server, Microsoft Azure, Oracle, Snowflake, Teradata and more.
With WhereScape RED, one can easily construct SQL Server-based data repositories—in a week's time compared to several months or years. And doing so with fewer assets, no given time limit, and at a lesser price.
Brolly academy stands as one of the leading institutes for software training courses. It is an excellent choice for those looking for a thorough and expert-level of WhereScape Red training in Hyderabad. 
We offer WhereScape Red training that covers both basic and advanced concepts, whether you are an individual or a professional. We can customize the course content to meet your requirements and arrange it at your pace.
Students will receive WhereScape Red certification upon completion of the training program and this certificate is approved by most companies. 
Attaching our WhereScape Red certificate to your professional resume can help you promote dynamic and flexible job opportunities with the right skills. 
We offer three different modes of training that include WhereScape Red online training, WhereScape Red video course training in Hyderabad, and WhereScape Red classroom training in Hyderabad.
We also prioritize training the students by making them job-ready with our WhereScape Red placement assistance training programs. 
Interview questions, resume preparation, mock interviews, and much more can be accessed as a part of our WhereScape Red Placement program.
Join Brolly Academy for a demonstration of our WhereScape Red Training in Hyderabad, where we will be showing you how to use WhereScape Red, the latest version of the software, and how it can empower you in your day-to-day work.
Modes of WhereScape Red Training
Brolly Academy offers Wherescape red course in 3 different formats to support a convenient learning environment for our  students – 
WhereScape red classroom training

We offer expert instructor-led classroom training program that provides real-world scenarios, hands-on experience, and personalized coaching from wherescape certified trainers. This will give you first-hand exposure while making it engaging and cover all aspects of that framework from basic principles to advanced techniques in the WhereScape Red technology.
WhereScape red online training

Our WhereScape Red online course is delivered through e-learning platforms that have been designed for those who wish to gain a better understanding of how wherescape red framework works. This WhereScape Red online training offers classes taught by expert trainers who are available for one-on-one assistance and will answer any questions you might have about the technology.
WhereScape red video course

The WhereScape Red video course is a curriculum of live recordings supplemented with assessments, quizzes, and additional resources. We offer personal one-on-one doubt clearing classes in which our trainers can meet with students individually and answer their questions. Completing the course will earn you a digital certification in WhereScape Red technology.
Why choose us for Wherescape Red Training?
Advanced course syllabus

We have developed a unique wherescape red course syllabus that is specially curated by our expert trainers who are fully aware of the latest updates and industry standards. We have designed this syllabus with the help of real-world professionals and tailored it to make our student's learning experience as effective and productive as possible.
Interview Preparation

We offer expert guidance in interview preparation that helps students find jobs in an effective way. This training program includes mock interviews, Frequently Asked Questions, and other resources to help our students prepare for their careers in this WhereScape Red technology.
Best Instructors

We have the best wherescape red instructors who have worked in the field for over 7+ years and are among the most knowledgeable in their field and are known for their excellent training facilities. They make the WhereScape Red concepts simple by teaching both current and emerging skills and communicating them in a way that sticks with our students.
WhereScape Red Certification

Brolly Academy is a leading provider of WhereScape red certification training. We provide wherescape red certification guidance to students and professionals. The WhereScape Red course completion certificate from our training program would be awarded to each student in the end of the training. With this certificate, our students have an excellent chance of landing a great job opportunity in the domain.
Unlimited access to students portal

A comprehensive lifetime learning management system for WhereScape red certification training is designed to help you learn about the latest WhereScape red concepts along with videos. The platform is designed to help users gain a better understanding of WhereScape red and to teach them how to use it effectively.
Group Discussions

We conduct multiple group discussions with the guidance of our expert trainers to ensure that everyone is actively engaged and participating in the WhereScape red training program. It also allows us to answer any questions or concerns students may have during their learning as well as provide feedback on their individual progress
WhereScape Red Training Certification
Our WhereScape RED training covers concepts from the Basic level to the advanced level.  Whether you are an individual or a working professional, we can customize training course syllabus as per your requirements. 
We also provide WhereScape RED certification training in remote learning options. You can learn the course at your pace from anywhere around the world.
Enrolling in this WhereScape Red Training course from Brolly Academy will give you access to real-world industry scenarios and projects that are directly tied to your success as an employee. 
Our WhereScape RED certified expert trainers will teach you a real-time scenario-based case study and also provide study material and ppt for your reference. 
They will guide you to clear the WhereScape RED training certification exam by providing you with expert guidance.
At the end of this program, upon successful completion of the course Brolly Academy will award you with a WhereScape Red course completion certificate which is recognized by the top companies all over the world.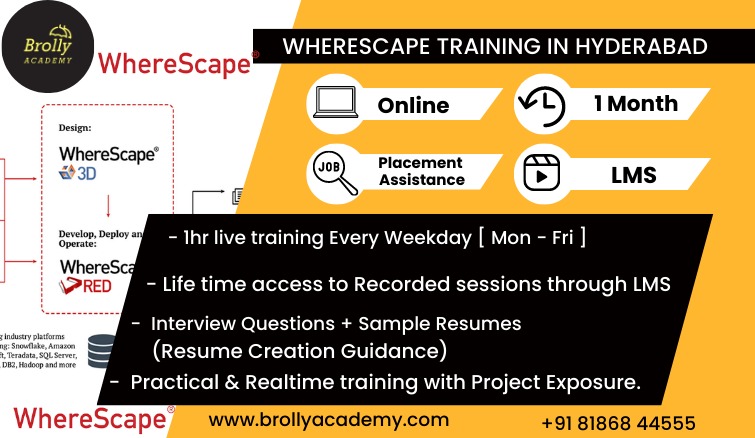 Advantages of Learning WhereScape Red course
WhereScape Red is the best data automation tool in the industry. It has many other advantages such as – 
Objectives of the WhereScape Red training course -
This course is designed to ensure that WhereScape RED users have the skills required to understand business requirements and create or enhance a data warehouse
Prerequisites to Learn WhereScape Red
Who can learn this WhereScape Red training?
Market Trend in WhereScape Red
What is WhereScape red?
WhereScape RED is a tool for building and managing data warehouses.It can be used to build SQL Server, Teradata, Oracle or DB2 data warehouses.
The output from a WhereScape RED project is data stored in a supported database platform—the Target Data Warehouse.
Is WhereScape Red An ETL tool?
No, WhereScape RED does not have a proprietary engine and generates native SQL Server code. It is an environment for developing and maintaining applications but it is not an ETL tool.
What does WhereScape Red do?
WhereScape RED is data warehouse automation software that you can use to build, deploy, manage, and renovate your company's data warehouses, data marts, and big data solutions.
WhereScape RED delivers fast, efficient implementations and shortens your time to value.
What are the benefits of getting certified in the WhereScape Red course?
Getting certified in WhereScape Red will improve your career prospects and help you land a job at one of the top companies.
Does Brolly Academy provides practical oriented training sessions in WhereScape Red training?
Yes, our WhereScape training provides a solid grounding in the software, including both theoretical and practical lessons.
Before being challenged with scenarios reflecting real-world challenges (and receiving feedback on his work), students will be introduced to each module individually.
Which institute is best for learning WhereScape Red Training in Hyderabad?
At Brolly Academy, we offer expert training in a wherescape red training course through our workshops as well as one-on-one coaching sessions with business developers.
You can become a skilled professional by learning all aspects of this technology including how to apply it in your day job.
Will I be getting a free demo before enrolling in WhereScape Red Training?
We offer free, demo classes on WhereScape Red training to help you make a decision about whether our training program is right for your needs or not.
Will I get a placement assistance in the WhereScape Red Training Course?
Yes, We will help you develop your professional image by preparing for interviews, writing resumes, and giving career advice with our placement assistance program.