CCNA Training in Hyderabad
100% Placement Assistance
CCNA Training in Hyderabad Batch Details
| | |
| --- | --- |
| Course Fee | 20,000 Rs |
| Course Duration | 2 Months |
| Timings | Monday to Friday (Morning to Evening) |
| Next Batch Date | 18-09-2023 AT 11:00AM |
| Training Modes | Classroom [HYDERABAD] / Online |
| Location | Hyderabad |
Key Features Of CCNA Training
About CCNA Training in Hyderabad
The CCNA which stands for (Cisco Certified Network Associate) is an entry-level IT certification issued by networking hardware company Cisco. 
The CCNA validates your knowledge of the fundamental concepts that are often requested in roles related to networking.
Brolly Academy provides real-time and placement-focused CCNA training in Hyderabad. Our Cisco Certified Network Associate training course includes basic to advanced levels with classroom & Online Learning options. 
Brolly Academy's CCNA training course curriculum is designed to get the job placement in reputed MNC companies in Hyderabad as quickly as once you complete your CCNA training certification course. 
Our CCNA trainers at Brolly Academy are certified and experienced working professionals with hands-on real time knowledge in CCNA. We have designed our course content and syllabus based on students' requirements to achieve everyone's career goal. 
In our CCNA training program, you will learn to work – Networking concepts, LAN, MAN, WAN, VPN, PAN & Content Network, OSI – Model, TCP/IP Model & Ipv4, Sub netting, IPV6, IP Routing, EIGRP & OSPF, WAN Technologies.
Brolly Academy in Hyderabad offers CCNA course through online training with live one-to-one learning options. 
We also offer CCNA Classroom / Instructor-led training and CCNA Self-paced video course training in Hyderabad. We are providing the facility to all our students who ever wants to switch classroom from online classes without any additional course fees. 
The CCNA certification certifies a candidate with the ability to install, set up, configure, troubleshoot and operate a medium-sized routed and switched computer network. 
Our extensive CCNA training programs and placement assistance schemes offer excellent employment opportunities to our candidates.
Brolly Academy is the best provider of CCNA Certification courses in Hyderabad. Enroll with us to get the best CCNA Training in Hyderabad.
Why Choose Our Brolly Academy Institute For CCNA Training?
Brolly Academy is the leading Software training institute in Hyderabad and has been recognized for its effective teaching methods. Our expert trainers have over 10+ years experience in CCNA and can prepare you to enter this exciting industry. Whether you're a fresher looking for certification or an experienced professional with expertise.
 Our CCNA Training course provides you with the skills and expertise you need to apply at companies that use this technology. Our CCNA Course will help you get ready for your mock interviews, resume creation and question-and-answer sessions. Here are some reasons why you should enroll in our CCNA Training course in Hyderabad:
Get trained by expert instructors with years of hands-on experience and in-depth knowledge and understanding in the CCNA technology. Our CCNA instructors bring years of experience to the classroom, sharing their expertise with our students and helping them learn about the latest concepts in networking.
Get real-world experience and the chance to work on live projects from multiple industries, which will help you prepare for a career in your chosen field.
The course curriculum at Brolly Academy is always uptodate. Gain a competitive edge through expertise in the latest tools & technology integrated into the course curriculum
Extra remedial classes for students lagging behind to bring their knowledge to par with other industry-ready students. We offer weekly sessions in which our trainers meet with students to answer questions about the CCNA course.
Brolly Academy 24*7 Support System
We at Brolly Academy offer 24*7 customer support to all our students, so that students can get in touch with their instructors or technical experts whenever they have questions about a course.
Customizable Class Timings
We offer classes at all times of day, and students can access class materials online. They can also customize their schedules to take advantage of our dynamic curriculum our instructors will do everything that they can to help the student achieve their desired results.
Our career guidance team helps our students apply their skills to real-life situations by guiding them through all phases of the job search, including resume writing and practice interviews.
Brolly Academy's CCNA program can give students the skills and confidence they need to succeed in their business intelligence careers.
Testimonials of CCNA Training in Hyderabad
This CCNA training course is designed for clearing Brolly Academy's CCNA Certification. You must clear the CCNA certification to take the CCNP certification course. It is a compulsory requirement. The entire course content is in line with this certification and prepares you to tackle it easily, getting the best jobs at top MNCs. By enrolling in this CCNA Training, you will receive access to real-world industry scenarios and projects that are directly tied to your success as an employee.
 At the end of this CCNA Training program, there will be practical exercises that test your knowledge of core concepts on CCNA. You can take these exams to prepare for your CCNA Certification exams or just to check your understanding. The choice is yours.  Upon the successful completion of students' project work, Brolly Academy will reward them with a CCNA Course Completion Certificate which will add more value to your resume.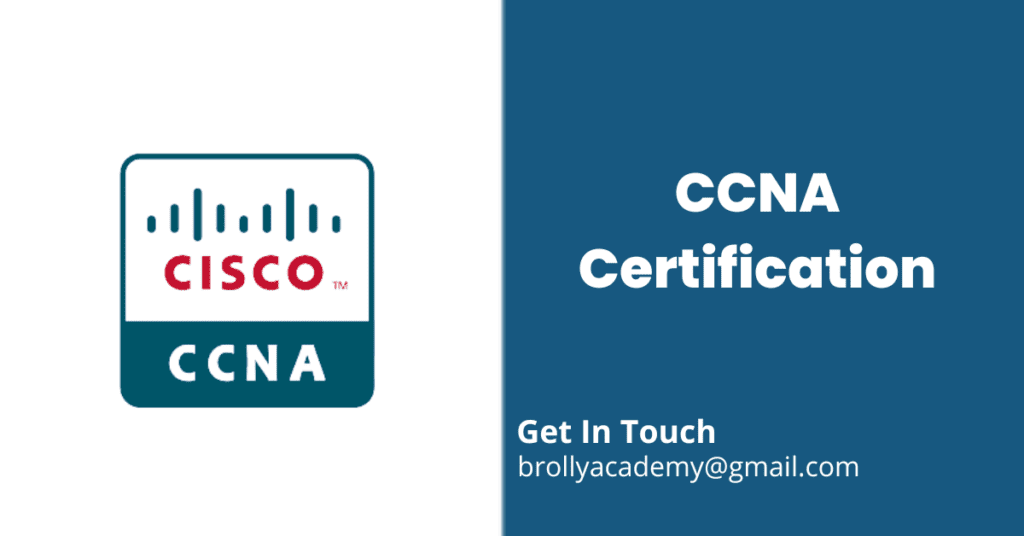 Advantages of Learning CCNA Course
Employment possibilities in CCNA
Completion of the CCNA Course you will learn
Prerequisites to Learn CCNA
Who should take this Training CCNA Course?
● Ideal for Graduates with 0 – 3 years of experience.
● Degree holders in B. Tech, B.E and B.Sc. IT Or Any Computer Relevant.
● Network Engineers.
● Any Network Professional.
What certification will I receive after course completion?
You will receive Brolly Academy's globally recognized CCNA course completion certification.
How experienced are the CCNA faculties at Brolly Academy?
Our CCNA faculty members are industry experts who have extensive experience and expertise in real-world Cisco projects. The students can be confident that their teachers are among the best in the Cisco industry.
Can a person without prior experience in programming learn CCNA?
Yes, CCNA doesn't require any sort of prior experience. No prior experience is required to complete the course, but knowledge of computer networking and Cisco products will help you pass future certification exams.
Which companies hiring CCNA professionals?
The companies that hire CCNA professionals in Hyderabad include Wipro, Jindal Aluminum Limited, Cisco, MIljorens, and Locuz Enterprise, and Techstar, etc.
What is the average salary of a CCNA professionals?
The average salary of a CCNA professional is around 7 lakhs PA in Hyderabad and in overseas it would be around $101,000.
Can I have classes as per my time schedule?
Yes, we can schedule training sessions as per your availability.
Can I coustomize the course curriculum?
Yes, you can customize the course curriculum as per your requirements.
IS CCNA required for CCNP?
CCNA is an associate-level certification, whereas CCNP is a professional-level Cisco certification. To be eligible for the CCNP exam, you must either hold an existing Cisco credential or have earned your CCNA and met other eligibility requirements
What are the training modes offered by Brolly Academy for this CCNA Course?
We offer CCNA courses in a variety of formats classroom, one-on-one, self-paced video learning, and online training at our Brolly Academy.
Will I be provided with a free demo class before enrolling in CCNA Training at Brolly Academy?
Brolly Academy is offering a free demonstration of its CCNA training class to interested students.