Google Analytics Training in Hyderabad
100% Placement Assistance
Google Analytics Training in Hyderabad Batch Details
| | |
| --- | --- |
| Course Fee | 20,000 Rs |
| Course Duration | 2 Months |
| Timings | Monday to Friday (Morning to Evening) |
| Next Batch Date | 18th Sep 2023 AT 11:00AM |
| Training Modes | Classroom [HYDERABAD] / Online |
| Location | Hyderabad |
Key Features Of Google Analytics Training
Google Analytics Course Curriculum
About Google Analytics Training in Hyderabad
Google Analytics is a free, powerful web-monitoring tool that enables you to gather insightful information about your website's visitors. Google Analytics is a tool that helps us list a site, check out its sitemap and robots.txt files, etc. It gives an idea of how to set up a webmaster tools account and add sitemaps; detect crawling errors etc. 
Google Analytics contains several sub-modules, including Search Appearance and Traffic; Google Index, Crawl, and Security Issues. Analytics gives you information on how customers interact with your site, which helps to improve the effectiveness of your marketing and advertising strategies. Google Analytics is a perfect tool to justify your spending by generating more sales while reducing cost per conversion.
Brolly Academy is offering instructor-led Google Analytics training in Hyderabad with a reasonable price range. The Google Analytics skill is a digital analytics one that you can learn with this course. Learn all the required components of Google Analytics from us and get certified on it! The training provides a thorough overview of the Google Analytics certification exam including the skills and knowledge required to pass. Upon successful completion, you will receive instructions on how to obtain your certificate for Google Analytics Individual qualification. 
Brolly Academy's Google Analytics certification course is comprehensive and makes the most out of one of the most powerful marketing analytics tools available today. Our training program covers a wide range of topics, from basic implementation and reporting to advanced implementations with Google's Tag Manager and customized reports. By participating in our training program, you will learn to optimize Google Analytics and gain valuable insight into your company's operations.
 Brolly Academy's Google Analytics training includes topics like Web Analytics, Premium & Standard Comparison, Google Analytics, Ad words, Demographics Reports, E-commerce, Data Collection and Management, Data Analytics and Reporting. etc. We offer a variety of training options including both Google Analytics online and Google Analytics in-person instruction, as well as Google Analytics self-paced video courses so that people can find what works best for them. Our extensive Google Analytics training programs and placement assistance schemes offer excellent employment opportunities to our candidates.
Enroll with us to get the best Google Analytics Training in Hyderabad.
Modes of Google Analytics Training
Why Choose Our Brolly Academy Institute For Google Analytics Training?
Brolly Academy is the leading Software training institute in Hyderabad and has been recognized for its effective teaching methods. Our expert trainers have over 15+ years experience in Google Analytics and can prepare you to enter this exciting industry. Whether you're a fresher looking for certification or an experienced professional with expertise.
Our Google Analytics Training course provides you with the skills and expertise you need to apply at companies that use this technology. Our Google Analytics Course will help you get ready for your mock interviews, resume creation and question-and-answer sessions. Here are some reasons why you should enroll in our Google Analytics Training course in Hyderabad:
Expert Google Analytics Training Staff
Our Google Analytics instructors are well-versed in the latest concepts and skills. They share this expertise with students, who benefit from years of experience training both professionals and students alike.
Integrated Google Analytics Course Curriculum
The curriculum of the Google Analytics Certification Course is designed to prepare you for a career in analytics and help you become industry-ready.
Brolly Academy's support team is available 24 hours a day, 7 days a week to assist our students with any questions they may have regarding the course material or technical difficulties.
With our Brolly Academy, you can now learn Google Analytics training at your preferred time and place.
We help our candidates apply the skills they've learned here to real-life situations. Our placement conduct team guides students through all phases of their job search, from creating a resume to practicing for interviews.
Compact Google Analytics Batches
We limit the size of each batch to no more than 10 students, ensuring that everyone gets enough attention.
Google Analytics Certification
Brolly Academy's Google Analytics course completion certificate will be issued after you complete the training. This certification is globally recognized and may make it easier for you to find a good job in your chosen field.
We arrange weekly meetings with our trainers to help students address questions they have about the Google Analytics course. The trainers clarify all their doubts and make sure that everyone understands what he or she is doing.
Testimonials of Google Analytics Training in Hyderabad
Certification in Google Analytics
This Google Analytics training course is designed for clearing Brolly Academy's Google Analytics Certification. The entire course content is in line with this certification and prepares you to learn it easily, getting the best jobs at top MNCs. By enrolling in this Google Analytics Training, you will receive access to real-world industry scenarios and projects that are directly tied to your success as an employee.
At the end of this Google Analytics Training program, there will be practical exercises that test your knowledge of core concepts on Google Analytics. You can take these exams to prepare for your Google Analytics Certification exams or just to check your understanding the choice is yours! Upon the successful completion of students' project work, Brolly Academy will reward them with a Google Analytics Course Completion Certificate which will add more value to your resume.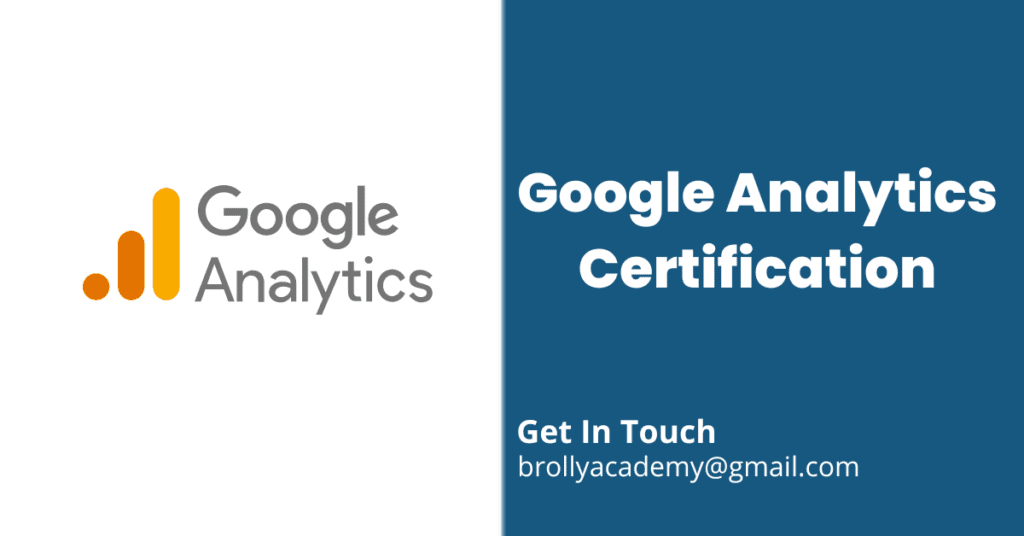 Advantages of Learning Google Analytics Course
Employment possibilities in Google Analytics
Completion of the Google Analytics Course you will learn
Prerequisites to Learn Google Analytics
Is the Google Analytics exam free for learners?
Yes, The Google Analytics IQ exam is free of charge and it is available at Skillshop. You can prepare yourself for the Google Analytics Individual Qualification (IQ) exam, by completing our Google Analytics course.
What is Google Analytics in short?
Google Analytics is a powerful tool that allows you to track, understand and report on your website traffic. It helps companies analyze which marketing activity generates the best traffic and then optimize their efforts accordingly.
Does Brolly Academy offer any other courses for Digital Marketing in Hyderabad?
Yes Brolly Academy offers many other courses in Digital Marketing also software courses in hyderabad. You can check the courses provided by us in our website - brollyacademy.com or you can contact us by this number +91 81869 44555.
What is the Salary as per Market for Google Analytics professionals?
According to Indeed latest reports, Google Analytics professional is paid around $44k.
What is the Google Analytics market trend in Hyderabad?
Though there are numerous analytics providers, Google Analytics has established itself as a leader due to its robust functionality. Google Analytics technology is making it easier for businesses to develop effective digital marketing strategies, causing demand for skilled marketers in Hyderabad to soar.
Why should you take up this Google Analytics training course?
Because of the ease with which anyone can learn Google Analytics, it has become the preferred choice for firms and aspirants looking to better understand their online audience. Brolly Academy's Google Analytics training course provides comprehensive instruction on how to use this technology, emphasizing practical applications. Brolly Academy's course is much more interactive than other courses, making it a better choice for mastering analytics in an engaging way. This course will prepare you for the Google Analytics Individual Qualification (IQ) exam, which is considered by many Business Analysts to be a vital step on their road to success.
Will I get proper expert guidance on my Resume Preparation at Brolly Academy for job purposes?
Yes, we will help you to create a resume that highlights your skills and abilities as they relate to the job at hand.
Who should take up this Google Analytics online training course?
● System and Web Analysts
● Marketing Professionals
● Digital Product Managers
● Sales Managers and Executives
● SEO and SEM Personnel
● IT Architects and Testing Personnel
● Students
● Working Professionals
● Entrepreneurs and small business owners
● New Business Start-ups
● Bloggers who want to get more traffic to their blogs
● Freelancers
● Those aspiring for a career in analytics
What are Google Analytics tools?
● Google Analytics service.
● Google Analytics Data Gateway.
● Google Analytics Report Server.
● Google Analytics Mobile Apps.
● Data Integration.
● Data Presentation.
● Data Processing.
Can I learn Google Analytics without any coding skills?
You don't want any coding skills to learn or work with Google Analytics.
Will I be provided with a free demo class before enrolling in Google Analytics Training at Brolly Academy?
Brolly Academy offers a free trial class in Google Analytics for anyone who is interested in taking our full training program.
What if I miss one or more classes in Google Analytics?
We will reschedule your class to a new date within the specified course duration. And if you'd like to attend with another batch, we can arrange that too.