Kubernetes Training in Hyderabad
100% Placement Assistance
Kubernetes Training in Hyderabad Batch Details
| | |
| --- | --- |
| Trainer Name | Mr.Mohan |
| Trainer Experience | 15+ Years |
| Next Batch Date | 14-11-2022 |
| Training Modes: | Online Training (Instructor Led) |
| Course Duration: | 30 Days |
| Call us at: | +91 8186844555 |
| Email Us at: | brollyacademy@gmail.com |
| Demo Class Details: | ENROLL FOR FREE DEMO CLASS |
Key Points of Kubernetes Training in Hyderabad
Kubernetes Course Curriculum
About Kubernetes Training in Hyderabad
Kubernetes is a free, open source container orchestration platform. It's been adopted by many companies as the foundation of their cloud native infrastructure and has become a de facto standard for container orchestration.
Kubernetes was originally developed by Google, but it is now being actively developed by a large community of contributors from around the world. Brolly academy is an institute that provides kubernetes training in hyderabad. 
We provide hands-on training on Kubernetes and help you master it. Our kubernetes training classes are designed to help you understand the concepts of kubernetes and prepare you for the Kubernetes certification exam.
Kubernetes training classes are conducted by subject matter experts who have years of experience in the field and have worked with different companies to understand their requirements.
We have designed our kubernetes training course in a way that they can be delivered both online and offline. You also get certification training and a unique placement assistance program, allowing students to gain valuable experience in the workplace.
Enroll with Brolly Academy for a comprehensive Kubernetes training online.  
Modes of Training - Kubernetes Training
We have curated the Kubernetes course in a way that the learner can follow the course in an online mode as well as in an offline mode. 
Why choose us for Kubernetes Training?
If you're looking for a team of certified Kubernetes experts, then look no further. We've teamed up with the best certified Kubernetes trainers to help you master the cloud native technology. 
Our Kubernetes trainers have years of experience in the field and hold a  passion for teaching the best practices to our students.
We offer quality preparation for the Kubernetes certification exam. Our goal is to help you pass the exam in the first attempt. 
You can pass the Kubernetes certification exam by going through our Kubernetes training course with expert guidance with a step by step learning process. 
We conduct our training in batches with not more than 30 students as it helps us to maintain the quality of the training and we can also focus on the feedback from our students. 
Our Kubernetes training classes are conducted on the weekdays with the availability of dual sessions, so you can choose the time that works best for you.
We believe that the best way to learn something is to learn it through doing. That's why we offer unlimited access to our courses, kubernetes LMS and study guides. 
You can study at any time of the day and learn at your own pace. Our kubernetes training covers all the topics and is perfect for beginners and advanced professionals.
We have a customized Kubernetes course curriculum that has been developed by our expert team of instructors who have years of experience in the field. 
The curriculum covers a broad spectrum of topics that gives you the skills needed to deploy a Kubernetes cluster on your own infrastructure.
We are a team of passionate and experienced trainers and mentors who work together to help students get their dream job. We provide interview support and assistance to our trainees. 
Our kubernetes training is designed to help you land the job of your dreams. In addition, we guide you with a resume builder that will help you create a resume that will get you noticed by recruiters.
Testimonials for Kubernetes Course Online
Kubernetes is an open source container orchestration platform that has been gaining traction in the enterprise market. Kubernetes has been growing in popularity recently, and this is a great time to get certified in the technology.
The Kubernetes certification exam is a must-pass requirement to work with Kubernetes and to be able to write and deploy applications using it. If you are looking for Kubernetes certification exam training, then this is the right place to start. 
Brolly academy is a leading Kubernetes training center offering excellent certification exam training facilities. Our instructors have years of experience and can help you prepare for the Kubernetes certification exams with the right set of skills. 
We also reward our trainees with a Kubernetes course completion certificate that is fully accredited and certified. You can claim the certificate in a digital format or as a hard copy that can directly be presented in your resume for quality career prospects. 
Enroll with us for quality Kubernetes training and certification.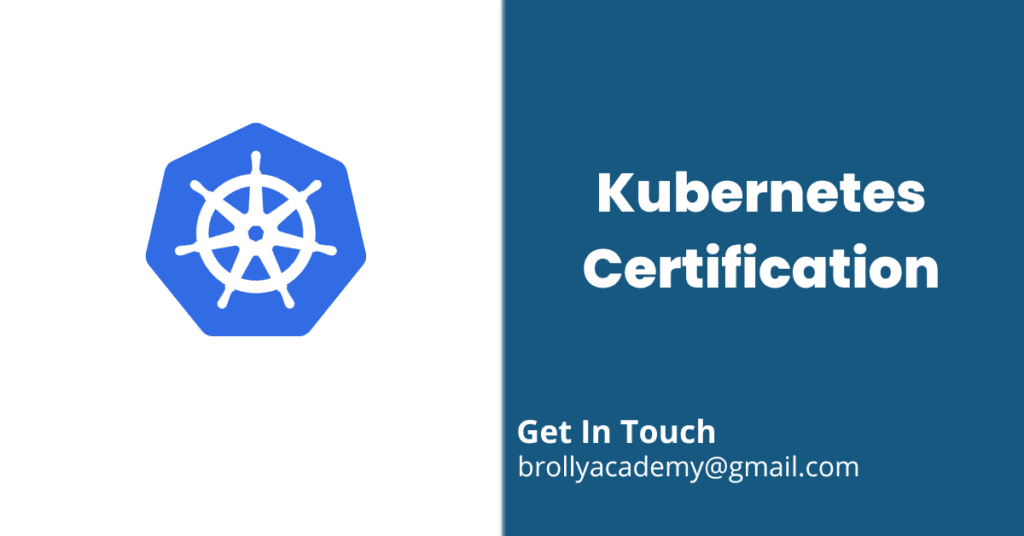 Skills developed Post Kubernetes training in Hyderabad
Career opportunities in Kubernetes
Kubernetes is the latest buzzword in tech, and companies are scrambling to hire the best people to work on it. It's the hottest job right now, and there's a ton of demand.
Prerequisites of Kubernetes training
There are no given prerequisites for learning Kubernetes as we at Brolly Academy train you with a complete Kuberentes course from basics to the most complex concepts. However, candidates with basic understanding of Docker would have an added advantage. 
Is kubernetes in demand?
Kubernetes has very good scope in future owing to its potential to become the new de facto standard for container management and hence, Kubernetes is very much in demand.
Is kubernetes hard to learn?
Kubernetes is easy to learn with Brolly Academy as we have the best training staff who can guide you right from the basics.
Is kubernetes certification worth it?
Yes, Kubernetes certification is definitely worth it and contributes to accelerating your career prospects.
How long will it take to learn kubernetes?
We offer a 2- month Kubernetes training in Hyderabad with practical sessions and placement support.
Who can learn Kubernetes?
Anybody interested in the course can take it up along with IT professionals, tech architects, sysadmins and QA Engineers can learn the Kubernetes course.
What is the average salary of a Kubernetes Developer in Hyderabad?
The average salary of a Kubernetes Developer in Hyderabad is 5.7 lakhs per annum based on your skills and experience.
Who are the trainers at Brolly Academy?
The trainers at Brolly Academy are all certified with 9+ years of experience in the corporate world and training students across platforms.
Do I get a free demo?
Yes, you get a free demo wherein you will be given access to our sessions with the trainer so you can get a better understanding of our teaching and training modes.
What if I miss a class?
You can always attend our next live batch or we can make arrangements for backup sessions with the trainers.
Do you offer placement support?
Yes, we provide placement support where we train and prepare you for real-time interviews but do not guarantee or promise a job post our training program.