iics training in hyderabad
(informatica Cloud training)
100% Placement Assistance
Informatica Cloud- iics training in hyderabad (new batch details)
Informatica Cloud iics Training Curriculum
Overview – Navigating through the Interface
Administration
Runtime Environments and Connections
Cloud Mapping Designer – Basic Transformations
Advanced Transformations and Mapping Tasks
Mapping Parameters
Advanced Options
IICS APIs
Exception Handing
Performance Tuning
Automating and Monitoring Tasks
Synchronization Task
Replication Task
Hierarchical Parser
Informatica Cloud Application Integration (CAI)
Key Points of Informatica Cloud
iics training in hyderabad
What is Informatica Cloud ?
About Informatica Cloud - iics training in Hyderabad
A complete platform for cloud integration & data management is offered by the on-demand subscription service Informatica Cloud.
The Best Informatica Cloud Course in Hyderabad is offered by Brolly Academy. 
When you sign up for Informatica Cloud, you connect to it through a web browser. You can set up connections, add users, and create, execute, plan, and keep track of tasks.
The cloud-based Power Center, Informatica Cloud Data Integration, provides reliable, secure, and easily available data to support more insightful business choices. 
The companies can utilize Informatica Cloud Data Integration to assist with worldwide, distributed data warehouse and analytics initiatives.
This is a set of tools that Informatica gives us in terms of both hardware and software. We may make use of the cloud's resources and execute programs there.
For managing applications, creating jobs, and monitoring, the IICS offers a variety of apps or services that consumers can use.
In comparison to the PowerCenter, no client software needs to be installed on your computer in order to use the applications; they can all be accessed through a web browser.
Our Best Informatica Cloud training program includes 100% placement support, including both classroom and online Informatica Cloud training.
IICS training online

Students who enroll in Brolly Academy's Informatica cloud training in Hyderabad have access to our e-learning platforms and can complete their courses online at their own convenience. Students can complete the Informatica cloud training at their own pace with our online course, which offers in-depth instruction in all the fundamental ideas as well as more advanced skills.
IICS classroom training

Ameerpet and KPHB are the locations where we offer Informatica cloud classroom training in Hyderabad. Real-world scenarios, practical instruction, and individualized coaching are all included in this instructor-led training course. We use real-world applications in our Informatica cloud Classroom training to provide students with hands-on experience.
IICS self-paced video course

Our Informatica Cloud video learning courses are interesting and informative, and they include videos that let you learn at your own pace from knowledgeable instructors who are experts in their industry. Our trainers provide instructional training with real-world examples of the Informatica Cloud ideas in these instructional videos, which are tailored classroom recordings that will be made available to our students. This encourages an easy learning environment.
Why choose us for iics training in Hyderabad

Professional trainers

The most recent version of the tool can be taught to you by our professional Informatica Cloud trainers. You can learn how to use Informatica Cloud in practical situations by taking our Informatica Cloud training courses. You will be assisted in getting started with Informatica Cloud by our knowledgeable trainers.
Informatica Cloud certification

After the students have completed the sessions theoretically and practically, we offer them the course completion certificate. It boosts the worth of your CV, and you can gain top employment in top organizations with the help of this certification. The certification won't be given until after you've completed our training and practice-based assignments successfully.
Affordable Fees

If you're seeking cost-effective, fast, and excellent training to understand Informatica Cloud, then look no further. For both beginning and experienced users, our Informatica Cloud course fees are reasonable including a placement assistance program. Our purpose is to educate learners with a thorough knowledge of Informatica Cloud ideas and how to apply them to real-world applications.
Advanced curriculum

We also offer a selected and updated Informatica Cloud curriculum that will help you to master Informatica Cloud. You will learn everything there is to know about Informatica Cloud in our advanced Informatica Cloud course. We have a detailed and comprehensive introduction to the theories and concepts with technical help from professionals.
Placement assistance

Brolly Academy's Informatica Cloud training in Hyderabad placement assistance team will guide all our trainees to find a job in the Informatica Cloud industry that's right for their talents. They will also advise you on how to negotiate salary and advantages with companies on their behalf.
Lifetime accessibility

A comprehensive lifetime learning management system for Informatica is designed to help you learn about the latest Informatica concepts and stay current on industry developments and comes with lifetime access and availability.
Testimonials for iics training in Hyderabad
Informatica Cloud iics certification
Brolly academy provides one of the best Informatica Cloud training and certification course with a very well-developed curriculum. Students who complete the course will have the knowledge and abilities needed to pass the Informatica Cloud certification exam.
You will be issued an Informatica Cloud course completion certification once after completing the course of the Informatica Cloud training successfully at Brolly Academy.
The certificate can be downloaded as a hard copy or you can also get a digital version based on your preference and requirement.
Certification Fee –
Each test is composed of four training units (at $85 per unit) with a total price of $340.

Test purchasers may retake the test an additional time for free.

No other discounts apply.
Certification Code – 
Cloud Data and Application Integration-R34 Professional Certification.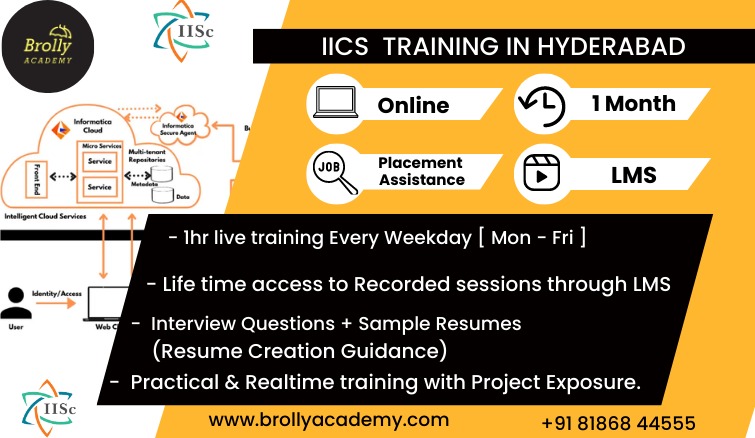 Benefits of iics & iics training in Hyderabad
One of the best platforms for data integration is Informatica. Data Integration may be done for a large volume of data and from various sources in a shorter time than any other ETL software.
Utilizing Informatica Workflow Monitor makes it very simple to keep an eye on the work process. Informatica Workflow Monitors simplify the process of discovering and recovering from failed or slower-performing tasks.
Informatica uses one of the greatest technology to boost performance in terms of quality and speed. Additionally, it helps in cost optimization, which in turn assists the organization in automating, reusing, and debugging the Business.
Informatica features a centralized error logging system that records problems and rejects data into relational tables, assisting the technical team in fixing the errors.
Skills developed after iics training in Hyderabad
Prerequisites of iics training in Hyderabad
Career opportunities in Informatica Cloud
Various roles and designations can be found in IICS. The following are some of the most common ones: 
Market Trend in Informatica Cloud
Is coding knowledge required to enroll in this course?
No coding knowledge is required to complete this course.
Can I take a free demo course before enrolling in a full course?
Yes, We provide free demo classes before starting the batch. Please do Register immediately for more information. our staff will contact you as soon as possible.
What is the purpose of Informatica Cloud?
The on-demand subscription service Informatica Cloud offers a full platform for cloud integration and data management. When you sign up for Informatica Cloud, you connect to it through a web browser. Connections may be set up, users can be made, and tasks can be made, scheduled, planned, and monitor tasks.
What differentiates IICS from Informatica PowerCenter?
The ICS offers hybrid solutions that enable the development of integrations between cloud and cloud, cloud and on-premise, and on-premise and on-premise. The PowerCenter tool, however, is restricted to the on-Premise data set. Installing client programs on the personal computer is not necessary for the ICS.
Will I continue to receive technical support once I finish this course?
You will have access to the technical team and can get in touch with your specific faculty members personally as well
Will Brolly Academy give me a curriculum for Informatica Cloud?
Yes, you will receive an Informatica Cloud syllabus from Brolly Academy, and you can also customize it to meet your needs.
Will there be a free Demo of the Informatica Cloud training?
Yes, Brolly Academy offers all students a free demo of its Informatica Cloud training.
How long will it take for this Informatica Cloud certification course to be completed?
Our 45-day Informatica Cloud course includes thorough instruction in Informatica Cloud fundamentals. It could take longer depending on how you learn the subject.