WordPress Training in Hyderabad
100% Placement Assistance
WordPress Training in Hyderabad Batch Details
| | |
| --- | --- |
| Course Fee | 20,000 Rs |
| Course Duration | 2 Months |
| Timings | Monday to Friday (Morning to Evening) |
| Next Batch Date | 7th Feb 2022 AT 11:00AM |
| Training Modes | Classroom [HYDERABAD] / Online |
| Location | Hyderabad |
Key Points Of WordPress Training in Hyderabad
WordPress Course Curriculum
About WordPress Training in Hyderabad
WordPress is an open source Content management system (CMS) that is completely free. It was written and created in PHP in coalition with MySQL & MariaDB database with HTTPS. WordPress allows you to host websites and build websites with ease. WordPress comes with multiple plugins that support architecture and templates that can be customized according to your niche and interests. Brolly Academy offers the best WordPress training in Hyderabad with a complete course program. The training will cover topics like installation of WordPress, Configuring WordPress, optimizations, database connectivity, Domain transfers, Migration, on-page SEO + off page SEO, plugins, backups, wordpress security and more. The WordPress training course will be taught using live projects that are in runtime to help the students understand and develop practical skills. Brolly academy offers an array of courses that include both IT and software training courses in Hyderabad with updated course curriculums and modules. A customized Brolly WordPress course certification will be given to each participant towards the end of the course. The WP certificate can add great value and potential to your CV highlighting your professional and practical skills which inturn can promote career opportunities. This WP course is conducted by trainers with experience and professional work lasting for about 7+ years and is designed particularly to cater both beginners and professionals. Brolly academy offers Wp online training in Hyderabad, WP classroom training and WordPress video course training in Hyderabad with undeterred attention given to each of the students participating in our training program. We offer quality WP training in Hyderabad with guaranteed placement assistance.
Enroll with Brolly Academy for the best WordPress Training in Hyderabad.
Modes of Training For WordPress Training in Hyderabad
Why choose us for WordPress Training?
We have experienced WP trainers with professional training expertise and skill to manage and conduct excellent WordPress training sessions in Hyderabad.
We at Brolly Academy, organize multiple WP workshops throughout the course where students will be given a chance to work on live WP projects and assignments under the supervision of our trainers.
Each batch is conducted with not more than 10 students per batch to validate and accommodate better training techniques and uniform dispensation of  WordPress knowledge.
We have trained over 80+ students with 30+ placements in the duration of 6 months.
Our WordPress classes are scheduled at convenient timings that serve both the working professionals as well as students.
You will be given free WP study materials and LMS upon enrollment with a lifetime validity and accessibility.
A certified WordPress certification will be rewarded to each student  partaking in the Wp training course in Hyderabad after the completion of the training program.
We have a team of experts who are available round the clock to help and guide students with queries related to WP course and its attributes.
Testimonials of WP Training in Hyderabad
You will be given a certified WP certification on the successful completion of the WordPress training in Hyderabad. The certificate can be downloaded as a hard copy or a digital form depending on your desirability and requirement. The WP certificate offered by Brolly Academy can be linked to your CV or resume for better enriching work opportunities.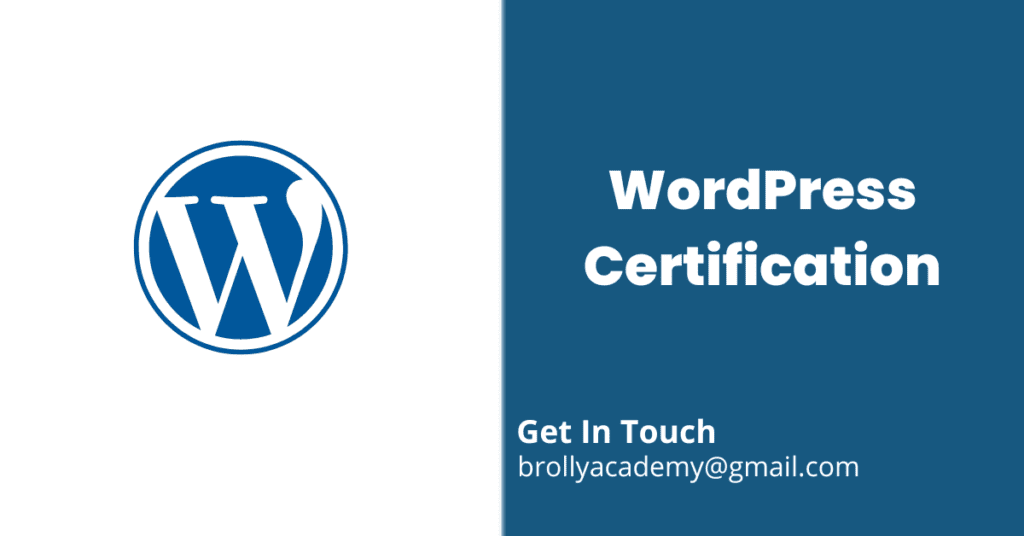 Advantages of learning WP training in Hyderabad
Brolly academy offers one of the best WP training in Hyderabad with a well-developed and sorted curriculum to enhance the student knowledge with adaptive and effective WordPress technical training assistance that will enforce a valuable career for the students and developmental range in the field.
Skills developed after the WordPress course training
Prerequisites of WordPress training course in Hyderabad
Career Opportunities in WordPress
Which is the best WordPress training institute in Hyderabad?
Brolly Academy offers the best technical WordPress training in Hyderabad with advanced curriculum and expert trainers.
What is the WordPress training fee in Hyderabad?
The WordPress training fee in Hyderabad depends on the type of training institute and the features offered by them. The WordPress training cost is usually very affordable and non-pricey.
What is the average salary of a WordPress developer in Hyderabad?
The average salary of a WP developer in Hyderabad is ₨ 3.6lakhs per year.
Where can I find WordPress training near me?
We offer WordPress training in Kphb and WordPress training in Ameerpet, you can visit us or get in touch with us for further queries.
What if I miss a class?
If you happen to miss a class, we can always arrange for backup classes or you can even attend the next consecutive training session taken by our trainers.
Do you provide replacement assistance?
Yes, of course. We offer WP placement assistance in Hyderabad to help students channelize their skills and knowledge in the right direction.
Who are the trainers at WordPress training in Hyderabad?
We have highly experienced WP trainers with professional expertise and knowledge lasting for almost 8 years to conduct and supervise the WP training in Hyderabad at Brolly Academy.