WordPress Training in Hyderabad
100% Placement Assistance
WordPress Training in Hyderabad Batch Details
WordPress Course Curriculum
Key Points of WordPress training in Hyderabad
About WordPress Training in Hyderabad
WordPress is the most widely used content management system (CMS) worldwide with more than 43% of all websites using WordPress.
WordPress is used by a wide range of organizations, including Sony Music, Microsoft Blog, Facebook Newsroom,  Mozilla, Tech Crunch, New York Times, Spotify, Disney, cPanel,  Toyota, and many more.
WordPress developers with the ability to create eye-catching websites and blogs are in high demand. You can also become a highly-paid professional by learning WP development online with the advanced WordPress course from Brolly Academy.
As a freelance WordPress developer, you can build websites for your clients as well as work for businesses full-time, launch your own web development business, and secure your future.
You receive live instruction from instructors in this online WordPress certification course who have handled hundreds of WP sites and blogs. 
Everything you learn is explained from scratch, including how to select a domain name and web hosting, install WordPress using cPanel, select the appropriate themes and plugins, and maintain the security of the website.
With the assistance of our trainer, you will also work on a brand-new website that you will design from the beginning on your own. The online WordPress training course will use both Elementor and Elementor Pro.
You can use one of the most popular website construction tools on the market today with the assistance of this WordPress training course. Additionally, managing and using WordPress Plugins are covered in this course along with content creation.
Modes of Training For WordPress Training in Hyderabad
WordPress training online:

The instructor-led, fully interactive WordPress Online Training course covers all the essential ideas and techniques required to get started with WordPress. The online WordPress training will take place on weekdays through e-learning platforms, with a one-on-one learning opportunity where you can speak with and ask questions of our trainer
WordPress classroom training:

Our WordPress offline training will be conducted in our classrooms at the kphb and Ameerpet locations for WordPress training. It is made to provide an individualized learning experience using the real-world tool and practical demonstrations.
WordPress self-paced video course:

The WordPress video course is a collection of unique recordings from the classroom and assignments. It provides a self-paced learning environment that covers all of the essential WordPress concepts and is organized to facilitate learning. With access from any device and weekend doubt-clearing sessions, you may educate yourself at any time from anywhere in the world.
Why choose us for WordPress training?
Qualified trainers:

Our staff of skilled WordPress instructors is knowledgeable about the subject and has a lot of practical experience with it. They will walk you through both fundamental and complex concepts.
Lifetime access:

You may now purchase premium access to our WordPress course, which was developed in collaboration with some of the field's leading authorities and include our tailored WordPress content, a specially selected LMS, and a 3-day DevOps free demo class.
Small training batches

Only 30-50 students in each training session are accepted in our small batches. This strategy, in our opinion, is far more successful and provides a more individualized learning experience. On weekdays, the batches are scheduled at variable times.
Post-training support:

For those wishing to pursue a career in WordPress, we provide support with job placement. In the field of WordPress, our team of experts is committed to assisting you in finding the ideal position.
Interactive GDs:

To ensure that all of our students have an equal opportunity to learn, we encourage them to take part in WordPress group discussions. In these conversations, students can share their knowledge and debate concepts to develop a common understanding.
Execution of a live project:

We're here to help you obtain the technical information and practical skills you need to become a master in your profession. Under the guidance of our knowledgeable trainers, we provide live WordPress practicals and assignments to students.
Testimonials for WordPress training
Brolly Academy offers a WordPress course certificate after completing the course. Our WordPress training is a complete bundle and is ideal for people wishing to get a good job as well as freelancing work.
Our WordPress courses are made to show students how to master web design while using the most recent plugins, themes, and techniques.
After completing our WordPress training at Brolly Academy, students are awarded a WordPress course completion certificate and the skill required to start a career in web design.
Note : There is no official certification for WordPress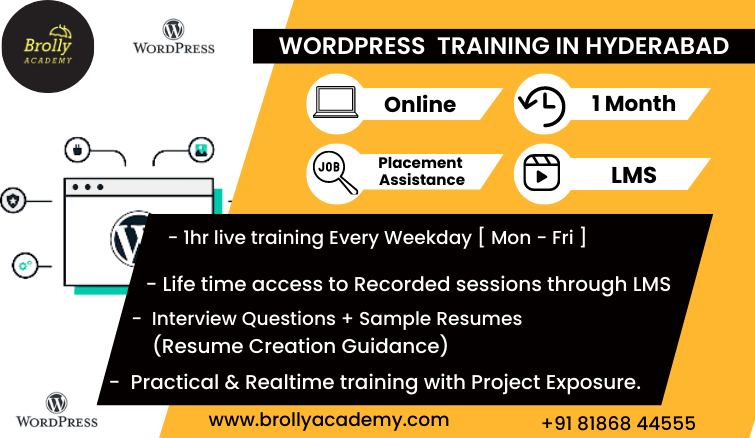 Skills developed Post WordPress training in Hyderabad
What are the Prerequisites?
As long as you are ready to put in a few hours per day for a week, learning WordPress is simple.
You would require the capacity to follow directions as well as some very fundamental search abilities, such as the capability to use search engines like Google. 
Yes, you can build a website without knowing HTML or any other programming languages.
Career Opportunities in WordPress
The career path of a WordPress developer has not been specifically observed. Understanding WordPress is used to enhance knowledge of other web development languages, such as HTML, MYSQL, AJAX, Windows, etc. 
WordPress skills are primarily utilized in freelancing & open-source projects. Organizations or groups of people hired a WordPress developer and provided instructions on how they wanted WordPress to be coded or styled. 
WordPress is simple to use and has been used as a front-end developer by several organizations. The front-end developer, mid-level web developer, or entry-level position can all benefit from WordPress skills.
Some of the well-known job positions that are available on freelance websites:
Market Trend in WordPress