Clinical SAS Training in Hyderabad
100% Placement Assistance
Clinical SAS Training in Hyderabad.
(Online Course - New Batch Details)
| | |
| --- | --- |
| Trainer Name | Mr. Naveen Kilaru |
| Trainer Experience | 15+ Years |
| Next Batch Date | 07-11-2022 |
| Training Modes: | Online Live Training (Instructor Led) |
| Course Duration: | 60 Days (45 Sessions) |
| Call us at: | +91 8186844555 |
| Email Us at: | brollyacademy@gmail.com |
| Demo Class Details: | ENROLL FOR FREE DEMO CLASS |
Key Points of Clinical SAS Training in Hyderabad
Clinical SAS Training in Hyderabad Curriculum
About Clinical SAS Training in Hyderabad
The SAS is a powerful, proprietary statistical software package that allows users to create their own statistical models. Clinical SAS provides a robust solution for clinical research teams to create a centralized repository of their data, to analyze their data and to share the results with the appropriate parties. 
Clinical SAS enables experts and professionals to use their SAS programming and data analytics skills in the analysis of clinical research by providing a number of features that allow researchers to quickly and easily create and manage clinical studies.
Brolly Academy offers the best Clinical SAS training in Hyderabad that gives a unique, in-depth, hands-on, online program that helps you master SAS Clinical, the leading tool for clinical research data management.
We provide a highly interactive, hands-on learning experience that allows you to gain an in-depth understanding of the Clinical SAS statistical programming language.
We offer training in clinical SAS, clinical trial management, project management and clinical research. The Brolly Academy platform offers a unique combination of both instructor-led and self-paced learning. We deliver SAS certification training through a combination of live interactive webinars, video tutorials and quizzes.  
Enroll with us for quality for Clinical SAS training and placement
Modes of Clinical SAS Training in Hyderabad
Our Clinical SAS training course is designed to get you up to speed with SAS clinical data analysis quickly and efficiently. We provide Clinical SAS Training in three different formats-
Why choose us for Clinical SAS Training in Hyderabad?
We have developed a unique SAS training curriculum that is specially curated by our expert trainers who are fully aware of the latest updates and industry standards.
 Our SAS courses have been designed with the help of real world professionals and they are specifically tailored to make your learning experience as effective and productive as possible.
We have the best Clinical SAS instructors who have worked in the field for over 10 years and are among the most knowledgeable in their field and are known for their excellent training facilities. 
Our Clinical SAS trainers share their expertise and teach both current and emerging skills in Clinical SAS.
Our counselors help students learn job skills and gain professional polish as they assist you with everything from resume building to interviewing techniques, and match your skill sets with jobs in the field. 
Our interviews prep workshop is a comprehensive training program that provides the tools, guidance, and support you need to prepare for your next interview.
A comprehensive lifetime learning management system for Clinical SAS is designed to help you learn about the latest Clinical SAS concepts along with videos. 
The platform is designed to help users gain a better understanding of SAS and to teach them how to use it effectively.
We conduct multiple group discussions to ensure that everyone is actively engaged and participating in the training program. 
It also allows us to answer any questions or concerns you may have as well as provide feedback on your individual progress.
Brolly Academy is a leading provider of SAS certification training. We provide clinical SAS certification guidance to students, practitioners, and trainers of the Clinical SAS Certification Program. 
We offer a comprehensive SAS training program that covers all the topics that are required for SAS certification.
Clinical SAS Training in Hyderabad - Testimonials
Clinical SAS Certification
Clinical SAS certification is an easy way to start learning about clinical research. It will help you develop the skills necessary to perform data analysis and report writing.
 If you're looking for a way to become a qualified Clinical SAS professional, then look no further. We offer Clinical SAS certification training that will allow you to earn the Clinical SAS credential and get certified to perform clinical SAS analysis. 
We provide you with the most comprehensive, in-depth and up-to-date SAS certification training taught by expert instructors. We also reward our trainees with a Clinical SAS course completion certificate by Brolly Academy. 
This certificate will testify your skills and competency with the software and can contribute to your career prospects. You can collect it in a digital format or as a hard copy based on your choice.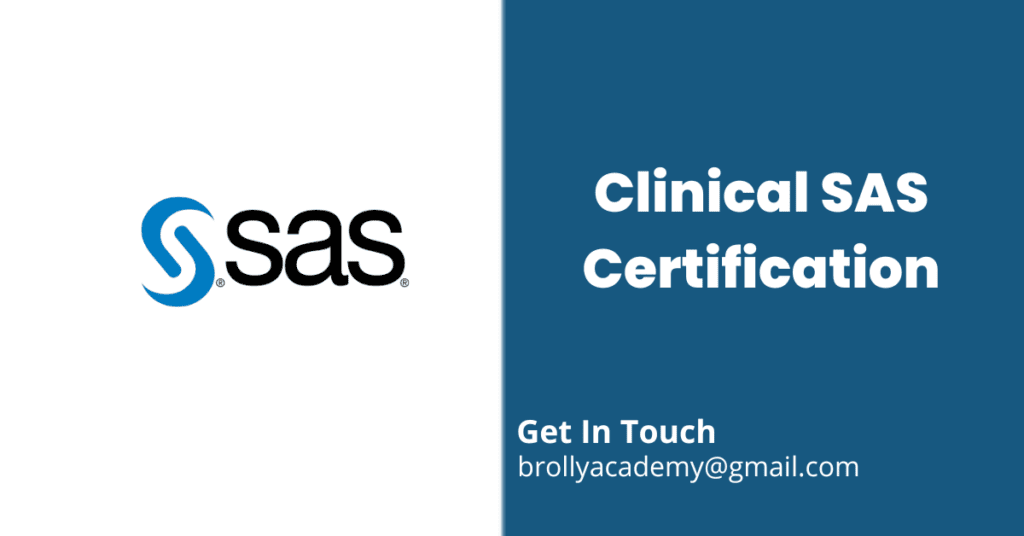 Benefits of Clinical SAS Training in Hyderabad
Skills developed Post Clinical SAS training in Hyderabad
Prerequisites of Clinical SAS training in Hyderabad
In order to qualify for Clinical SAS course eligibility, some of the prerequisites include
Career opportunities in Clinical SAS
Clinical SAS is one of the leading and fastest growing fields in the world. It is a multidisciplinary field that integrates clinical, social, behavioral and statistical sciences to help organizations improve the quality of patient care and the health of individuals and populations. 
As a result, Clinical SAS professionals have a wide variety of career opportunities available in the field. 
Clinical Data Manager 

Clinical SAS Consultant 
What is Clinical SAS course?
The Clinical SAS course is a detailed and comprehensive training program that gives you a complete in-depth overview of Clinical SAS and its concepts with technical knowledge.
Is Clinical SAS in demand?
Yes, the programming industry is seeing a steadfast growth in our country and professionals with the right skills get good employment opportunities in the finance and medical fields.
Where can I find the best Clinical SAS training near me?
You can get Clinical SAS training in Ameerpet and Clinical SAS training in KPHB at our institute.
What is the average Clinical SAS programmer salary in Hyderabad?
The average Clinical SAS programmer salary in Hyderabad is around 4.5 Lakhs per annum based on your skills and experience.
Who can learn Clinical SAS?
Any graduate or postgraduate belonging to any of the medical fields like Pharmacy, Medical Laboratory, Nursing, Biochemistry, Microbiology, Biotechnology can take up the course.
What is the Clinical SAS training duration?
The Clinical SAS training is a 2-month training program.
What is the Clinical SAS course fees?
The Clinical SAS course fee is absolutely affordable and cost-effective at Brolly Academy.
Do I get a free Clinical SAS demo?
Yes, you can attend a free demo session before enrolling for the training program at our Academy.
Do you offer placement support?
We offer placement support and prepare you for the interviews but we do not guarantee a job after our training program.
What if I miss a class?
You can attend our next live batch or we can arrange for backup classes in case of emergencies.