GoLang training in hyderabad
100% Placement Assistance
Google GoLang Training in Hyderabad Batch Details
Google GoLang training in hyderabad Curriculum
Key Points Of GoLang training in hyderabad
What is Google Go Language?
What is Go Language used for?
Who should learn Go Lang?
About Google GoLang training in hyderabad
Google Go/Golang is a high level open source programming language which is designed to build fast, reliable, and efficient software to be used for a wide variety of applications. 
Google Go lang is the most suitable language for web developers and they use Go in application development, web development, in operations and infrastructure teams, etc. 
It is the language of Cloud Native infrastructure and software development. 
Google Golang/Google Go is very easy to learn programming language, and has a low learning curve, can be used in multiple platforms like Android and iOS and is also the fastest growing programming language. 
It is one of the most advanced programming languages that is being used today. 
Brolly academy is one of the best Google Go lang training institutes in Hyderabad and is known for providing quality training to improve your skills and knowledge about Go lang. 
Our Google Go training includes topics like – 
Go features, syntax and how to use it 

Installation and setup process for Go

Google go Variables, Constants and Operators

Basic data structures, algorithms, functions, interfaces, packages, imports etc. 
This is a complete and a comprehensive Google Go course which covers all the concepts of this language and the best Go course available online which will help you to learn this language quickly and easily. 
Our advanced training and unique approach, combining theoretical knowledge with practical experience will give you the knowledge and skills needed to master Google Go Lang. 
After completing the training program, you will receive a certificate certifying your expertise in Google Go lang and this certificate will be given once you complete all the training modules.
Our trainers provide students with a technical and theoretical understanding of their craft so that learning becomes easier.
We offer both online and classroom training also video learning options, as well as a placement program that includes an intensive interview preparation workshop.
Enroll with Brolly Academy to get the most comprehensive Google Go training in Hyderabad
Modes of Training For Google Go Course
GoLang Online training

Our easy-to-learn virtual learning platform allows our students to learn the course with a live instructor and compatible across all devices and can be accessed from anywhere, at any time. Our online course provides in-depth training of all the core concepts as well as more advanced features, allowing students to interact with the trainer and other delegates. We've included a number of practical examples, case studies, and exercises that will be demonstrated live by our trainers.
GoLang training in hyderabad

GoLang training in hyderabad is accessible at our Ameerpet and KPHB centers. This is an instructor led training program that provides real-world scenarios, hands-on experience, and personalized coaching from Google Go lang Certified Trainers. Our Google Go lang Classroom training draws on real-world applications to give students first hand exposure.
Why choose us for Google Go Course?
Customized Curriculum with Affordable Fees

The Google Go lang course curriculum is specially curated by the expert trainers who are fully aware of the latest updates and industrial standards. Everybody enrolled in our Go lang training program gets free up to date course material with an affordable course fee.
Expert Trainer with 10+ Yrs Experience

Our Google Go lang instructors are among the most knowledgeable in their field and are known for their excellent training facilities. Our Google Go lang trainers share their expertise and teach both current and emerging skills and have spent years training professionals and students alike from all working backgrounds.
Certification Preparation

You will receive a certificate stating your accomplishment and expertise in the concepts of Google Go lang after completing the training. The certificate will officially be signed by Brolly Academy and is widely accepted by companies and organizations. This certification can greatly impact your career prospects, further accelerating opportunities.
Distance Learning

Our Google Go lang virtual classes are engaging and informative with videos that allow you to learn from experienced instructors who are experts in their field. We offer both Video course training as well as online training sessions which are compatible across all devices and can be accessed from anywhere, at any time.
Placement Assistance

Our counselors help students learn job skills and gain professional polish. We assist them with everything from resume writing to interviewing techniques, and we match their skill sets with jobs that make the most sense for their career paths. In addition to resume and cover letter review, interview prep workshops are available for those seeking employment.
Lifetime accessibility

A comprehensive lifetime learning management system for Google Go lang is designed to help you learn about the latest Google Go lang concepts along with videos. Our LMS is comprehensive and detailed to help our students revise and learn the concepts effectively.
Google Go Lang Certification
With our comprehensive Google Go certification training, you will acquire expertise in this programming language and our course, designed by industry experts, with a more hands-on approach of training through real-time projects. 
Brolly Academy offers golang course completion certificate that is widely accepted by companies and can be downloaded in the form of a hard copy and a digital format with a validity of a lifetime.
The training is conducted by an experienced team of trainers with a reputation for excellence. Upon the successful completion of the Go certification training, you will become a certified Go language professional with a job-ready profile.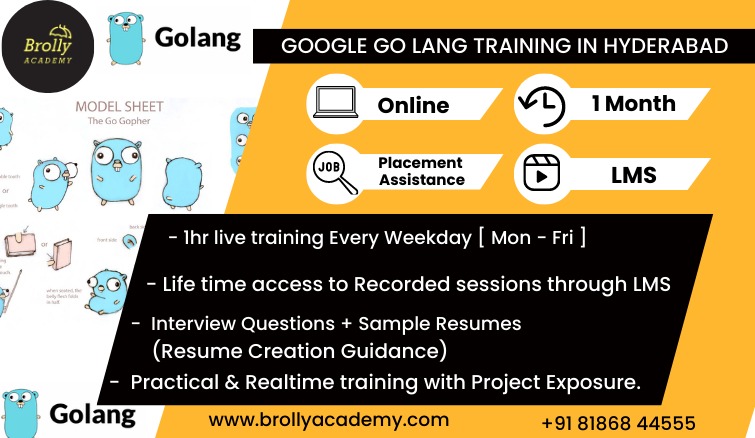 Advantages of GoLang training in hyderabad
Skills developed after GoLang training in hyderabad
Prerequisites of Google Go Language Course
Career Opportunities in Google Go
The pay scale differs and depends on the candidate's experience, skill set and certification in hand
Who can enroll for this Google Golang training?
The Golang Training is suitable for the following job roles – 
Is google go easy to learn?
Yes, google go is meant to be a simple and easy to learn programming language. It is straightforward to work with, and easy to read by other developers. When compared to languages like C++ it does not have a large feature set. It is reminiscent of C in its syntax, making it relatively easy for longtime C developers to learn.
Is Google Go worth learning?
Yes, Golang is still worth learning as it has increased in popularity among developers. Golang moved up to 5th place from 9th place in 2019 on the most loved languages list according to Developer Survey of Stack Overflow's 2020.
Which is the best Google Go training institute in Hyderabad?
Brolly Academy offers the best Google Go training in Hyderabad that provides excellent advanced training and coaching services to beginners and advanced level trainees.
What is the Google Go training fee in Hyderabad?
The Google Go course training fee in Hyderabad at Brolly Academy is affordable with no additional charges. Contact us to know more about the training details.
What is the average salary of a Google Go professional in Hyderabad?
The average salary of a Google Golang professional in Hyderabad is Rs ₹8,00,000/- per annum. This salary will depend on the skills and experience of the candidate.
Where can I find Google Go training near me?
We offer Google Go training in Kphb and Google Go training in Ameerpet, you can visit us or get in touch with us for further queries.
What if I miss a class?
Students can make up for missed sessions by attending our next live batch or we can also make arrangements for a backup class for you.
Do you provide placement assistance?
Yes. To help our students land jobs after the completion of their training program, we assist them with mock interviews and resume preparation by providing personal guidance from industry experts as a part of our Google Go lang placement assistance program.
What is the duration of Google Go course training in Hyderabad?
The Google Go course duration depends on the curriculum and modules included in the training program. You can contact our team at Brolly Academy for further details.