Oracle Fusion Financial Training in Hyderabad
100% Placement Assistance
Oracle Fusion Financial Training in Hyderabad Batch Details
| | |
| --- | --- |
| Trainer Name | Mr. Srinivas Chinta |
| Trainer Experience | 7+ Years |
| Next Batch Date | 04-09-2023 |
| Training Modes: | Online Training (Instructor Led) |
| Course Duration: | 30 Days |
| Call us at: | +91 81868 44555 |
| Email Us at: | brollyacademy@gmail.com |
| Demo Class Details: | ENROLL FOR A FREE DEMO CLASS |
Key Features Of Oracle Fusion Financial Training
Oracle Fusion Financial Course Curriculum
About Oracle Fusion Financial Training in Hyderabad
Oracle Fusion Financials provides native intelligence and real-time access to critical information across your entire business. It is a complete financial management solution that revolutionizes productivity and drives growth for small businesses. It offers a complete set of capabilities, including general ledger, accounts payable, accounts receivable and fixed assets. It includes expense and collections management, along with a 100% open platform that helps customers increase business agility by standardizing the way they do things.
Oracle Fusion Financials reduces the time users spend looking for information by providing them with more accurate and timely data. Configurable, role-based dashboards consolidate information from a variety of sources and monitor processes proactively. When exceptions occur, they push the relevant data to finance roles so that those individuals can take immediate action. Oracle Fusion Financials simplifies business processes and decision-making by providing real-time intelligence within the context of a transaction.
Become a job-ready candidate by mastering the advanced concepts of Oracle Fusion Financials training provided by Brolly Academy in Hyderabad. Our Oracle Fusion Financials training course covers the concepts of all the topics from basics to advanced levels such as account payables & receivables, ledger, assets, identity manager, and more through real-time scenarios. You will also get exposure to various industry-based real-time projects which are in line with the Oracle Fusion Financials certification exam.
Our Oracle Fusion Financials Training course covers solid fundamental knowledge of core concepts with a practical approach, allowing you to immediately apply your training in the workplace and achieve results.
Upon completion of our Oracle Fusion Financial Technologies training program, you will earn a certificate that recognizes your expertise in this subject. This certificate can be shared on LinkedIn or other job search platforms to showcase your achievements. Our Oracle Fusion Financial training is available in three different modes – Online Training, Classroom Training, and Video course training. We also offer a placement assistance program that includes an intensive interview preparation workshop. This workshop will help you prepare for job interviews by providing you with mock interview sessions, resume-making guidance, and more.
Enroll with Brolly Academy to get the Best Oracle Fusion Financial training in Hyderabad.
Modes of Oracle Fusion Financial Training
Why Choose Our Brolly Academy Institute For Oracle Fusion Financial Training?
Brolly Academy is the leading Software training institute in Hyderabad and has been recognized for its effective teaching methods. Our expert trainers have over 10+ year's experience in Oracle Fusion Financial and can prepare you to enter this demandable industry. Whether you're a fresher looking for certification or an experienced professional with expertise. Our Oracle Fusion Financial Training course in Hyderabad from Brolly Academy can help you gain the skills and expertise needed to work at companies that use this Oracle Fusion Financial Technology. Our Oracle Fusion Financial Training course will prepare you for your mock interviews, resume creation sessions, and question-and-answer sections. Here are some reasons why you should consider Brolly Academy for enrolling in our Oracle Fusion Financial Training in Hyderabad:
You get lifetime access to our Brolly Academy's Learning Management System (LMS) where you will find the course related presentations, assignments, and installation guide on Oracle Fusion Financial Certification.
Trainers will provide you with some assignments soon after the completion of each and every topic that makes you master in the Oracle Fusion Financial course and also helps you to clear the Oracle Fusion Financial Certification.
Brolly Academy's expert tutors will guide you each and every topic with the real-world case studies that makes the understanding of the subject in a better way.
Brolly Academy has a 24×7 online support team to resolve all the queries of our trainees. We make it a priority to give each student the individual attention he or she needs to succeed and this will boost their confidence.
Brolly Academy's team has designed the Oracle Fusion Financial training in a way to clear Oracle Fusion Financial training Certification as per the latest syllabus to make your dream come true. Students who complete our Oracle Fusion Financial course in Hyderabad receive a certificate of completion. This certificate provided by us add more value into their resume.
Brolly Academy supports learners in finding job opportunities with the newly acquired skill set. Soon after the completion of the Oracle Fusion Financial course, our placement  support team will pass your resumes to the companies and ensure that the learners will achieve 100% placements
Brolly Academy course fee are very affordable and we do not charge students any additional fees for the software training programs that are offered in Hyderabad.
We've designed our course schedule so that students can take classes at any time of day and access class materials online.
Testimonials of Oracle Fusion Financial Training in Hyderabad
Certification in Oracle Fusion Financial
This Oracle Fusion Financial training course is designed for Brolly Academy's Oracle Fusion Financial Certification. The entire course content is in line with this certification and prepares you to tackle it easily, getting the best jobs at top MNCs. By enrolling in this Oracle Fusion Financial Training, you will receive access to real-world industry scenarios and projects that are directly tied to your success as an employee. At the end of this Oracle Fusion Financial Training program, there will be practical exercises that test your knowledge of core concepts on Oracle Fusion Financial. You can take these exams to prepare for your Oracle Fusion Financial Certification exams or just to check your understanding the choice is yours. Upon the successful completion of student's project work, Brolly Academy will reward them with a Oracle Fusion Financial Course Completion Certificate which will add more value to your resume.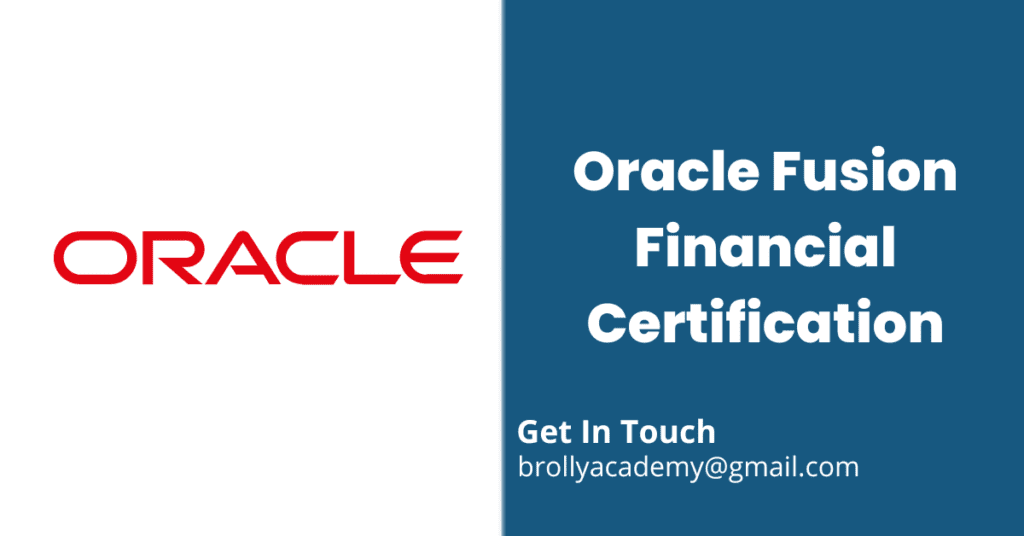 Advantages of Learning Oracle Fusion Financial Course
Job Roles in Oracle Fusion Financial -
Completion of the Oracle Fusion Financial Course you will learn -
Prerequisites to Learn Oracle Fusion Financial -
Who should take up this Oracle Fusion Financial course?
● Financial Managers ● Business Experts ● Finance Management Freshers ● Revenue Managers
What is the Oracle Fusion Financial Developer's Salary as per Market?
The average salary for an oracle fusion financials developer is $138,450/year.
What will you learn after completion of the Oracle Fusion Financial training?
● Revenue Management ● Automating Expense processing ● Agility in Finance ● Reporting KPIs ● Streamline Accounting
Why should you learn Oracle Fusion Financial for your career growth?
The Oracle Fusion Financials software has a 1.1% market share, and many large multinational corporations such as Whitbread PLC (beverage), LendingClub Corp (lending), and Whitehall Resources Limited (steelmaking) are using the product.
Is Oracle Fusion Financial enough to get a job?
Yes, by doing this course you can get a job. It is typical for software developers to have a bachelor's degree in computer science or a related field. Strong knowledge of programming languages and experience with source code is often required as well.
Will I get access to the LMS during the training?
The recorded videos are available within our LMS after each session. You will get a free lifetime access to our LMS after the enrollment.
What if I want to complete the training within a few days?
Yes, we offer customized training programs to help you complete the course on time.
What are the requirement to attend the online training process?
You must have a working internet connection and the Zoom or Meet app on your mobile/tablet/laptop.
What will be the batch size of Oracle Fusion Financial class at Brolly Academy?
We keep class sizes small so that students receive the personal attention necessary to ensure a successful learning experience.
Will I get proper expert guidance on my Resume Preparation at Brolly Academy for job purposes?
We can help you create a resume that highlights your skills and experiences.