Prompt Engineering Course in Hyderabad
100% Placement Assistance
Prompt Engineering Training New Batch Details
Prompt Engineering Course Content
Key Features of Prompt Engineering Course in Hyderabad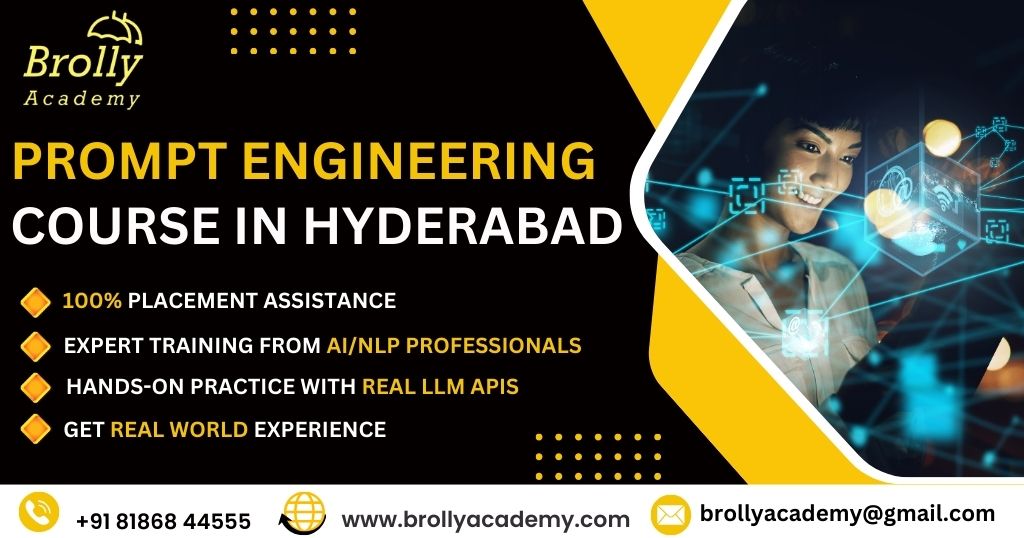 Prompt engineering is an agile approach to solving complex engineering challenges in real-time.

Prompt engineering often involves iterative prototyping and testing of engineering systems.

This approach is highly responsive and geared towards quick solutions.

It promotes cross-disciplinary collaboration among engineering teams.

It emphasizes rapid problem-solving and the use of real-time data for decision-making.

It prioritizes adaptability to changing project requirements and market dynamics.

Prompt engineering embraces technological advancements and data analytics in engineering projects.

The ultimate goal is to efficiently address complex engineering issues and enhance project outcomes.
What is Prompt Engineering used for?
Who needs Prompt Engineering?
About Prompt engineering Course in Hyderabad
Prompt Engineering is a cutting-edge field that plays a pivotal role in fast-tracking the design, development, and optimization of various engineering systems. It combines innovative technologies, data-driven decision-making, and real-time simulations to efficiently address complex engineering challenges.
With a strong focus on agility and responsiveness, Prompt Engineering in Hyderabad is equipping engineers with the tools to adapt to rapidly evolving industry demands, ensuring they remain at the forefront of technological advancements.
Brolly Academy's Prompt Engineering course in Hyderabad is a dynamic and comprehensive program designed to harness the potential of this emerging field. With a blend of classroom training, online resources, and practical projects, this course empowers students with the skills and knowledge needed to excel in the engineering industry.

Brolly Academy's expert instructors guide students through real-world scenarios, providing hands-on experience and emphasizing problem-solving. Brolly Academy's Prompt Engineering Course In Hyderabad also offers flexible learning options to cater to diverse needs and schedules, making it a top choice for individuals seeking a strong foundation in Prompt Engineering.
Modes of Prompt Engineering Course In Hyderabad.
Why Choose Brolly Academy Prompt Engineering Course In Hyderabad
Students Testimonials of Prompt Engineering Course in Hyderabad
Prompt engineering Training & Certification
A Prompt engineering certification equips you with advanced technical and problem-solving skills, making you more valuable to employers.
Certification sets you apart from the competition in the job market, showcasing your expertise in this rapidly evolving field
It provides a fast track to entry-level positions, allowing you to begin your engineering career sooner.
Certification demonstrates your ability to adapt to changing industry needs, making you a versatile engineer.
Certified engineers often command higher salaries due to their specialized knowledge and skills.
Skills Developed Post Prompt engineering Course in Hyderabad

Proficiency in applying Prompt engineering principles, allowing for the efficient and agile design of engineering systems.

Ability to analyze and solve complex engineering problems in real-time, ensuring swift and effective solutions in dynamic project environments.

Understanding of the latest technological advancements in engineering, staying at the forefront of innovations and best practices in the field.

Understanding of data-driven decision-making in engineering, utilizing data analytics to inform and optimize engineering processes.

Knowledge of agile methodologies and their application in projects, enhancing adaptability and responsiveness in engineering tasks.

Mastery of industry-standard engineering software and tools, facilitating effective design, simulation, and analysis.

Proficiency in rapid prototyping and testing of engineering systems, reducing development cycles and time-to-market.

Ability to work collaboratively in interdisciplinary teams, fostering effective communication and cooperation among team members.
Benefits of Prompt engineering
Career Opportunities in Prompt engineering
Market Trend in Prompt Engineering
Prompt engineering is experiencing rapid growth as industries increasingly seek agile, data-driven solutions to complex engineering challenges.
There is a rising demand for Prompt engineers who can reduce time-to-market and adapt quickly to changing project requirements.
The automotive, aerospace, and software development sectors are among the key industries embracing Prompt engineering.
Companies are investing in real-time data analytics and simulation tools to support Prompt engineering practices.
Engineering professionals with expertise in Prompt engineering are highly sought after in today's job market.
Start-ups and tech companies are at the forefront of incorporating Prompt engineering principles into their development processes.
The COVID-19 pandemic accelerated the adoption of Prompt engineering as remote work and online collaboration became more prominent.
Prompt engineering is likely to continue evolving, with a focus on sustainability, cybersecurity, and AI integration as key future trends.
Education Eligibility for Prompt Engineering
Alternatives to Prompt Engineering
Prerequisites for Prompt engineering Course in Hyderabad
Who uses Prompt Engineering
Who can enroll for Prompt Engineering Course?
Prompt Engineering Course FAQ's