Business Objects Training in Hyderabad
100% Placement Assistance
BusinessObjects Training in Hyderabad Batch Details
Key Points Of Business Objects Training in Hyderabad (Online Classes)
Business Objects Course Curriculum
About Business Objects Training in Hyderabad
Business Objects, in addition to being a reporting tool, has been called data warehousing software. Business Objects is an excellent OLAP program. It can do reporting, sure but it also has the OLAP capabilities of Universe design and Set Analyzer. It offers ETL (extract, transform load), predictive dashboard & Crystal reports alongside ad-hoc reporting on top of a suite of all these functions.
Brolly Academy's Business Objects Training will help you gain expertise in the Business Objects technology field. As part of the training, you will master Business Objects Concepts like –  Data Warehousing Concepts, OLAP VS OLTP, Business Objects Architecture and Admin Support, Universe Designer , Report Building in InfoView: (Web Intelligence) , Publish a document to the CMS. In this Business Objects training you will learn not only this but also get a chance to work on hands-on projects, case studies, and assignments during this Business Objects training period at our Brolly Academy institute.
This Business Objects certification training course designed by our industry experts at Brolly Academy. After completing Brolly Academy's Business Objects training program, you will receive a certificate that recognizes your expertise in Business Objects Technologies. This Business Objects training certificate will be awarded to you upon completing all the training modules of Business Objects. Our trainers provide students with a solid understanding of the technical and theoretical aspects of the Business Objects techniques. 
We offer both online and classroom training courses and also self-paced video recording classes in Business Objects training to help you choose the one that is best for your needs. Our Business Objects placement assistance program includes an intensive interview preparation workshop. In this workshop you will be guided with Business Objects oriented Mock interview, Resume making, Q&A sessions and much more.
Enroll with Brolly Academy to get the Best Business Objects Training in Hyderabad.
Modes of Training For BusinessObjects Training in Hyderabad
Why Choose Our Brolly Academy Institute For Business Objects Training?
Brolly Academy is the leading Software training institute in Hyderabad and has been recognized for its effective teaching methods. Our expert trainers have over 10+ year's experience in Business Objects and can prepare you to enter this exciting industry. Whether you're a fresher looking for certification or an experienced professional with expertise.
 Our Business Objects Training course in Hyderabad from Brolly Academy provides you with the skills and expertise you need to apply at companies that use this Business Objects Technology. Our Business Objects Training course will help you get ready for your mock interviews, resume creation and question-and-answer sessions. Here are some reasons why you should consider Brolly Academy for enrolling in our Business Objects Training in Hyderabad:
Best Business Objects Faculty in Industry
Our Business Objects experts have a deep understanding of the latest concepts and skills in their field, which they share with students by providing exclusive training methods. Our instructors are experienced teachers who have trained professionals and students for years.
Our Brolly Academy offers 24/7 support so you can always rely on our dedicated team to help with any questions or concerns that arise
Learning From Anywhere Anytime
The Brolly Academy training methodology allows you to learn the Business Objects application anytime, anywhere in the world at your convenience.
We will help our students apply the skills they learn in Business Objects technology by guiding them through all phases of the job search from creating resumes, to practicing for interviews.
Limited Business Objects Batches
Our Business Objects classes are kept small, with no more than 10 students per session.
Earn Your Business Objects Certificate
Students who complete our Business Objects course will receive a certification from Brolly Academy, which is recognized worldwide and can help them find a job in the Business Objects field. This certificate proves you've mastered the domain comprehensively. Now equipped with real-industry knowledge, required skills, and hands-on experience to stay ahead of the competition.
Students can learn anytime, anywhere by enrolling in our course. They don't have to pay extra for lifetime learning access it's included. With 24X7 student support in place, Brolly Academy provides clarification to any queries anytime
You can post the Business Objects certificate on LinkedIn and other job sites to help you get a new position.
Testimonials of Business Objects Training in Hyderabad
Business Objects Certification
This Business Objects training course is designed for clearing Brolly Academy's Business Objects Certification. The entire course content is in line with this certification and prepares you to tackle it easily, getting the best jobs at top MNCs. By enrolling in this Business Objects Training, you will receive access to real-world industry scenarios and projects that are directly tied to your success as an employee. 
At the end of this Business Objects Training program, there will be practical exercises that test your knowledge of core concepts on Business Objects. You can take these exams to prepare for your Business Objects Certification exams or just to check your understanding the choice is yours. Upon the successful completion of students' project work, Brolly Academy will reward them with a Business Objects Course Completion Certificate which will add more value to your resume.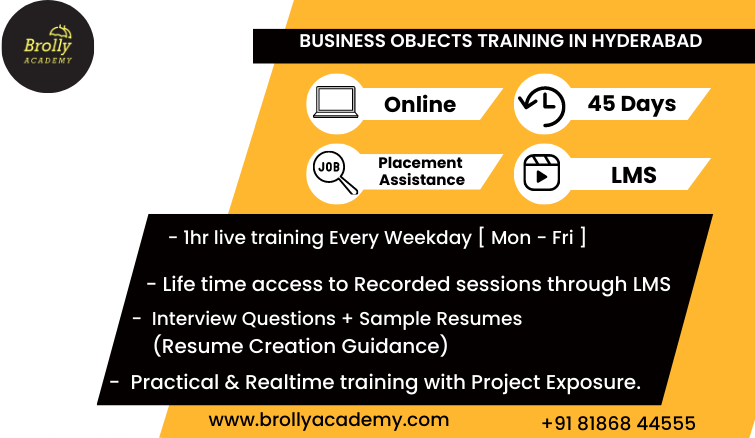 Advantages of Learning Business Objects Course
Completion of the Business Objects Course you will learn
Prerequisites to Learn Business Objects
Employment possibilities in Business Objects
Can I consider Business Objects a good career choice?
Yes. Business Objects is one of the trending career fields today, and it's also a very promising as well as evolving field coming up with not much programming needed to be in this field doing so well paid jobs.
What are the use of Crystal Reports in Business Objects?
Business Objects is a software company that specializes in creating tools for analyzing and reporting on enterprise data. Crystal Reports is used to create and design reports based upon data supplied from various sources. It was acquired by Business Objects.
How long does it take to complete Business Objects course?
With a working knowledge of SQL programming, you should be able to start basic programming in less than a week. Otherwise, if you are new to computer science this can take at least 4–6 weeks for Business Objects depending on several factors.
Which language does business objects use?
The server architecture is written in Java and in the earlier releases, most of the client tools like universe designer, desktop intelligence, and rct were in C++.
Can I learn Business Objects without having any coding experience?
Not all IT people know how to program, and it's not required that you do. Typically in an SAP implementation, 90% of the job is done by business people working with data that doesn't involve coding at all. It involves system analysis.
What are Business Objects tools?
SAP Lumira is a self-service data visualization tool that gives business users access to the SAP HANA database, so they can create visualizations and dashboards.
Is Business Objects enough to get me a job?
As a beginner, you can expect to get hired as an entry-level Business Objects Developer and work your way up the ladder. After 5-6 years of experience, other positions will be open for you.
What is the scope of Business Objects?
Business Objects is a powerful reporting and enterprise platform for decision-makers, analysts, and other users. Its future lies in Web Intelligence (also known as SAP Lumira) reports made on the fly from its central repository.
Will I Be Given Sufficient Practical Training In Business Objects?
We offer a course that gives students the opportunity to interact with Business Objects. The course is a combination of theoretical classes that teach the basics of each module, and hands-on practical sessions reflecting the current challenges faced by workers in their chosen industry.
If I wanted to learn more about this training program then whome should I contact?
If you have questions or concerns, please contact us. Our chat team will assist you with any information you need.