Digital Video Production Training in Hyderabad
100% Placement Assistance
Digital Video Production Training in Hyderabad Batch Details
| | |
| --- | --- |
| Course Fee | 20,000 Rs |
| Course Duration | 2 Months |
| Timings | Monday to Friday (Morning to Evening) |
| Next Batch Date | 7th Feb 2022 AT 11:00AM |
| Training Modes | Classroom [HYDERABAD] / Online |
| Location | Hyderabad |
Key Features Of Digital Video Production Training
Digital Video Production Course Curriculum
About Digital Video Production Training in Hyderabad
As the Indian media and entertainment industry grows, more opportunities are available to trained professionals. IMAGE has designed the Certificate in Digital Video Production course to groom promising trained talents for the Media and Entertainment industry.  In this course, you'll learn how to plan and shoot digital video productions from start to finish. You'll learn how to control your video camera, execute different kinds of shots, and maintain continuity in your projects. Through practical experience and instruction from an expert, you'll gain skills in shooting videos of different kinds from interviews to documentaries, and focusing on storytelling. This course will give you the tools to tell meaningful stories, whether they are reported by journalists or created with businesses in mind. Brolly Academy is one of the finest Digital Video Production institutes in Hyderabad to offer classroom, Online, and self-paced video courses in Digital Video Production that you can pursue irrespective of your current stream of education. Brolly Academy's Digital Video Production courses are designed with an industry-standard curriculum, which makes it very easy for our students to get the best job opportunities immediately after completing the Digital Video Production training course. Our students get the perfect opportunity to expand their skills with the best salary package in the Digital Video Production training after completing the course at our institute. Our Digital Video Production training is hands-on, so that you will understand the practical aspects of Digital Video Production fundamentals and services. Brolly Academy offers advanced Digital Video Production training from expert trainers who use projects to help you better understand the core concepts of Digital Video Production. You will get Digital Video Production Training course completion certificate upon completing the course. Our Digital Video Production lessons are designed to be more practical with real-world projects, helping you secure a job at a high-salary package. Besides offering high-quality Digital Video Production training, Brolly Academy's job placement assistance program helps trainees find work soon after finishing the course. This placement program will assist you with mock Interview preparation, Resume making guidance, Interview Q&A preparation etc…
Enroll in our Digital Video Production Training course in Hyderabad at our Brolly Academy.
Modes of Digital Video Production Training in Hyderabad
Why choose Brolly Academy for Digital Video Production Training in Hyderabad?
Brolly Academy's Digital Video Production training methods have been recognized as being among the best in Hyderabad. Our expert Digital Video Production trainers have over 10+ years of experience in the industry and can prepare you advance your career in the field of Digital Video Production. Our Digital Video Production Training course will give you in-depth knowledge of the subject, making it easier for your portfolio to stand out when compared with other job applicants. Our Digital Video Production training course will help you get the best possible preparation for your mock interviews, portfolio making etc. Here are some reasons why participation in our Digital Video Production training program is crucial:
Blended Training Facility
Brolly Academy offers a variety of learning platforms that combine classroom training with online and video instruction.
Industries Expert Trainers
Our Digital Video Production trainers have trained thousands of students, and professionals in their fields.
During the day, we offered Digital Video Production classes at scheduled times. Students could sign up for a class as soon as they were ready to start it.
We at Brolly Academy are passionate about helping our students build confidence and self-esteem. Brolly Academy's mission is to help students develop self-confidence, build healthy relationships and make a positive impact in the world. We provide dedicated support for post-training, to ensure that no one faces any problems in pursuing their education. With the help of our support team, each student is able to meet his or her own goals.
Brolly Academy, located in Hyderabad, offers software training courses and does not charge students any additional fees. All our courses are free from any additional cost
Digital Video Production Certificate
After completing our Digital Video Production certification course in Hyderabad, students will be able to use the software program proficiently and receive a certificate issued by Brolly Academy.
LMS + Study Materials Access
Study materials and access to an online learning management system will be provided throughout your studies, as well as after the course is completed. Students can log in at any time for further review of the material covered in class.
Our placement assistance team will help you to find a job that suits your skills and experience, and negotiate a fair salary based on what other candidates in similar positions are earning. Our professionals are available to help you prepare for interviews and learn how to conduct yourself in them.
Testimonials of Digital Video Production Training in Hyderabad
Certification in Digital Video Production Training at Brolly Academy
Brolly Academy's Digital Video Production Certificate Training, developed by professionals based on real-time concepts and real-world practices, which is very effective and this certification will greatly enhance the value of your resume. With our certificate in hand, you can apply for a leading job post and we guarantee that only those who have successfully completed our training program will receive one.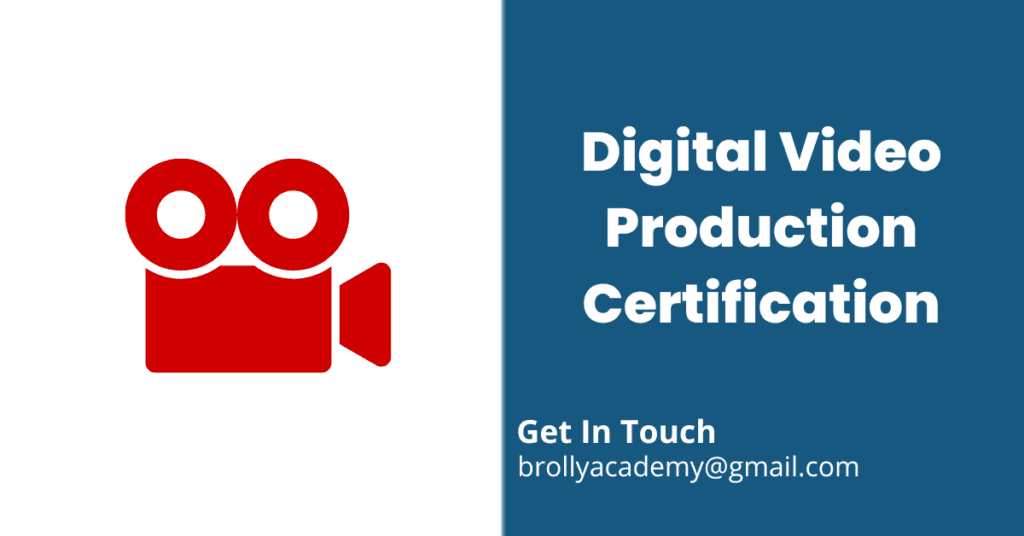 Advantages of this Digital Video Production course
Job Roles in Digital Video Production
Objective of Digital Video Production course:
Prerequisites to Learn Digital Video Production
Who are the faculties at Brolly Academy for Digital Video Production Training?
Our faculty combines personal attention with real-world experience as they provide students with practical advice.
What is the duration of this Digital Video Production training at Brolly Academy?
The Digital Video Production course is available in different durations, depending on the length of time a student wants to spend studying. Please contact us to know the detailed information about the course.
How much do I need to pay for learning Digital Video Production course at Brolly Academy?
The cost of a Digital Video Production curriculum and mode of study will depend on your personal needs. Please feel free to visit the website or contact us at our office for more information about fees.
Will I get placement assistance after the compilation of this Digital Video Production Training at your Brolly Academy?
Students who complete the Digital Video Production Training certification program are eligible to use Job Assistance, one of our many services designed to help them prepare for interviews and create resumes.
What if I miss any classes on the Digital Video Production Course?
If your schedule does not allow you to take our regular Digital Video Production classes, we will be happy to arrange a special session for you.
Why are Digital Video Production important?
Digital video production makes it possible to tell a story exactly the same way every time. This is important because storytelling helps audiences understand information and makes companies' communications more effective especially when they are trying to instruct, educate or persuade their customers.
What qualifications do I need to be a video editor?
A bachelor's degree in film production is the minimum educational requirement for entering the workforce as a video editor. However, some students continue their studies at the graduate level and complete an MFA or MA program in film production which increases employment prospects and earning potential
Is there a demand for video editors?
The job outlook for Film or Video Editor careers has been positive since 2004, with demand projected to increase by 8,670 new jobs filled by 2018. This represents an annual increase of 5.44 percent over the next few years compared with a national average growth rate of only 2%.
What is the eligibility criteria for learning the Digital Video Production course?
Students with different qualification, right from class 10 or +2 to graduate can learn Our Digital Video Production courses. Anyone interested to learn Digital Video Production can learn it.
Learning Digital Video Production training what are the fields you can make a career?
● Multimedia Firms
● Advertising Agencies
● Television Channels
● Corporate Companies
● Software Firms
● Film Industry
● Other Private & Public sectors