Snowflake Training In Hyderabad
100% Placement Assistance
Snowflake Training New Batch Details
Key Points Of Snowflake Training In Hyderabad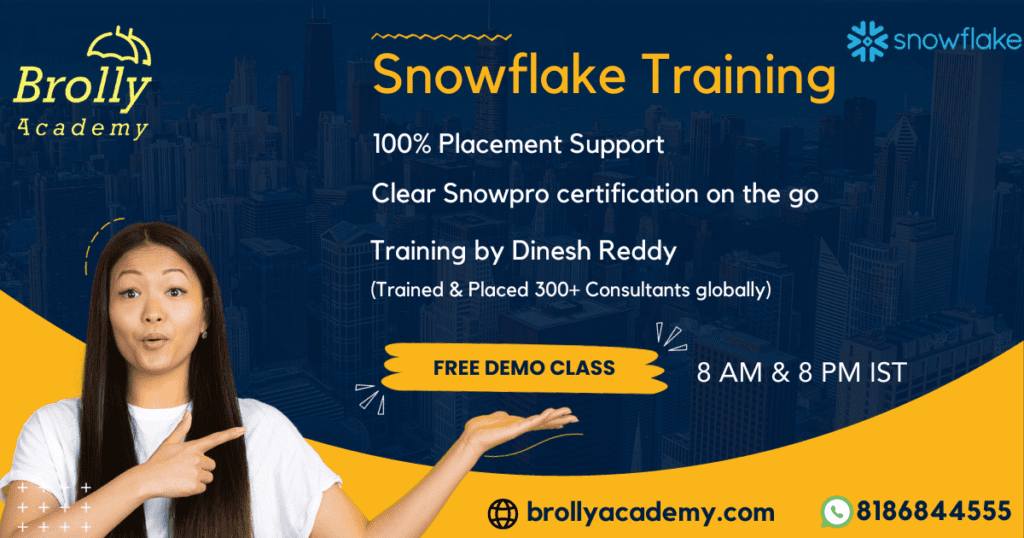 Snowflake is a cloud-based data warehousing platform/solution that works as a SAAS provider.

Over 3000+ organizations use this Technology for their companies as it is one of the most cost-effective pricing solutions.

It is an analytics database built on Cloud and delivered as a Data Warehouse as a Service (DWAAS).

Snowflake has made a revenue of 121.9 crores USD as of 2022
About Snowflake Training in Hyderabad
Snowflake provides cloud-based data warehousing that enables advanced solutions for organizational storage, handling, and analysis.
Its unique characteristics include high speed, ease of use, and versatility making it stand out from other conventional offerings.
Reporting and data warehousing are integral parts of any organization's IT infrastructure.
To take on these tasks, Snowflake leverages the functionality of an innovative SQL query engine with a flexible architecture natively established for the cloud.
This approach enables users to easily customize and start creating ready-to-query tables with little or no administration costs.
Brolly Academy is one of the best training institutes providing the best Snowflake training in Hyderabad Ameerpet is guaranteed to help newcomers and working professionals pass the Snowflake certification exam with ease by the advanced training concepts.
This Snowflake training for beginners will guide you through concepts such as
 Data warehouse
 Learning to build Snowflake applications
 Managing
 Debugging
 Maintaining Snowflake applications
 Understanding user interfaces
 Implementing business logic using the system
 Query optimization techniques and more.
Our instructors work on various domains including snowflakes available to provide assistance as needed during the training, and we can also provide additional support through assignments once the class is over.
Brolly Academy provides the best Snowflake training in Hyderabad, in 3 modes of Snowflake training which are Online Snowflake Training, Classroom Snowflake Training, and Self-paced video course Snowflake Training.
Our institute offers a Snowflake Training completion certificate which you will get after the training process is complete, and this Snowflake certificate is by Brolly Academy.
Attend our free demo session and enroll in BrollyAcademy Snowflake training in Hyderabad
Modes of Snowflake Training Resources
Features of Snowflake Course
Students Testimonials of Snowflake Training in Hyderabad
Snowflake Training Certification
The Snowpro certification exam gauges your knowledge of the design and development techniques used to build solutions based on Snowflake.
It also tests whether you have mastered all aspects of data warehousing, from simple tasks to advanced ones. 
The entire course content is in line with this Snowflake training and certification that prepares you to tackle it easily, getting the best jobs at top MNCs.
At the end of this Snowflake Training program, the successful completion of students' project work.
We will provide a Snowflake course completion certificate to candidates after successful course completion.
Types of SnowPro Advanced Certification
SnowPro Advanced Architect
SnowPro Advanced Administrator
SnowPro Advanced Data Engineer
SnowPro Advanced Data Scientist
SnowPro Advanced Data Analyst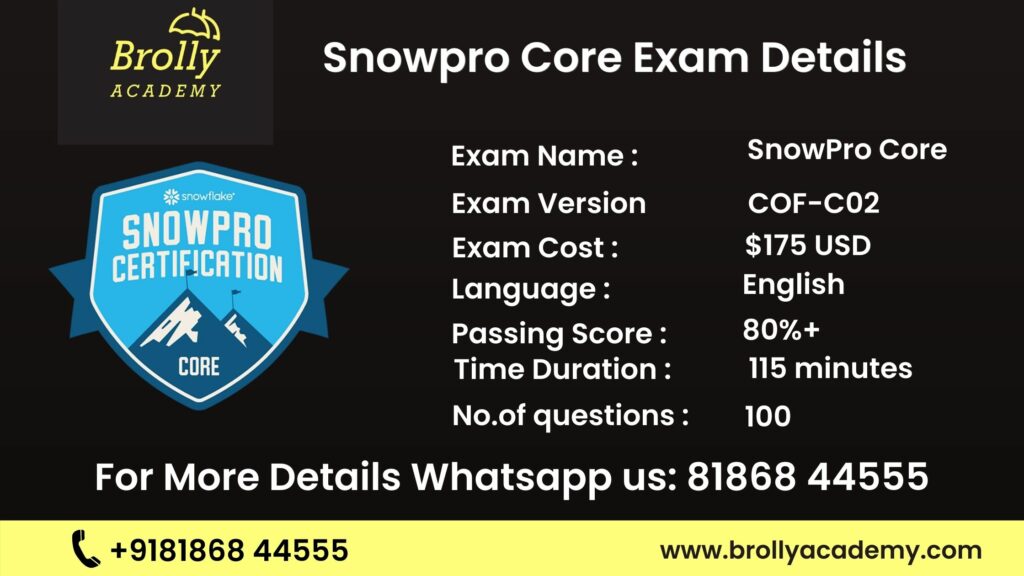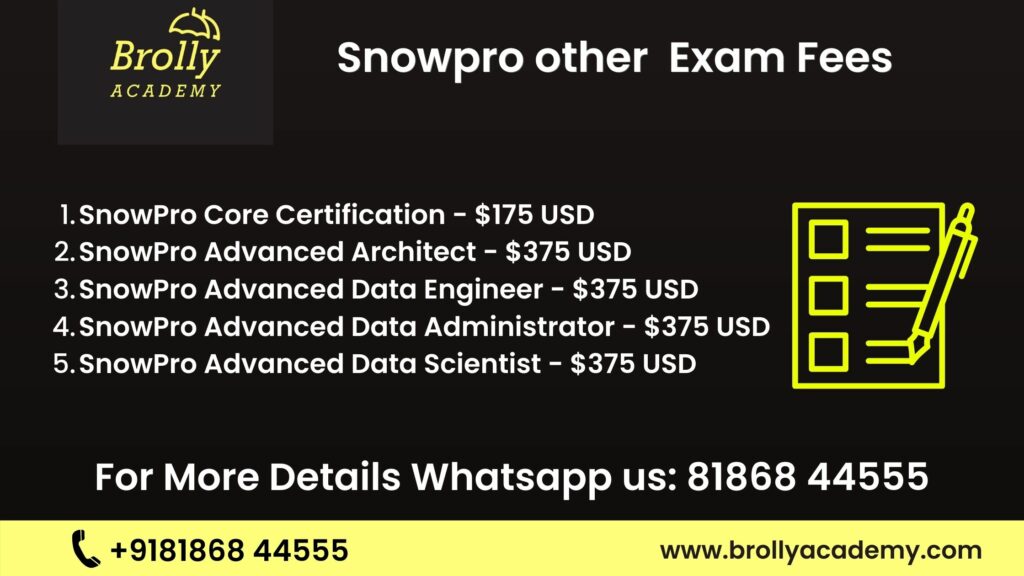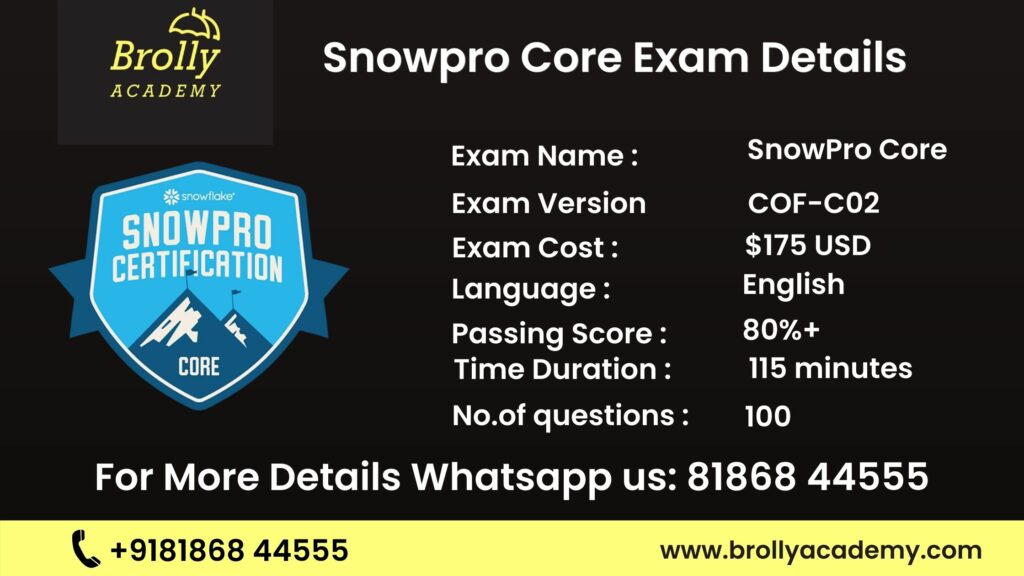 Skills developed post Snowflake software training

Design and Implementation of of a Data warehouse and solution on Snowflake.

Be able to clear Snowflake certification.

Configure virtual warehouses (Virtual Warehouse is nothing but its a computing notes in the backend to process or queries) of different sizes for different use cases.

Query optimization techniques.

Use time travel failsafe storage to recover data for continues data protection.

Manage users by providing appropriate privilages.

Use of Cache technologies.

Loading and Unloding data into Snowflake and how to configure the external stage.

Ingest the data from AWS to external storage and copy into Snowflake tables.
Advantages of this Snowflake Course
Job roles & Designations in Snowflake
With the right Snowflake skills one can definitely kickstart their career as Snowflake offers plenty of job opportunities.
The Job roles and designations available in Snowflake are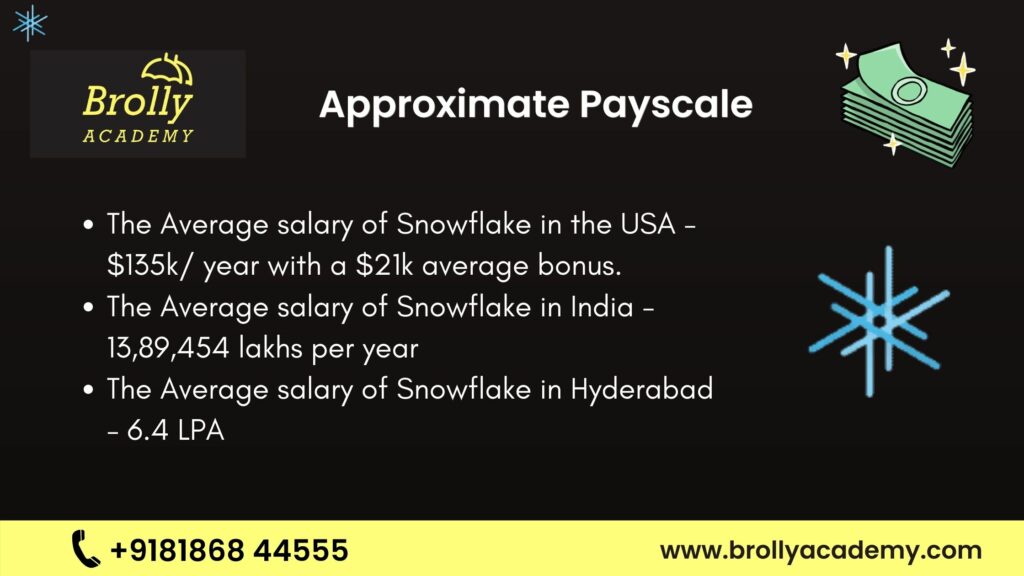 Market Trend in Snowflake Training
Big Data, BI, Technology are top industries that use Snowflake for Data warehousing.
USA, UK & India are the top 3 countries using Snowflake for data warehouse purposes.
Companies with about 50-200 employees or more with 1M+ revenue are most likely to use Snowflake
The market share of Snowflake is 20.11 %
Some of the top IT companies & MNCs recruit skilled Snowflake Developers and professionals, offering high salary packages.
Snowflake Training Prerequisites
if you are not good at SQL or Python, you can still go ahead and learn snowflake. We can help you with SQL Training thats is needed for Snowflake Interview Preparation & We can also help you with Python Training so you can master snowflake with ease.
Who can enroll for Snowflake Training?