Autocad Training Institute in Hyderabad
100% Placement Assistance
Autocad Training Institute in Hyderabad Batch Details
Key Features Of AutoCAD Training
AutoCAD Course Curriculum
Autocad Environment
Screen layout
Cascading menu
Ribbon
Drawing Area
UCS Icon
Command Line
Model space and Layout tabs
Drawing aids
Workspaces
2d drafting and annotation
3d modelling
Autocad classic
Basic construction elements
Point
Line
Circle
Arc
Rectangle
Basic Editing/Modify commands
Copy
Rotate
Scale
Trim
Extend
Offset
Mirror
Fillet
Basic view commands
Zoom
Pan
Regen
Selection methods
Window
Crossing
Accurate drawing methods
Ortho command
Osnap command
Grips
Setting Units
Snap
Grid
Cartesian coordinate system
Geometric Data Entry
Accurate drawing methods
Area
Distance
ID
Radius
Angle
Volume
Mass properties
Polygon
Ellipse
Chamfer
Limits
Save
Layers, Colors and Properties
What are layers?
Why use them?
Creating and deleting layers
Making a layer current layer
Assigning colors to layers
Freezing / Thawing layers
Locking / unlocking layers
Linetypes and Properties
Introduction to line types
Loading linetype box and choosing line types
Properties and matching properties
Text, Mtext, Editing and Style
Text
Properties and Application of text
Editing all types of text
Mtext,Style
Spell Check,Nearest Osnap
Hatch patterns
Hatch fundamentals
Picking patterns
Picking area or objects to hatch
Adjusting scale and orientation
Working with hatch patterns
Gap tolerance
Gradients and solid fill
Dimensions
Linear dimensions
Aligned dimensions
Radius dimensions
Diameter dimensions
Angular dimensions
Continuous dimensions
Baseline dimensions
Leader and Multi leader dimensions
Arc Length dimensions
Ordinate dimensions
Jogged dimensions
Dimension Units
Dimension font
Dimension Arrow heads
Dimension overall size
Blocks, Wblocks, Purge
Creating and working with blocks
Retain, convert and delete options
Redefining blocks
Inserting blocks
Purge
Creating and working with Wblocks
Arrays
Creating Rectangular arrays
Polar arrays
Path arrays
Plotting and Printing
What printer or plotter to use
What paper size to use
What area to plot
What scale to plot
What pen settings to use
What orientation to use
What offset to use
Page set up manager
Advanced Line work
Introduction
Pline (Polyline), Pedit
Xline (Construction Line)
Ray
Spline
Mline (Multi Line), Mlstyle, Mledit
Sketch
Advanced Layers Advanced dimensions
Introduction
Dimension style manager
Introduction to constraints
Geometric Constraints
Dimensional constraints
Dimension driven design
Project
Options, shortcuts, CUI, Design Center and Express tools
Shortcuts,Customize User interface
Design center,Express tools
Advanced design and file management tools
Align,Audit and Recover
Blend,Break and join
Cad Standards,Calculator,Def points
Divide and point style,Donut,Draw Order
E transmit,Filter,Hyper Link,Lengthen
Object Tracking,Overkill,Point and Node
Publish,Raster,Revcloud
Sheet sets,Selection sheets,Selection methods
Stretch,System Variables,Tables,Tool Palette
UCS and cross hair rotation,Window tiling,Wipe out
Importing and Exporting Data
Introduction
AutoCAD and MS Word
AutoCAD and MS Excel
AutoCAD and MS PowerPoint
AutoCAD and JPGs
AutoCAD, PDFs, and screen shots
AutoCAD and other CAD software
Exporting and Save As
Importing and OLE
External References
The primary reasons for using xrefs
Loading xrefs
Unloading xrefs
Binding xrefs
Updating and editing xrefs
Layers in xrefs
Multiple xrefs
Attributes
Introduction
Text in isometric
3D Basics
Introduction
Axes, planes, and faces
3D Workspace Ribbon, toolbars, a
The purpose of attributes
Defining attributes
Editing attributes and properties
Extracting data from attributes
Invisible attributes
Advanced output pen settings
Introduction
ctb files and their purpose
Editing line weights
Screening
The lwt option
Isometric drawing
Introduction
What isometric perspective is
When to use it
When not to use it
Setting isometric perspective
Changing planes (F5)
Ellipses in isometricnd options
Entering and exiting 3D
Projecting into 3D
3D dynamic views
Extrude
Visual Styles
ViewCube and Navigation Bar
Primitives
Introduction,Box
Wedge,Cone,Sphere
Cylinder,Torus,Pyramid
Object Manipulation
Introduction,Rotate3D
3D rotate (gizmo),Mirror3D
3D array: polar and rectangular
3D scale,3Dmove,Fillets and chamfers in 3D
Boolean Operations
Introduction,Union
Subtract,Intersect
Solid Modelling
Introduction,Revolve,Shell
Taper,Loft,Path extrusion
Sweep
About AutoCAD Training in Hyderabad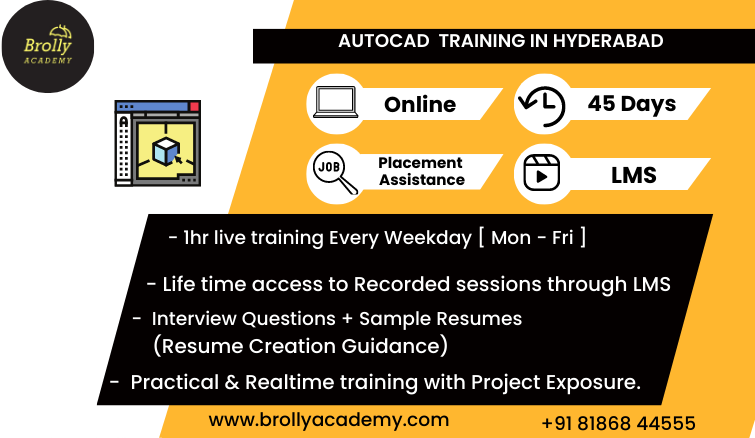 AutoCAD supports the entire design process, from initial conceptualization to final construction. With its powerful features and customizable interface, AutoCAD is used by industries around the world from aerospace and architecture to manufacturing engineering and Disney Imagineering. 
AutoCAD is a computer-aided drafting (CAD) program. It has many features and this book will introduce some of them. AutoCAD is used for designing physical objects like buildings and machines, as well as making maps or other kinds of drawings. 
AutoCAD drawings are saved using the DWG extension, and this has become a standard format for exchanging technical drawings.
Brolly Academy offers the best Autocad Training Institute in Hyderabad . In this course, all sessions are taught with real-life examples, as well as hands-on experience. 
We are providing placement assistance and real-time guidance on how to approach the job market, AutoCAD Resume preparation, Portfolio making guidance, Interview point of preparation and solutions for problems in projects that helps with landing a job. 
Our trainers are highly experienced professionals in AutoCAD technology who will help you to develop the skills required to become a proficient AutoCAD expert so that you can begin working immediately upon your course completion. 
We are dedicated to providing a high-quality education that is also affordable. We offer online AutoCAD training, classroom AutoCAD training and AutoCAD Self-paced Video course in Hyderabad. 
Our curriculum includes recordings of class sessions as well as supplementary materials such as sample resumes and everything students need to learn AutoCAD right away. 
Upon successful completion of the course and an assessment examination, a certificate will be issued. The training program is designed by our team of industry experts as a way for students to get the best possible exposure. 
Brolly Academy's complete AutoCAD training certification program will help you make the most out of the rising career opportunities in this domain.
Enrolled into our Brolly Academy for AutoCAD training in Hyderabad.
Modes of Autocad Training Institute in Hyderabad
Why choose Brolly Academy for AutoCAD Training in Hyderabad?
We are the leading AutoCAD Training Institute in Hyderabad, with our training method being highly regarded by many. Our expert trainers have over 15+ years of experience in the AutoCAD Industry and they will prepare you for to build a lucrative career in the field of AutoCAD. 
Our training is designed for both the freshers and professionals who want to pursue a career in this industry. Our AutoCAD Training course will help you gain in-depth knowledge of the subject, which will enable you to get jobs with companies such as Architecture, Interior Design, Drafting, Civil Engineering ect. 
Our AutoCAD Course will help you to get the best possible preparation for your mock interviews, resume creation and question-and-answer sessions. Here are some reasons why you should enroll in our AutoCAD Training course in Hyderabad:
Our AutoCAD instructors are experts in the field. They impart their knowledge to you, giving everyone an opportunity to master key concepts of our technology. Our trainers are experienced professionals who have worked in the AutoCAd industry for years and are experts at training students.
Beginner friendly syllabus
Our AutoCAD course is designed to teach both beginners and working professionals who wants to develop their skill in the field. It's perfect for professionals as well as people who are simply interested in learning more about this Design Software.
Brolly 24/7 Student Support Cell
Brollt Academy's support cell is available 24/7 in a week to answer students' questions about class schedules and registration fees etc…
At Brolly Academy, students are presented with real-world case studies and projects that enable them to apply what they learn in a practical training sessions. Instructors guide students through these scenarios so that concepts become easier for them to grasp.
Online and in-person learning opportunities, along with flexible scheduling options for classes, allow students to make their education fit into their personal schedule.
Brolly Academy's AutoCAD course will prepare you for the certification exam, allowing you to achieve your dream of becoming an AutoCAD-certified professional and this certificate provided by Brolly Academy is recognized by top companies around the world. 
Brolly Academy's placement support team will help you to find a job that's right for your talents, and negotiate salary and benefits with employers on your behalf.
Portfolio Making Training
Through our portfolio-building workshops, students learn what modern employers and recruiters are looking for.
Our Mock Interviews give students the chance to practice answering interview questions. Whether it's in person or via Skype, these interviews help candidates review what they'd normally say during a real-life job interview and evaluate their answers accordingly.
Testimonials of AutoCAD Training in Hyderabad
This AutoCAD training course is designed for clearing Brolly Academy's AutoCAD certification.
The entire course content is in line with this certification and prepares you to tackle it easily, getting the best jobs at top companies across the world.
By enrolling in this AutoCAD Training, you will receive access to real-world industry scenarios and projects that are directly tied to your success as an employee.
Upon the successful completion of project work in AutoCAD provided by Brolly Academy will award them with a AutoCAD course completion certificate.
Advantages of Learning AutoCAD course
Employment possibilities in AutoCAD
Skills developed after the completion of the AutoCAD course
Prerequisites to Learn AutoCAD
What is the salary of AutoCAD Designer?
The average salary of a AutoCAD Designer in India is 2.4 Lakhs per year.
How much is the highest salary for an AutoCAD Engineer?
The highest salary for an AutoCAD Engineer is approx ₹5.6 Lakhs per year.
Which fields use AutoCAD for drafting and doing project work?
AutoCAD uses in various fields that include Architecture, Sculpting, House Design, Electrical Engineering, Interior Design, Civil Engineering, Industrial Plants, Mechanical Engineering, Art, and Set Design.
What purpose AutoCAD is mainly used for?
AutoCAD is mainly used to create 2D and 3D drawings and models, as well as Electrical Diagrams, Construction Drawings etc…
What are the major applications of AutoCAD?
AutoCAD is a well-known computer program for drawing. It is widely used by graphic designers, civil engineers, interior designers, town planners and other professionals that need to create drawings regularly.
Will I Be provided Sufficient Practical Training In AutoCAD at Brolly Academy?
Our Brolly Academy offers a complete Autocad Training Institute in Hyderabad that includes both theoretical and practical classes. Students will learn the basics of each module, then apply that knowledge in high-intensity sessions reflecting current challenges in the industry.
Will I get a free demo before enrolling in Brolly Academy's AutoCAD Training?
Yes, Brolly Academy offers free AutoCAD demo classes as part of our training program in Hyderabad. This allows interested candidates and students to experience what they will learn during class time and decide whether it is right for them.
What if I miss any AutoCAD topic at Brolly Academy?
We will send you a recording of our next live class, or if we are not holding one at the moment of your request, we can give you additional classes to make up for it.
Do you offer placements in the AutoCAD Training Course?
Our Job Placement Teams prepare your CV and train you to make certifications clear; they'll also keep an eye out for positions at companies of interest. We also help you get experience in a real-world setting by providing an interview practice session, then letting you work on projects for companies. We will forward your updated CVs to all of these so that they can consider hiring you.
How long would it take to master AutoCAD course?
This will take from three to six months. In this step, you'll learn how to use the basic tools and produce a simple draft of your project. Once you've mastered these fundamentals for about 6 months you can consider yourself an expert user.
What are the tools covered in this AutoCAD Course at Brolly Academy Hyderabad?
● Line.
● Circle.
● Rectangle.
● Polyline.
● Trim.
● Extend.
● Copy.
● Mirror.