MuleSoft Training in Hyderabad
100% Placement Assistance
Mulesoft Training Batch Details
Mulesoft Course Curriculum
Key Points of Mulesoft Training in Hyderabad

Mulesoft is an API integration Platform that makes the process of automation easy for systems and workflows. 

Mule is the runtime engine of Anypoint platform that is a lightweight ESB (Enterprise Service bus) and integration platform that allows developers to connect applications and exchange data. 

Mulesoft is a SAAS provider (Software As A Service)

It is built under the spring framework and requires minimal coding.

Mulesoft was taken over by Salesforce in 2018 

Mulesoft allows connection of SaaS and enterprise applications both in the cloud and on-premises. 
What is Mulesoft used for?
Companies that are Using Mulesoft?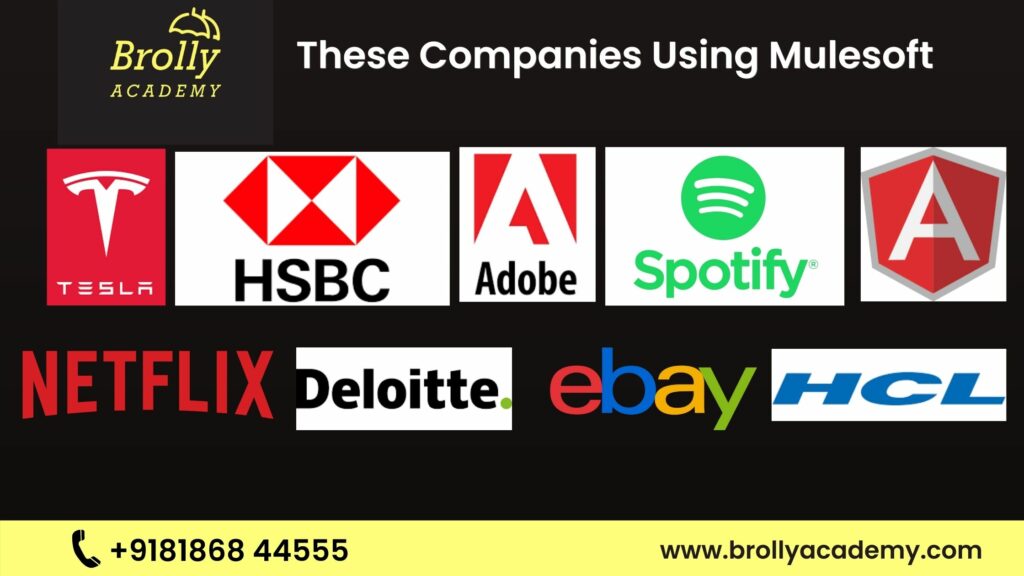 About this Mulesoft Training in Hyderabad
Mulesoft was initiated in 2006 and was later taken over by the Salesforce company in 2018. It is now known to be a service under the Salesforce Integration Cloud. 
The name Mulesoft originated from the idea to eradicate the "Mule" or donkey work of integration and make it a hybrid solution platform.
Mulesoft is an all-inclusive integration platform that connects different systems, databases, applications & services seamlessly to exchange data and allow easy configurations.
 It is built on the spring framework and is an API management platform, functioning as a runtime engine of Anypoint Platform.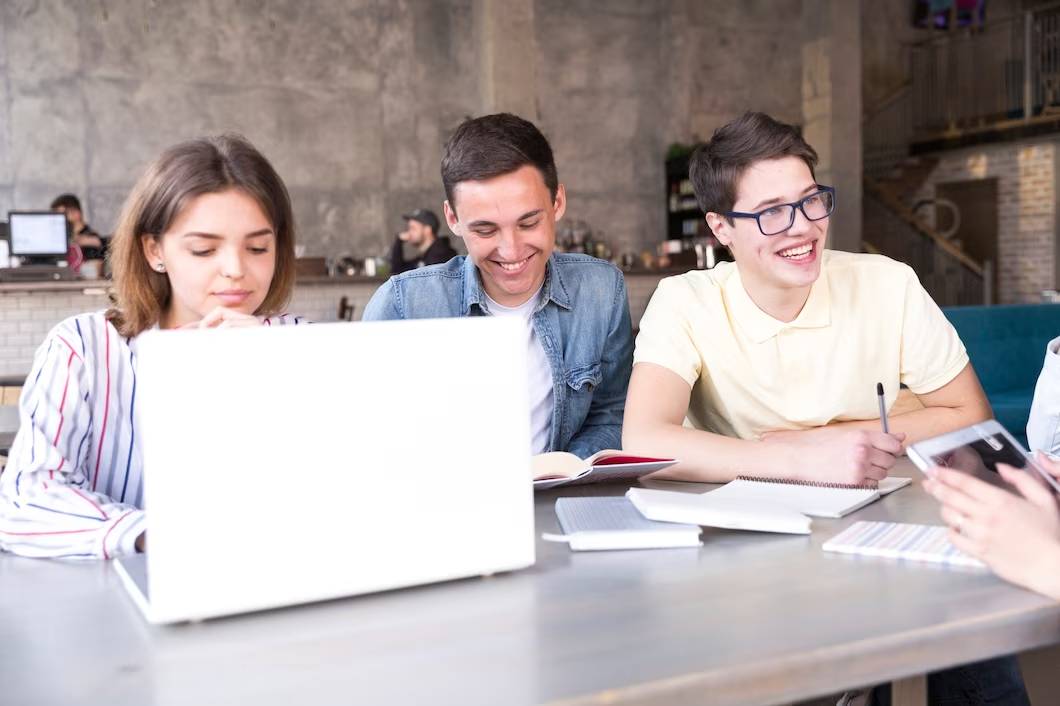 Brolly Academy is one of the best mulesoft training institutes in Hyderabad with reputable recognition and prominence.
 We offer excellent mulesoft training in Ameerpet Hyderabad with top-notch teaching staff that comes with qualified experience and expertise.
We provide mule soft training and placement for students and graduates who are looking to establish a career in the field of integration. 
Our mulesoft training is built and designed in a way that encourages amateurs as well as working professionals to easily and conveniently learn the course along with mulesoft training material pdf and practical knowledge.
This program will cover several Mulesoft training topics including Integrations, Anypoint Platform, API Management, handsy tools, and more. 
You can participate in our mulesoft training online, via video course, or join our classroom sessions, based on your preferences and priorities. 
Enroll with us and sign up for your free demo class today!
Mulesoft has a total market share of 41.37%
Mulesoft is one of the top integration platforms with plenty of career scope for developers.
Mulesoft has a revenue of over $100 Million as of 2022 with 800+ customers and $259 Million in funding.
Mulesoft Developers and Integration professionals are some of the highest paid roles in Mulesoft
Mulesoft has most of its customers in the USA, UK, and Canada.
Mulesoft Training for Beginners - Modes
If you're thinking about getting started with Mulesoft, you've come to the right place. We offer 2 different modes of mulesoft training
Why choose us for Mulesoft Training?
Who should learn Mulesoft?
Testimonials for Mulesoft Training Online
MuleSoft Training Certification
Brolly Academy is a leading Mulesoft training and certification institute in Hyderabad.
 We offer practical and theoretical training to help you crack the Mulesoft certification exams. 
Our experts will teach you the basics of Mulesoft and also let you know about IT certifications shortly. 
Our trainers have years of experience in Mulesoft and will thoroughly guide you through the course, answer all your queries, and help prepare you for the certification exams.
Enroll today to take advantage of our training on a range of mulesoft certification training.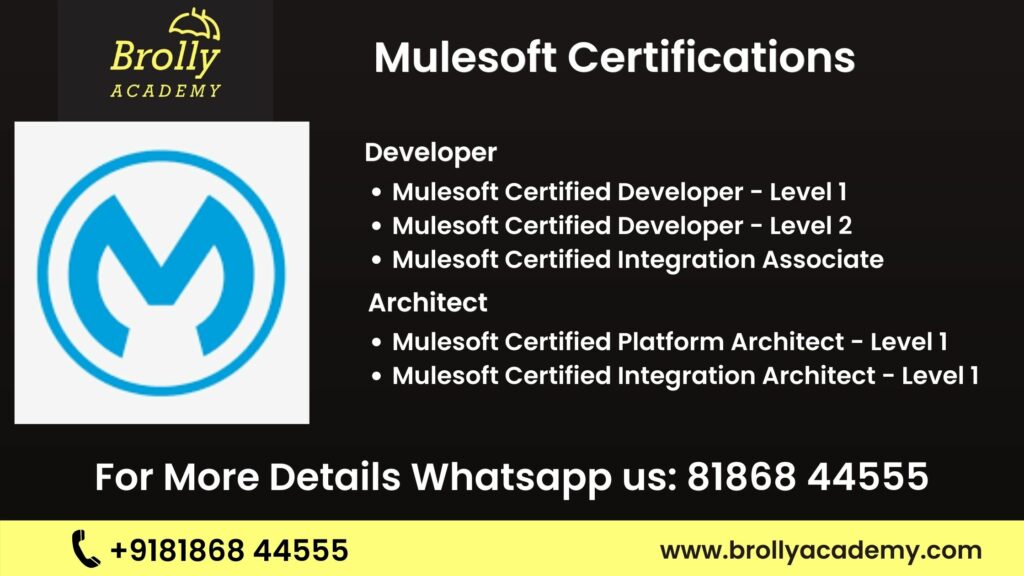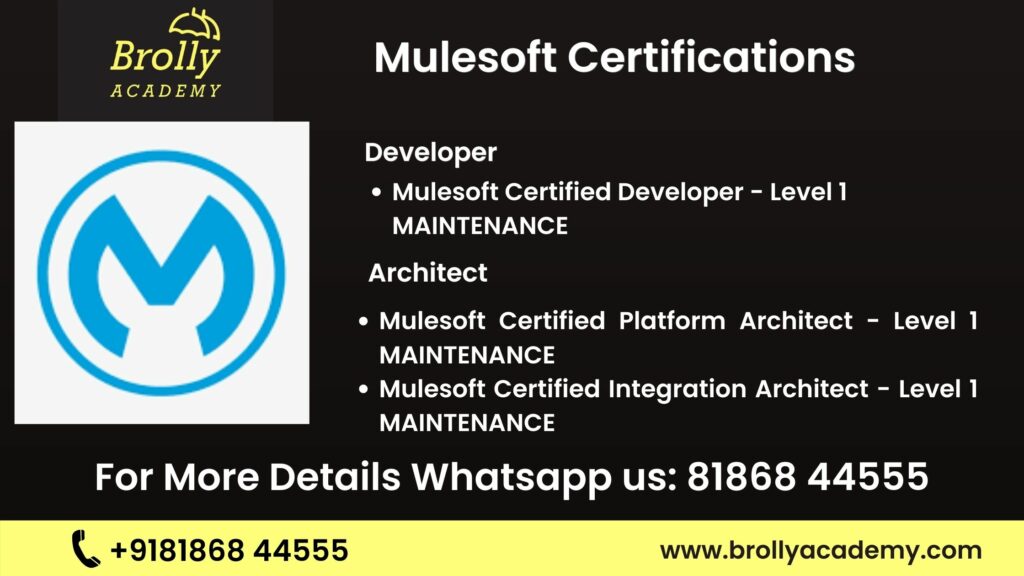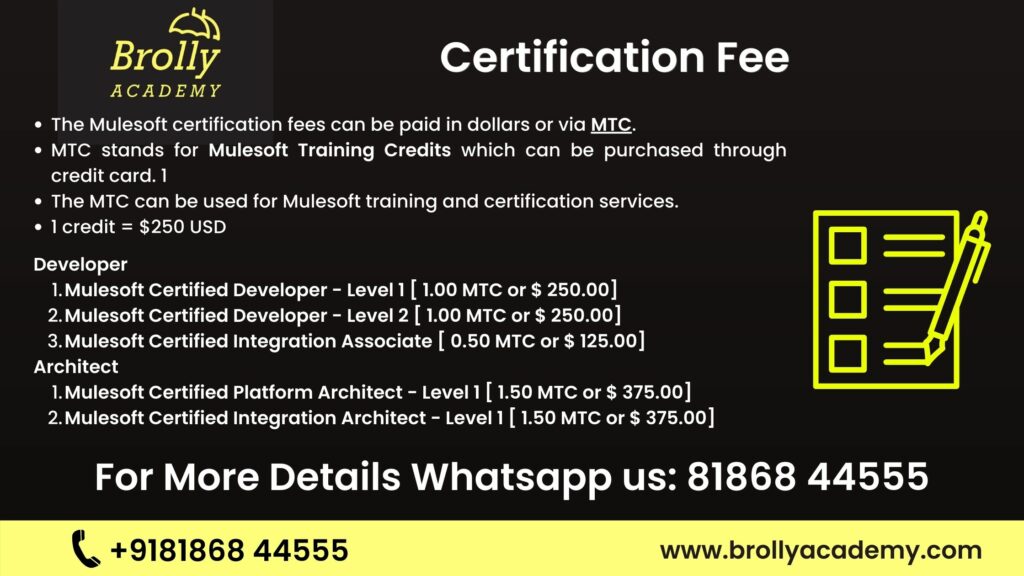 Benefits of Learning Mulesoft
Skills developed Post Mulesoft training in Hyderabad

Learn to connect, create and manage applications across multiple clouds and devices.

Seamlessly exchange and integrate data from different databases and services.

Design applications using Anypoint Platform

Develop applications using Anypoint studio 7.9 tool

Deploy applications to cloud services like AWS, Google cloud, Cloud hub and more.

Deploy applications to cloud services like AWS, Google cloud, Cloud hub and more.

Learn how to configure and work with API management platforms.
Prerequisites of Mulesoft training
There are no prerequisites for mulesoft training.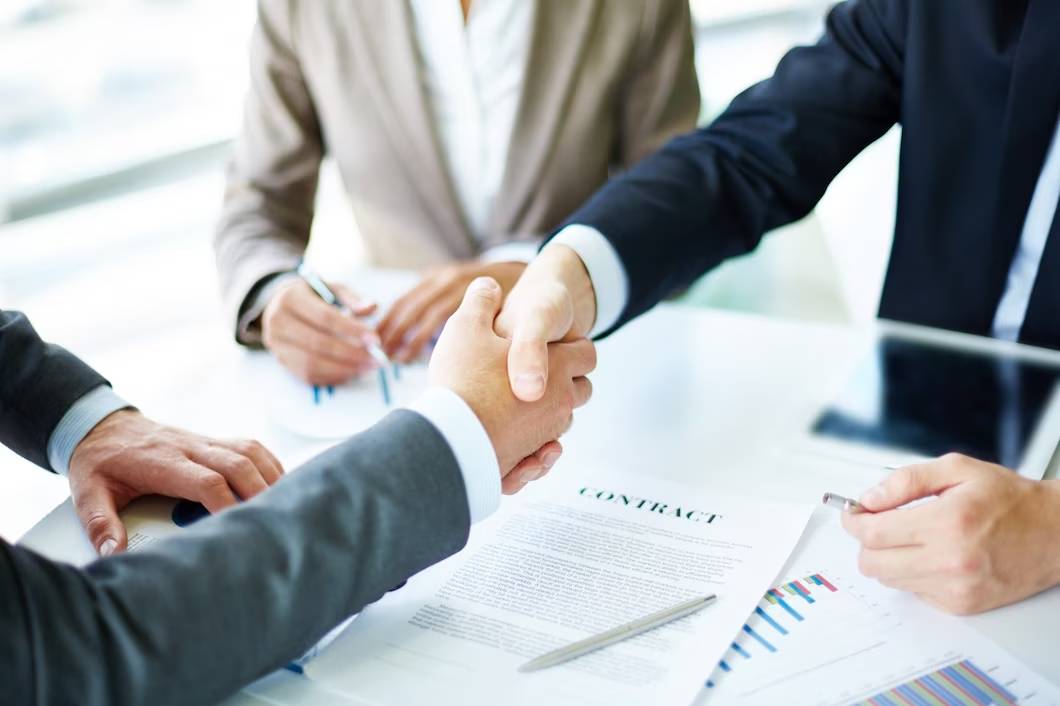 Career opportunities in Mulesoft
Mulesoft Approximate Payscale
The pay scale differs and depends on the candidate's experience, skill set and certification in hand. 
The average Mulesoft salary in India is 1,400,000 pa or $718 per hour

Entry level professionals –

 

₹ 1,081,250

per year

Experienced professionals – ₹ 2,342,500

per year.
The average Mulesoft salary in USA ranges from $101,111 and $131,575 with salary of $114,853