Oracle PeopleSoft HCM Training in Hyderabad
100% Placement Assistance
Oracle PeopleSoft HCM Training in Hyderabad Batch Details
| | |
| --- | --- |
| Trainer Name | Mr. Srinivas Chinta |
| Trainer Experience | 7+ Years |
| Next Batch Date | 19-09-2023 |
| Training Modes: | Online Training (Instructor Led) |
| Course Duration: | 30 Days |
| Call us at: | +91 81868 44555 |
| Email Us at: | brollyacademy@gmail.com |
| Demo Class Details: | ENROLL FOR A FREE DEMO CLASS |
Key Features Of Oracle PeopleSoft HCM Training
Oracle PeopleSoft HCM Course Curriculum
About Oracle PeopleSoft HCM Training in Hyderabad
Oracle's PeopleSoft Human Capital Management (HCM) is the most advanced and fully integrated HCM solution. PeopleSoft Core Human Resources, sitting at the center of HPCM, enables you to securely access your employee information and manage essential HR tasks. Implementing PeopleSoft Human Capital Management technology can enable the human resource departments of global companies to manage their employees on a single system. PeopleSoft Human Capital Management Training will teach you how to set up and administer your HCM applications so that you can manage the payroll, benefits, and talent for your global workforce. 
Peoplesoft Human Capital Management Certifications allow you to market yourself as a certified expert in implementing this technology. Learn how to deliver a solution that allows your customers to manage global employees on a single, intelligent system allowing them better employee management and smarter business strategies.
Brolly Academy offers the best Oracle PeopleSoft HCM training in Hyderabad with a detailed course program. The Oracle PeopleSoft HCM training includes topics like PeopleSoft HRMS basics, Human Resources, Employees and FTE, FLSA Status, PeopleSoft Payroll, W-2 Design, PeopleSoft Benefits, Query and SQR Tools, PeopleSoft Security, People Code, People Tools and much more. Upon completing the training modules, you'll receive a certificate from Brolly Academy for obtaining your PeopleSoft HCM certification. This will give you the skills necessary to provide world-class finance processes. Through this certification, you can use your newfound knowledge to provide better solutions for your customers and enhance their business insight.
 The Oracle PeopleSoft HCM training certificate will include a copy of your bio-data as well as details about the course itself you may share either on LinkedIn or other Job search platforms if desired. Our trainers provide students with a technical and theoretical understanding of their craft, so that learning becomes easier for them. We offer a variety of training options, including both online and in-person instruction as well as self-paced video courses. We also provide an extensive placement assistance program for those seeking placement within our company.
Enroll with Brolly Academy for the most in-depth Oracle PeopleSoft HCM training courses in Hyderabad.
Modes of Oracle PeopleSoft HCM Training
Why choose our Brolly Academy Institute?
Brolly Academy is the leading Software training institute in Hyderabad and has been recognized for its effective teaching methods. Our expert trainers have over 8 years' experience in Oracle PeopleSoft HCM and can prepare you to enter this exciting industry. Whether you're a fresher looking for certification or an experienced professional with expertise.
 Our Oracle PeopleSoft HCM Training course provides you with the skills and expertise you need to apply at companies that use this technology. Our Oracle PeopleSoft HCM Course will help you get ready for your mock interviews, resume creation and question-and-answer sessions. Here are some reasons why you should enroll in our Oracle PeopleSoft HCM Training course in Hyderabad:
Expert Oracle PeopleSoft HCM Trainers
Our Oracle PeopleSoft HCM instructors are among the most knowledgeable in their field, and you will benefit from this expertise. Our trainers share their knowledge of key concepts and skills that are new or changing rapidly. They've spent years training professionals and students alike.
Our Oracle PeopleSoft HCM virtual classes are engaging, informative and convenient with videos that allow you to learn from experienced instructors.
We have trained 80+ trainees with 25+ successful placements in some of the top companies in Hyderabad with excellent packages.
Learn From Anywhere Anytime
With our Brolly Academy, you can now learn Oracle PeopleSoft HCM training anywhere in the world at your preferred time.
Our placement conduct team will help our students learn the job skills and gain professional knowledge in it. They will guide them with everything starting from resume writing to interviewing techniques, and we match their skill sets with jobs that make the most sense for their career paths. In addition to resume and cover letter review, interview prep workshops are available for those seeking employment.
Compact Oracle PeopleSoft HCM Batches
We limit our class size to ensure that each student gets the attention they need.
Oracle PeopleSoft HCM Certification
Every student who participates in our Oracle PeopleSoft HCM training program will receive Brolly's Oracle PeopleSoft HCM certification. This certificate is recognized throughout the world, making it easier for you to find a great job
We have weekly sessions for students to meet with our trainers and get help addressing questions about the Oracle PeopleSoft HCM course.
Testimonials of Oracle PeopleSoft HCM Training in Hyderabad
Certification in Oracle PeopleSoft HCM
This Oracle PeopleSoft HCM training course is designed for clearing Brolly Academy's Oracle PeopleSoft HCM certification. The entire course content is in line with this certification and prepares you to tackle it easily, getting the best jobs at top MNCs. By enrolling in this Oracle PeopleSoft HCM Training, you will receive access to real-world industry scenarios and projects that are directly tied to your success as an employee.
 At the end of this Oracle PeopleSoft HCM Training program, there will be quizzes that test your knowledge of core concepts on Oracle PeopleSoft HCM. You can take these quizzes to prepare for your Oracle PeopleSoft HCM certification exams or just to check your understanding the choice is yours! Upon the successful completion of students' project work, Brolly Academy will award them with a Oracle PeopleSoft HCM course completion certificate.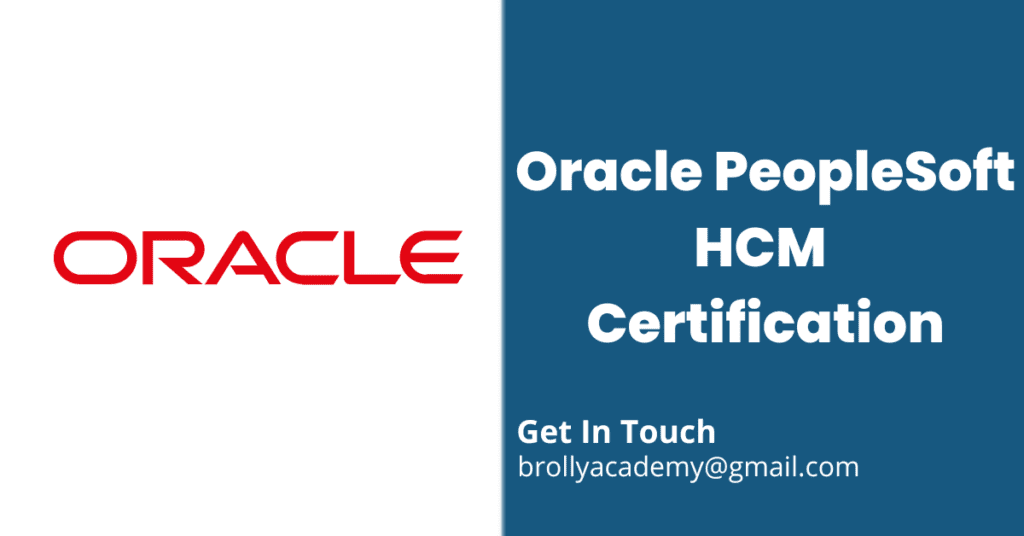 Advantages of Learning Oracle PeopleSoft HCM course -
Employment possibilities in Oracle PeopleSoft HCM-
Completion of the Oracle PeopleSoft HCM course you will learn
Prerequisites to Learn Oracle PeopleSoft HCM -
There is no Prerequisite for learning Oracle Peoplesoft HCM , Anyone can learn this course, However it will add an extra advantage in to your learning if you have:
Who should learn the Oracle PeopleSoft HCM Technology?
● Administrators ● Implementers ● Managers
What is Oracle Peoplesoft HCM?
Oracle PeopleSoft Human Capital Management (HCM) is a software suite that assists midsize to large organizations with recruiting, deploying, and managing their workforces. The solution offers a Global Core Human Capital Management module, workforce management, labor rules and monitoring system, and service delivery for human capital needs. Talent management is also included in this offering.
What is PeopleSoft HCM used for?
Oracle PeopleSoft Human Capital Management (HCM) is suited to the needs of midsize to large organizations. The solution includes a module for global human capital management as well as modules to manage workforce planning, service delivery, and talent development.
What are the benefits of Learning Oracle Peoplesoft HCM technology?
● Global Core HCM. ● Workforce management. ● In-memory labor rules and monitoring. ● Workforce service delivery. ● Talent management.
What if I miss one or more classes in Oracle PeopleSoft HCM?
Brolly Academy is committed to making sure that no student misses a single lecture topic. If necessary, we will reschedule classes at your convenience within the specified course duration. And if you'd like to attend with any other batches (as long as they're not already full), we can arrange that too!
What are the training modes offered by Brolly Academy for this Oracle PeopleSoft HCM Course?
We offer Oracle PeopleSoft HCM course in Classroom training, One to One Training, Self-paced video learning, Customized Training & Online Training mode at our Brolly Academy.
What will be the size of an Oracle PeopleSoft HCM batch at Brolly Academy?
Brolly Academy focuses on giving students one-on-one attention in order to clarify any doubts they may have about complex and difficult topics. Therefore, we limit the size of each Oracle PeopleSoft HCM batch to maximum of 10 members.
Will I get guidance on my Resume Preparation at Brolly Academy for job purpose?
Yes, our experts help you create the resume that matches your desired job roles.
Will you provide Practical Training In Oracle PeopleSoft HCM at Brolly Academy during the training period?
Our Oracle PeopleSoft HCM training provides both theoretical and practical classes, allowing for a thorough introduction to the software. Through this course, students will learn about each module before being asked to apply that information as they face real-world challenges during sessions.
Will I be provided with a free demo class before enrolling in Oracle PeopleSoft HCM Training at Brolly Academy?
Yes, Brolly Academy offers a free demo class of Oracle PeopleSoft HCM to any student interested in enrolling in our training program.
What are the domains I can get to work with After this course compilation?
You can specialize in any one of these domains such as - ● Search Engine Optimization ● Social Media Marketing ● Content Writing ● Email Marketing ● Search Engine Marketing etc…