BizTalk Training in Hyderabad
100% Placement Assistance
BizTalk Training in Hyderabad Batch Details
Key Points Of BizTalk Training in Hyderabad
BizTalk Course Curriculum
About BizTalk Training in Hyderabad
BizTalk is a product of Microsoft BizTalk server that was released in the early 2000. It is a system that helps automate business processes to ease the workflow. It accommodates different softwares to connect by later creating graphical representation and process logic that makes use of the software.
 It also helps in efficiently communicating with trading partners and monitoring real-time processes. Any kind of business-based tasks can easily be fulfilled with the help of BizTalk. Brolly Academy offers the best BizTalk training in Hyderabad with a detailed course program. 
The training includes core topics like the fundamentals and server introduction, creation of maps, creation of schemas, routing messages in BizTalk, creation of Pipelines, integration of business rules, orchestration of BizTalk, adapters, configuration of applications, troubleshooting and tracking applications, creating BizTalk environments, message security, deploying BizTalk applications and much more. 
Brolly academy offers a wide range of courses that include both IT and software training courses in Hyderabad with updated course curriculums and modules. You will receive BizTalk certification upon the completion of the training program that is approved and received by most of the companies. 
The BizTalk certificate will promote dynamic and flexible job opportunities for candidates with the right skills when attached to your professional resume. The Biztalk certificate offered by Brolly academy can greatly enlarge your potential employment opportunities by uplifting your career growth. 
This course is purposed for absolute beginners as well as BizTalk professionals looking for a certified and advanced BizTalk course to further refine your skills. We have excellent training staff with 8+ years of successful training and coaching experience to guide you along the course. 
With three different modes of training that includes BizTalk online training, BizTalk video course training in Hyderabad and Biztalk classroom training in Hyderabad, Brolly academy stands as one of the leading institutes in Hyderabad. At Brolly academy we also prioritize training the students by making them job ready with our placement assistance programs.
 Interview questions, resume preparation, mock tests, mock interviews, referrals and much more can be accessed as a part of our BizTalk Placement program. Enroll with us to get the best BizTalk training in Hyderabad with a complete training package.
Modes of Training For BizTalk Training in Hyderabad
Why choose us for BizTalk Training?
You will be provided with Career counseling even after the completion of your BizTalk course training. The counseling will be undertaken by our expert trainers who will guide you and direct you with the right guidance in further pursuing a career in BizTalk.
You can attend our BizTalk training from any part of the country at your own convenience as we offer both BizTalk online training and BizTalk video course training that are both equally insightful and informative. 
Any technical queries or doubts you may have in regards to the course can easily be addressed through our support staff who will be available around the clock to guide you. You can reach out to them at any given time.
We at Brolly academy have a separate wing of experts who can competently train you with the top interview questions, mock interview, mock tests to induce a sense of confidence and command that can help you during real-time interviews.
We have trained 18+ trainees with 15+ successful placements in some of the top companies in Hyderabad with excellent packages.
We also take our training a step ahead by organizing live group discussions where the trainers and the students voluntarily participate and exchange the theory and course related thesis with each other. 
A BizTalk certification will be given to every student enrolled in our training program. This certificate is widely accepted and certified to benefit you during job trials. 
We only take in small batches with limited students to create a better learning environment. This helps the trainers give individualized attention to each student by personally engaging with their doubts and queries all through the BizTalk course training in Hyderabad.
Testimonials of BizTalk Training in Hyderabad
You will receive a certificate from us upon completion of BizTalk certification training in Hyderabad. The certificate can be downloaded as either a hard or digital copy, based on your requirement. It has been proven that the BizTalk certification offered by Brolly academy can drastically help you crack interviews for desired positions and increase your starting salary by augmenting your career.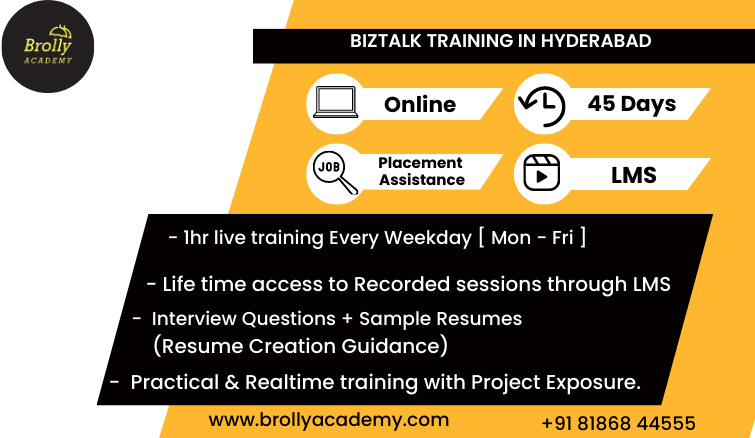 Advantages of learning BizTalk training in Hyderabad
Our adaptive and intuitive BizTalk training at Brolly Academy will help you gain detailed knowledge in the skills and its core concepts. The apprehensive  training program allows students to achieve the desired expertise to excel in a career in BizTalk. We conduct our training by introducing and including the latest versions of the server and its curriculum to keep the students ahead of the competition.
Skills developed after the BizTalk course training –
Prerequisites of BizTalk training course in Hyderabad
Career Opportunities in BizTalk
Which is the best BizTalk training institute in Hyderabad?
Brolly Academy offers the best BizTalk training in Hyderabad that covers all the important concepts and topics involved in it.
What is the BizTalk training fee in Hyderabad?
The cost of BizTalk courses in Hyderabad depends on the type of training different institutes offer. Our institute, Brolly Academy, offers BizTalk courses at an affordable price.
What is the average salary of a BizTalk developer in Hyderabad?
The average salary of a BizTalk developer in Hyderabad is 6.5 lakhs per year.
Where can I find BizTalk training near me?
We offer BizTalk training in Kphb and BizTalk training in Ameerpet, you can visit us or get in touch with us for further queries.
What if I miss a class?
Students can make up for missed sessions by attending our next live batch or we can also arrange backup classes for you.
Do you provide placement assistance?
Yes. To help our students land jobs after the completion of their training program, we assist them with mock interviews and resume preparation by providing personal guidance from industry experts as a part of our BizTalk placement assistance.
Who are the trainers at BizTalk training in Hyderabad?
The Brolly Academy's BizTalk course is taught by trainers who specialize in the field and have ample working experience.