React Training in Hyderabad
100% Placement Assistance
React Training in Hyderabad - Online Batch Details
React Training in Hyderabad Course Curriculum
Creating Routes and Router Layouts

Navigation from JSX and React components

Child Routes

Reading Router Params

Routing Context

Authentication for routes.
Understanding testing

Introduction to Jest

Test Running using Jest

Mocking functions and modules

Testing Components

Snapshot Testing

Async / Await.
Key Features Of React Training in Hyderabad
What is React js used for?
About React Training in Hyderabad
React JS is a rapidly growing field, developed in the labs of Facebook and it is one of the most in-demand technologies on the market today.
It's a free Java script library used for developing user interfaces and mobile applications. 
It's a perfect framework for developing websites with rich, interactive user experiences.
React JS is a javascript library but it is used as a framework. It is arguably the most popular framework when it comes to create single page applications. It is directly comparable with Angular, Vue.JS.
React JS is used by companies such as Facebook, Instagram, Netflix, and many others. 
It is a JavaScript framework that makes it easy to build web applications with data-driven user interfaces. 
It can also be used for backend development in addition to frontend work. 
Brolly Academy provides React Training in Hyderabad with live Projects, Real-time faculty. 
Our team of React JS experts offers React JS classroom training, React Training in Hyderabad and React JS self-paced video learning.
You will be learning through real time projects for hands-on experience in React js technology. 
Our expert faculty with more than a decade of experience have designed the reactjs syllabus to help students learn React js basics and develop user interfaces.
This React JS Training will cover all the reactjs advanced topics such as – 
React JS Environment Setups 

React JS Forms and UI

Handling in JSX

Building the Context
We are known for one of the best institutes providing the React training in Hyderabad, and are guaranteed to help freshers and professionals pass the reactjs certification with ease by our advanced training concepts.
Our reactjs syllabus is fully up to date with the latest release of React and provides complete hands-on experience in creating ReactJS applications from scratch.
Our react js course with placement assistance program will help our students to crack the interview with ease. 
After completing the reactjs certification course students will receive a course completion certificate from Brolly Academy.  
Want to become proficient in React, Join our React Training in Hyderabad to turn yourself into an industry-ready React js expert.
React Js Modes of Training
Learn React JS Online

Brolly Academy offers the best tutorial for reactjs. Our online sessions are interactive and with practical explanations from our expert instructors. You can learn react js online at your own convenience to master the program. You also attend the course anywhere around the world with your own time convenience.
Best React JS Tutorial (Self-paced video)

Our React JS video course will teach you how to create and build amazing web applications using the latest version of React JS. Brolly Academy's React JS video course is highly convenient and interesting which will make your self-learning process much easier. You will be provided a complete set of classroom recordings that will be available in our video course.
Why choose us for the React JS Training in Hyderabad?
React js course with placement guidance

Through Brolly Academy's react js course with placement assistance program, you can get the best help preparing for a career in React JS. Our dedicated placement-assistance teams provide guidance to candidates looking for careers in the React js field. We offer mock interviews, career counseling sessions, and Q&A forums to ensure that our candidates are fully prepared for their interviews.
Up-to-date Reactjs syllabus

Brolly Academy has specially designed the React JS course syllabus to give students a core understanding of the fundamental aspects of react js advanced topics. Our Reactjs syllabus is fully up to date with the latest release of React and provides complete hands-on experience in creating ReactJS applications from the beginning. This will further help our students in advancing their career path as a ReactJS professional.
Quality training

Our React JS Training course focuses on delivering high-quality instruction in a hands-on environment that helps students master core concepts and fundamental knowledge. Through this exposure to current industry use cases and scenarios, learners will be able to scale up their skills and perform real-time projects with best practices.
Reactjs certification

In this ReactJS Certification training Hyderabad you will learn each and every topic with the help of hands-on practical training. Brolly Academy's reactjs certificate is accredited by all major companies worldwide. This will increase the value of your resume and you can attain leading job posts with the help of our reactjs certification in leading MNCs of the world.
Backup sessions

We offer backup sessions for trainees who missed the React js classes and provide them with a scheduled session with our react js instructors. For additional assistance, we also allow students to attend our next one-on-one training batch that allows them to schedule classes at a time that works best for their schedules.
Technical training

We provide hands-on training in react js including live project assistance and case studies. Our react js class includes both theoretical as well as practical training as we believe that this is the best way to learn and understand the concepts.
Remote learning option

We offer best react js tutorial online training sessions that include both online and video course learning methods. You can attend the training from any part of the world via our e-learning platforms for a live, interactive experience in react js.
Flexible schedules

We offer a react js class, from basic to advanced levels of training for both beginners and professionals. Our react js classes are scheduled at flexible and standard timings, making it convenient for our students to attend our batches. We also offer training in both online and offline modes along with a self-paced video course that can be accessed at any given time.
Testimonials of React Training in Hyderabad
React JS certification course is designed for web developers who design and build UI/UX solutions for mobile and web apps and want to design with React as efficiently as possible using a JavaScript library.
Note – There's no certification exam specifically dedicated to React.
React Training is very effective, ensuring the students get a thorough understanding of the react js concepts.
This react js certification Training comes with a real time project that will prepare our students for the certification exams of react js.
After the course completion students will receive a certificate from Brolly Academy that will recognize their skills and competency in the react js technology.
Our certificate is widely accepted by companies and comes with lifetime validity.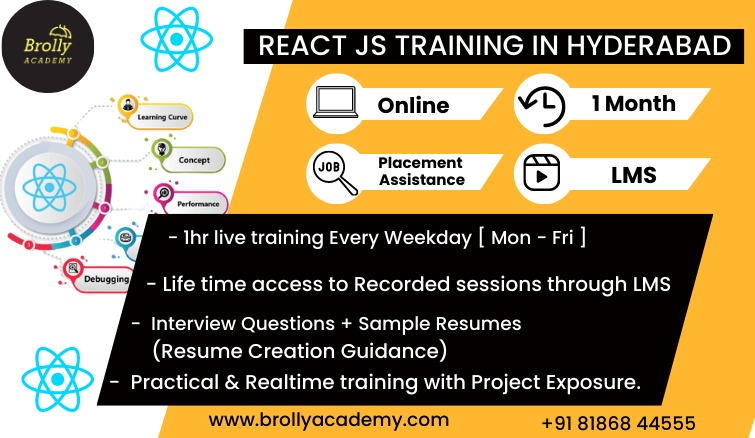 Skills Developed Post Completion of React training
The objective of this course is to help you learn the practical aspects of ReactJS and its ecosystem. 
Through our hands-on, practical approach, you will get knowledge of developing single Page applications and creating highly responsive and interactive web pages using react js.
By the end of this React JS Training in Hyderabad, you will become familiar with the fundamentals of react js application so that you can confidently seek jobs in this field.
Advantages of React Training in Hyderabad
React js Job Opportunities
Prerequisites for React Training in Hyderabad
Who can attend React training in Hyderabad?
The pay scale differs and depends on the candidate's experience, skill set and different certification in React JS.