React Training in Hyderabad
100% Placement Assistance
OFFER: Pay Once and attend the running batch and an additional batch at Free of Cost.
React Training in Hyderabad - Batch Details
Trainer Names
Mr. Mohammed Rehan ( Online )
Mr. Shivanaga (online )
Mr. Sai Ram ( Offline )
Trainer Experience
15+ Years
Next Batch Date
28 November 2023 (8:30 AM Online)


28 November 2023 (8:00 PM Online)




04 December 2023 (11:00 AM Offline)



Training Modes:
Online and Classroom Training
Course Duration:
2 Months (Covers HTML, CSS, Javascript & React)
Call us at:
+91 81868 44555
Email Us at:
brollyacademy@gmail.com
Demo Class Details:
ENROLL FOR A FREE DEMO CLASS
React Training Course Curriculum
Key Points Of React Training in Hyderabad

React JS is an open-source, component-based front-end Javascript library.

Is a declarative, efficient, and flexible JavaScript library responsible only for the view layer of the application.

It is used to build fast and interactive user interfaces (UI) specifically for single-page applications (SPA).

ReactJs follows the Model View Controller (MVC) architecture, and the view layer is accountable for handling mobile and web apps.

React is created (2011) and maintained by Facebook and the open source community.

A React application is made of multiple components, each responsible for rendering a small, reusable piece of HTML. It is directly comparable with Angular, and Vue.JS.

It is a phenomenal library that is easy to understand and has excellent cross-platform support.

React uses a declarative paradigm that makes it easier to reason about your application and aims to be both efficient and flexible.

React uses a declarative paradigm that makes it easier to reason about your application and aims to be both efficient and flexible.

It is the most popular Javascript library amongst all other libraries and frameworks currently available.

The declarative view makes your code more predictable and easier to debug.
What is React js used for?

React JS is used for building interactive user interfaces and web applications quickly and efficiently with significantly less code.

You can build multiple websites using React JS such as -

Social Media Websites (Twitter/Facebook)

Online Education Website (DotNet Tricks/Coursera)

Online Booking Websites (Makemytrip/OYO)

It allow you to work on the different frameworks of your choice because of its flexibility

It enables developers to break down complex UIs into single-page, reusable building blocks (or components).

It combines the speed and efficiency of JavaScript with a more efficient method of manipulating the DOM to render web pages faster.

Its declarative views make your code more predictable and easier to debug.
About React JS Training in Hyderabad
React JS is a rapidly growing field, developed in the labs of Facebook and it is one of the most in-demand technologies on the market today.
It's a free Java script library used for developing user interfaces and mobile applications. 
It's a perfect framework for developing websites with rich, interactive user experiences.
React JS is a javascript library but it is used as a framework. It is arguably the most popular framework when it comes to create single page applications. It is directly comparable with Angular, Vue.JS.
React JS is used by companies such as Facebook, Instagram, Netflix, and many others. 
It is a JavaScript framework that makes it easy to build web applications with data-driven user interfaces. 
It can also be used for backend development in addition to frontend work. 
Brolly Academy provides React Training in Hyderabad with live Projects, Real-time faculty. 
Our team of React JS experts offers React JS classroom training, React JS Training in Hyderabad and React JS self-paced video learning.
You will be learning through real time projects for hands-on experience in React js technology. 
Our expert faculty with more than a decade of experience have designed the reactjs syllabus to help students learn React js basics and develop user interfaces.
This React JS Training will cover all the reactjs advanced topics such as – 
React JS Environment Setups 
React JS Forms and UI
Handling in JSX
Building the Context
We are known for one of the best institutes providing the React training in Hyderabad, and are guaranteed to help freshers and professionals pass the reactjs certification with ease by our advanced training concepts.
Our reactjs syllabus is fully up to date with the latest release of React and provides complete hands-on experience in creating ReactJS applications from scratch.
Our react js course with placement assistance program will help our students to crack the interview with ease. 
After completing the reactjs certification course students will receive a course completion certificate from Brolly Academy.  
Want to become proficient in React, Join our React Training in Hyderabad to turn yourself into an industry-ready React js expert.
Modes of Training For React Training in Hyderabad
Why choose us for React Js Training in Hyderabad?
Testimonials of React JS Training in Hyderabad
React JS Training & Certification
React JS certification course is designed for web developers who design and build UI/UX solutions for mobile and web apps and want to design with React as efficiently as possible using a JavaScript library.
Note – There's no specific React JS certification exam  dedicated to React.
React Training is very effective, ensuring the students get a thorough understanding of the react js concepts.
This react js certification course comes with a real time project that will prepare our students for the react js certification exam.
After the course completion students will receive a certificate from Brolly Academy that will recognize their skills and competency in the react js technology.
Our certificate is widely accepted by companies and comes with lifetime validity.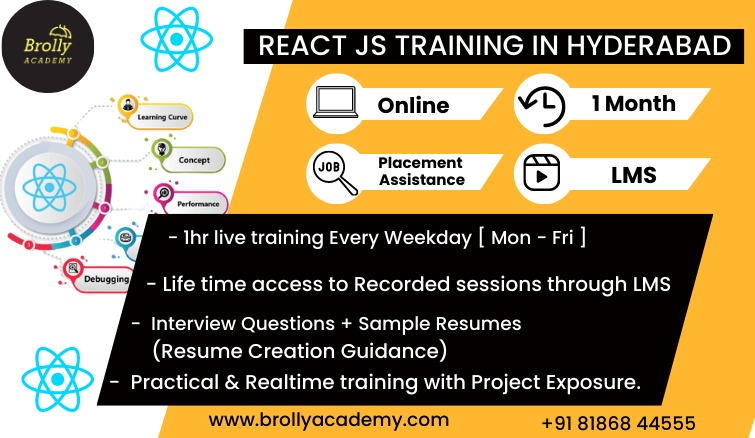 Skills Developed Post React JS Training in Hyderabad

Knowledge on how to make single page application and mobile application using react js
You will gain hands-on experience with cloud labs and build a portfolio of real-world projects

Gain knowledge about components - how to build and compose reusable components

Learn JSX, the syntax extension to JavaScript, use it to describe what the UI will look like

Learn how state helps you keep track of data changes over time in your application.

Learn how to implement Server-Side Rendering (SSR) to build Isomorphic applications.

Explore test-driven development (TDD). Explore the use of Jest, React Testing Library, Enzyme etc

Understanding on the use of React Router, Redux, Redux Saga and other popular libraries

Understanding on the use of Hooks API and context, error boundaries, portals and their benefits

Reduce the initial load time by implementing server-side rendering for SEO benefits

Understanding of the webpack bundler and its features such as code splitting, lazy loading, tree shaking, hot module replacement

Create, build, and deploy react applications to the cloud

Knowledge about React ecosystem and sources for good third-party libraries
Job roles & Designations in React js
As per Statista – React web development was the second most-used framework in 2022, with 42.62% of software developers using it.
Today, React JS has become highly popular because of its extra simplicity and flexibility.
It is estimated that more than 1,300 developers and over 94,000 sites utilize React JS
Part of this huge popularity comes from the fact that top corporations such as Facebook, PayPal, Uber, Instagram, and Airbnb use it to solve user interface related issues.
React trends 2022 include the emergence of keywords and SEO – based performance.
Prerequisites for React Training in Hyderabad
Who can attend React training in Hyderabad?
The pay scale differs and depends on the candidate's experience, skill set and different certification in React JS.
Advantages of React JS Training in Hyderabad

React js is arguably the most popular framework when it comes to build single page applications

It is the most used framework for developers worldwide

69% of developers use and wants to continue using react

React JS is easy to learn and also has a great documentation

It will allow you to work on the different frameworks of your choice because of its flexibility

You can build social media websites (Twitter/Facebook), Online Education website (DotNet Tricks/Coursera), Online Booking Websites (Makemytrip/OYO)

React JS has great community support as well backed by Facebook

React JS is being widely used by many large enterprises like Facebook, Netflix, Airbnb, PayPal and many others

React JS is rapidly growing and is becoming the first choice for many companies to develop scalable and performant web applications