Oracle Developer Training in Hyderabad
100% Placement Assistance
Oracle Developer Training in Hyderabad Batch Details
| | |
| --- | --- |
| Trainer Name | Mr. Srinivas Chinta |
| Trainer Experience | 7+ Years |
| Next Batch Date | 18-09-2023 |
| Training Modes: | Online Training (Instructor Led) |
| Course Duration: | 30 Days |
| Call us at: | +91 81868 44555 |
| Email Us at: | brollyacademy@gmail.com |
| Demo Class Details: | ENROLL FOR A FREE DEMO CLASS |
Key Features Of Oracle Developer Training
Oracle Developer Training Course Curriculum
About Oracle Developer Training in Hyderabad
Oracle is a database management system (DBMS) that provides access to and manages the large quantities of data stored on computer servers around the world. Oracle, a database server that uses memory structures stored in the main computer system. It is considered by many to be the most flexible way of managing applications. This Oracle Developer course will teach you the basics of database server like Oracle DBA, SQL and related technologies. It also helps you to become a professional in core oracle technology and real-time use cases on various projects. Oracle Developer training is the best online platform for all the IT & Non-IT candidates.
Brolly Academy provides a deep knowledge of Oracle Developer training by highly experienced and real-time professionals, as well as various prestigious and worthy certification courses in Hyderabad for students, freshers, employees, and professionals who want to lead the IT industry.
Today, database management is essential to every organization. Oracle is the global leader in this field—and its Developer program introduces you to both SQL and PLSQL (PL/SQL) with one training program!
Our expert mentors will guide you through the Oracle Developer program to ensure that you land a high-paying job. We provide students with the best chance and teach them how to work efficiently as a Oracle Developer.
After completing this Oracle Developer course, you will receive a certificate of completion that can be used to enhance your resume.
Brolly Academy offers Oracle Developer training in three modes: classroom Training, online Training, and self-paced video courses. Our expert trainers will train you in the implementation of Oracle Developer course as well as teach you how to apply the various applications of these tools.
We also provide a free placement assistance program to all our trainees who successfully complete the Oracle Developer training course. Our dedicated team of recruiters and career counselors will guide them through every step of the job search process, from resume preparation and interview coaching—all at no additional cost!
You can register for Oracle Developer Training Course at Brolly Academy in Hyderabad, from a wide range of options.
Learn how to become a skilled Oracle Developer by taking our best Oracle Developer Training in Hyderabad from Brolly Academy.
Modes of Oracle Developer Training
Why choose our Brolly Academy Institute?
We are known as the best Oracle Developer Training Institute in Hyderabad for our exclusive training method. The training program is led by our expert trainers with more than 10 years of Oracle Developer platform experience who will guide you through the training and help you become a professional in this Oracle Developer training program that will make you a work-ready candidate.
 By enrolling in our Oracle Developer course, you will get the best mentorship for mock interview preparation, resume creation and Q&A session for your interview purpose.
Here are some reasons why you should enroll in our Oracle Developer course in Hyderabad.
Brolly academy has the best trainers in Oracle Developer with 10+ years of experience in their field. They are able to guide students effectively and ensure they acquire the skills they require throughout our training program. We place a higher value on instructors who are dedicated and passionate about teaching than we do on those with the most years of experience.
At brolly academy, we train small groups of 10 students per batch a strategy that enables us to give each student individual attention.
24/7 Post Training Guidance
We at Brolly Academy provide a dedicated support team for all of our students, no matter where they are in their journey.
Students who complete our Oracle Developer training course at Brolly Academy in Hyderabad will receive a completion certificate that is valid for application to jobs as an Oracle Developer. The certificate provided by us will add more value to your resume.
After you enroll in our course, we will provide a free Oracle Developer guide and Learning Management System to help you learn the program. You'll have lifetime access to these materials once enrolled.
Brolly Academy provides job placement assistance to students and graduates. This service helps our students find suitable jobs in different organizations. Our employment placement team will be with you every step of the way—from applying for jobs and preparing for interviews, to being chosen by companies.
Testimonials of Oracle Developer Training in Hyderabad
Certification in Oracle Developer Training
Oracle Developer Training Certificate Trained by our real-time expert tutors at Brolly Academy in Hyderabad is very effective. The entire course content is developed based on real scenario-based concepts. 
Our certification is recognized by the top companies across the world, and this certification will double the value of your resume. With the help of our certificate, you can apply for a leading job post. This certificate you will get only after successfully completing the training period.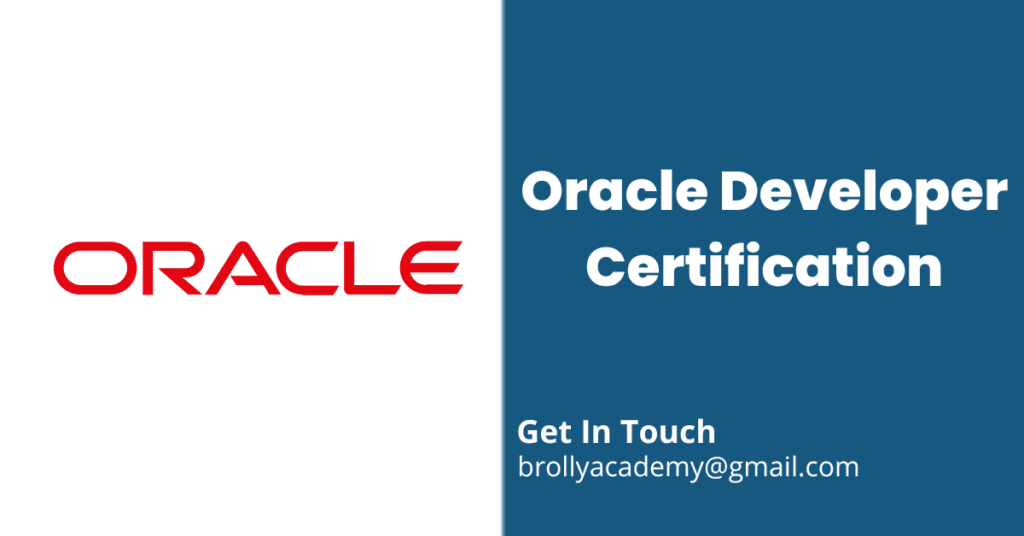 Advantages of this Oracle Developer course
Job Roles in Oracle Developer
Objective of Oracle Developer course:
Prerequisites to Learn Oracle Developer
What if I have more questions regarding Oracle Developer Training?
If you have any further questions about Oracle Developer, our instructors will be glad to help.
Is Oracle Developer a good career choice?
Oracle's systems and services are used by millions of companies around the world, so there are lots of opportunities to work with Oracle. IT specialists use and function as computer programmers, Web developers, and administrators with Oracle systems; they also serve as data database analysts or software programmers.
How much will it cost me for the Oracle Developer Course?
You can find out more about the Oracle Developer course fee structure by visiting our website or contacting us at the given number on our website.
Will you provide guidance after the compilation of this Oracle Developer course?
Yes, after the course is complete, our team can help you prepare for job interviews and create your resume. This facility is available to all students who successfully complete the Oracle Developer Training certification program
Who will be my trainer in the Oracle Developer course?
At Brolly Academy, our Oracle Developer expert trainers have extensive experience in the industry and will guide you throughout your training.
Do you provide training on the latest technology version of Oracle Developer?
Yes, as our courses are frequently updated in response to changes in technology.
Why should I enroll this Oracle Developer Training in Brolly Academy Hyderabad?
Our method of instruction and dedication to our students have made us one of the best Oracle Developer training institutes in Hyderabad. The training program is taught by experienced Oracle Developer Platform trainers, who will help you gain the skills and knowledge necessary to secure a position in today's competitive job market.
Do I need to have coding experience to learn Oracle Developer Course?
PL/SQL is an embedded-care language linked to fourth generation languages, much like ADA. Oracle reports are built around the Oracle Development platform (Oracle 9i) and SQL*Forms / Reports (Oracle 10g).
What are the job responsibilities of an oracle developer?
● Consider implementing security safeguards for your devices and information systems. ● Establish rules or guidelines for computer or information protection. ● In the electronic database, information should be updated regularly.