How does blockchain technology work?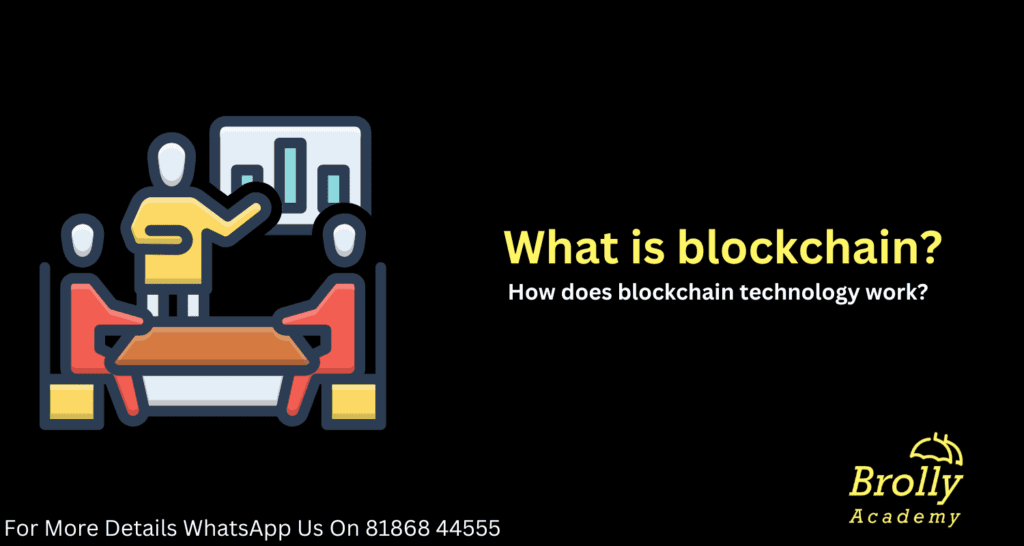 You've undoubtedly heard the phrase "blockchain technology" a lot during the last few years about cryptocurrencies like Bitcoin. You might be wondering: "What exactly is blockchain technology?" As there is no concrete meaning that the average person can readily understand, it appears that blockchain is a platitude, but only in a hypothetical sense. It is essential to explain "what is blockchain technology," including the technology involved, how it functions, and how it is becoming important in the world of digital communication.
You must become knowledgeable about this developing technology to get ready for the future as blockchain develops and becomes more approachable. This is the best place to learn the fundamentals of blockchain if you're new to it. This article teaches you how to respond to the inquiry, "What is blockchain technology?" Additionally, you will discover how blockchain functions, why it's significant, and what will be the future of blockchain technology.
A blockchain is an approach for preserving records that makes it hard to replicate or hack the system or the data stored on it, making it safe and unchangeable.
It is a particular form of distributed ledger technology (DLT), which is a digital system for simultaneously recording transactions and associated data in many different places. To avoid a single point of failure, each computer in a blockchain network keeps a copy of the ledger, and all copies get updated and validated at the same time.
Although it is also regarded as a type of database, blockchain has significant differences from traditional databases in the way it maintains and saves data. Blockchain holds data in blocks that are digitally connected rather than tables, rows, columns, and files like traditional databases do. In addition, unlike traditional databases, which are controlled by a central computer, blockchains are decentralized databases run by computers connected to a peer-to-peer network.
The first widely used blockchain application was the 2009-launched cryptocurrency Bitcoin. As a result, Bitcoin and its rivals Dogecoin and Bitcoin Cash are the ones that are most frequently associated with blockchain.
Why Is Blockchain So Important?
Due to its ability to scale transparency, eliminate fraud, and reduce security threats, blockchain is an incredibly revolutionary and exciting technology. 
Blockchain technology gained popularity through its connection to cryptocurrencies and NFTs, but it has subsequently developed into a management tool for a variety of international companies. Blockchain technology is currently being used to innovate games, secure healthcare data, provide transparency for the food supply chain, and fundamentally alter how we manage data and ownership.
There are various ways that blockchain technology provides decentralized security and trust. To start, new blocks are always chronologically and linearly stored. The "end" of the blockchain is always added to them. Previous blocks cannot be modified once a block has been inserted into the end of the blockchain.
Any modification to data affects the block's hash. Each block carries the hash of the previous block, thus if one changed, the next blocks would also change. As a result of the hashes not matching, the network is going to reject a modified block.
Consider a scenario where a hacker controls a node on a blockchain network and aims to change a blockchain so they may take everyone else's cryptocurrency. If they wanted to modify their copy, The other nodes would need to be persuaded that the new copy was the correct one.
For them to be able to do this and put it at the right time, they would need to have control over a large portion of the network. Because you require control of at least fifty percent of the network to launch an assault, it is known as a 51% attack.
In this kind of attack, timing is crucial because by the moment the hacker performs any action, the network is probably already passed the blocks they were attempting to change.
How Does Blockchain Technology Work?
The blockchain transaction process can be summarised as follows:
In simple terms, a blockchain node refers to a computer or device that participates in a blockchain network. These nodes are responsible for storing, validating, and maintaining a copy of the blockchain ledger. Each node possesses a complete record of all transactions and blocks, ensuring the transparency and immutability of the blockchain.
Types of Blockchain Nodes:
Benefits of Blockchain Technology
Where is blockchain technology used?
Blockchain technology's future
Blockchain technology has a bright future ahead of it, with lots of opportunities and possible trends. As developments like sharding and layer-2 protocols strive to boost transaction throughput and reduce latency, scalability, and interoperability are significant areas of study.
As companies become more aware of blockchain's potential to improve security, efficiency, and transparency, adoption among enterprises is expected to grow.
The Internet of Things (IoT) integration holds considerable potential for providing safe and reliable interactions between linked devices. Real-world asset tokenization will enable fractional ownership and liquidity while privacy-enhancing technology will find a compromise between openness and secrecy.
Blockchain technology is poised to revolutionize industries, expedite procedures, and encourage trust in a variety of applications as it develops.
Blockchain technology provides a transparent and secure means to store data and record transactions. It can transform industries by providing a new standard of security and trust in the online environment.
Blockchain technology offers a wide range of opportunities, whether it's enabling peer-to-peer transactions, developing novel types of digital assets, or supporting decentralized applications. In the upcoming years, we may anticipate the emergence of more creative and revolutionary use cases as the technology develops and becomes more widely used.