Full Stack Developer Course in Hyderabad
100% Placement Assistance
Full Stack Developer course in Hyderabad
(Offline & Online batches - course details)
| | |
| --- | --- |
| Trainer Name | Mr. D. Srinivas |
| Trainer's Experience | 15+ years |
| Course Fee | 20,000 Rs (Call +91 81868 44555 for discount) |
| Course Duration | 2 Months |
| Timings | Monday to Friday (Morning to Evening) |
| Next Batch Date | 7th Aug 2022 AT 11:00 AM IST |
| Training Modes | Classroom [HYDERABAD] / Online (Video Course) |
| Location | Hyderabad, Online classes |
Key Features Of Full Stack Developer Course in Hyderabad
Full stack developer course Curriculum
About Full stack developer course
Full stack refers to the entire set of software solutions and technologies used to create a platform, website, or application. full-stack combined both the front-end and back-end website development of any application. This technology includes all the functions of a computer system application.
By enrolling in the Full stack developer course at our Brolly Academy you will become an expert in web development applications and software development. This full-stack training provided by us will improve your technical and practical understanding of Full-Stack development technologies.
We at Brolly Academy designed and structured the full-stack course curriculum with our subject matter experts who have real-time experience and deep knowledge of the full-stack industry. We aim to provide high-quality training to all our candidates by giving them access to the lab facility and conducting real-time case studies and projects. The trainees will be trained to secure and manage user authentication and access control for back-end applications. 
With continuous practice and under the guidance of our expert trainers, by utilizing Docker and Kubernetes, our students will be able to generate web applications for the cloud server. The career path of full-stack web development has proved to be highly lucrative.
At Brolly Academy we use the customized up-to-date course syllabus of the full stack developer course. In this course, you will be offered to learn detailed information about the full stack topics like front-end development, backend development, language tools and frameworks, programming languages, etc…
You will get a whole learning experience by enrolling in Brolly Academy's Full Stack developer course in Hyderabad. We also offer you our 100% placement assistance program where you will receive free guidance from our dedicated team for job interview preparation, mock interview preparation, career guidance, and Q&A sessions even after the course is completed.
We at Brolly Academy provide you with a complete set of training that will make you a confident candidate to crack any interview for this full-stack course.
 We also offer full stack online certification programs that are perfect for students also working professionals who want to learn Full stack and are interested in building a bankable career in the Full stack Developer courses. This Full Stack Developer course in Hyderabad will take you one step closer to that.
Enroll in with our Brolly Academy for the Best Full Stack Developer course in Hyderabad. You can also get a free Demo class before joining the course.
Training Modes of Full stack course in Hyderabad
Highlights of Brolly Academy
Why choose Brolly Academy for Full Stack developer Course in Hyderabad?
Brolly Academy's full stack training program is conducted by our expert tutors. This training will help you to become skilled in the Full Stack Developer course and make you a professional candidate in this field. Brolly Academy is known for providing the best Full stack developer course training in Hyderabad. 
Our highly experienced trainers have 10+ years of hands-on experience in full stack development. The practical training provided by us will increase your technicality in the course and case studies will give you a practical hold on Fullstack development. A course completion certificate will be provided to all our students and professionals after completion of the course which is 100% valid and can be used to apply for jobs in full-stack technologies.
We at Brolly Academy offer you one of the best placement assistance programs in Hyderabad on Full stack courses which include Mock interviews, career counseling, and Q&A sessions. Here are the reasons why you choose us for the Full stack developer course in Hyderabad?
Availability of Placement Assistance
We offer the best job assistance programs in Hyderabad for the Full stack developer course. Our dedicated placement assistance team will guide you through the process. This placement assistance program also includes mock interviews, career counseling, question, and answer sessions, and resume preparation facilities to ensure our candidates are fully prepared for interviews.
You will get the complete set of live practical hands-on training experience of the Full stack developer course with Interactive sessions and practice-oriented concepts. This interactive session will help you to clear all your doubts about full stack technology and solve all the technical terms of the course. 
Professional experienced Trainer
At Brolly academy, we have highly expert trainers with 10+ years of hands-on experience in full-stack development who will guide you through the training process in a full-stack developer course in Hyderabad. 
We always keep in mind that our course syllabus is up to date with all the industry requirements to keep our students informed and industry ready.
We at Brolly academy issued a course completion certificate for all our students and professionals after completion of the full stack developer course. This course certification is 100% valid and can be used to apply for jobs in full-stack development everywhere.
Testimonials of Full stack Course Training in Hyderabad
Full stack Certification training
Get the most effective Full Stack Developer Course Certificate in Hyderabad Trained by our real-time expert tutors at Brolly Academy. This certification will double the value of your resume. 
With the help of the certificate, you can apply for a leading job post in Full Stack technologies. This certificate you will get only after successfully completing the Full Stack Developer training period.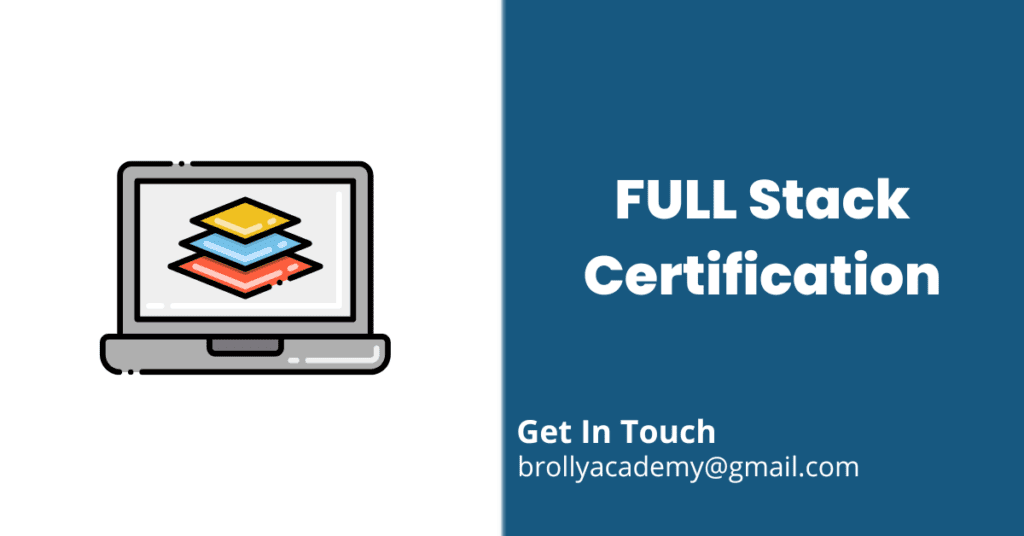 Advantages of Learning Full stack developer course
The objective of Full stack developer course
Job openings in Full stack
Prerequisites to Learn Full Stack
What if I miss any class?
Not to worry, You will be given access to our recorded video sessions. You can check and revise the full stack course accordingly. We will provide recorded videos of each class so in case you miss any class, you can go through the recordings at your convenience and check with our trainers in the upcoming classes.
What are the Job Roles and Responsibilities of a Full stack developer?
The full stack developers are both front and back coding programmers. Here are some key responsibilities of a full stack developer - ● Creation of functionality servers and databases. ● Development of applications for back-end websites. ● Ensure the optimization of cross-platforms for mobiles. ● Make sure applications are responsive. ● Working in conjunction with web designers. functionality. ● Viewing from design to finished product through a project. ● APIs design and development. ● Compliance with both technical and consumer requirements, etc…
Does your Full Stack Online training come with a certificate?
Yes, all our trainees will receive a course completion certificate after the compilation of the course. Our certificates will add more value to your resume.
How long does it take to complete the Full Stack training course?
The training is done via online sessions and will take up to 25+ sessions.
What if I have more queries regarding Full Stack Training?
Our experts will always be available to clarify all your queries and doubts. You can get in touch with them during class hours or after the session is completed.
What are the prerequisites for attending Full Stack Online training?
Knowledge in HTML, CSS, JavaScript, DOM Manipulation, SQL/NoSQL, Java, or any Object-Oriented Programming would be beneficial.
How much will it cost me to attend the Full Stack Developer Course?
You can contact us on our given contact details. We don't charge anything extra, you will only be required to pay our course fees
What Skills are we able to learn for the Full Stack Developer Certification Course?
● Learning basic front-end languages like mark-up language, CSS, and JavaScript. ● structure and style management skills. ● Understanding the principles of web development, Javascript, databases, and more.
Can a fresher be a full-stack developer?
Yes, Nowadays Full Stack developer courses are in high demand for the Software IT Industry, and if you are a fresher, then you can also go for this fantastic career option.
Will I be provided a demo session before enrollment?
Yes, we offer a demo session before every training where you can clarify all your doubts before enrolling into the full stack training course.
Who can opt for the full stack course?
Anyone interested in learning web development, regardless of prior experience. The course is designed from basic, intermediate, to advanced level Training by our professionals.
What is the payscale for Full Stack Certified Developer?
The typical annual compensation for a Full Stack Developer is almost INR 17,50,000 per annum.