Python Full Stack Developer Course in Hyderabad
100% Placement Assistance
Python Full Stack Developer Course in Hyderabad Batch Details
Python Full Stack Developer Course in Hyderabad Syllabus
Key Points of Python Full Stack Developer Course in Hyderabad
What is Python Full Stack Development?
What is Python Full Stack Developer used for?
About Python Full Stack Developer Course in Hyderabad
Python is frequently used for back-end programming, whereas CSS, HTML, and JavaScript are frequently used for front-end development. Together, these technologies make it possible to perform full-stack development.
Full stack technology refers to the totality of an application's depth in a computer system, whereas Python is a high-level, successful programming language having dynamic semantics.
A Python developer who is proficient in all aspects of the language can utilize it for any project. They also have experience using technologies that can manage both unstructured and structured data.
The best complete Python full-stack developer training in Hyderabad is offered by Brolly Academy, which also offers a placement assistance program. This comprehensive collection of training courses led by our professionals will assist students in honing their abilities in a variety of fields, including developing web applications, desktop applications, programming, etc.
For students and professionals, we provide self-paced video instruction in the Python Full Stack course. We also provide assured course completion certification with worldwide accreditation.
After the course is over, our team will help learners with finding jobs. Join with us for a full-stack Python developer course training in Hyderabad including placement support.
Modes of Python full stack developer Training
We provide a variety of training options, including online & video-based training as well as classroom-based training.
Python Full Stack Developer Classroom Training

With the greatest facilities and knowledgeable instructors, we provide classroom training for full-stack Python developers. They'll provide you with an excellent education and will also clarify any queries you have in class. We will offer theory lessons that are supported by so many practical sessions so that you can obtain hands-on experience using the current tools and technology with actual projects.
Python Full Stack Developer Course Online

Working professionals and students who need a flexible timetable to complete their full-stack Python developer course training can choose one of our online training options. We use top instructional strategies and exceptional learning pedagogues, like simple-to-learn examples, to improve our students' learning outcomes. Students will receive exceptional practical instruction throughout this online course, preparing them to be fully qualified professionals.
Python Full Stack Developer Video Course

By choosing our self-paced video learning option, we provide full support for your professional development as you complete the full-stack Python developer course training at your own time. This video course is a compilation of recordings from live classes that are complemented by extra resources. You will have a distinctive educational experience due to the videos' interactive and entertaining design.
Why choose us for Python full-stack developer course training?
Practical-oriented training

Our training curriculum for Python full stack developers includes assignments and entirely realistic examples from real-world situations, which helps our students feel at ease and better comprehend the Python full stack language. Beginner to advanced topics are covered in our training, and by the time it is complete, students will be proficient enough to work on Python full-stack development and be ready for employment.
Expert Trainers

Our instructors support learners by emphasizing both the fundamentals and the more complex requirements of the Python full stack programming languages, such as the proper use of considerable indentation. They go above and above to instruct candidates on how to apply object-oriented thinking and programming language constructs in real-life situations.
Updated python full stack developer course syllabus

The Python full-stack developer course curriculum provided here has been meticulously created to represent the most recent improvements developed in programming and how those advancements are reflected in the daily lives of Python developers working in MNCs. Longer sessions of live projects, both small and large, are incorporated into our course curriculum to help students develop their skills.
Flexible class schedules

We allow students who are currently attending classes, employed by a company, or working professionals to enroll in our Python full-stack training. With a free trial class, we provide corporate training that is self-paced, online, in-person, and self-paced. Our programs are held in both mornings as well as evening sessions throughout the week.
Unlimited access to media

We created our curriculum with the intention of giving students the finest training experience possible. We are providing you with all the tools you need to complete the Python full-stack developer course by providing course content, LMS access, video recordings, etc. The whole course material for the LMS, which contains the material needed to learn the skills, will also be yours for free for the rest of your life.
Small batches

We limit the number of students in each of our training batches to no more than 20. Our training program is intimate enough for each participant to receive individualized attention and in-person interaction from the trainer.
Python Full Stack Developer Certification
Our training program for the Python Full Stack Developer Course makes sure that our students have the knowledge and abilities necessary to produce code that implements stunning application processes with amazing memory management capabilities.
The entire curriculum fits with this certification and provides you with the knowledge you need to pass it with ease and land the greatest positions at prestigious MNCs.
After completing the Python full-stack developer course, which is recognized and approved by the majority of businesses, students will receive an official certificate of completion signed by Brolly Academy.
Depending on your needs, students can receive a hard copy of the certificate or a digital copy.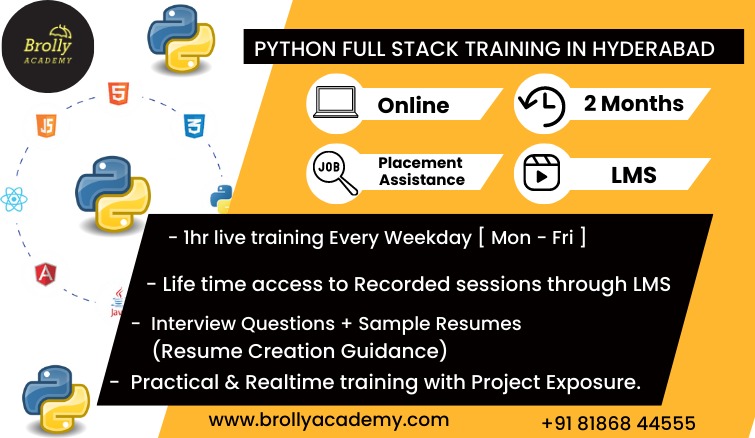 Skills developed Post Python full-stack course in Hyderabad
Benefits of Python Full Stack Developer Course
Python's most alluring feature as a full-stack web development language
Job Possibilities in Python Full Stack
Market Trend in Python Full Stack
Prerequisites to Learn Python Full Stack Course