WPF And WCF Training in Hyderabad
100% Placement Assistance
WPF And WCF Training in Hyderabad Batch Details
Snowflake Course Curriculum
Key Points Of Snowflake Training in Hyderabad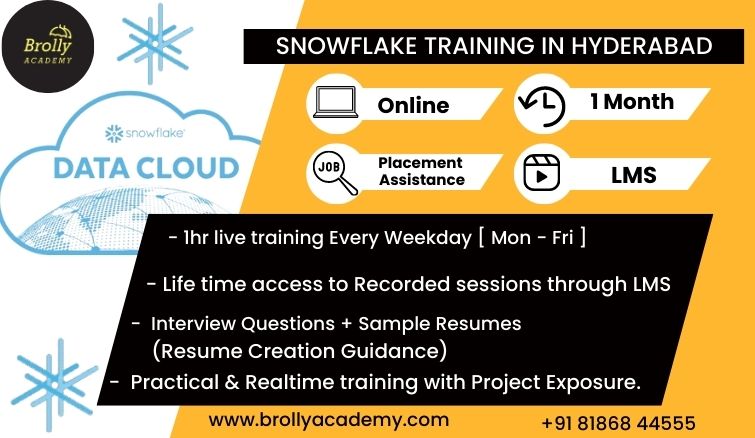 About Snowflake Training in Hyderabad
Snowflake provides cloud-based data warehousing that enables advanced solutions for organizational storage, handling, and analysis.
Its unique characteristics include high speed, ease of use, and versatility making it stand out from other conventional offerings.
Reporting and data warehousing are integral parts of any organization's IT infrastructure.
In order to take on these tasks, Snowflake leverages the functionality of an innovative SQL query engine with a flexible architecture natively established for the cloud.
This approach enables users to easily customize and start creating ready-to-query tables with little or no administration costs.
Brolly Academy is one of the best training institutes providing the Snowflake training in Hyderabad, Ameerpet is guaranteed to help newcomers and working professionals pass the Snowflake certification exam with ease by the advanced training concepts.
This Snowflake training for beginners will guide you through concepts such as
 Data warehouse
 Learning to build Snowflake applications
 Managing
 Debugging
 Maintaining Snowflake applications
 Understanding user interfaces
 Implementing business logic using the system
 Query optimization techniques and more.
Our instructors work on various domains including snowflakes available to provide assistance as needed during the training, and we can also provide additional support through assignments once the class is over.
Brolly Academy provides the best Snowflake training in Hyderabad, in 3 modes of Snowflake training which are Online Snowflake Training, Classroom Snowflake Training, and Self-paced video course Snowflake Training.
Our training institute offers a Snowflake course completion certificate which you will get after the training process is complete, and this Snowflake certificate by Brolly Academy.
Attend our free demo session and enroll in Brolly Academy's Snowflake training in Hyderabad.
Modes of Snowflake Training Resources
Snowflake course online learning

We provide an online Snowflake training option where you can attend our session through an e-learning platform, led by expert trainers and get an opportunity to learn the use of Snowflake, Its design and implementation etc.
Snowflake Self-paced Video Course

You can learn Snowflake Training at your own pace with our self-paced recorded video without having any assistance. This is a complete set of videos that is accessible from any location and on any device. You will get a lifetime access to this video course from Brolly Academy.
Features of Snowflake Course
Realtime Training with sample datasets

The training covers business use cases that snowflake offers in the live project scenerios. We provide sample datasets for you to practice and prepare better for your interviews.
Certified Professional Instructors

All our trainers are experts in their respective fields with. They can train students with real time live project experience they carry on Snowflake technology.
Up to date Course Syllabus

We designed our Snowflake course to reflect the latest changes in the industry. We keep them up-to-date as new developments occur. This helps our students stay ahead.
Real-world Case Studies

Students at Brolly Academy are presented with real-world case studies and projects that enable them to apply what they learn in a practical setting in Snowflake course training.
Special Whatsapp group for interaction

We add your to a premium whatsapp group once you enroll for our snowflake course to address any problems that students may experience throughout the Snowflake training period also after completion of the training process.
Snowflake Training and Certification

Brolly Academy's Snowflake Training course will prepare your for the snowpro core certification. Our trainers will help you gain an advanced understanding of Snowflake by providing training on its various concepts.
Snowflake Placement Assistance.

We have a dedicated support team that guide you through the interview process, providing students with Mock Interview and Q&A sessions on Snowflake.
Snowflake Training and Certification
The Snowpro certification exam gauges your knowledge of the design and development techniques used to build solutions based on Snowflake.
It also tests whether you have mastered all aspects of data warehousing, from simple tasks to advanced ones.
The entire course content is in line with this Snowflake training and certification that prepares you to tackle it easily, getting the best jobs at top MNCs.
At the end of this Snowflake Training program, the successful completion of students' project work.
Brolly Academy will provide a Snowflake course completion certificate to its candidates.
Types of SnowPro Advanced Certification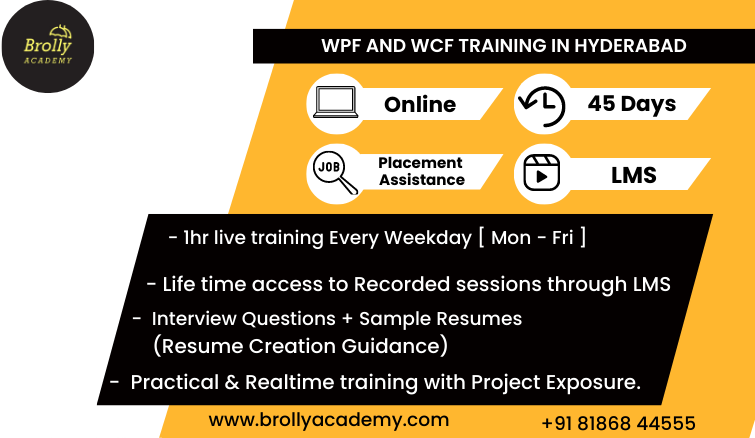 Skills developed post Snowflake software training
Advantages of this Snowflake Course
Job roles & Designations in Snowflake
With the right Snowflake skills one can definitely kickstart their career as Snowflake offers plenty of job opportunities.
The Job roles and designations available in Snowflake are –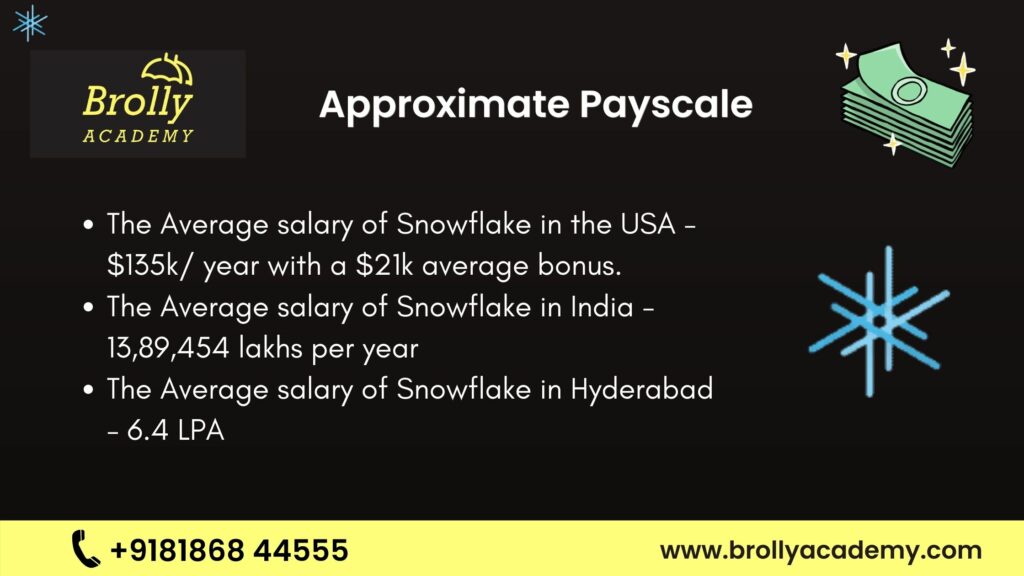 Market Trend in Snowflake
Snowflake Training Prerequisites
Who can enroll for Snowflake Training?
1. Is snowflake easy to learn?
Yes, If you have some SQL background then it will be easy for you to learn snowflake.
However, we will arrange a few additional sessions to train you on the basics.
2. Is snowflake good to learn?
Yes, The demand of Snowflake professionals are very high and more number of companies are moving into Snowflake from different cloud venders because of its various features.
3. How easy is it to understand snowflake learning for beginners?
At Brolly Academy we designed the Snowflake course syllabus in a way that makes it easy for beginners to understand.
It explains the basics of cloud technology and how SAAS works (SQL could be helpful but not mandatory).
So you will find it easy to learn if you are also a beginner with our advanced training concepts.
4. What is snowflake certification?
The Snowflake certification is conducted by Snowflake company that certifies individuals are capable of designing, developing, and managing Snowflake solutions for businesses of all sizes and sectors.
Brolly Academy's Snowflake course provides students with a thorough understanding of data migration, data warehousing and analytics.
Once they complete the training on Snowflake Brolly Academy will provide them with the course completion certificate of Snowflake training.
5. Is snowflake certification worth learning?
Snowflake is the company-wide data repository.
It handles your warehouse, storage, and calculation problems simultaneously.
You don't have to worry about scaling up as you grow or having a massive investment in infrastructure when building out a new project.
Snowflake is an open-source database that can handle large data sets in an extensible way. Top MNCs like IBM, Accenture, Capgemini, and Tech Mahindra are hiring certified Snowflake Developers.
6. What programming language does snowflake use?
Snowflake supports many programming languages, including Go, Java. NET, Python and C; as well as Node. js for those working with JavaScript-based applications. For day-to -day operations it provides the full ANSI SQL language support that general users need to manage their systems efficiently.
7. Which is the best institute for snowflake training in india?
Brolly Academy is known for the best leading Snowflake Training Institute in Hyderabad, Ameerpet, India. Our training method being highly regarded by corporations. Our training is designed for both the beginner and professionals who want to pursue a career in Snowflake.
8. What is the snowflake course duration?
The Snowflake course duration is approximately 1 months, It may change depending on your learning process. Please feel free to contact us for more information about the course details.
9. What is the snowflake training cost?
The Snowflake training cost at Brolly Academy is comes under a very affordable. Please contact us by the given number on our website or you can also send an email by the mail id brollyacademy@gmail.com to know about the detailed information on the Snowflake course price.
10. Will I get snowflake training and placement??
Yes, we do offer placement assistance facility to all our candidates who ever enrolled for our Snowflake training course at our Brolly Academy.
11. Will I get a Snowflake training pdf?
Yes, you will be provided with a pdf format from Brolly Academy about Snowflake training in your LMS. You will get a lifetime access to your LMS from where you can download the Snowflake pdf whenever you require.
12. How many different layers Snowflake Architecture has?
The Snowflake Architecture divides into 3 different layers - 1. Cloud Services, 2. Query Processing, 3. Database Storage.