Tableau Software Training in Hyderabad
100% Placement Assistance
Tableau Software Training in Hyderabad Batch Details
| | |
| --- | --- |
| Course Fee | 20,000 Rs |
| Course Duration | 2 Months |
| Timings | Monday to Friday (Morning to Evening) |
| Next Batch Date | 7th Feb 2022 AT 11:00AM |
| Training Modes | Classroom [HYDERABAD] / Online |
| Location | Hyderabad |
Key Features Of Tableau Software Training
Tableau Software Course Curriculum
About Tableau Software Training in Hyderabad
A tableau is an Analytical Tool for creating visual analytics. Tableau helps you analyze data and turn it into charts. There are various kinds of charts within Tableau that make the information easier to understand. Tableau is self-sufficient and can blend diverse data sets with minimum scripting because everything is done by drag-and-drop. Tableau's flexible interface enables users to quickly change the view of their data and create dashboards that communicate clearly without any coding required. Tableau Server allows you to share your graphs, reports, and dashboards. Tableau's products are used to analyze large sets of data and create easily understandable visualizations. The Tableau Software Course by Brolly Academy provides all the basic concepts about tableau to learners from all levels. Even beginners and advanced users can understand the concepts very effectively.
This Tableau Software training certification course is designed by our industry experts at Brolly Academy enables you to gain proficiency in Tableau Software training. This course will help you learn about the Tableau statistics, Building dashboards, Connecting to data, Transforming data, Working with calculations and expressions, Visualizing data, Building line graphs, bar charts, and dashboards, etc. Apart from this you also will work on real-time projects and assignments in the Tableau Software training. You will get a solid understanding of the technical and theoretical aspects of the Tableau Software field during the training session. We offer Tableau online and classroom training courses and also self-paced video courses to help our students choose the one that is best for their needs. After completing Brolly Academy's Tableau Software training program, you will receive a certificate that recognizes your expertise in Tableau Software Technologies. This Tableau Software training certificate will be awarded to you upon completing all the training modules of Tableau Software. We also provide a placement assistance program which  includes an intensive interview preparation workshop. In this workshop you will be guided with Mock interview preparation, Resume making, Q&A sessions and much more. Enroll with us to get the Best Tableau Software training in Hyderabad.
Modes of Tableau Software Training
Why Choose Our Brolly Academy Institute For Tableau Software Training?
Brolly Academy is the leading Software training institute in Hyderabad and has been recognized for its effective teaching methods. Our expert trainers have over 10+ year's experience in Tableau Software and can prepare you to enter this demandable industry. Whether you're a fresher looking for certification or an experienced professional with expertise. Our Tableau Software Training course in Hyderabad from Brolly Academy provides you with the skills and expertise you need to apply at companies that use this Tableau Software Technology. Our Tableau Software Training course will help you get ready for your mock interviews, resume creation and question-and-answer sessions. Here are some reasons why you should consider Brolly Academy for enrolling in our Tableau Software Training in Hyderabad:
Extensive Tableau Software Curriculum
Our cutting-edge Tableau Software Course curriculum is designed by well-trained instructors, and its purpose is to develop job-ready skills in students so that their new skills will help land them a good salary hike.
We at Brolly Academy help our students to build confidence and achieve their goals. We make it a priority to give each student the individual attention he or she needs to succeed in their respective field
Brolly Academy offers the best support system for training in Tableau Software. Our placement assistance team works with both students during and after their course completion to prepare them for job opportunities at top companies. This program offers mock interviews, career counseling, and question-and-answer sessions to ensure that our candidates are fully prepared for real interviews.
Our Tableau Software course, offered in Hyderabad, is designed to train students for real-world job opportunities. We provide certificates of completion that show we have achieved our mission.
Learning With No Extra Charge
Brolly Academy does not charge students any additional fees for the software training programs it offers in Hyderabad. All courses are free of extra charges.
Customizable Class Timings
We've designed our course schedule so that students can take classes at any time of day and access class materials online. They can also customize the class timings as per their requirement.
Get Trained from Leading Practitioners
At Brolly Academy our students get trained from leading practitioners who bring current best practices and case studies to sessions that fit into your work schedule.
Students at Brolly Academy get a 24×7 learning support from our expert mentors and a community guidance to resolve any conceptual doubts they have during the course.
Testimonials of Tableau Software Training in Hyderabad
Certification in Tableau Software
This Tableau Software training course is designed for Brolly Academy's Tableau Software Certification. The entire course content is in line with this certification and prepares you to tackle it easily, getting the best jobs at top MNCs. By enrolling in this Tableau Software Training, you will receive access to real-world industry scenarios and projects that are directly tied to your success as an employee. At the end of this Tableau Software Training program, there will be practical exercises that test your knowledge of core concepts on Tableau Software. You can take these exams to prepare for your Tableau Software Certification exams or just to check your understanding the choice is yours. Upon the successful completion of a student's project work, Brolly Academy will reward them with a Tableau Software Course Completion Certificate which will add more value to your resume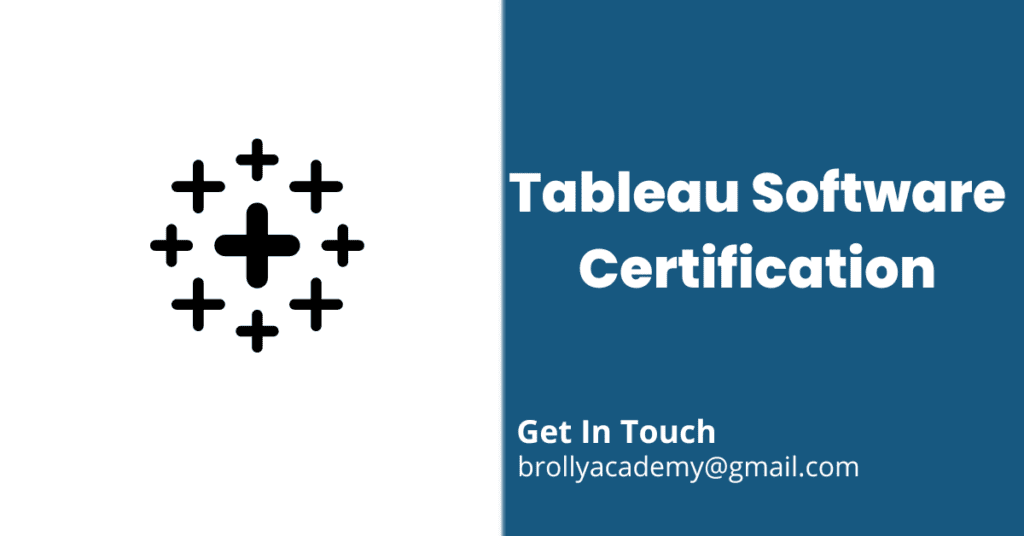 Advantages of Learning Tableau Software Course -
Job Roles in Tableau Software
Completion of the Tableau Software Course you will learn
Prerequisites to Learn Tableau Software
Who should take up this Tableau Software course?
● Graduates ● Business Intelligence Professionals ● Testing Professionals ● Data analytics professionals ● Software programmers ● Data scientists ● BI professionals, ● Project managers and professionals looking for a career in BI and Analytics domain
Do I required to know coding to learn Tableau?
Tableau is a business intelligence and data visualization software that allows users to create beautiful visualizations through dashboards, without coding.
Do I need to have SQL for learning Tableau?
Many of these tools execute Structured Query Language commands to the database so understanding SQL can be quite valuable, as most Tableau job descriptions include a requirement for it.
Is Tableau Software certification in demand?
Tableau experts are in high demand. Tableau is favored because it does the process quicker and more accurately and that makes it a great time to get certified as well as build a career in data visualization.
Is Tableau simple to learn?
Tableau is one of the fastest evolving BI and data visualization tools. It's fast to deploy, easy to learn, and intuitive for customers. Here is a learning path that will help beginners learn Tableau with a structured approach.
What is the average salary of a Tableau Developer in India?
The average salary of a Tableau Developer in India is between ₹ 4.0 Lakhs to ₹ 8.9 Lakhs with an average annual salary of ₹ 5.5 Lakhs.
Is Tableau better than Excel?
Tableau is great for generating visuals and dashboards, but Excel spreadsheets are essential when it comes time to make multiple calculations. The two programs complement each other, ensuring that your analysis will be first-class.
How is the Tableau tool useful in Data Analyzing?
With Tableau, companies can deal with a large volume of data. This tool has the ability to collect massive sets of information and then analyze them so they're easier to understand than ever before.
Is the Tableau Training is suitable for freshers?
The Tableau training in Hyderabad is suitable for both experienced and new users of the software, who will learn to master all aspects of data visualization and reporting.
What will be the batch size of Tableau Software class at Brolly Academy?
We don't exceed more than 10 people in a batch. expert instructors give personal attention to each student.
What are the domains I can get to work with After this course compilation?
You can specialize in any one of these domains such as - ● Search Engine Optimization ● Social Media Marketing ● Content Writing ● Email Marketing ● Search Engine Marketing etc…