Automation Anywhere Training in Hyderabad
100% Placement Assistance
Automation Anywhere Training - New Batch
Automation Anywhere Course Curriculum
Key Points of Automation Anywhere training in Hyderabad
About Automation Anywhere training in Hyderabad
Robotic process automation (RPA) software, created by Automation Anywhere, uses digital workers that execute repetitive and manual operations to finish processes. 
This increases productivity significantly and leads to better customer experiences and more engaged employees. The goal of Automation Anywhere training is to develop knowledge in the field of robotic process automation and the creation of software robots. 
Businesses wishing to implement a digital workforce made up of software bots can benefit from Automation Anywhere. These software bots perform all business operations. 
Cognitive intelligence and conventional RPA are combined. Cognitive intelligence includes abilities like processing natural language and comprehending unstructured data.
Various recording and editing capabilities are available on the Automation Anywhere user interface. Automated tasks can be employed in a number of scenarios and are easy to develop.
You will learn the foundations of the Automation Anywhere Enterprise platform in Brolly Academy, the significance of RPA, and how to use its features to create software bots. 
You will be in great demand now and in the future because there aren't enough trained professionals to fulfill the growing demand. You're going to advance your career and start a new one at the same time. 
One in thirty employees will be in high demand if they get RPA Certification Training in Hyderabad. After obtaining Automation Anywhere certification, you will determine your own salary.
Start Learning With Us Brolly Academy Automation Anywhere Online Training and Classroom Course is also available.
Modes of Automation Anywhere Training
Automation Anywhere training online:

The online Automation Anywhere training course from Brolly Academy provides a practical and interesting approach to understanding this technology. Our online training will be provided using e-learning platforms, and it will be a fully interactive, instructor-led course that covers all the fundamental concepts and abilities required to begin using Automation Anywhere.
Automation Anywhere classroom training

we provide comprehensive Automation Anywhere classroom training for both individuals and groups in the Automation Anywhere framework, delivered by knowledgeable industry specialists at our training facility Brolly Academy in Ameerpet, Hyderabad. From beginner to advanced levels, every aspect of our technology is covered in our extensive course curriculum. It is made to provide an individualized learning experience with real-world examples of the Automation Anywhere tools and software.
Automation Anywhere self-paced video course:

The Automation Anywhere Video Course from Brolly Academy consists of recordings from actual classes as well as Automation Anywhere course materials in pdf format. It provides a self-paced learning environment that covers all of Automation Anywhere major topics. Students can educate themselves at any time, from anywhere in the world, using any device. If students have any questions regarding the topic, they are welcome to join our weekend doubt clarification.
Why choose us for Automation Anywhere training?
Top-notch Instructors

We have a team of knowledgeable Automation Anywhere instructors who work as real-world consultants and who have a significant amount of experience. They provide hands-on training based on actual Automation Anywhere scenarios. They will walk you through both fundamental and complex concepts.
Interactive Group Discussion:

Students at Brolly Academy can share their Automation Anywhere knowledge and discuss concepts to build a common knowledge base in a collaborative learning environment.
Curriculum with an Industry Focus:

The Brolly Academy offers instruction in the most recent Automation Anywhere technology. Our Automation Anywhere course material is continuously updated to stay up with the most recent developments in this industry, giving our students an advantage over competitors.
Post-Training Assistance

We at Brolly Academy offer post-training support to all of our Automation Anywhere trainees. In order to provide people with a platform on which to improve their skills, our committed team of specialists has been training and mentoring you.
Access to Automation Anywhere LMS

After enrolling, we give you free access to our online learning management system (LMS). Access to our private video archives, live training sessions, homework assignments, and case studies from Automation Anywhere training will all be included.
Remote Location Study

With the help of Brolly Academy's remote learning resources (online, self-paced video), anyone in the world can now learn about the Automation Anywhere technology and become a professional. Enroll in one of our remote learning programs for Automation Anywhere and begin your new career.
Testimonials for Automation Anywhere training
The Automation Anywhere course from Brolly Academy is created to help you get ready for the certification exam and assist you to become a certified Automation Anywhere professional in the modern technology industry.
Our instructors provide you with comprehensive instruction and get you ready for the Automation Anywhere certifications.
When a student successfully completes the Automation Anywhere training, Brolly Academy will provide them a certification indicating that they have completed the Automation Anywhere course.
Various Automation Anywhere Certifications
Automation Anywhere Certified Essentials RPA Professional (Automation 360) – 2022

Automation Anywhere Certified Advanced RPA Professional (Automation 360) – 2022

Automation Anywhere Certified Master RPA Professional (Automation 360) – 2022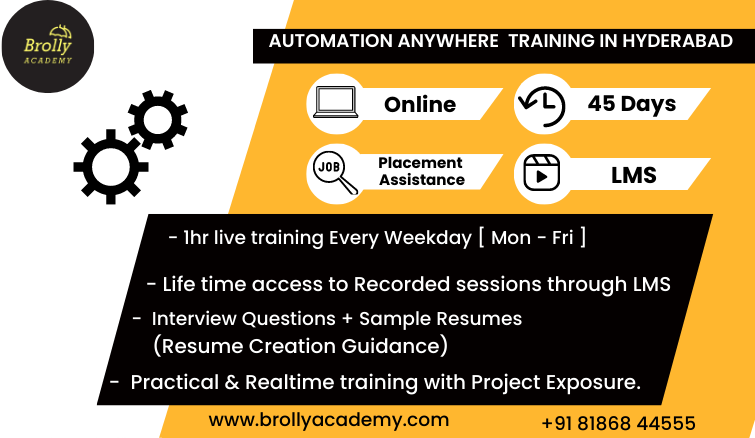 Skills developed Post Automation Anywhere training in Hyderabad
Career opportunities in Automation Anywhere
Numerous IT companies have a significant demand for candidates with solid Automation Anywhere knowledge. Are you searching to work abroad or enhance your career with a good salary? There is no better option than Learning Automation Anywhere. 
Furthermore, Automation Anywhere is the greatest choice if you wish to work in an exciting and cutting-edge industry. Enroll in a top-notch Automation Anywhere course to benefit from it. 
Candidates who are interested can obtain experience in the automation industry by attending our Automation Anywhere Training Institute in Hyderabad.
Some of the job designations in Automation Anywhere:
Prerequisites of Automation Anywhere training
Automation Anywhere may be learned without any prior knowledge. However, it will help if you have a basic understanding of SQL queries,  if-else statements, loops, a little bit of Excel, and Access.
Market Trend in Automation Anywhere
what is rpa automation anywhere?
Robotic Process Automation, or RPA for short, is a type of software that you may create to automate repetitive activities. RPA serves the purpose of automating activities as these tasks are rule-based and generally performed manually.
What is the difference between Automation Anywhere and RPA?
RPA (robotic process automation) is essentially an automation technology that is used extensively across various sectors for increased efficiency. In this context, RPA-based automation tools like UiPath and Automation Anywhere are crucial for automating business processes.
is uipath better than automation anywhere?
UiPath is built on a "web-based orchestrator" architecture that aids in integrating automated tasks into workflows and is designed to accomplish certain objectives through the implementation of access policies. Every node or system in Automation Anywhere is either a client or a server according to the "client-server architecture" it is built on.
Which RPA tool is the simplest to learn?
The top RPA tools for getting started are listed below. Automation Anywhere
Blue Prism
Uipath
Appian
Nintex
Microsoft Power Automate
Datamatics
Does RPA Automation Anywhere require coding?
RPA automation does not need the creation of new code or direct access to the applications' code or database.
Is RPA a good career?
Candidates can find career opportunities through RPA at some recognized organizations. The top may include NASA, certain commercial enterprises, the automobile industry, and many other things.
who owns automation anywhere?
Mihir Shukla, Neeti Mehta Shukla, Ankur Kothari, and Rushabh Parmani formed Tethys Solutions, LLC, the predecessor to Automation Anywhere, in San Jose. In 2010, the business changed its name to Automation Anywhere, Inc. The company stated having 2,800 client companies worldwide as of the beginning of 2021.
What is the procedure for enrolling for this Automation Anywhere course at Brolly Academy?
You can get in touch with us using the information on our website, or you can call our support team to schedule a demo session with our knowledgeable Automation Anywhere trainer and sign up for the course whenever it's most convenient for you.
Will I receive a certificate after completing the Automation Anywhere Online training?
Yes, all of our students who successfully complete the Automation Anywhere training programme at our Brolly Academy will receive a course completion certificate.
What is the price of the Automation Anywhere Course at the Brolly Academy in Hyderabad?
To learn more about the entire course pricing structure, get in touch with us using the information provided in the contact form. or you can direct call to our supporting team.