Automation Anywhere Training in Hyderabad
100% Placement Assistance
Automation Anywhere Training - New Batch
| | |
| --- | --- |
| Course Fee | 20,000 Rs |
| Course Duration | 2 Months |
| Timings | Monday to Friday (Morning to Evening) |
| Next Batch Date | 7th Feb 2022 AT 11:00AM |
| Training Modes | Classroom [HYDERABAD] / Online |
| Location | Hyderabad |
Key Features Of Automation Anywhere Training
Automation Anywhere Course Curriculum
About Automation Anywhere Training in Hyderabad
Automation Anywhere is a tool used for robotic process automation.
This tool utilizes software bots to complete the processes by which customers have the freedom to automate the business process for maximizing productivity.
 It combines traditional RPA and cognitive intelligence.
This technology is suitable for technical, insurance, business services, construction, banking, and finance. 
The automated tasks are simple to create and can be used in a variety of scenarios. 
It is useful for businesses looking to install a digital workforce comprised of software bots. 
These software bots carry out full-fledged business processes.
 Brolly Academy's Automation Anywhere Training in Hyderabad will provide you with an understanding of the core concepts of how this robotic process of Automation work by providing real-time hands-on training in Automation Anywhere.
Brolly Academy is known for the best Automation Anywhere training in Hyderabad.
 This course is designed to train our learners with effective and essential skills in Automation Anywhere. 
Our practical-oriented Automation Anywhere training will help you to get a marketable job and increase your career opportunities in Automation Anywhere. 
Grab the top job opportunities with the help of the Automation Anywhere training in Hyderabad. 
With the Automation Anywhere tool, you can complete the task very easily.
Our Automation Anywhere certification training program in Hyderabad is ideal for anyone with a technical background.
 who wants to grow a career as a product developer, project manager, technology and solution architect, operations support professional, team lead, and product manager, business analyst, or sales engineer. 
The Advantage of this course is, It's easy to understand and has a user-friendly platform with fewer coding requirements. 
This Robotic Process Automation is one of the top technologies in today's market, as small to high-growth companies are using automation in their day-to-day work to complete tasks. 
The skill we covered throughout the training program at our Brolly Academy in Automation Anywhere such as Automation Anywhere architecture, RPA software components, Automation Anywhere client, Bot creation with recorders editors commands, Web recorders, etc.
We at Brolly Academy provide you with a 100% placement Assistance program. 
Our dedicated team will guide you throughout the program by providing the right direction and help you to get placed in the top companies worldwide. 
After successfully completing this Automation Anywhere course, you will be provided with a course compilation certificate of Automation Anywhere training, which will increase the value of your resume. 
Our Automation Anywhere training is available in 3 modes, which include classroom training, online training, and self-paced video courses. 
All our training is conducted by the top-notch expert trainers in Hyderabad with clarity and technique.
 They will thoroughly train you with the implementation of Automation Anywhere training, the application of various systems, etc.
Explore the most demanding job role with us by taking up our best Automation Anywhere Training in Hyderabad from Brolly Academy.
Modes of Automation Anywhere Training
Highlights of our Brolly Academy
Why choose our Automation Anywhere Institute?
Brolly Academy's Automation Anywhere training program is specially designed to master Robotic Process Automation and building software robots.
We are known as the best Automation Anywhere training institute in Hyderabad for our exclusive training method and dedication to student satisfaction.
you will gain hands-on experience with real-time projects and assignments which will assist you to kick-start your career.
This training program is conducted by our top-notch expert trainers with 13+ years of Automation Anywhere Platform who will guide you to becoming a skilled professional in this Automation Anywhere Program and make you a job-ready candidate.
Our dedicated team will guide you even after the course is completed, assisting you with mock interview preparation, resume creation, and conducting Q&A sessions for your interview purposes.
Here are some reasons why you should enroll in our Automation Anywhere course in Hyderabad.
Availability of Limited Seats
We train our students in micro-batches with 10 to 12 people for a better understanding of their subjects, and we make sure to reach out to each and every student to provide personalized attention for their better understanding of the Automation Anywhere training program.
We offer the best job assistance programs in Hyderabad for Automation Anywhere training. We have a dedicated placement assistance program team to guide our candidates. This placement assistance program also includes mock interviews, career counseling, question, and answer sessions, and resume preparation facilities to ensure our candidates are fully prepared for interviews.
Post Training Career Guidance
You will be provided support and proper guidance from our Brolly Academy for Automation Anywhere Training even after the completion of the course. Our dedicated support team will guide you 24/7 whenever you need their guidance for any course or interview-related question.
A compulsory course completion certificate will be issued to all our students after they successfully complete the Automation Anywhere training course in Hyderabad. Our certificate is 100% valid and can be used to apply for jobs in Automation Anywhere. The certificate provided by us will add more value to your resume.
We have a dedicated technical support team available to help you 24/7 with any technical queries you may have during the course. You can reach out to them whenever you need their support to clear your doubts.
You will get access to our world-class Learning platform. This includes video, course material, and Interview Q&A that was used during the Automation Anywhere Training Session.
Learn from Anywhere, Any time
All our Automation Anywhere training sessions can be attended from anywhere and using any device on your own time. Staying at home or office, you can upgrade yourself with the latest technologies of Automation Anywhere training by enrolling with us.
At our Brolly Academy, we pay more attention to our students and how they understand the subject. By assigning the daily and weekly tasks for each and every module delivered in the class, we help them to enhance their practical skills and clear all their doubts, which makes them more confident in the subject they have enrolled for.
Testimonials of Automation Anywhere Training in Hyderabad
Certification in Automation Anywhere Training
Brolly Academy's Certification is approved by all major Global Companies around the world. Get the most effective Automation Anywhere Training Certificate Trained by our real-time expert tutors at Brolly Academy in Hyderabad. The entire course content is developed based on real scenario-based concepts and this certification will double the value of your resume. With the help of our certificate, you can apply for a leading job post. This certificate you will get only after successfully completing the training period.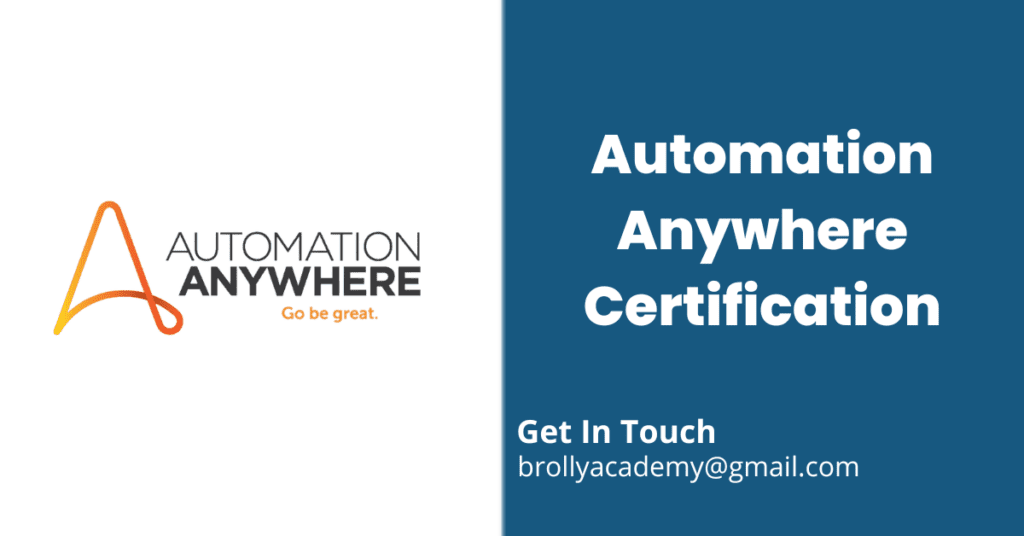 Advantages of Learning this Automation Anywhere
Job Roles in Automation Anywhere
Learning Objective of Automation Anywhere course:
Prerequisites to Learn Automation Anywhere
Does the Automation Anywhere Online training come with a certificate?
Yes, all our students will receive a course completion certificate after successfully completing the Automation Anywhere training course at our Brolly Academy
What if I have more questions regarding Automation Anywhere Training?
If you have more queries about the Automation Anywhere training program, you can always get in touch with our experts during class hours or after the session is completed.
How much will it cost me for the Automation Anywhere Course at brolly Academy in Hyderabad?
You can contact us on the contact details provided by us to find out about the complete course fee structure.
What is the procedure for enrolling for this Automation Anywhere course at Brolly Academy?
You can reach out to us by our contact details available on our website or you call our support team and book a demo session conducted by our expert Automation Anywhere trainer and enroll in the course at your convenience.
Is Automation Anywhere a good career option to get a job?
Yes, you can get a job in Automation Anywhere field, because it has an easy-to-learn and very user-friendly platform. People from non-technical backgrounds can also take this course as a good career option and get a profitable job.
Who can learn the Automation Anywhere course?
Anyone with basic programming knowledge can learn this Automation Anywhere course. Professionals such as - ● Solutions Architects ● Software Testers ● Business Analysts ● Sales Professionals ● Technology Architects ● Project Managers and Team Leads ● Professionals from the Operations and Support Team ● Product or Application Developers can take up this course.
Who will be my trainer in the Automation Anywhere course?
At Automation Anywhere training in Hyderabad, we have professional expert trainers with real-time 11+ years of industry experience who will guide you throughout the training period.
Do you provide training on the latest technology version of Automation Anywhere?
Yes, we always come with the latest technologies to train our students, we regularly update our course content and provide you with the latest version of training on Automation Anywhere technology.
Do I require any coding languages to learn Automation Anywhere?
You don't require any coding knowledge to learn Automation Anywhere, It is a Web-Based Management System that utilizes a Control Room to run the Automated Tasks.
What is the passing score of the Automation Anywhere Certified Advanced RPA Professional exam?
The passing score of the examination is a minimum of 70 percent.
How many attempts will I get to pass Automation Anywhere exam?
You will be granted 2 attempts to retake the Automation Anywhere certification examination.