Devops Course in Hyderabad
100% Placement Assistance
Devops Course in Hyderabad New Online Batch Details
Devops Course in Hyderabad Syllabus
Key Points Of DevOps Training Institutes in Hyderabad
About Devops Course in Hyderabad
DevOps is a software development approach that combines development (Dev) and operations (Ops) teams to foster collaboration, streamline processes, and deliver high-quality software more efficiently.
It emphasizes automation, continuous integration, continuous delivery, and close communication between development and operations teams throughout the software development lifecycle. 
Brolly Academy is a top provider of DevOps training in Hyderabad, offering a comprehensive curriculum, experienced trainers, and hands-on training with popular DevOps tools and technologies. The training program includes real-world projects, certification preparation, flexible scheduling options, and job placement assistance. Brolly Academy's DevOps training program has received positive reviews from past students, who have praised the quality of training, the expertise of trainers, and the hands-on approach to learning. If you are looking to start or advance your career in DevOps, Brolly Academy is the best choice for DevOps training in Hyderabad.
DevOps refers to the practices, tools, and cultural philosophy that automate and integrate processes between software development and IT teams. 
It emphasizes team empowerment (and cross-team communication/collaboration) through technology automation
DevOps course makes learners become a master with the various aspects of the principles of – 
Continuous development and deployment, 

Software development operations, 

Continuous integration, 

Automation of configuration management, and its various tools like Git, Docker, Jenkins, Nagios, Puppet, Ansible, and Kubernetes.
Brolly Academy offers comprehensive and in-depth DevOps training in Hyderabad with qualified and certified instructors with more than 1 decade of experience in the domain. 
In this training, students will work on real-life DevOps projects which will help them to master the DevOps techniques.
We have the best staff, they're highly qualified and experienced and they have trained students and corporate professionals with the skills they need to become successful DevOps professionals. 
Our experts have designed the up-to-date DevOps course curriculum so we can keep you updated as per the industry requirements. Following are some of the modules that will be covered in this course are as –
Software version control

Containerization Using Docker

Configuration management using Puppet

Configuration management using Ansible

Continuous testing using selenium

Continuous integration using Jenkins

Continuous orchestration using Kubernetes

Continuous monitoring using Nagios
Upon successful completion of the DevOps course, you will receive a certificate from Brolly Academy. Additionally, we provide placement assistance to our students toward the end of their course.
Join Brolly Academy's advanced DevOps course and we will help you to become one of the best DevOps engineers in the industry.
Enroll now in our DevOps training in Hyderabad and get a step closer to your dream career. 
Modes of Devops Course in Hyderabad
Devops Offline Training

Brolly Academy offers in-person, traditional classroom training. This allows students to interact with and get feedback from experienced trainers.
Devops Training Online

Brolly Academy offers online training programs, enabling students to learn remotely from anywhere with an internet connection.
Devops Training Videos (Self-paced)

Brolly Academy offers pre-recorded video lectures and tutorials, which students can access anytime. The videos cover various topics in DevOps from deployment automation to monitoring tooling.
Devops Project Training

Brolly Academy provides project-based training where students work on real-world projects, applying their theoretical knowledge to practical scenarios. This hands-on experience helps students develop skills in problem-solving, teamwork, and project management, preparing them for the demands of the industry.
Why Choose Us for Devops Course in Hyderabad?
Experienced Trainers

Brolly Academy has a team of experienced and qualified trainers who have extensive knowledge and practical experience in the field of DevOps, ensuring that students receive top-notch training.
DevOps Certification

Upon completion of the training program at Brolly Academy, students can receive industry-recognized certifications that will allow them to secure jobs in the IT industry.
Hands-on Training

Brolly Academy students learn the real-world applications of theoretical knowledge through practical, hands-on exercises and projects.
Unlimited access to LMS

We believe that the best way to master a skill is through practice. That's why we offer unlimited access to our courses, Devops LMS, and study guides so you can learn at your own pace. You can study at any time from anywhere and learn the DevOps course at your own convenience. Our DevOps training and certification covers all the topics and is perfect for beginners and advanced professionals.
Comprehensive Curriculum

The training program at Brolly Academy covers all key aspects of DevOps, including popular tools, industry best practices, and emerging trends, enabling students to gain a well-rounded understanding of the subject.
Post-training assistance

We are a team of passionate, experienced trainers and mentors who work together to help students get their dream job. We provide interview support in addition to assistance after training has been completed. Our DevOps training will help you get the job of your dreams. We'll also provide a resume builder that helps students create resumes that recruiters notice.
Continuous support and mentorship

Brolly Academy offers its students lifelong support, helping them to continue growing and developing their careers.
Placement Support

Brolly Academy provides job placement support to its students, helping them connect with relevant opportunities and providing career guidance throughout the transition period.
Testimonials of DevOps institute in Hyderabad
DevOps Training and Certification
DevOps certification is recognized by the industry as a standard of excellence. It demonstrates that you have the skills and knowledge to work on DevOps projects and can be trusted to deliver high-quality results.

DevOps certification demonstrates proficiency in modern software development practices, making individuals more attractive to potential employers and increasing job opportunities.

DevOps certification can help you advance your career by demonstrating your expertise and knowledge in the field. It can make you stand out to potential employers and increase your chances of getting hired or promoted.

Devops certifications are a good way to demonstrate your technical skills and knowledge of the field.
DevOps Certifications is globally recognized and a certification can help you stand out from the crowd.
Devops certifications are available at different levels – Associate, Professional, and Expert. Each level has its own set of requirements and includes exams that test your knowledge and experience with specific tools and technologies.
What are they?
DevOps Foundation
DevOps Engineering Foundation
Certified Agile Service Manager
Certified Kubernetes Administrator (CKA)
Cloud Infrastructure Automation Engineer
The process to clear the certifications –
The process of clearing these certifications is similar to that of any other IT certification.
The first step is to register for the exam and pay the fee. You can do this by visiting the website of your chosen provider.
Once you've paid, you will receive an email with information about how to schedule your exam at a test center near you.
The next step is preparing for the exam. You should spend time reviewing the documentation, taking sample tests, and practicing with some of the tools that are mentioned in the certification requirements.
You can find sample questions on websites like Brolly Academy, which also has a training program that prepares you to take both exams.
To pass, you must get at least 65% by answering 40 questions in an hour.
Certification Fee –
Devops certification costs approximately $200 as per Devops Institute.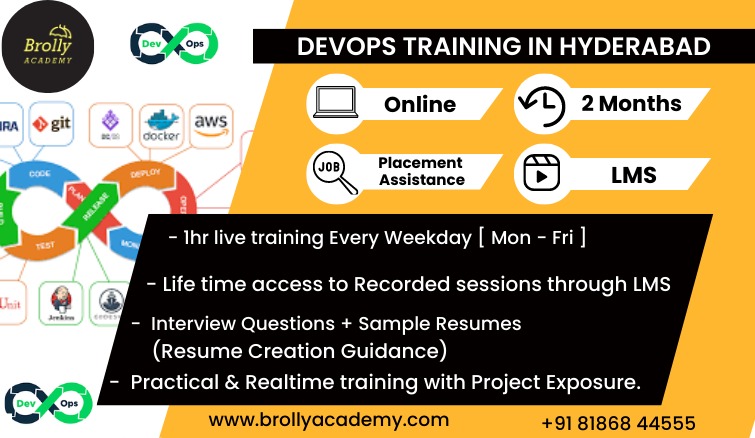 Advantages of Learning Devops Course in Hyderabad
Our DevOps training institutes in Hyderabad offers structured and tailored training to improvise the applied skills by providing all the prerequisite technical training required to master DevOps Courses for a better job experience. 
Skills Developed Post Devops Course in Hyderabad –
With this DevOps course certification, students will master various DevOps tools and we will make sure that they will become a full-fledged DevOps engineer at the end of the training.  
Our DevOps course content is designed in such a way that any one can learn and gain practical knowledge in very shot span of time. In this course you will learn – 
Job Roles After Devops Course
Devops Course Prerequisites
Who can do devops course?
The approximate pay scale for DevOps professionals in India varies based on factors such as experience, skills, location, and industry. Here are some approximate pay scales for DevOps professionals in India:
Is devops good career?
DevOps is one of the best career paths for today's IT professionals. Over the past five years, DevOps has seen exponential growth in demand and adoption—and pays significantly higher than other average computer science or tech-driven roles.
Is devops good for freshers?
DevOps is one of the highest-paying roles at most software companies. However, even if you aren't planning a career in DevOps, it's important for every developer to understand how it works, and what skills are needed to succeed in this field so that can be productive no matter where they work.
What is devops course?
The DevOps Foundation course provides a real-world, practical understanding of continuous development and deployment, automation of configuration management, inter-team collaboration, and IT service.
Does DevOps need coding?
If you want to be part of an elite DevOps team, it is important that you know some popular coding languages like Python. In addition, the amount of coding that would go into a project as a developer would be humongous.
How long does it take to become a devops engineer?
It takes about six months to become a DevOps engineer, assuming you possess some basic Linux administration and networking skills at the outset.
Why DevOps is popular?
The popularity of DevOps is based on its effectiveness: It enables faster development cycles and better continuous delivery practices.
What is DevOps and why DevOps use?
DevOps is a way of thinking and working that combines cultural philosophies, processes, and practices to enable teams to move faster by making them more responsive to the needs of users.
Innovative organizations that use software development and infrastructure management processes based on cloud computing are able to develop new products at a faster pace than those using traditional methods.
Why devops is better than agile?
DevOps is a set of practices that describe how to continuously deliver code through the use of modern tools and automated processes.
Do you offer placement support?
Yes, ofcourse. We provide placement assistance to the students enrolled in our batch along with resume preparation, mock interviews etc.
Can I get a free demo before enrollment?
Definitely. We offer a free DevOps Courses demo class in Hyderabad at our Brolly Academy. This will help give you a better idea of the course.
What if I miss a class?
We will arrange backup classes for you or you can also join the next live session conducted by the same trainer to catch up with the pending work.
Other Trending Courses We Offer