Microsoft Dynamics Training in Hyderabad
100% Placement Assistance
Microsoft Dynamics Training in Hyderabad Batch Details
Key Features Of Microsoft Dynamics Training
Microsoft Dynamics Course Curriculum
About Microsoft Dynamics Training in Hyderabad
Microsoft Dynamics 365 is a cloud-based business applications platform, that combines the functions of customer relationship management (CRM) and enterprise resource planning (ERP) in addition to productivity apps and artificial intelligence tools. Dynamics CRM is an extremely customizable Microsoft program that's geared toward customer interactions. It's a good alternative for companies who need something more tailored to their specific needs than other programs offer. 
Most of its focus lies in sales, commercialization, and services but it can be used for almost anything that relates to your company or its clients' dealings with them. Microsoft Dynamics 365 is a more user-friendly way for enterprises to integrate data from many sources and use them in building better business solutions. CRM, or Customer Relationship Management programs, are the next phase of this evolution within Microsoft's cloud-based platform. It has expanded the features it provided to facilitate the creation of commercial solutions.
Brolly Academy offers the best Microsoft Dynamics training in Hyderabad. Enroll in our Microsoft Dynamics training course to boost your career as a skilled and certified Microsoft professional. The course covers fundamental skills, along with advanced concepts of Microsoft Dynamics so you can develop your knowledge base at every stage of growth. The course will help you to build your skills in managing reports, dashboards, and templates in Microsoft Dynamics.
 Our comprehensive training also gives you a chance to work on real-world projects that boost your Microsoft Dynamics learning curve dramatically. The Microsoft Dynamics certification training in Hyderabad by brolly academy will help you to become familiar with different courses and certifications, including those for Dynamics 365 and CRM. The training is given by experts and industry leaders who have spent years working in the field of Microsoft Dynamics. 
Their passion for their work inspires students to take their careers to a new level of success. Microsoft Dynamics has been designed to help businesses in organizing sales, customers, and operations. The Microsoft Dynamics placement course by Brolly Academy will teach you almost everything about this amazing software suite. To get the best Microsoft training, associate yourself with our institute now.
We offer 3 types of training: online Microsoft Dynamics training, classroom Microsoft Dynamics training and Microsoft Dynamics Self-paced Video course in Hyderabad. Our Microsoft Dynamics course curriculum includes video recordings of class sessions as well as materials such as sample resumes, handouts and everything students need to learn Microsoft Dynamics. 
The Brolly Academy offers certification programs for Microsoft Dynamics Training. You will receive a course completion certificate at the end of the course. Brolly Academy's complete Microsoft Dynamics training certification program will help you maximize your career opportunities in this growing field. To get the best Microsoft Dynamics training, associate yourself with our institute now.
Join Brolly Academy for Microsoft Dynamics training in Hyderabad and build a lucrative career.
Modes of Microsoft Dynamics Training
Why choose our Brolly Academy Institute?
Brolly Academy is the leading Microsoft Dynamics Training Institute in Hyderabad, with our training method being highly regarded by many. Our expert trainers have over 10+ years of experience in the Microsoft Dynamics Industry and can prepare you for your future career. Our training is designed for both the freshers and professionals who want to pursue a career in the IT industry. 
Our Microsoft Dynamics Training course will help you gain in-depth knowledge of the subject, which will enable you to get jobs with companies that use Microsoft Dynamics Technology. Our Microsoft Dynamics Course will help you get the best possible preparation for your mock interviews, resume creation and question-and-answer sessions. Here are some reasons why you should enroll in our Microsoft Dynamics Training course in Hyderabad:
Our immersive, hands-on program combines theoretical learning with practical case studies and exercises that will make you ready for the real world.
Brolly Academy can help you prepare for job interviews by simulating real-life interview scenarios with our experts. Our Mock Interviews are conducted by industry experts who have years of experience and will help improve your chances of getting a real job.
Study from Anywhere Anytime
Enrolling in our Brolly Academy you can now learn Microsoft Dynamics training program any location in the world with your preferable time. 
Our instructors are skilled at teaching Microsoft Dynamics. You will learn the fundamentals of our technology under their guidance. They will give you the skills that employers are looking for, so your training will be workforce-ready! Our trainers are experienced professionals who have worked in the IT industry for years and know how to train students effectively.
We designed our course to teach both beginners and experienced users. Whether you're an IT professional who wants to learn more about this powerful database solution or just someone interested in learning more, our course is for you
Online and in-person learning opportunities provide you with flexible scheduling options for classes.
Brolly's Microsoft Dynamics certification course will prepare you for the exam and qualify you to become a certified professional.
We can assist you in finding a job, negotiating with employers over your salary and benefits packages, and help guide you through the employment process.
Testimonials of Microsoft Dynamics Training in Hyderabad
Certification in Microsoft Dynamics
This Microsoft Dynamics training course is designed for clearing Brolly Academy's Microsoft Dynamics certification. The entire course content is in line with this certification and prepares you to tackle it easily, getting the best jobs at top MNCs. By enrolling in this Microsoft Dynamics Training, you will receive access to real-world industry scenarios and projects that are directly tied to your success as an employee. At the end of this Microsoft Dynamics Training program, there will be quizzes that test your knowledge of core concepts on Microsoft Dynamics. You can take these quizzes to prepare for your Microsoft Dynamics certification exams or just to check your understanding the choice is yours! Upon the successful completion of students' project work, Brolly Academy will award them with a Microsoft Dynamics course completion certificate.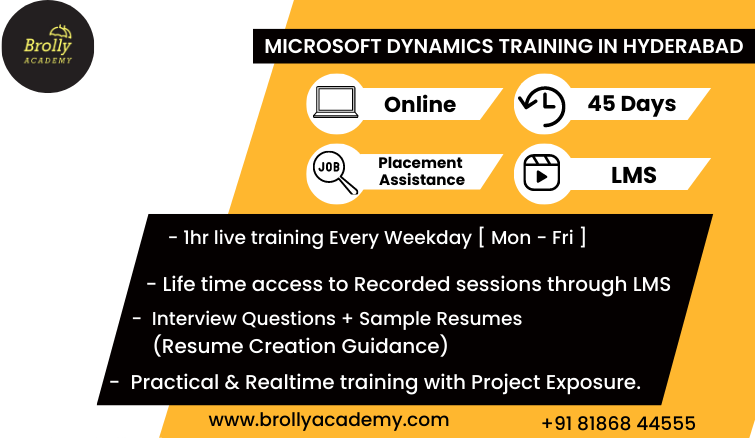 Advantages of Learning Microsoft Dynamics course -
Employment possibilities in Microsoft Dynamics-
Completion of the Microsoft Dynamics course you will learn -
Prerequisites to Learn Microsoft Dynamics
Who should attend the Microsoft Dynamics course?
● Solutions architects ● Implementation consultants ● Application developers ● Support ● Project managers ● System directors ● Business users
Why should I consider a career in Microsoft Dynamics Technology?
The most recent survey results indicate that Dynamics 365 Finance and Operations is the most in-demand for hiring among partner clients, with 43 percent of organizations indicating this as their number one choice. That's followed by Dynamics CRM (33%), D365 Business Central (22%) and D365 Sales (10%).
What is the average salary of an Microsoft Dynamics Developer?
The Average Annual salary of an Microsoft Dynamics consultants is 4.6 LPA to 14.5 LPA.
What are the Top skills you are going to learn through this training process?
● Application Explorer, Workflow ● Analytics, Reporting ● Customization & Services ● XDS and Security Model ● Enterprise Portal & Administration ● Architecture ● Visual studio ● User Interfaces
Will you provide Practical Training In Microsoft Dynamics at Brolly Academy?
Our Microsoft Dynamics training offers a comprehensive introduction to the software, including both theoretical and practical classes. Students will learn about each module before applying that knowledge in high-intensity sessions reflecting real-world challenges.
Will I get a free demo before enrolling in Brolly Academy's Microsoft Dynamics Training?
Brolly Academy offers free demo classes on Microsoft Dynamics to all interested students, giving them the chance to experience our training program before enrolling.
What if I miss any Microsoft Dynamics topic at Brolly Academy?
In case you could not attend the class you can join in our next live course or we can provide you with backup classes.
Do you offer job assistance in the Microsoft Dynamics Training Course?
We keep an eye out for job openings at companies you'd be interested in, and we alert you immediately when one appears. We provide interview practice sessions and real-world projects to help prepare you for your next job. Then we send your updated CV to all of the prospective employers
How simple is it to learn Microsoft Dynamics technology?
Microsoft Dynamic CRM is one of the leading CRM software systems, competing with Salesforce and Oracle. It's simple to learn and its implementation separates it from other companies' offerings.
What are the career growth after completion Microsoft Dynamics course?
Today, most businesses use data to make decisions instead of relying on their size. Microsoft Dynamics can help immensely in this case. The demand for skilled experts in the field of MS dynamics is greater than what most people expect. The huge demand for Microsoft Dynamics specialists has led to more job opportunities, and the right people are able to capitalize on those new positions. The course helps you to prepare for the certification exam and, if you have acquired sufficient skill sets during this period, it is not difficult to clear the exam.