Oracle Solaris Training in Hyderabad
100% Placement Assistance
Oracle Solaris Training in Hyderabad Batch Details
Key Features Of Oracle Solaris Training
Oracle Solaris Course Curriculum
About Oracle Solaris Training in Hyderabad
Oracle Solaris, an industry-leading Unix operating system, provides reliability and performance that is ideal for mission-critical applications on SPARC and x86 systems. Take Oracle Solaris training to learn more about this powerful Oracle Solaris techinique. Oracle Solaris is the most powerful operating system for running Oracle Database and Java applications. Brolly Academy's Oracle Solaris training provides an intensive hands-on experience that helps you master all aspects of this Oracle Solaris course. 
You'll learn to administer complex systems that include Oracle database software, middleware products and other applications. These systems are designed to support the demands of dynamic business environments by providing optimal performance across CPU, memory, file system, I/O and networking for both application and database workloads.
Brolly Academy is one of the best leading IT training institute with a talented staff and exceptional resources. Our Best Oracle Solaris Training in Hyderabad is a great way to get started learning about this software, as all of our trainers are experts and use live projects during the class. Since all Trainers are Oracle Solaris domain working professionals, they have access to many live projects and use these in their training sessions.
Brolly Academy offers a detailed course program with updated course curriculums and modules. Completing Brolly Academy's training program will prepare you to take the Oracle Solaris certification exam and distinguish your skills from those of other candidates. Doing so will give you a distinct advantage in the job market, as well as prove that your knowledge is up-to-date with industry standards.
A certificate of completion will be issued when the student has met all requirements in a course. This expert training is given by trainers with 11+ years of experience in the industry and is specifically designed for both working employees and students. We offer online training, video-based courses in Hyderabad, and classroom-oriented training to suit the learning needs of all kinds of trainees.
Our placement assistance cell helps students by providing them with advice and training for job interviews in Oracle Solaris training even after completing the course.
Enroll with us for the most comprehensive Oracle Solaris training in Hyderabad and build a lucrative career.
Modes of Oracle Solaris Training
Why choose our Brolly Academy Institute?
We are the leading Oracle Solaris Training Institute in Hyderabad, with our training method being highly regarded by many. Our expert trainers have over 11+ years of experience in the Oracle Solaris industry and can prepare you for your future career. Our training is designed for both the freshers and professionals who want to pursue a career in the IT industry.
 Our Oracle Solaris Training course will help you gain in-depth knowledge of the subject, which will enable you to get jobs with companies that use Oracle Solaris products. Our Oracle Solaris course will help you get the best possible preparation for your mock interviews, resume creation and question-and-answer sessions. Here are some reasons why you should enroll in our Oracle Solaris training course in Hyderabad:
Adaptable course curriculum
The Oracle Solaris course curriculum was designed by instructors with extensive industry experience. The goal is to train students so they can secure jobs in the IT field. This course will take you from beginner to advanced, so you can get the job that you want.
Brolly Academy's Oracle Solaris mock interviews give you the chance to prepare, practice, and experience a real-life job interview all in one place. We offer expert advice from people who've been through hundreds of interviews themselves so you know your application will get its due attention here.
Brolly Academy's support team helps our students overcome immediate hurdles and build confidence for future success even after the training period.
Brolly Academy offers training in Hyderabad without charging its students any extra fees.
Get Oracle Solaris Certified
Students who complete our Oracle Solaris training in Hyderabad program will earn a certificate that makes it easier for them to obtain work at leading companies around the world and their certificate is accepted globally.
We have created a learning management system of Oracle Solaris that provides you with lifetime access, where we've assembled the most comprehensive study guide. This is an easy-to-use and comprehensive guide to all of Oracle Solaris' core concepts.
Our placement team works closely with you to identify jobs that are a good match for your skills and experience level of Oracle Solaris, so that employers want to hire you, negotiate salary packages commensurate with others in similar positions and much more.
Testimonials of Oracle Solaris Training in Hyderabad
Certification in Oracle Solaris Training
Brolly Academy's Oracle Solaris Certificate Training, developed by real-time expert tutors based on scenario-based concepts and real-world practices, is very effective. Our certification is recognized by companies around the world, and this qualification will greatly enhance the value of your resume. With our certificate in hand, you can apply for a leading job post and we guarantee that only those who have successfully completed our training program will receive one!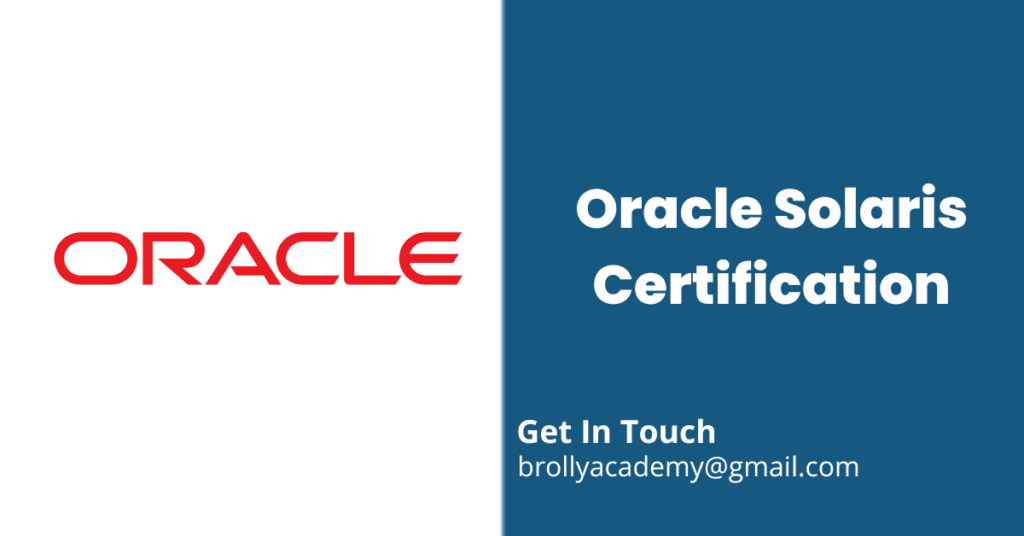 Advantages of this Oracle Solaris course
Job Roles in Oracle Solaris
Objective of Oracle Solaris course:
Prerequisites to Learn Oracle Solaris
What if I have more questions regarding Oracle Solaris Training?
Please feel free to contact us on the given number on our website if you have any questions about Oracle Solaris training.
How much will it cost me for the Oracle Solaris Course?
To know about the information about Oracle Solaris course fees, please visit our website or contact us at one of our offices.
Will I get a job assistance after the compilation of this Oracle Solaris Training?
Yes, our Job Assistance team at Brolly Academy helps students prepare for interviews and create resumes. This service is available to all graduates of our Oracle Solaris Training certification program.
Who will be my trainer in the Oracle Solaris course?
At Brolly Academy, we'll train you according to the standards set by our expert Oracle Solaris trainers
What if I miss any classes on the Oracle Solaris Course?
Not to worry, we will reschedule the Oracle Solaris training classes so that they are more convenient for you. Please let us know what times would work best for a new class date.
What is Oracle Solaris used for?
The Oracle Solaris operating system delivers the best performance for Oracle Database and Java applications. The OS is optimized for Oracle workloads across CPU, memory, file systems I/O networking and security features.
Can I learn Oracle Solaris without any programming experience?
Solaris Application Programming is a comprehensive guide that offers valuable insight into optimizing and developing applications for Oracle Solaris.
Which language is used in Oracle Solaris?
The C11 programming language standard is supported in Oracle Solaris 11.4: "ISO/IEC 9899:2011 Information technology - Programming languages - C". The C11 standard is a compatible revision of the C99 standard. Historically, the C programming language has been part of several different standards, including UNIX and POSIX.
What are the benefits of Oracle Solaris?
The Solaris operating environment offers a number of advantages, including portability, scalability, interoperability and compatibility
What is the future of Oracle Solaris?
The rise of Solaris as an operating system began in the 1980s, when it became popular among schools, governments and other large organizations because they used it to develop proprietary software. Today that legacy code still runs on Solaris systems.
What are the top skill will I gain during this training?
● Installations, Configuring ● system services, Boot Environments ● Managing users and groups ● Performing Basic ZFS Administration ● Managing Disk Devices ● Configuring Oracle Solaris Zones ● Service Management Facility ● Configuring Networking
Can I get access to the course material online?
Our Oracle Solaris training program provides lifetime access to study materials and video tutorials covering certification subjects.