SalesForce Course in Hyderabad
100% Placement Assistance
SalesForce Course in Hyderabad Coaching Details
(Salesforce Admin & Development online Training)

| | |
| --- | --- |
| Trainer Name | Mr. Uday Bhakar Reddy |
| Trainer Experience | 12+ Years |
| Next Batch Date | 21-11-2022 |
| Training Modes: | Online Training (Instructor Led) |
| Course Duration: | 60 Days |
| Call us at: | +91 8186844555 |
| Email Us at: | brollyacademy@gmail.com |
| Demo Class Details: | ENROLL FOR FREE DEMO CLASS |
Salesforce Course Curriculum
Key Points of Salesforce Course in Hyderabad
About Salesforce Course in Hyderabad
Salesforce is one of the world's leading cloud computing platforms. 
It is an enterprise application platform that provides a complete suite of integrated business applications, which includes Customer Relationship Management (CRM), Sales, Service, Marketing and more. 
Used by more than 55,000 companies worldwide, Salesforce is one of the most sought-after courses in 2022. Brolly academy is a premier Salesforce training institute with a team of highly qualified and experienced trainers. 
Our Salesforce courseware is designed to provide you with the knowledge and skills required for Salesforce administration and development. 
We offer a Salesforce course for beginners and advanced learners.
You also get Salesforce certification training that is conducted by our expert instructors who are Salesforce Certified Developers and Architects. 
The Salesforce training Hyderabad is designed by subject matter experts and covers all the key features of Salesforce.
We have structured the course in a way that makes learning easy to follow and comprehend. Some of the topics included in our Salesforce training includes –
Types of Cloud computing 

Cloud-related business process

Data management with Salesforce 

Concept of Visualforce

APEX

and more
We offer salesforce certification training to help you get certified in the Salesforce platform along with job assistance. 
Enroll with us for the best salesforce course with placement assistance. 
Salesforce coaching - Hyderabad, Ameerpet & online
We provide both online and offline training for Salesforce and have a team of certified instructors teach a Salesforce course for beginners, intermediate and advanced users. 
Salesforce online training

We provide Salesforce training online that is conducted via e-learning platforms to give you a live interactive learning experience. The course is available to you at your convenience where you will be given scheduled timings with classes on the weekdays
Salesforce classroom training

We offer Salesforce classroom training with a personalized one-on-one experience where the trainer will demonstrate live execution of the core concepts. You will learn how to build custom applications using Salesforce and get first hand experience in CRM management via case studies.
Salesforce video course

We provide a salesforce video course that can be accessed from any part of the world and is customized to be a self-paced learning program. The video course comes with live recordings from instructors with assignments and quizzes along with a digital certification.
Why choose us for Salesforce Training?
Top Notch faculty

We have excellent Salesforce trainers who have a passion for teaching, and have been helping students and professionals across the globe. Whether you're a complete novice, or an experienced developer, we've got the right Salesforce training course for you.
Industry relevant curriculum

We have curated a Salesforce course syllabus that is industry oriented and is aligned with the most up-to-date topics and concepts. Our courseware is designed to be a comprehensive learning experience that will help you achieve your goals with the right Salesforce skills.
Interview prep

We offer salesforce placement assistance to all our trainees and prepare them with a series of interview based rounds. You get multiple mock interviews, professional resume prep and access to some of the top interview questions to help you perform well in the interviews.
Remote learning

We offer virtual salesforce training sessions that include both online and video course learning methods. You can attend the training from any part of the world via our e-learning platforms for a live, interactive experience.
Backup sessions

We offer backup sessions for trainees who miss classes and provide them with a scheduled session with our salesforce trainers. You also get to attend our next one-on-one training batch that takes place at a mutually convenient time for the student.
Technical training

We provide hands-on training of salesforce including live project assistance and case studies. Our salesforce training includes both theoretical as well as practical training as we believe that this is the best way to learn and understand the concepts.
Testimonials for Salesforce course in Hyderabad - Best salesforce institute
Salesforce is releasing more certifications than ever before. More than 40 Salesforce certifications are available.
What are they?
Certifications for Associates
Salesforce certified associate
Certifications for Administrators
Salesforce Certified Administrator

Salesforce Certified Advanced Administrator

Platform App Builder
Certifications for Consultants
Sales Cloud Consultants certification

Salesforce CPQ Specialists certification 

Service Cloud Consultants

Field Service Lightning Consultants

Community Cloud Consultants

Einstein Analytics and Discovery Consultant

Certified Nonprofit Cloud Consultant

Education Cloud Consultant

Omnistudio Consultant
Certifications for Developers
Platform Developer I

Platform Developer II

JavaScript Developer I

Industries CPQ Developer

Omnistudio Developer
Certifications of Commerce
B2C Commerce Developer

B2C Commerce Architect

Salesforce Accredited B2B Commerce Administrator

Salesforce Accredited B2B Commerce Developer
Certifications for Architects
Salesforce Data Architecture and Management Designer

Salesforce Sharing and Visibility Designer

Development Lifecycle and Deployment Designer

Application Architect

System Architect

Certified Technical Architect

B2B SOLUTION ARCHITECT

B2C SOLUTION ARCHITECT

INTEGRATION ARCHITECT

HEROKU ARCHITECT

DATA ARCHITECT
Certifications for Marketers
Pardot Specialists

Pardot Consultant

Marketing Cloud Admin

Marketing Cloud Email Specialists

Marketing Cloud Consultants

Marketing Cloud Developer
Certification Fee
Salesforce certified associate – $75

Salesforce Certified Administrator – $200

Salesforce Certified Advanced Administrator – $200

Platform App Builder – $200

Sales Cloud Consultants certification – $200

Salesforce CPQ Specialists certification – $200

Service Cloud Consultants – $200

Field Service Lightning Consultants – $200

Community Cloud Consultants – $200

Einstein Analytics and Discovery Consultant – $200

Certified Nonprofit Cloud Consultant – $200

Education Cloud Consultant – $200

Omnistudio Consultant – $200

Platform Developer I – $200

Platform Developer II – $200

JavaScript Developer I – $200

Industries CPQ Developer – $200

Omnistudio Developer – $200

B2C Commerce Developer – $200

B2C Commerce Architect – $400

Salesforce Accredited B2B Commerce Administrator – $200

Salesforce Accredited B2B Commerce Developer – $200

Salesforce Data Architecture and Management Designer – $400

Salesforce Sharing and Visibility Designer – $400

Development Lifecycle and Deployment Designer – $400

Application Architect – 

System Architect –

Certified Technical Architect – $6000

B2B SOLUTION ARCHITECT – $400

B2C SOLUTION ARCHITECT – $400

INTEGRATION ARCHITECT – $400

HEROKU ARCHITECT – $400

DATA ARCHITECT – $400

Pardot Specialists – $200

Pardot Consultant – $200

Marketing Cloud Admin – $200

Marketing Cloud Email Specialists – $200

Marketing Cloud Consultants – $200

Marketing Cloud Developer – $200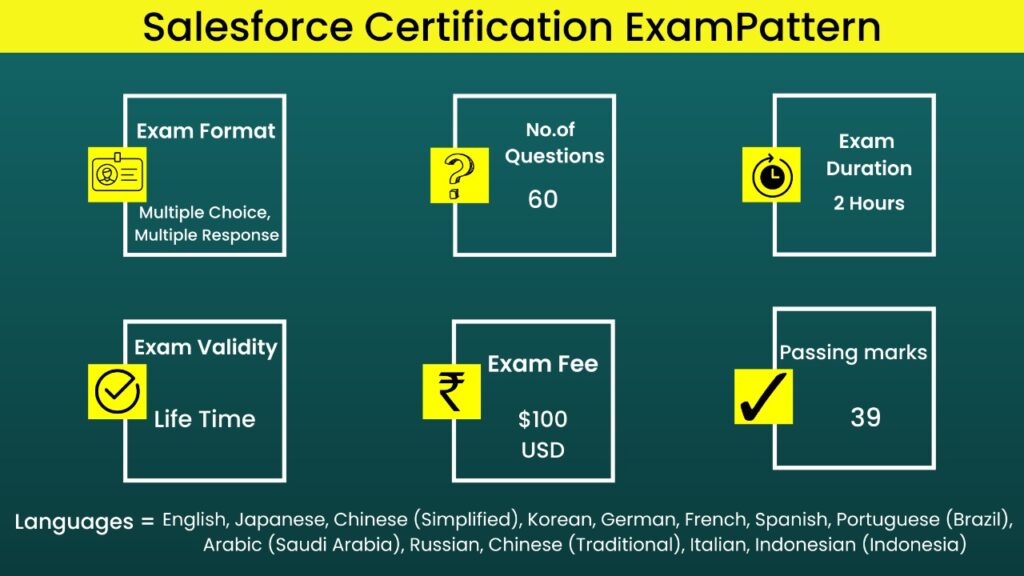 Benefits of Salesforce coaching
Salesforce is one of the most popular business applications in the world. It is used by companies of all sizes.
Skills developed Post Salesforce training online
Prerequisites of Salesforce course in Hyderabad
Career opportunities in Salesforce
Salesforce is a growing industry that offers a lot of opportunities for people who are looking to start their career in technology. It is a great industry to be a part of, as it is growing at a rapid pace, extending plenty of opportunities to work with new technologies and new platforms. 
You can leverage lucrative Salesforce salaries and escalate your career trajectory. 
Some of the career prospects that can be pursued in Salesforce include –
What is salesforce course?
The Salesforce course is a comprehensive online training program that teaches you how to use the Salesforce platform, the world's leading CRM.
Is salesforce in demand?
Yes, of course. There is a surging demand in salesforce and for skilled salesforce professionals with promising salary packages and future career prospects.
What is the average salesforce salary in Hyderabad?
The average salary for salesforce professionals in Hyderabad ranges from ₹ 3.0 Lakhs to ₹ 8.5 Lakhs based on your experience and proficiency.
Who can do salesforce course?
Any graduate belonging to the IT field or a person who takes interest in Sales & Marketing can learn the salesforce course.
Which salesforce certification is best for beginners?
The Salesforce Admin certification is best for beginners who are looking to kick start their career in Salesforce.
Is salesforce training worth it?
Yes, the salesforce training that we offer is a complete training program that covers all the extensive core concepts with practical emphasis to get you the skills and competency in the course.
How much does salesforce training cost?
We offer salesforce training with an affordable salesforce course fee that can be paid in installments.
What if I miss a class?
You can always attend our next live batch to make up for the missed sessions or you can also get a backup session arranged for you.
Do you offer placement assistance?
Yes we offer placement assistance but cannot guarantee a job as it depends on your performance during the interview.
Who are the trainers at Brolly Academy?
The trainers at Brolly Academy are experienced with over 9+ years of qualified training and job assistance expertise and skills.