Oracle SOA Training in Hyderabad
100% Placement Assistance
Oracle SOA Training in Hyderabad Batch Details
| | |
| --- | --- |
| Trainer Name | Mr. Srinivas Chinta |
| Trainer Experience | 7+ Years |
| Next Batch Date | 04-09-2023 |
| Training Modes: | Online Training (Instructor Led) |
| Course Duration: | 30 Days |
| Call us at: | +91 81868 44555 |
| Email Us at: | brollyacademy@gmail.com |
| Demo Class Details: | ENROLL FOR A FREE DEMO CLASS |
Key Features Of Oracle SOA Training
Oracle SOA Course Curriculum
About Oracle SOA Training in Hyderabad
Service-oriented architecture (SOA) is a software design and architectural pattern based on discrete pieces of application functionality being provided as services to other applications. Service orientation is an approach to application design in which you focus on the needs of your customers rather than on any particular product or technology. Services can be combined with other applications to create large systems that provide a complete set of functionality. 
Oracle SOA makes it easy for computers connected over a network to cooperate. Each computer can run any number of services, and each service is built in a way that allows it to exchange information with any other service in the network without human interaction or code changes. 
Oracle SOA Suite provides all the tools necessary for creating, monitoring, and maintaining a well-organized service-oriented architecture. The six BPEL processes (BPEL prepare, business manager, human assignment, spring, and go between) are building blocks that you use to develop an SOA composite application. With this Oracle SOA Training, you will learn how to build, manage and oversee reconciliation. 
Brolly Academy's Oracle SOA Online Training is formulated and conferred in a methodical way by business master coaches that make it simple to secure and grow Oracle SOA abilities. We make the most astounding quality HD content with live cases and give finishing direction during and after the preparation is finished, so that you can begin working in this field once your preparation is complete.
This Oracle SOA training certification course is designed by our industry experts at Brolly Academy enables you to gain proficiency in Oracle SOA training. This course will help you learn about the Overview of Oracle SOA, XML, XSD, Web-Services, SOAP, UDDI, WSDL, Service Component Architecture, SOA Installation, Oracle BPEL, Fault Handling and Exception, Human Workflow and Worklist, Business Rule and Decision. 
Apart from this you will be allowed to work on real-time projects and assignments in the Oracle SOA training. Our Oracle SOA expert trainers provide students with a solid understanding of the technical and theoretical aspects of the Oracle SOA field. We offer both online and classroom training courses and also self-paced video courses to help our students choose the one that is best for their needs. After completing Brolly Academy's Oracle SOA training program, you will receive a certificate that recognizes your expertise in Oracle SOA Technologies. 
This Oracle SOA training certificate will be awarded to you upon completing all the training modules of Oracle SOA. This includes a course description that can be shared on LinkedIn or other job search platforms. In addition, we also provide a placement assistance program which  includes an intensive interview preparation workshop. In this workshop you will be guided with Mock interview preparation, Resume making, Q&A sessions and much more. Enroll with us to get the Best Oracle SOA training in Hyderabad.
Modes of Oracle SOA Training
Why Choose Our Brolly Academy Institute For Oracle SOA Training?
Brolly Academy is known for providing the best Digital Marketing training in Hyderabad with our exclusive training method. The training program is conducted by our highly qualified professional expert trainers with 15+ years of experience in Digital Marketing where they will guide you to becoming a skilled professional in this Digital Marketing Program and make you a job-ready candidate. The reasons why you should consider Fullstackmasters for Digital Marketing Training in Hyderabad?
Extensive Oracle SOA Curriculum
The Oracle SOA Course is designed by well-trained instructors, and its purpose is to make students "industry ready" so that their new skills will help land them a good salary hike
We at Brolly Academy understand that students face obstacles, but we help them build confidence and attain their goals. We make it a priority to give each student the individual attention he or she needs to succeed.
Brolly Academy offers the best placement assistance program for Oracle SOA training in Hyderabad. Our placement assistance team assists our candidates both during and after their training. This program offers mock interviews, career counseling, and question-and-answer sessions to ensure that our candidates are fully prepared for real interviews.
Students who complete our Oracle SOA course in Hyderabad receive a certificate of completion. Our certificates are valued by employers and can be used to apply for jobs in the field.
Brolly Academy does not charge students any additional fees for the software training programs it offers in Hyderabad. All courses are free of extra charges.
We've designed our course schedule so that students can take classes at any time of day and access class materials online.
Testimonials of Oracle SOA Training in Hyderabad
Certification in Oracle SOA
This Oracle SOA training course is designed for Brolly Academy's Oracle SOA Certification. The entire course content is in line with this certification and prepares you to tackle it easily, getting the best jobs at top MNCs. By enrolling in this Oracle SOA Training, you will receive access to real-world industry scenarios and projects that are directly tied to your success as an employee. 
At the end of this Oracle SOA Training program, there will be practical exercises that test your knowledge of core concepts on Oracle SOA. You can take these exams to prepare for your Oracle SOA Certification exams or just to check your understanding the choice is yours. Upon the successful completion of student's project work, Brolly Academy will reward them with a Oracle SOA Course Completion Certificate which will add more value to your resume.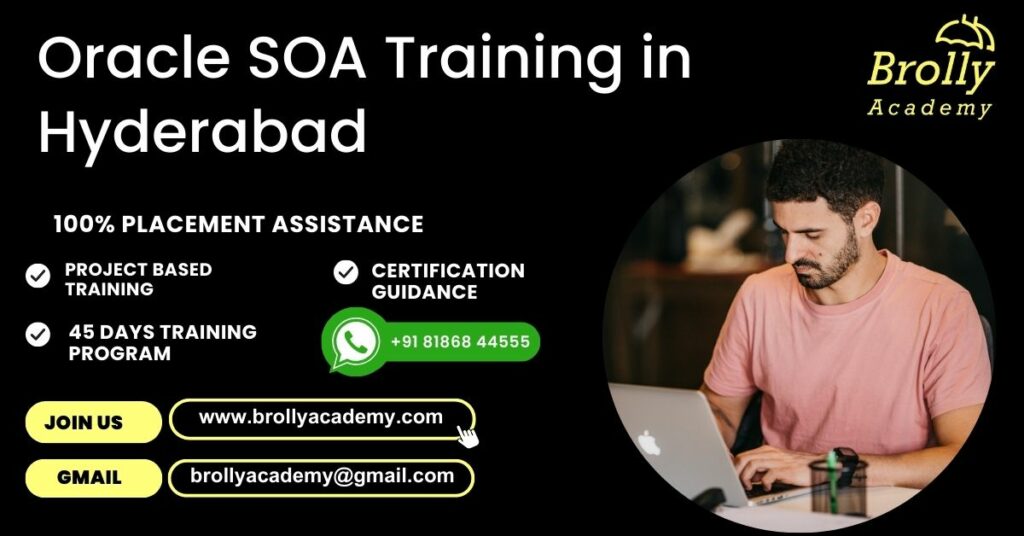 Advantages of Learning Oracle SOA Course -
Completion of the Oracle SOA Course you will learn -
Prerequisites to Learn Oracle SOA
Who should take up this Oracle SOA course?
● IT Professionals ● Technical Administrators ● System Integrators, ● SOA Architects ● Security Administrators ● The one who wants to learn Oracle SOA technology
What is the Oracle SOA expert's Salary as per Market?
The average Oracle SOA expert's salary is $97,147 PA.
What are the features of SOA?
● Cloud Integration Adapters ● Unified Run time and Design-time Environments ● End-to-end Monitoring etc…
Will I be provided to work with a project during the training?
Our training's are based on real time Project Oriented, you are also provided to work with it during the training.
What will be the batch size of Oracle SOA class at Brolly Academy?
Because our classes are small, expert instructors give personal attention to each student. We don't exceed more than 10 people in a batch
Will I get proper expert guidance on my Resume Preparation at Brolly Academy for job purposes?
Yes, we can help you make a resume that reflects your experience and interests.
What are the training modes offered by Brolly Academy for this Oracle SOA Course?
At Brolly Academy, we offer various types of Oracle SOA training such as classroom instruction, one-on-one tutoring, self-paced video learning and online courses.
Is Brolly Academy provides free demo sessions before enrolling in Oracle SOA Training?
Yes, Brolly Academy offers a free demo class for anyone who is interested in our Oracle SOA training program.
What if I miss any Oracle SOA training class?
We record each and every class session you undergo through this Oracle SOA training and we will share the class recordings of each session with our students for their better practice on the subjects
Do I need to have coding experience to learn the Oracle SOA course?
Oracle SOA Suite is an extremely vast area to earn about. The amount of knowledge that you can learn from the suite will grow with the amount of time you devote to learning it passionately. Since you have no experience in Java programming, I recommend that you begin by learning Core Java.