Google Adwords - PPC Training in Hyderabad
100% Placement Assistance
Google Adwords Training in Hyderabad Batch Details
| | |
| --- | --- |
| Course Fee | 20,000 Rs |
| Course Duration | 2 Months |
| Timings | Monday to Friday (Morning to Evening) |
| Next Batch Date | 18th Sep 2023 AT 11:00AM |
| Training Modes | Classroom [HYDERABAD] / Online |
| Location | Hyderabad |
Key Features Of Google Adwords - PPC Training
Google Adwords Course Curriculum
About Google Adwords - PPC Training in Hyderabad
Google Ads is an online advertising Platform developed by Google. Google Ads can help you advertise your business on Google, which includes its search engine and display network. The Google Ads interface is easy to use and understand, which makes it great for beginners. It's also very powerful, allowing you to run highly targeted campaigns that can help you achieve your business goals. Paid advertising is one of the essential strategies that companies use for branding and lead generation. 
This is often called PPC (Pay Per Click) as the advertiser pays the cost of advertising per click. In Google Ads, we have the choice to target the audience as per geography, language, website, time and devices according to the strategy of the advertiser. PPC advertising lets your businesses reach an audience by running campaigns through sponsored ads on the search engines. 
Our training will enable you to design a pay-per-click (PPC), display, shopping, remarketing, dynamic search ads, and mobile marketing campaigns. In this Google AdWords – PPC training, you will learn how to analyze business goals, how to create an account, campaign, and ad group structure; write ads; target search engines (organic) or display networks ("banner" type advertisements); how to optimize the campaign for maximum return on investment (ROI), track conversions and report.
Brolly Academy is one of the best Google Adwords – PPC training institutes in Hyderabad. We offer the best Google Adwords PPC training in Hyderabad with the most experienced professional tutors. We are aware of industry needs and we are offering Google Adwords PPC training in Hyderabad in a more practical way. 
Brolly Academy offers the Google Adwords – PPC training in 3 different modes which are Google Adwords – PPC Classroom training, Google Adwords – PPC Online Training, and Google Adwords – PPC Self-paced video classes. Our training will be handled in both weekday and weekends programs depending on the student's requirements. We provide Google Adwords – PPC Job Support for professionals and freshers to help them solve their problems in real-time.
The Google Adwords – PPC certification program is designed at Brolly Academy to help learners become experts in the field and pass their exams on the first attempt. Upon successful completion, you will receive instructions on how to obtain your certificate for Google Adwords – PPC.
Enroll with us to get the best Google Adwords – PPC Training in Hyderabad.
Modes of Google Adwords - PPC Training
Why Choose Our Brolly Academy Institute For Google Adwords - PPC Training?
Brolly Academy is the leading Software training institute in Hyderabad and has been recognized for its effective teaching methods. Our expert trainers have over 10+ years experience in the field of Google Adwords – PPC and can prepare you to enter this exciting industry. Whether you're a fresher looking for certification or an experienced professional with expertise. Our Google Adwords – PPC Training course provides you with the skills and expertise you need to apply at companies that use this technology. Our Google Adwords – PPC Course will help you get ready for your mock interviews, resume creation and question-and-answer sessions. Here are some reasons why you should enroll in our Google Adwords – PPC Training course in Hyderabad:
We at Brolly Academy provide backup classes for those students who could not attend the missed classes as per their requirement.
Resume Makeing & Mock Interview Assistance
Our placement assistance team guide our students in resume making after the training is completed & conducts multiple mock interviews programs by offering Industry Interview Questions & makes our students ready for the Job Interview.
Get Personalized Attention
Brolly Academy trains all the students in micro batches where we make sure every student gets personalized attention from the trainers and get a better learning experience at our institute.
Brolly Academy conducts daily tasks & assignments to each and every student to get involved & get a better understanding of the subjects.
Google Adwords Certification
Google Ads certification adds value to your resume. It increases the chance of getting employed in top MNC companies. You can also add this google Ads certificate in to your resume or Linkedin profile.
Brolly Academy not just trained the students by providing only theory based learning, but also we help them to launch a live campaign, so that they can gain practical knowledge on Adwords and crack the job or certifications easily.
After the completion of the course and certification, Our special team will help the students in the placement assistance program by giving them mock interview, resume preparation, interview Q&A preparation etc. so that they can get the best placement in the field.
Real time practical session
We strongly believe that practical knowledge is necessary to create a strategy. We have designed this PPC course so that you can learn at your own pace, mastering the basics and eventually moving on to more advanced techniques. We will give you access to paid tools, and make you work on Search Advertising Campaigns, Display Campaigns, Remarketing & Reporting.
Testimonials of Google Adwords Training in Hyderabad
Certification in Google Adwords - PPC
This Google Adwords – PPC training course is designed for clearing Brolly Academy's Google Adwords – PPC Certification. The entire course content is in line with this certification and prepares you to learn it easily, getting the best jobs at top MNCs. By enrolling in this Google Adwords – PPC Training, you will receive access to real-world industry scenarios and projects that are directly tied to your success as an employee. 
At the end of this Google Adwords – PPC Training program, there will be practical exercises that test your knowledge of core concepts on Google Adwords – PPC. We offer a course completion certificate from Brolly Academy. Along with this, we will guide you and help you crack the Google Ad certification, Google Search Certification, Google Display Certification, and more, which will add more value to your resume.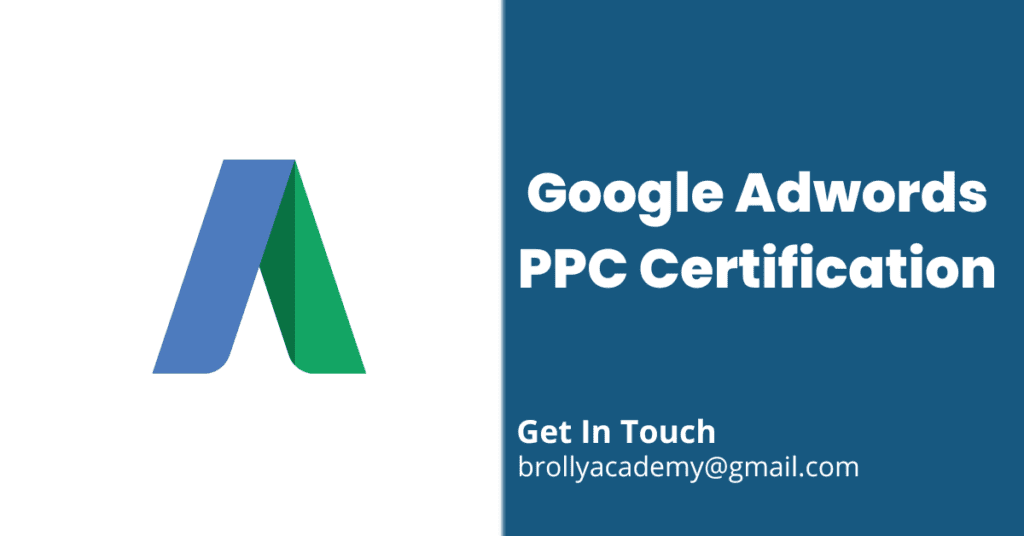 Advantages of Learning Google Adwords - PPC Course
Employment possibilities in Google Adwords - PPC
Completion of the Google Adwords - PPC Course you will learn
Prerequisites to Learn Google Adwords - PPC
Does Brolly Academy offer any other courses for Digital Marketing in Hyderabad?
Yes, we also offer Digital Marketing courses and software courses in Hyderabad. You can check the courses provided by us on our website - brollyacademy.com or contact us at this number +91 81869 44555.
Who should take up this Google Adwords - PPC training course?
● Bloggers.
● Freelancers
● Small and Medium-sized Business Owners.
● College students
● Job Aspirants
● Those who want to crack the AdWords certificate
● Affiliate Marketers
● Freelancers
● Digital Marketers looking for growth
● SEO Bloggers
● Students
● Working Professionals
What technology that you will learn in this course?
● Google ADs
● Google Analytics
● Tag Manager
● Campaign Setup
● Keyword Research
● Strategy Implemantation
How does the cancelation and refound process work at Brolly Academy?
Course cancellation requests must be made within 3 days of the course beginning, at which time your payment will be refunded 100%. After this point, no refunds are available.
What Will I learn from PPC?
PPC (pay-per-click) is one of the most effective and popular forms of online marketing. Using Google AdWords, we can target any language or location and display your ads at any time.PPC training will definitely help you create, manage and optimize PPC campaigns. It will also help you in increasing traffic to your website and lowering costs all while getting qualified traffic from the search engines. So basically it's gaining visibility through paid methods of advertising.
How long does google take to approve your ads?
Google Ads can take anywhere from 24 to 72 hours before you see the initial results of your campaign.
How this course will help me to create an ad campaign?
The course will teach you the basics of keyword research and pay-per-click (PPC) techniques, as well as provide guidance on how to use various tools.
What is the difference between Google AdSense and Google Ads?
Google AdWords and Google AdSense are both services that allow advertisers to create ads for display on the Internet. Google Ads allows business owners to develop online advertisements, particularly text-based ones that appear next to search results produced by its engine. Google AdSense is a program that enables publishers to work with Google to place advertisements on their web pages, earning money for each click.
Why to use google ads?
Using it, you can reach your target audience and generate leads and conversions.
How long would it take to master Google Adwords – PPC?
Becoming familiar with the C/C++ programming languages makes it easier to learn how to code in Google AdWords. You can probably begin writing your own programs within a few weeks. For someone unfamiliar with object-oriented programming languages, it will take 2 to 6 months before they are able to write bigger programs using Google Adwords even if their primary language is not C++.
Will I Be Given Sufficient Practical Training In Google Adwords – PPC?
Our courseware is designed to allow students to learn the ins and outs of Google Adwords-PPC through hands-on experience. This course is made up of theoretical classes that teach the basics, as well as practical sessions reflecting current challenges and needs in the industry.
Will I be provided with a free demo class before enrolling in Google Adwords - PPC Training at Brolly Academy?
Brolly Academy offers a free trial class on Google Adwords Pay Per Click, for anyone interested in taking our full training program.
What if I miss one or more classes in Google Adwords - PPC?
If you are unable to attend on the scheduled date, we will schedule another class with a different group of attendees.