Java Full Stack Developer Course in Hyderabad
100% Placement Assistance
Java Full Stack Developer Course in Hyderabad, Online Batch Details
| | |
| --- | --- |
| Trainer Name | Mr. Bala K |
| Trainer Experience | 10+ Years |
| Next Batch Date | 18-09-2023 |
| Training Modes: | Online Training (Instructor Led) |
| Course Duration: | 3 Months |
| Call us at: | +91 8186844555 |
| Email Us at: | brollyacademy@gmail.com |
| Demo Class Details: | ENROLL FOR FREE DEMO CLASS |
4
Java Full Stack Developer Course in Hyderabad - Developer Curriculum
Key Points of Java Fullstack Developer Course in Hyderabad
What is a Java Full Stack Development?

Being the most widely used programming language, Java is a fantastic option for developing web applications.

Java is frequently referred to be a server-side programming language.

The creation of any web application's back end and front end is referred to as "full stack technology."

Java is used to create the vast majority of web applications.

The creation of scalable and reliable software applications is facilitated by its comprehensive set of open-source libraries & APIs.
What is the Java Full Stack Developer used for?
About the Java Fullstack Developer Course in Hyderabad
Java is one of the most used programming languages. The majority of businesses today employ personnel to manage their applications, which has led to an increase in demand for Java full-stack developers.
Newbies in the front programming will be capable of understanding full-stack development thoroughly with the aid of this curriculum, which will help students land their dream job.
Our comprehensive Full Stack Developer course is delivered by experienced professors who will familiarise you with the most recent market demands.
A Java full-stack web developer has an extensive understanding of and expertise with full-stack Java tools and frameworks.
Our dedicated placement team will keep checks on the progress of your interviews to help you land a job and, if necessary, establish a plan for significant improvement areas.
They will work with you and provide you with specialized mentoring throughout the course. We ask that you pay close attention to every training and counseling session you attend.
Java Full Stack Developer Course Syllabus
The curriculum for this programme is designed to help students learn through practical projects that make use of popular technologies including CSS,  Java, JavaScript, HTML,  Bootstrap, and more.
Attend the Brolly Academy's full-stack developer training program, which uses its expertise to identify the most efficient patterns.
Three alternative learning formats—online blended learning, conventional classroom learning, as well as on self-paced—are offered for this on-demand Full-Stack Web Design course.
Here is your chance to construct a project portfolio that is prepared for employment, gain the knowledge required for a lengthy and wonderful career in technology, and develop into a self-sufficient, adaptable software engineer.
Modes of Training - Java Fullstack
Why choose us for Java full-stack course training?
Testimonials for Java Full Stack Course Online
Java Full Stack Certification
We at our institute offer comprehensive Java full-stack certification courses along with a globally recognized Java full-stack course certification that will be acknowledged by the majority of the most prestigious corporations in existence today.
After finishing this curriculum, you will be awarded a Java full stack certificate, which is highly respected by organizations and can greatly increase your career chances in Java technology. The Brolly Academy has formally signed this certificate.
This certificate is available for download in both hardcopy and digital forms.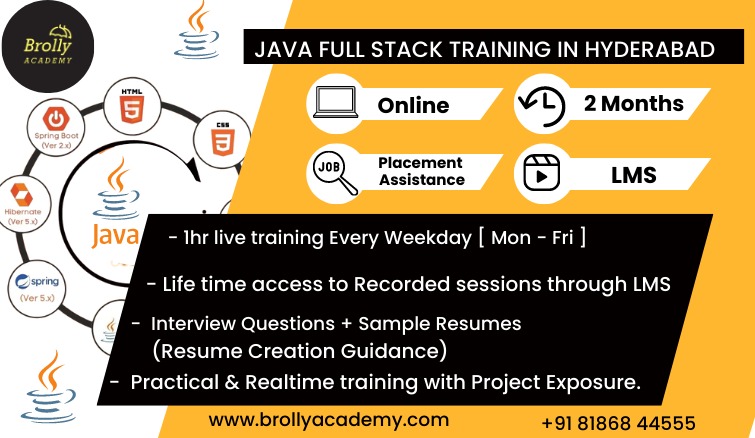 Benefits of Learning Java full Stack course
Now that you are familiar with the full-stack development processes, we will cover the benefits of full-stack programming in Java as well as the benefits of being a full-stack developer.
One of the most attractive benefits of learning full-stack Java developer courses and starting a career in the area is the exceptional compensation. Most companies are paying highly skilled full-stack Java programmers.
Development in Your Career
The professional career of a full-stack Java developer is fruitful. They are more likely to advance in their careers and reach higher positions. The majority of people acquire the skills and knowledge required to work as full-stack Java developers. They were swiftly elevated to management positions inside the business.
Do you like having complete control over the things you produce? If the answer is yes, a full-stack Java development course is for you! Learning full stack makes it feasible to develop a thorough knowledge of a product's front end and back end.
Due to your extensive subject knowledge and ability to practically fill any employment role, full-stack Java programming allows for greater independence.
Skills you gain in Java Full Stack training in Hyderabad

Implement OOPS using Java, including data structures as well as other features.

Learn about the technology used at the back end.

knowledge of SQL, Java Servlets, and Hibernate as relational database ORM.

You should be able to build a web application using the frontend stack.

Learn how to create the front end or user interface using Javascript, HTML, and CSS.

You will learn how to use OOPS concepts to build business components in Java.

Recognizing cutting-edge frameworks for developing mobile applications, such as Hibernate and Spring MVC.
Prerequisites of Java full-stack
There are no prerequisites for this Java Full Stack Developer Course. Even though it is suggested to have a basic understanding of programming.
Market Trend in Java Full Stack
One of the most popular technologies right now is Java.
It is still one of the most widely used programming languages in the world even after more than 25 years of existence.
It remains among the top five in 2021, according to the results of the StackOverflow Developer Surveys.
Java is run on 97% of enterprise desktops.
In the US, Java is installed on 89% of desktops (or computers).
Globally, there are 9 million Java developers.
Java is used by 3 billion mobile devices.
Almost 5 billion Java Cards are in use right now.
In 125 million TVs, Java is installed.
Employment opportunities after Java full stack developer Training