Best Software Training Institute in Hyderabad
100% Placement Assistance
Live Training + Certifications + Selfpaced Video Courses
Learn some of the most current and trending courses with 100% placement assistance from brolly Academy
Courses with Most job openings
Learn some of the Courses with Most job openings: with 100% placement assistance.
Why are we the best software training institute in Hyderabad?
Brolly Academy Testimonials
Modes of Training available
Best Practice for interview Preparation Techniques
Practical & Hands-On Training from industry experts
350+ Recruiting Clients & 70% above placed student ratio
Lifetime Access for Student's Portal and Study Materials
Our course timings are flexible and user-friendly to make it easy for students.
Brolly Academy does not charge any additional fees for any of the programs from the training course.
Our Course syllabus consists of market-ready concepts and data to keep our students updated.
Brolly Academy is one of the best software training institute in Hyderabad with an excellent training staff and coaching services. We offer courses ranging from a wide range of niches and fields including software, marketing, business, computers, languages, and more.
Our training is designed to give the students an in-depth learning experience backed with practical and technical knowledge for hands-on proficiency. We at Brolly Academy, provide the best course training in Hyderabad with comprehensive training methods that align with ongoing recruitments and job obligations. 
The trainers who make the pillars of our academy are well influenced with 12+ years of training and professional excellence. Their coaching techniques are well versed with equal importance to technical as well as theoretical significance. 
Every course that we offer comes with a guaranteed course completion certificate that is verified and accepted by companies all over the world with lifetime validity. We encourage virtual training modes as well as subjective classroom training to cater to an audience of all types, including students and working professionals alike. 
Our course curriculum is customized by industrial experts that are job oriented as we offer guaranteed placement assistance to our students, training them in a multitude of aspects that include mock interviews, resume preparation, mock tests, career counseling, and much more. 
We as an academy work on delivering quality training programs with easy accessibility and top-notch services.
Enroll with our Brolly Academy for the best Training Experience in Hyderabad to Accelerate your career with free demo classes before Enrollment.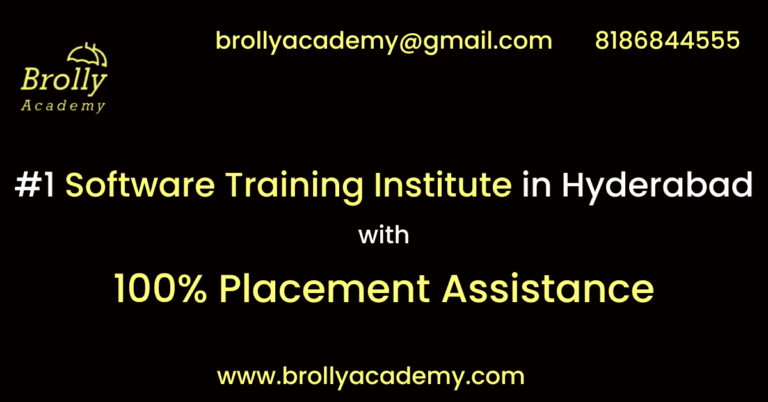 What if I miss any class?
You can always join our next consecutive live batches or we can also arrange for backup training sessions if you happen to miss a class.
Will I get a placement assistant?
Yes, ofcourse. We provide placement assistance to the students enrolled in our batch along with resume preparation, mock interviews and soft skills.
Can I attend a demo session before enrollment?
Definitely. We offer a free demo class in Hyderabad at our Brolly Academy for all our courses. This demo class will help give you a better idea before enrolling in any course from Brolly Academy.
Who are the trainers at Brolly Academy?
Our trainers are professionals with 12+ years of working experience. They use high-end training methods to train the students effectively for a good learning experience.
What if I have more queries?
You can always reach out to our team via the contact details provided on our website. We have a fast responsive team who will revert back at the earliest.
Will I get proper practical training at Brolly Academy?
You will get hands-on real time practical exposure for all our courses during the training program. We use case studies to teach all the core concepts to our students to get a revised understanding of the course.
How much is the course fee at Brolly Academy?
The course fees at Brolly Academy depends on the course taken by the student. However, we charge affordable and standard fees with no extra costs.
What are the prerequisites to join courses at Brolly Academy?
There are no prerequisites to join our courses at Brolly Academy as we train students from absolute beginners to advanced working professionals from all backgrounds.
Why Brolly Academy?
Brolly Academy offers around 200+ courses that include courses that are trending with software, IT, business, Marketing and more. We have trainers who are best known for their training methods in and around Hyderabad with professional experience.