Helps Your Business Gain Edge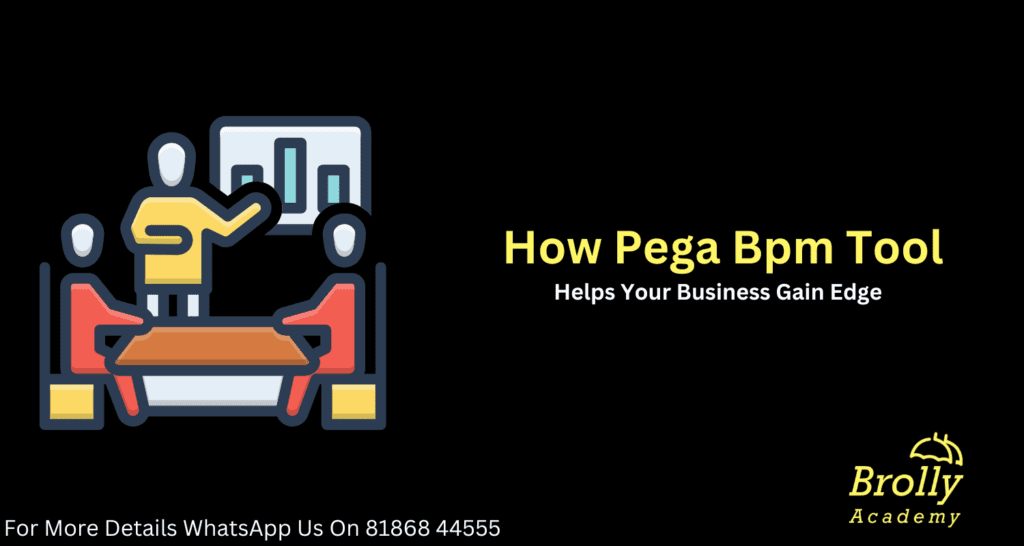 Effective business processes, including order fulfillment, product development, and customer service management, are essential to an organization's success. We must do thousands of tasks, if not more, and obtain approval; these business procedures include.
The tasks involved can be broken down into repeatable, well-organized phases by well-designed business processes, which employees can follow to get consistent results.
Your business processes might need to be improved if you see any bottlenecks or weak links while evaluating these procedures. In reality, badly managed business procedures like these can leave an organization with a variety of defects that hamper production and efficiency.
So what is the answer?
company performance can be enhanced by automating ineffective activities and focusing on company objectives. As a result, you must use a business process management (BPM) strategy. Pega BPM Tool is one of these and is the best in the world. How?
In order to effortlessly achieve the intended business goals, let's talk about BPM in this post.
What is the goal of the PEGA BPM Tool?
Pega Business Process Management is a full-featured toolkit for building BPMs. Furthermore, no coding is required. It is a noteworthy product. Additionally, the numerous benefits it offers to large- and medium-sized organizations. It can be useful if your system lacks a fully functional BPM but has developed integration capabilities. It offers quick results with a minimal amount of work. Any business user can create a business application with the help of its toolkit, which describes applications. There is no requirement for hard coding. mainly because it is the most difficult step in the development process.
Throughout the modeling phase, it has a minimal amount of technical syntax to learn. As a result, it is made simpler.
BPM additionally provides case lifecycle management. It enables a business owner to design a process flow that includes each operation that could end up there. These activities might change, for instance, a single process flow might have several different tasks. It also involves, among other things, decision-making, approval, and document management.
Your system just needs to be created once, after which you can deploy it at any time and anywhere. To be compatible with different channels, it imitates a desktop user interface. such as tablets and cell phones.
As a result, it supports quick development without coding and adjusts to changes. It has radically changed how business process management has been done in the past.
Business process management places a strong emphasis on assisting organizations in managing, analyzing, monitoring, and improving processes and workflows to increase efficiency and profitability.
You may spot process flaws and bottlenecks and take action to fix them by implementing a business process management strategy. This could entail developing procedures, automating specific tasks, or streamlining departmental or team interactions. A wide range of industries can benefit from BPM, including manufacturing, finance, retail, healthcare, technology, and so on.
Consider the scenario where you run a small online retail business. You observe that your order fulfillment procedure is taking more time than it needs to, and as a result, you are losing clients. Your process is found to have a bottleneck during the packaging and shipping phases after being examined by a business process management consultant or tool. To deliver orders more quickly, you decide to invest in new packing tools and automate the order-to-ship procedure. In the end, happier consumers lead to higher sales. That's the BPM's magic.
In other words, BPM is a strong business strategy that can make organizations of all sizes more competitive by boosting productivity and profitability.
How Pega BPM technology gives businesses a competitive edge
The BPM Lifecycle is a systematic approach to managing and improving business processes within an organization. It consists of several interconnected stages that help businesses analyze, design, execute, monitor, and optimize their processes for better efficiency and effectiveness.
With Pega's no-code or minimal-code platform, non-technical individuals may easily learn how to create complex programs. It also includes the PRPC PEGA Rules Process Commander, which aids users in automating the program code. AUT-Automated Unit Testing, an automation testing tool included in PEGA, sets PEGA Testing apart from typical manual testing software. organization process management has been widely adopted by many organizations and has become a crucial tool for any enterprise organization that chooses to be more competitive in the modern marketplace.
Pega BPM Tool  is widely employed in the banking, finance, and healthcare sectors because these industries require optimized process flows. Resources claim that Pega is 8X quicker at analysis and design, 8X faster at developing change, and 40% faster at developing mobile applications. One of the top BPM systems for large organizations, Pega's distinctive approach makes it more comprehensible.
Case management: what is it and why is it necessary?
Let's define a case first before proceeding. A case is only a task that must be accomplished by coordinating numerous procedures. It is a software-based strategy used to collect, organize, and track data to finish a task and achieve the intended business objectives. 
In other words, a case is intelligent enough to gather the appropriate data, carry out and recognize process modifications, escalate deviations and alerting, and make decisions. A case's key feature is that it keeps pace with the rapid changes in company processes.
The main benefit of case management is how well it enables completing ad-hoc tasks. Be aware that the software is what has the visual representations to design the various stages of the process down to the level of individual tasks. 
Case management guarantees consistent, real-time reporting to stakeholders so they may make wise decisions. Additionally, case management insights can aid in locating manual company procedures that can be automated to promote business expansion.
The case management system's automation feature aids in accurately managing a variety of planned and unforeseen actions. The hallmark of case management is "Design by doing," where process models may be created as you go along, upgrading the automation tools as necessary.
Challenges You Encounter in BPM
Companies must prepare for new problems and have a backup plan in place if they want to get the most out of BPM.
The following are the most frequent challenges that could cause BPM failure:
We hope your understanding of business process management (BPM) has improved. 
BPM is not a brand-new discipline or approach to improving company operations. However, it's a feature that is becoming more prominent over time, allowing the company and its operations to flow with the changes in the digital world. 
If your company is considering adopting BPM, you may get in touch with a company that provides BPM installation and integration services. You can use it to support your anticipated business objectives.