Cyber Security Course in Hyderabad
100% Placement Assistance
Cyber Security Course in Hyderabad Batch Details
| | |
| --- | --- |
| Trainer Name | Mr.Sunil |
| Trainer Experience | 15+ Years |
| Next Batch Date | 24-11-2022 |
| Training Modes: | Online Training (Instructor Led) |
| Course Duration: | 30 Days |
| Call us at: | +91 8186844555 |
| Email Us at: | brollyacademy@gmail.com |
| Demo Class Details: | ENROLL FOR FREE DEMO CLASS |
Key Points Of Cyber Security Course in Hyderabad
Cyber Security Training Curriculum
About Cyber Security Course in Hyderabad
Cyber security is a set of technologies, processes and controls that helps protect systems, networks and data from cyber attacks. It aims to reduce the risk of unauthorized access or exploitation by hackers.
It is an essential component of information technology and a growing field in today's world. The cyber threat landscape is constantly changing, requiring organizations to implement several strategies to protect their data.
Brolly Academy offers Cyber Security course in Hyderabad with the best training facilities for both freshers as well as experienced professionals. 
Our team of expert instructors have more than 15+ years of experience in teaching cyber security technology to students from different parts of the world. The cyber security certification training  provided by us has the best infrastructure and the most experienced instructors. 
Our Cyber Security course training program is designed in such a way that it will help you to gain knowledge in the subject matter. Our Cyber security course will teach you various concepts about – 
Introduction to Cyber Security 

Security essentials

Threat and vulnerability landscape 

Information security laws

Malicious codes
With our comprehensive training, students will get an insight into the various security practices, techniques, and tools that can help them to get an in-depth knowledge about the course.
We offer different modes of cyber security course that includes cyber security courses online and cyber security self-paced video course training, as well as cyber security course offline training program in Hyderabad. 
After the successful completion of the cyber security course we issue a cyber security course completion certificate to all our students that can accelerate their job prospects with improved career opportunities. 
Our 100% placement assistance cyber security course is designed to provide a theoretical and practical understanding of the field so that our trainees can learn to tackle its challenges in different scenarios.
Learn advanced skills from Brolly Academy and upgrade your career with the most demanding Cyber Security course in Hyderabad and get placements in top MNCs. 
Enroll with us for the Best Cyber Security Course in Hyderabad. 
Modes of Cyber Security Training in Hyderabad
Why choose us for Cyber Security Course?
Real-Time Expert Trainers
At Brolly Academy students will learn from industry's leading cyber security experts eager to share their knowledge with students and help them to achieve their goals Syber security forms.
Our instructors are dedicated to helping students develop the skills and knowledge in Cyber Security courses that they will need in their careers. They will get a throw understanding of most in-demand techniques of cyber security in this certification program.
Cyber security course certification
We offer certified Cyber security course where you will be rewarded with certification upon the successful completion of the course. Our course completion certificate that can be downloaded in both hard copy and digital formats, with lifetime validity.
This Cyber Security course certification program comes with real time project training that will prepare the students for the certification exams of Cyber Security. 
We offer our trainees with affordable Cyber Security course fees and a convenient payment plan, where they can pay their course fee in two installments. 
We don't charge any extra fees for this training. Our primary goal is to provide quality training on cyber security course rather than raising prices.
We offer our trainees the online class and the recorded cyber security self-paced video training sessions where they will get all the recorded videos of the live course and learn at their own pace by assessing our flexible learning options. 
This makes our students learning process much easier and they can learn from anywhere around the world at their own pace. 
We've been providing Cyber security training in hyderabad and placement assistance support to students and professionals and our placement assistance program will help students get the best job opportunities in their desired field. 
Our team conducts multiple mock interviews along with professional resume preparation that will give our students a confident skill set to crack the interview in cyber security. 
Our aim is to help trainees with the right set of skills that benefit during job trials. We do this by providing practical, hands-on training and mentoring interview sessions.
Students are given projects, case studies and assignments to help them practice their theoretical knowledge. we will help them to develop the kind of confidence that makes a job-ready candidate.
Testimonials of Cyber Security Training in Hyderabad
Cyber Security Course Certification
Cyber Security is the most widely used technology in both the public and government sector in the world. We offer Cyber Security Certification Training that is tailored to the needs of the industrial standards and expectations. 
Our training is very effective and comprehensive, ensuring the students get a thorough understanding of the concepts of Cyber Security. 
This Certification program comes with real time project training that will prepare the students for the certification exams of Cyber Security. 
They will get to learn the most in-demand techniques like risk analysis, data security, mitigation and so much more with our cyber security certification course. 
Upon successful completion of the comprehensive cyber security course certification program students will receive a well-reputed Brolly Academy's course completion certificate from our institute. 
This training is conducted by our experienced team of trainers, who are widely considered experts in their field.  
Our course completion certificate that can be downloaded in both hard copy and digital formats, with lifetime validity. 
Some of the most common Cyber security course certifications include –
(ISC)2 Systems Security Certified Practitioner (SSCP)

CISM: Certified Information Security Manager (CISM)

CISSP (Certified Information Systems Security Professional)

CISA: Certified Information Systems Auditor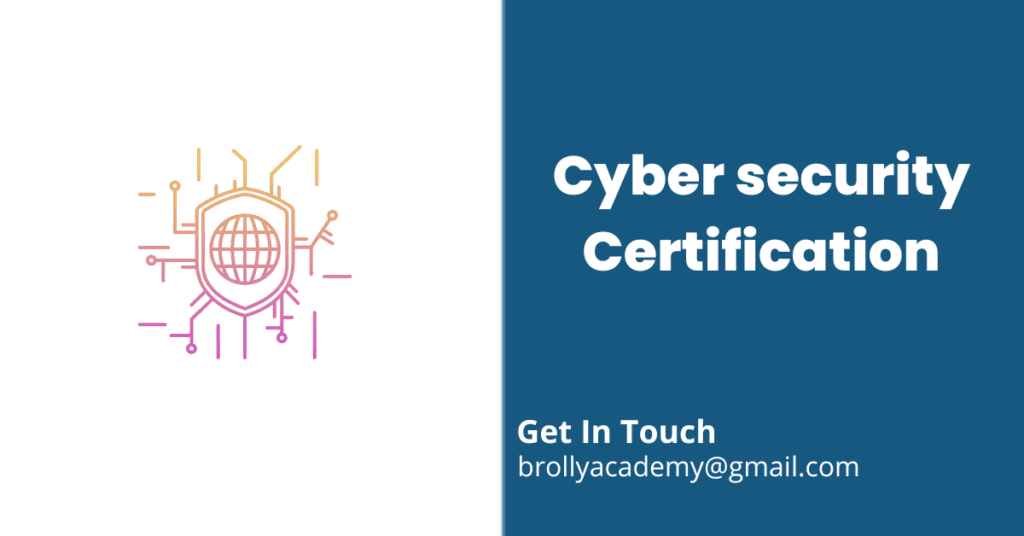 Cyber Security Course Benefits
Cyber Security Training Objectives
Cyber Security Course Prerequisites
Cyber Security Course Job Opportunities
Who can do Cyber Security Course?
Cyber security course is easy or difficult?
Learning about cybersecurity can be challenging, but it doesn't have to be difficult. If you are passionate about technology, learning this skill will seem easier as your curiosity is nurtured through the technologies that you're working with.
Although there may be difficult concepts, like cryptography or areas that require more technical knowledge, cybersecurity is an area in which it's possible for non-technical people to excel.
Learning cyber security course is good or bad?
Cybersecurity is important because it protects all categories of data from theft and damage.
Cybersecurity, the science of protecting computers and digital devices from attacks by hackers or other malicious agents, is becoming a high-paying job for professionals who require well trained staff.
Why did you choose cyber security course?
Cyber Security study programmes teach you how to protect computer operating systems, networks, and data from cyber attacks.
You'll learn how to monitor systems and mitigate threats when they happen. This is an oversimplification of IT security degrees' curricula.
How to learn cyber security?
It's important to learn the basics of IT systems and networks, including how they work and what each type is. Once you are familiar with the fundamentals you can delve into the basics of networking traffic, security, and communication principles.
What is cyber security course?
Cybersecurity is a wide range of technologies and practices designed to protect computer networks from attack, damage, or unauthorized access. Programs in cybersecurity teach professionals how to spot vulnerabilities so they can fend off attacks immediately while still allowing business as usual.
Which degree is best for cyber security?
Computer Science
Computer Programming
Database Management
Computer Hardware Engineering
Network Administration
Cloud Computing
Information Technology Management
Information Security & Assurance
These are the top ten best degrees for a career in Cyber Security field.
What is the qualification for cyber security?
Cybersecurity engineers should have a degree in computer science, information technology or systems engineering; two years of experience working on incident detection and response and forensics investigations.
What is cyber security class 9?
Cyber safety is about making good choices when using information and communication technology. It involves keeping your personal information safe, but also respecting other people's privacy and property online.
Can commerce student do cyber security course?
Yes, students can pursue a diploma in cyber security coming from a commerce background.
What is the Cyber Security course time period?
The Cyber Security course duration is around 2 months. However, if you need further assistance, you contact contact us to clarify your doubts.
How much is the cyber security course salary in india?
The Cyber Security salary in India ranges between ₹ 2.0 Lakhs to ₹ 26.9 Lakhs with an average annual salary of ₹ 6.0 Lakhs.
Where to learn cybersecurity?
Brolly Academy provides Cyber Security course in hyderabad with different training modes such as - Online/Offline and Self-paced training options. Our training institute located in Ameerpet and KPHP. You can contact us or visit our training center for more information of the training.
Do you offer placement assistance in cyber security?
Yes, we offer a placement assistance program, in this program we prepare students with mock tests, interviews, and frequently asked interview questions and a lot more.