Java Full Stack training in Hyderabad
100% Placement Assistance
Java Full Stack Training in Hyderabad, Online Batch Details
| | |
| --- | --- |
| Trainer Name | Mr. Bala K |
| Trainer Experience | 10+ Years |
| Next Batch Date | 24-11-2022 |
| Training Modes: | Online Training (Instructor Led) |
| Course Duration: | 30 Days |
| Call us at: | +91 8186844555 |
| Email Us at: | brollyacademy@gmail.com |
| Demo Class Details: | ENROLL FOR FREE DEMO CLASS |
Key points of Java Full Stack training in Hyderabad
Java Full Stack Training in Hyderabad - Developer Curriculum
About Java Full stack training in Hyderabad
One of the programming languages most popular is Java. The majority of companies now hire employees to handle their applications, and as a result, the position of Java full-stack developer is gaining more popularity. 
With the help of this curriculum, beginners in front-end programming will be able to obtain a thorough understanding of full-stack development, which will help them land their ideal career. 
Our full range of Full Stack Developer training is handled by knowledgeable instructors who have worked in the field and will train you on current industry demands.
A developer that has in-depth knowledge of and proficiency with full-stack Java tools and frameworks is known as a Java full-stack web developer. 
Working with core Java, servlets, the REST API, and other tools in the Java suite of technologies makes it simple to create online applications. 
This course will introduce you to the fundamentals of front-end, middleware, & back-end Java web developer technologies. 
You will learn how to create a complete application, test and release code, by using MongoDB to store data, and much more.
In order to assist you to find a job, our committed placement team will monitor how your interviews are going and, if necessary, develop a strategy for major improvement areas. 
Throughout the course, they will collaborate with you and offer you individualized mentoring. All we ask is that you attend all training and counseling sessions with complete attention.
Java full stack developer Training syllabus
This program's curriculum is created to assist students in learning through hands-on projects that use well-known technologies including Java, HTML, JavaScript, CSS, Bootstrap, and more. 
Join the full stack developer training in Hyderabad offered by the Brolly Academy, which uses its knowledge to find the most effective patterns.
This on-demand Full-Stack Web Development course is available in three different learning modes: Online blended learning, traditional classroom learning, and on-demand self-paced.
This is your chance to learn the necessary skills for a lengthy and rewarding career in technology, build a project portfolio that is ready for employment, and become a self-sufficient, flexible software engineer.
Java Full Stack Developer Training in Hyderabad, Online
Why us for Java full stack training in Hyderabad?
Certified Professional Trainers
Since all of our instructors have more than 7 years of professional experience and are all subject matter experts in their industries, including Java, we can honestly assert that they are the best instructors available to teach your Java full-stack training.
They can provide students with hands-on training through real-world projects using Java and JavaScript technology.
Students at Brolly Academy are given real-world case studies and projects that allow them to use what they learn in a practical situation during Java full-stack course training.
In order to help students better understand the concepts, instructors at Brolly Academy guide them through these scenarios.
Career-focused Curriculum
To be at the top of the list of potential employers, establish a solid foundation in data structures and study well-known technologies like SQL, Java, Spring, HTML, MongoDB, and JavaScript.
Personalized Career Services
To assist you find the perfect job, our career services include resume building, profile development, interview preparation workshops, and personalized career counseling.
This Full Stack Java Developer Training curriculum is simple to access from anywhere at your convenience, and you will also get the course completion certification. Your resume will benefit more from this training and certification, which will also assist you to get a nice job.
We provide Java full stack classes for beginners and professionals, covering from basic to high levels of instruction.
students can easily attend our batches because our Java full-stack lessons are scheduled at convenient and regular times.
In addition, we provide self-paced video training that is accessible whenever you choose, as well as training in both online and offline modes
Java full stack training in Hyderabad - Online Reviews
Java full stack Developer Certification
At our institute, we provide complete Java full-stack certification training along with a well-recognized Java full-stack course completion certificate that will be accepted by organizations all around the world, including many of the most prestigious ones today.
You will obtain a Java full stack certificate, which is widely recognized by companies and can significantly improve your career prospects in Java technology, after completing this curriculum. This certificate is officially signed by Brolly Academy.
Both a hard copy and a digital version of this certificate are available for download.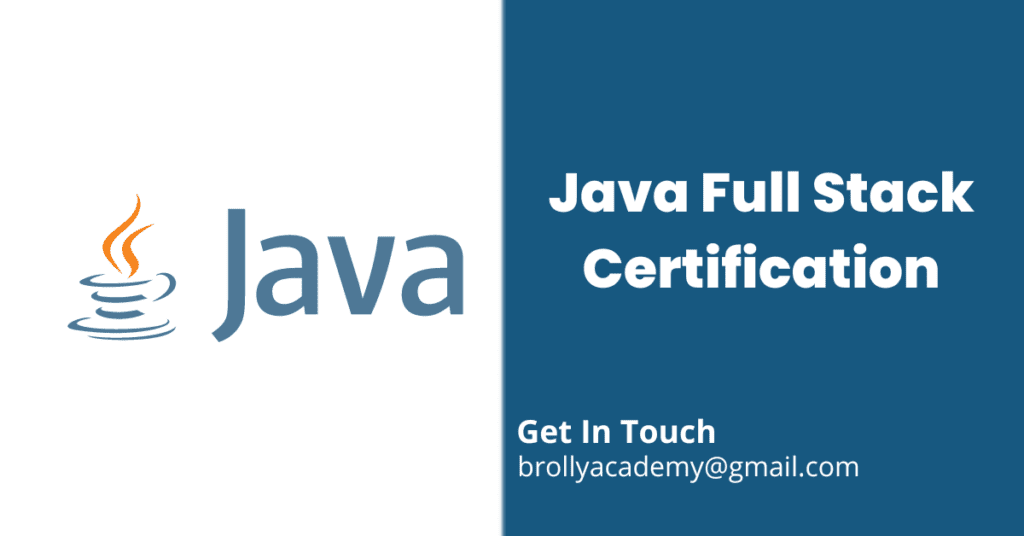 Benefits of Learning Java full Stack course
The advantages of Java full-stack development and the advantages of being a full-stack programmer will be discussed now that you are comfortable with the full-stack development procedures.
Exceptional income is one of the most attractive advantages of studying full-stack Java development and establishing a profession in the field. The majority of companies pay well-qualified full-stack Java programmers.
A full-stack Java developer has a successful professional career. They can rise to higher positions and accomplish professional goals more quickly. Most people gain the necessary knowledge and practical experience to get a position as a full-stack Java developer. They were quickly promoted to a senior position inside the company.
Do you prefer to have total control over the products you create? If the answer is yes, then full-stack Java development is your thing! Gaining solid knowledge of both the front end and back end of a product is made possible by learning full stack.
As a result, full-stack Java programming gives greater freedom because of your in-depth domain knowledge, you can practically fit into any job role.
Skills you gain in Java full Stack training in Hyderabad
Prerequisites of Java full-stack
This course on Java Full Stack Developer has no prerequisites. However, it is advised to have a fundamental knowledge of programming.
Employment opportunities after Java full stack developer Training
What is a full-stack development course?
A website's front-end, which handles user interface issues, back-end, which handles data validation, and database, which serves as storage from the front-end to the logic layer, are all included in the term "Full Stack." Different technologies, frameworks, and tools are used by every full stack. To be a full-stack developer, you must learn how to use the front-end and back-end tools, frameworks, and languages necessary to build an application from scratch.
what are java full-stack developer skills?
A full-stack developer needs to be proficient in backend technologies and frameworks (NodeJS, Django, ExpressJS, Flask, C++), frontend languages and frameworks (HTML, JavaScript, and CSS), version control, and web hosting platforms.
Who Should Attend This Java full stack Training?
This Java training program is excellent for: Those who want to study or work in the field of Java development software programmers Web developers enthusiasts for programming Engineering graduates
Is working as a full-stack developer in India a good profession to choose?
Full-stack developers are in extremely high demand. Both large and small firms are seeking methods to get the most out of their workforces, but today's businesses are realizing that it's not as simple as stacking skills on top of one another. According to LinkedIn's AI study "Full Stack Engineer" was among the top 4 most-searched positions in terms of emerging jobs in 2022 and has gained a 30 percent growth rate just in the past year.
How can I become a successful Java full-stack developer?
Front-end technologies are playing a more and bigger role in the creation of projects and products nowadays. As developers, they should have a thorough deployment plan and design concept for the front-end application. They should be confident using technologies like HTML, CSS, and JavaScript.
How much does a full-stack developer make?
The average annual income for a full stack developer in India is 6.5 lakhs, with salaries ranging from 2.4 lakhs to 17.0 lakhs. Based on the 12.3k salary from Full Stack Developers, salary projections have been made