UiPath Training in Hyderabad
100% Placement Assistance
UiPath Training in Hyderabad Batch Details
| | |
| --- | --- |
| Course Fee | 20,000 Rs |
| Course Duration | 2 Months |
| Timings | Monday to Friday (Morning to Evening) |
| Next Batch Date | 7th Feb 2022 AT 11:00AM |
| Training Modes | Classroom [HYDERABAD] / Online |
| Location | Hyderabad |
Key Points Of UiPath Training in Hyderabad
About UiPath Training in Hyderabad
UiPath, a robotic process automation tool for large-scale end-to-end automation, provides solutions for businesses to automate routine office activities. It uses a variety of methods—from touch screen and speech recognition to natural language processing and web scraping — in order to change tedious administrative tasks into automated processes . UiPath can be used in order to create a wide variety of processes for different industries and domains. It is the only platform that can automate both business and IT processes, which makes it highly versatile. It allows users to create a fully-automated end-to-end solution that does not require any manual intervention at any stage. Brolly Academy offers the best UiPath training in Hyderabad with a detailed course program. Brolly Academy includes topics like UiPath scraping, layouts, recorders, selectors, excel application, UiPath activities, citrix automations, framework, exception handling and more. Brolly academy offers a wide range of courses that include both IT and software training courses in Hyderabad with updated course curriculums and modules. UiPath certificates are given to graduates of our training program who pass the certification exam. This credential is highly prized by companies and institutions because it is recognized around the world. By earning the certification, you will have demonstrated mastery over key skills required by most employers on today's market—and adding it to your resume or CV will significantly increase your chances of being hired by top organizations. With the skills and knowledge you will gain in our training programs, a UiPath certificate is a valuable addition to any professional's portfolio of qualifications—and can help significantly with career advancement. Our trainers' excellent track record of providing instruction to experienced professionals would be an added advantage. Our UiPath courses are available in a variety of formats, including online classes and classroom instruction. We offer the most diverse format among learning institutions in Hyderabad—one that transforms students into successful professionals.
Enroll with us to get the best UiPath training in Hyderabad with a complete training package.
Modes of Training For UiPath Training in Hyderabad
Why choose us for UiPath Training?
Brolly Academy has the most knowledgeable and experienced UiPath trainers in the state, with 8+ years of experience. They effectively train students and offer all guidance needed throughout their training program.
Collective study sessions
We organize both online and offline workshops to give students the chance to interact with each other, share their experiences and knowledge regarding UiPath-all of which helps them perform at a higher level.
Doubt clarification sessions
Our dedicated training sessions provide students with the opportunity to ask questions and receive individualized instruction. Any doubts regarding the course will be addressed by our trainers during these sessions.
In addition to developing technical skills, we at Brolly Academy help our trainees polish their interpersonal skills by giving them ample opportunity for job-interview practice sessions.
Study guides + videos + LMS
We will provide a free course guide for UiPath, an LMS and other materials to help you learn the subject. You can enjoy unlimited access to these materials as long as you have enrolled for our program.
Our training programs have helped 40+ trainees land jobs at some of the top companies in Hyderabad with successful placements.
Our training program offers a UiPath certification to every student that completes the coursework. Since this certificate is recognized and accepted worldwide, you will have access to more job opportunities than those who don't possess it.
We accept only a limited number of trainees at any one time to maintain the quality of our course and give each student personal attention from trainers.
Testimonials of UiPath Training in Hyderabad
Brolly Academy offers a certificate of completion to successful students, and provides ongoing support throughout the course. It has been proven that the outstanding training and UiPath certifications provided by Brolly Academy have helped our students enjoy a significant boost in their job prospects, as they are better prepared for interviews and securing positions within their field. Brolly Academy offers comprehensive training courses on all aspects of UiPath, from beginner level right through to advanced applications. It's the best way of learning how to use this software—and equipping yourself with a wide-ranging base knowledge for future application in the field.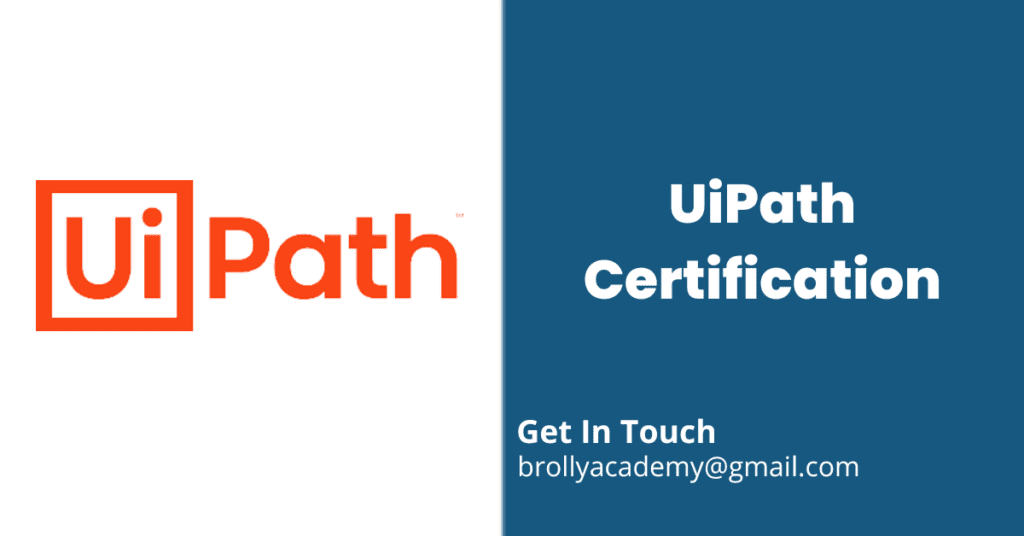 Advantages of learning UiPath training in Hyderabad
At Brolly Academy, we offer advanced training in UiPath that will enable you to gain a thorough understanding of the subject and learn the skills necessary for success. We continually update our training and lecture content to reflect the latest research, and we give lectures by experts who have extensive experience teaching. Our curriculum is carefully designed for different types of students. We offer both in-person and online classes, so that you can choose the one that best fits your schedule. Our instructors have been carefully selected for their expertise and years of experience teaching this subject
Skills developed after the UiPath course training –
Prerequisites of UiPath training course in Hyderabad
Career Opportunities in UiPath
Which is the best UiPath training institute in Hyderabad?
Brolly Academy provides training in UiPath that is considered the best in Hyderabad, with our expert trainers helping you gain skills and expertise.
What is the UiPath training fee in Hyderabad?
At Brolly Academy, we provide UiPath courses to students in Hyderabad at an affordable price with top-quality instruction.
What is the average salary of an UiPath developer in Hyderabad?
The average salary of an UiPath developer in Hyderabad ranges from 6.5 -17 lakhs based on the experience.
Where can I find UiPath training near me?
Our UiPath training course is available at our Kphb and Ameerpet locations; contact us to learn more by filling out the form on our website.
What if I miss a class?
If you miss a session, or are unable to keep up with the live classes, we can arrange for backup sessions so that you won't fall behind.
Do you provide placement assistance?
Yes. We prepare our students for job interviews by giving them advice on how to conduct themselves in-person during the interview, and we connect them with people who can help them improve their resumes and approach to interviews before they ever set foot inside a corporate office building.
Who are the trainers at UiPath training in Hyderabad?
Brolly Academy offers UiPath classes taught by skilled, experienced professionals. We provide all the support you need to build a rewarding career.