Microsoft Azure Admin Training in Hyderabad
100% Placement Assistance
Azure Admin Training in Hyderabad Batch Details (Online)

Azure Admin Course Curriculum
Key Features Of Azure Admin Training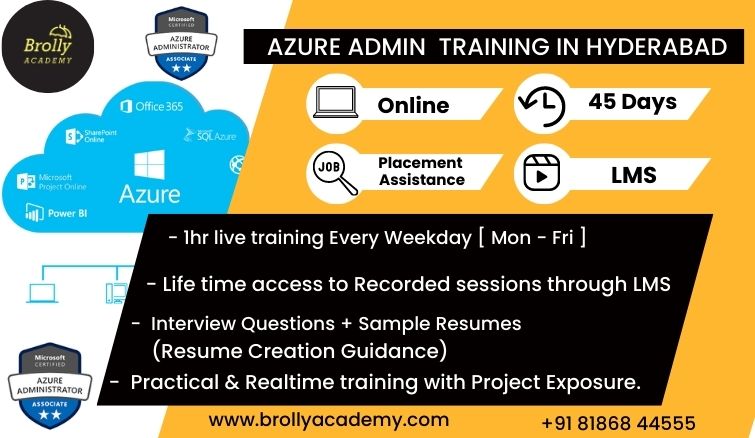 Azure is a platform for cloud computing that gives users access to a variety of cloud resources and services.

Azure will provide the services such as data transformation, storage, and many more.

Azure provides an easy way to gather data, analyze it, and use various tools and methods to enable businesses.

Microsoft Azure is used by nearly 80% of Fortune 500 companies.
Those who manage Microsoft Azure's Cloud services, which include security, computing, networking, storage, and other Cloud capabilities, should need this.

This is used by customers to manage a variety of cloud resources and services, such as data transformation, storage, and many more
About Azure Admin Training in Hyderabad
Microsoft Azure is an operating system that allows you to create web applications and store data in the cloud. It also provides other benefits such as virtual machines, managed services, and caching. 
If you are keen on excelling in a career in the Azure Admin then brolly Academy is the best place to learn Azure Admin Training in Hyderabad. 
The delivery of our Azure Admin course is headed by industry experts. Our instructors have first hand, real-world experience certified working professionals in the Azure field.
The curriculum in this Azure Admin Training in Hyderabad program by Brolly Academy is crafted by experts to complement the latest industry standards.
In this Azure Admin training in Hyderabad, students will learn advanced concepts such as –
Introduction to Azure Administration

Manage Azure portal, Azure management services

Various way to manage Azure and windows powershell 

Deploying virtual machines & networks

Maintaining databases, and implementing storage or backups and lot more.
We offer Azure Admin training online, Azure Admin classroom training, and Azure Admin Self-paced Video course. 
Our video course includes recordings of class sessions, as well as supplementary materials such as –
sample resumes, handouts, and everything students need to learn from Azure Admin course right away. 
students will gain expertise in designing and deploying mobile applications that allow users to perform practically any task post completion of Brolly Academy's Azure Admin training in Hyderabad. 
Upon successful completion of the Azure Admin course and an assessment examination, a certificate will be issued to all our candidates from Brolly Academy.  
Our Azure Admin course transforms students into job-ready experts by making them skilled in multiple areas. 
As a result, recruiters would be more likely to notice their achievements during interviews.
Interested in learning the Azure admin course you can attend our 2 days free demo session on Azure Admin Training in the Hyderabad program to get a better view of the training delivery and the curriculum conducted by Brolly Academy.
Are you keen towards excelling in a career in the Azure Admin field? If yes, Enroll in Brolly Academy's Azure Admin Training in Hyderabad today! 
Modes of Azure Admin Course
Azure Admin Online Training

We offer online training for Aure admin. That means its a live class bit through virtual tools like Zoom. Learners can attend the training from anywhere and interact with the instructor and other learners in real time.
Azure Admin Self-paced Video course

You can also buy our Azure Admin selfpaced video course. Through which you can access the recorded Videos of the complete the course at their own pace.
Why choose us for the Azure Admin Course?
Advanced azure admin course content

Brolly Academy's Azure Admin course content is designed to teach both freshers and experienced professionals. It's perfect for IT professionals as well as people who are simply interested in learning more about this powerful database solution.
Brolly support system

Our dedicated support cell is available to answer students' questions about azure administrator certification class schedules and registration fees. You can contact them from anywhere around the world to get detailed information about the course.
Learn live case studies

Students are presented with live case studies at Brolly Academy, and projects that enable them to apply what they learn in a practical training in azure administrator certification. Instructors at Brolly Academy guide students through these scenarios so that concepts become easier for them to learn.
Azure Admin Certification

Brolly Academy's Azure Admin course will prepare our candidates for the Azure Admin certification exam, allowing them to achieve their dream of becoming an Azure Admin-certified professional.
Placement support

Brolly Academy's azure admin training in hyderabad placement support team will guide all our trainees to find a job in azure field that's right for their talents. They will also guide you how to negotiate salary and benefits with employers on their behalf.
Get lifetime access to azure admin course training student portal that is designed with videos and course content with easy navigation to the azure admin platform. Our LMS is intricately curated and put together with the best course support material with advanced topics and concepts of the azure admin course.
Market Trend in Azure Admin
Azure Admin Certification
The Azure Fundamentals certification is a certification that demonstrates your knowledge of cloud concepts, Azure services, Azure workloads, security and privacy in Azure, as well as Azure pricing and support.
It is a starting point for individuals who want to prepare and clear more specialized Azure certifications.
To earn the Azure Fundamentals certification, candidates must pass the AZ-900: Microsoft Azure Fundamentals exam. 
This exam is designed for candidates who have little or no experience with Azure. 
It covers a broad range of topics, including cloud concepts, Azure services, security, privacy, and pricing and support.
The AZ-900 exam consists of 40-60 multiple choice and multiple-choice-multiple-answer questions.
It is available in several languages, including English, Chinese (Simplified), French, German, Japanese, and Spanish. 
The exam is offered at Pearson VUE testing centers, as well as online through the Microsoft Remote Proctoring service.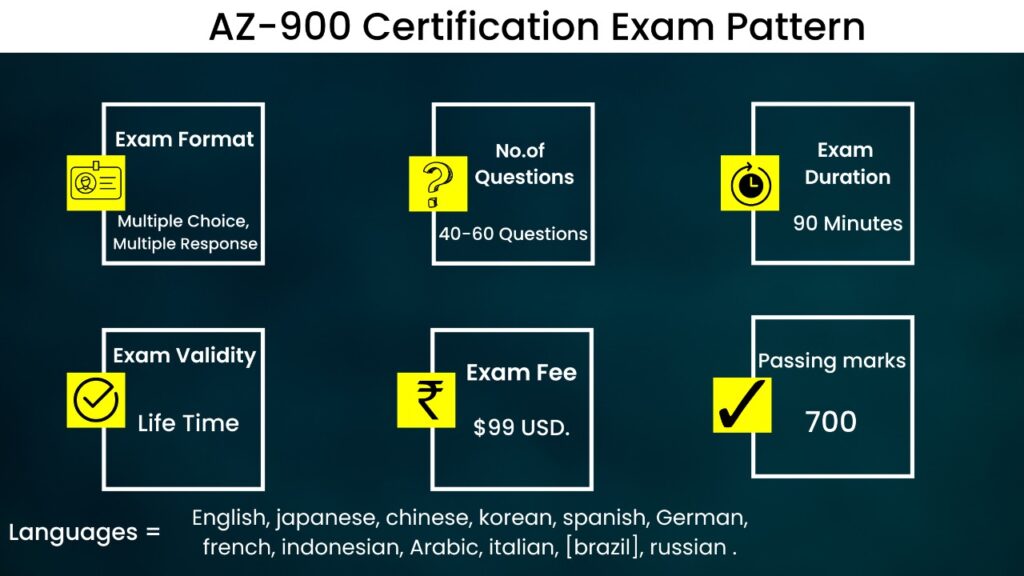 To earn the Azure Administrator certification you should pass the AZ-104 exam.
Note:- This exam is a replacement for AZ-103 which is updated to AZ-104 in 2020.
Azure Administrator Certification is one of the highly recognized documents from Microsoft for professionals globally. With this certification, you will be able to get more opportunities with good salaries.
It has 12 Microsoft Azure certifications with 14 exams. And these certifications are organized into 3 levels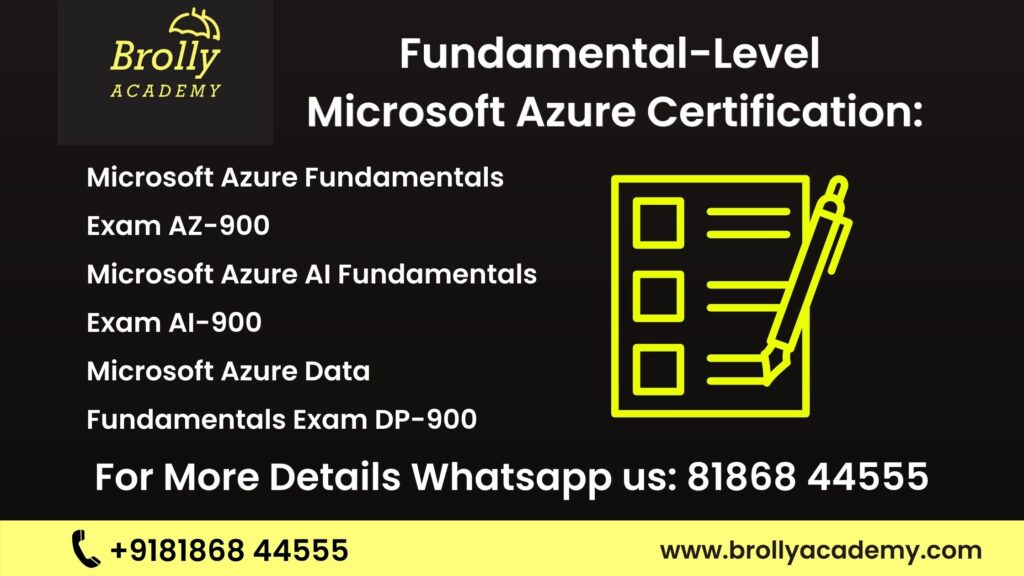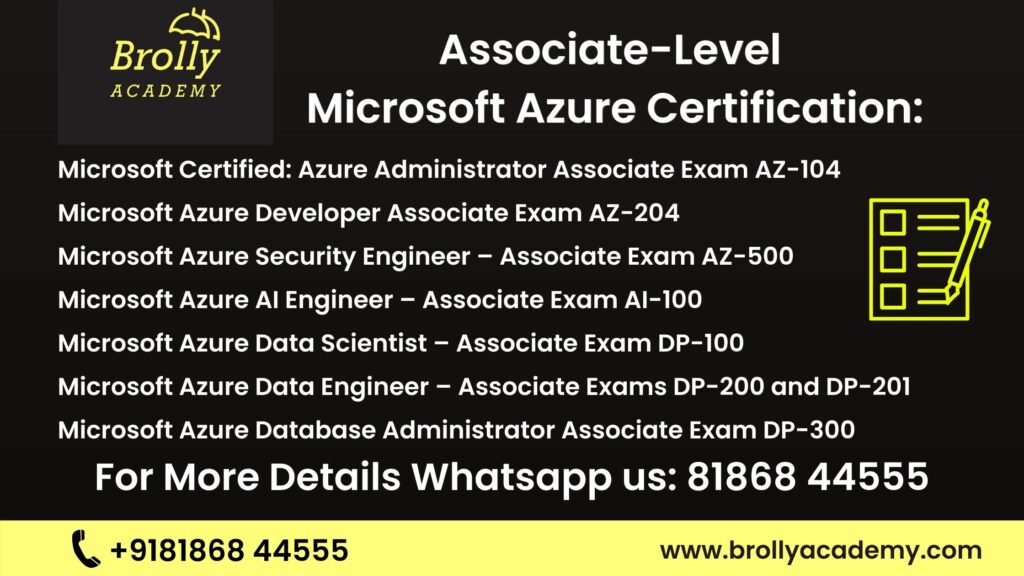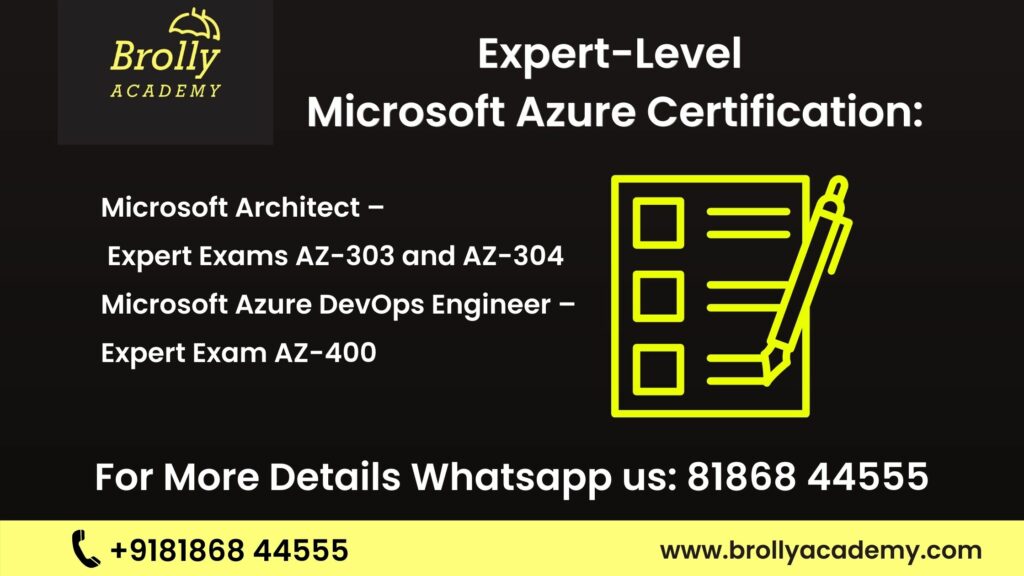 Advantages of Learning Azure Admin Course
Who can learn Azure Admin?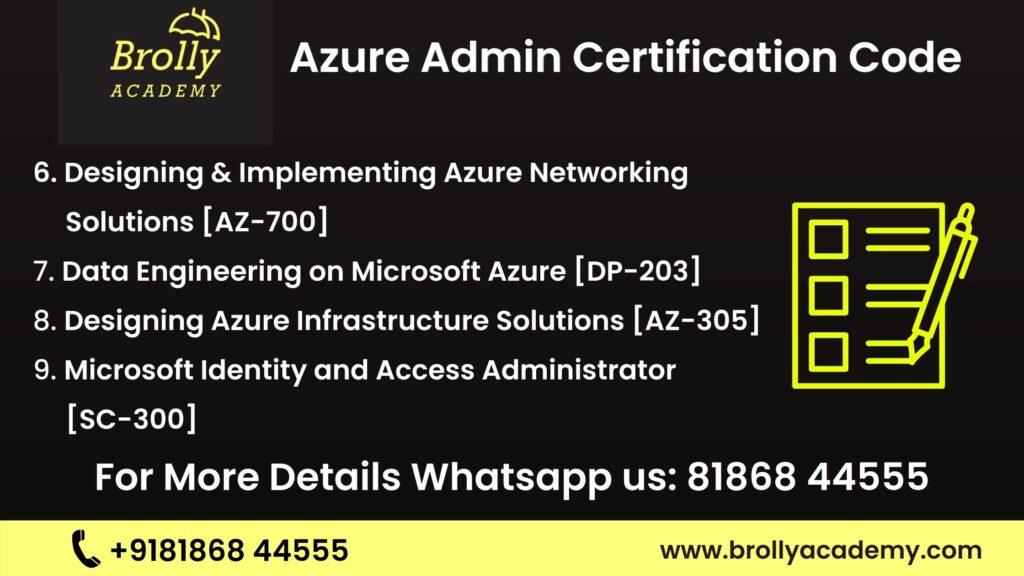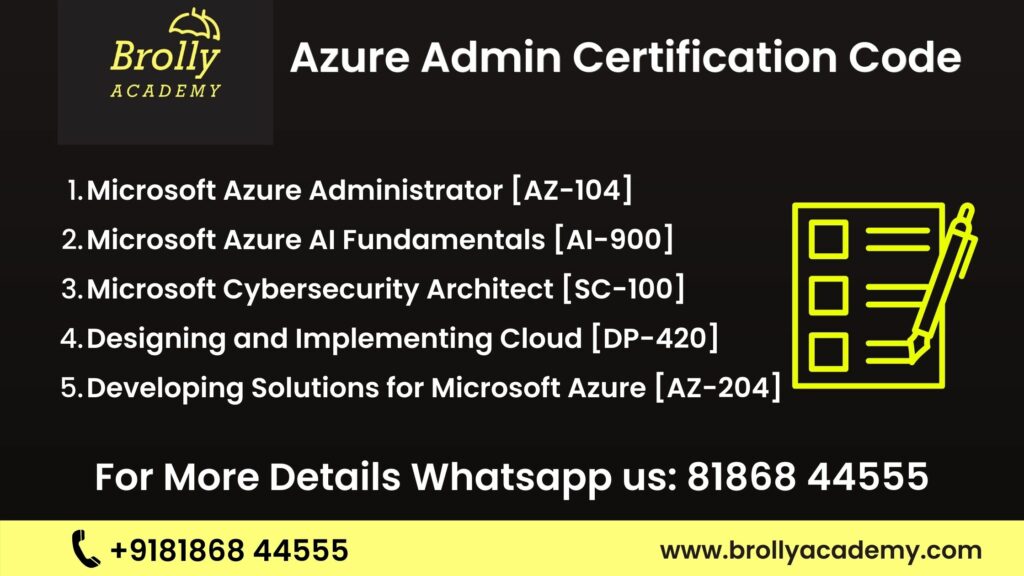 Job Possibilities in Azure Admin
As per LinkedIn research, there are more than 51,000 vacancies for Azure in the United States.
And in India, there are more than 19,000 vacancies presented for Azure.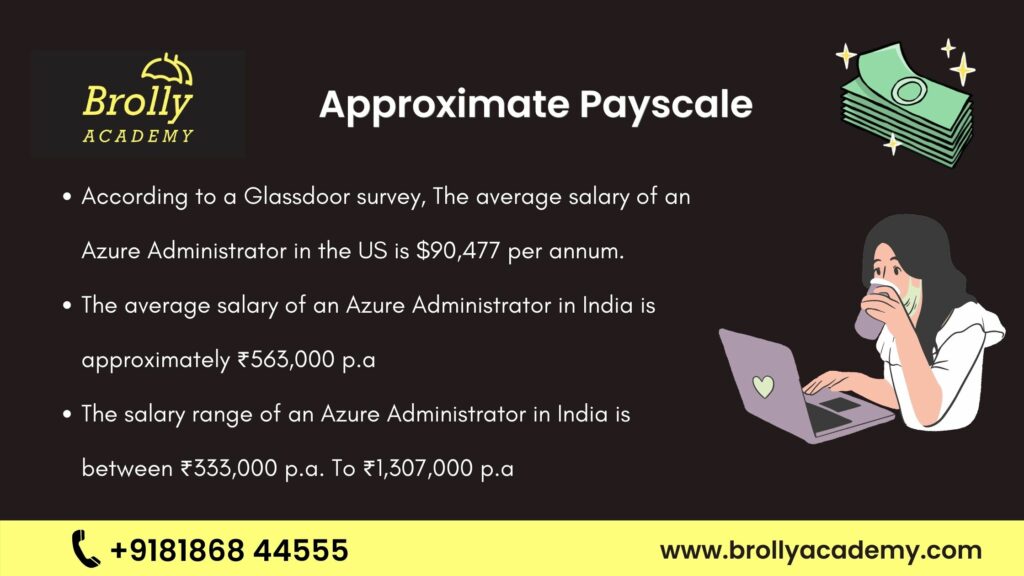 Objectives of the Azure Admin Course
Prerequisites to Learn Azure Admin
How to access the azure admin portal?
You can either log into the Azure Portal by clicking on a hyperlink in your Welcome email or by clicking Log In under the Azure tile of the CCP. Enter your login credentials and then click Sign in.
How to become azure administrator?
To be considered for this position, you should have at least one year of experience in on-premises system administration with diverse platforms.

Most important of all, you need to have basic cloud computing skills—the recommended course of action would be taking the Azure fundamentals certification exam.
What does an azure administrator do?
The Azure Administrator is responsible for creating, managing and monitoring the platform's identity infrastructure; governance policies; storage systems and resources.

The Azure Administrator will also provision virtual networks (compute) as necessary to support company goals.
How can I practice the Azure Admin course by myself?
Because of the advanced lab infrastructure at our training centers, students can benefit from a range of facilities throughout their course.

Our class recordings are available 24X7 and are accessible over the Internet so that students can practice using them before coming to class or learn the course by themselves.
What are the azure administrator prerequisites?
You need at least one year of experience with on-premises system administration and diverse platform technologies.

Most importantly, you must have basic cloud computing skills. Your best preparation would be to take the Azure fundamentals certification exam.
How much is an Azure admin salary?
Azure admin salary in India is for cloud engineer ₹ 3,49,188 per year Development Operations Engineer ₹ 8,73,254 per year.
Azure certified administrator salary?
An Azure certified administrator salary in India ranges between ₹ 4.0 Lakhs to ₹ 10.0 Lakhs with an average annual salary of ₹ 5.8 Lakhs.
Azure administrator salary in us?
The Azure administrator salary in us is 119,925$ per annum.
What is the azure administrator course duration?
At Brolly Academy the azure administrator course duration is approx 45 days, however it depends on your learning.
Will I Be provided Sufficient Practical Training In Azure Admin certification at Brolly Academy?
The Azure Admin training course at our Brolly Academy will teach you about the basics of each module, then let you apply what you've learned in high-intensity sessions reflecting current challenges faced by professionals in the industry.
Will I get a free demo before enrolling in Brolly Academy's Azure Admin Training?
Yes, Brolly Academy offers free demo classes for our Azure Admin training program to all interested candidates and students.
What if I have more queries?
You can contact us at our customer service number which is available on our websites to know about all your inquiries.