Features and Benefits of ServiceNow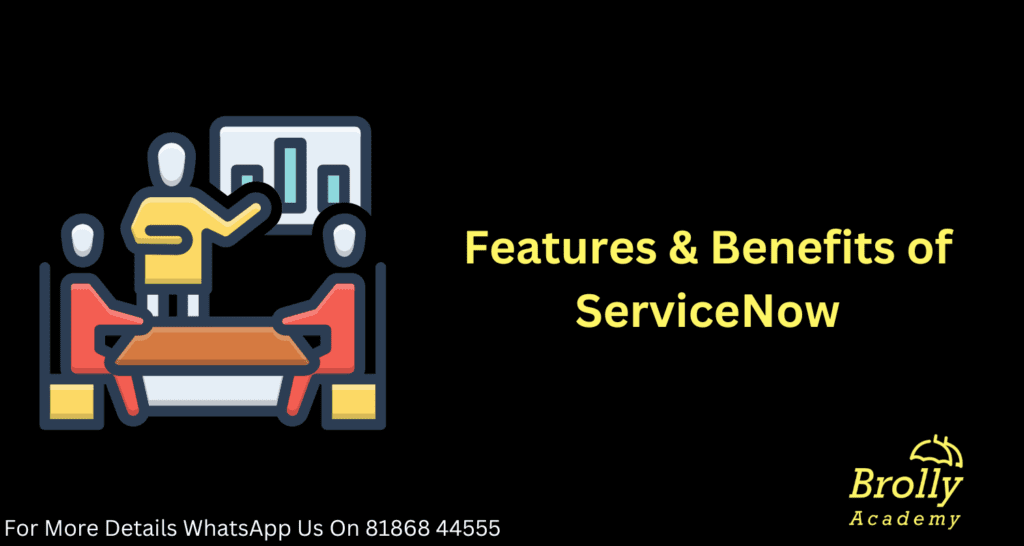 It is difficult to run an enterprise with the maximum amount of efficiency in the IT sector. Traditional methods remain in use, but they are not advantageous because they can significantly slow down the procedure. ServiceNow, a comprehensively packaged solution for the IT industry, now comes into view. Organizations can use enterprise-level cloud platforms from ServiceNow, a digital service. 
Operations in the cloud and routine chores are automated using ServiceNow. Additionally, businesses that began using ServiceNow showed a significant difference in their general advancements and returns. Other options include Microsoft, SAP, IBM, Broadcom, and others. ServiceNow is still growing in popularity across business platforms. There may be several reasons why someone would pick ServiceNow for their task. 
This article will go over ServiceNow's features, practical application tips, products, and much more
A cloud-based software called ServiceNow can automate workflows. The platform provides a range of goods and services that can assist businesses to automate repetitive procedures, streamlining operations, and increasing overall operational effectiveness.
ServiceNow was first developed for IT service management and was founded in 2004. To integrate multiple company operations under one roof, the platform has developed over time into a powerful enterprise management solution for organizations in a variety of industries. The platform's core competencies are in five key service areas: IT, HR Service Delivery, Customer Service, Security, and Business Applications.
Fred Luddy launched ServiceNow in 2003. He was the previous CTO of Remedy Corporation and Peregrine Systems when he started ServiceNow. This business's main office was in San Diego. 
The business changed its name to ServiceNow in 2006, and in 2007 it established its first location in Silicon Valley. 
It collaborated with Accenture in 2011 and employed 275 people across offices in New York, Atlanta, Chicago, London, San Diego, and Frankfurt. 
ServiceNow started its IPO in 2012 with a $210 million price. 
In 2017, ServiceNow purchased Telepathy, a UI/UX business. 
Bill McDermott, the previous CEO of SAP SE at the end of that year, served as the company's CEO as of October 2019.
ServiceNow is used to maintain IT services and achieve business objectives. The following individuals utilize ServiceNow for various purposes:
Increased return on investment
You want to embrace business solutions that have the biggest ROI achievable. Tools that could be useful can be avoided if you spend too much time configuring software, troubleshooting issues, or waiting for a response from an individual. You must choose automation solutions that are simple to use and administer because your solution shouldn't cause more difficulty than it's worth.
Using one integrated system, ServiceNow enables you to automate business activities. You will obtain regular upgrades, superior analytics, and solutions that won't impact other aspects of your organization, which can happen when employing a variety of different software solutions. 
Your automation solution's full potential is made possible by Infocenter's 24-hour support and long-term performance guarantees. You have a cheap and practical solution to get a better return on investment with customized roadmaps and implementation support.
Improved tool integration for business
Numerous automation technologies guarantee to speed up particular chores like tracking invoices and help desk tickets. The majority of solutions, however, do not provide a selection of products for other company sectors (HR, Security, etc.). Your team can be utilizing dozens of unique tools, each of which performs a certain task and may not communicate with the others. As a result, there are irritating service gaps, numerous points of contact for software problems, and bewildered employees with varying levels of expertise. All of a sudden, your company solutions are creating more issues than they are resolving.
A comprehensive selection of fully integrated, customized automation technologies is available from ServiceNow. All aspects of your business may be connected into one integrated cloud with ServiceNow, from IT Operations Management (ITOM) to HR Service Delivery (HRSD) to Performance Analytics.
Knowing where to begin might be difficult with such a diverse selection of tools. A group of subject matter experts at Infocenter are certified in ServiceNow. Our team has experience in various industries, is ServiceNow certified across the board, and has worked in HR, customer support management, IT, finance, security, and marketing.
ServiceNow's automation capabilities go beyond basic task automation. It enables organizations to create sophisticated workflows that can involve multiple teams, departments, and systems. This automation streamlines complex processes and eliminates manual handoffs, reducing the risk of errors and accelerating task completion.
ServiceNow's automation features can be utilized in various areas, such as IT service management, HR processes, procurement, and more. By automating these processes, organizations can significantly reduce operational costs, increase productivity, and reallocate resources to more strategic initiatives.
ServiceNow's workflow engine allows organizations to design and customize workflows based on their unique requirements. Workflows can be tailored to follow specific business rules, approval processes, and escalation procedures, ensuring compliance and efficiency.
Improved Service Delivery
ServiceNow's self-service portals and service catalogs empower users to take control of their service requests and issue resolution. Users can access a centralized portal to search for solutions, submit requests, and track the progress of their tickets. This self-service approach reduces the dependency on IT support and empowers users to resolve their issues quickly, enhancing their experience.
ServiceNow's knowledge management capabilities enable organizations to capture, organize, and share knowledge within the platform. This knowledge base can be accessed by both users and support staff, facilitating self-help and enabling support teams to provide consistent and accurate information.
With ServiceNow's incident management capabilities, organizations can efficiently track and manage customer issues. Incidents are logged, categorized, and assigned to the appropriate support teams based on predefined rules. The system ensures that incidents are routed and escalated appropriately, leading to faster resolution times and improved customer satisfaction.
ServiceNow provides a unified view of IT services, assets, and operations through its centralized platform. Organizations can monitor the status of services, track the performance of assets, and gain insights into the overall health of their IT environment.
Real-time dashboards and reports in ServiceNow offer visual representations of key performance indicators (KPIs), such as incident trends, SLA compliance, and resource utilization. This allows stakeholders to monitor service levels, identify bottlenecks, and make data-driven decisions to optimize operations.
ServiceNow's Configuration Management Database (CMDB) acts as a single source of truth for IT assets and their relationships. It provides a comprehensive view of the infrastructure, including hardware, software, and dependencies, enabling organizations to better manage and plan for changes, upgrades, and compliance requirements.
The visibility offered by ServiceNow enables organizations to proactively identify and address potential issues before they impact service delivery. By having a clear understanding of the entire IT landscape, organizations can detect patterns, identify recurring problems, and implement preventive measures, ultimately improving overall service reliability.
Your job becomes more committed and concentrated when you collaborate with the project team. Slack and the team promote communication and make sure that no one overlooks crucial information regarding jobs and projects. The entire team will remain engaged and in communication, and there won't be any jobs that aren't finished by the deadline. 
Making mail chains and having face-to-face meetings with the management take less time when using Slack. To generate a consistent output for the client, the company strengthened its procedure. HRM enables you to create a useful single point of contact option and to offer personalized services with HR. It helps HR to streamline employee transactions and improve the quality of service.
The mobile application was created by the development team with exciting upgrades and various updates that help end users and administrators. Searching is made efficient by the AI-powered advanced search, which also helps to repair errors and auto-complete query search. A graphical user interface is provided by the dashboard card for customization. 
The user can use it to do the task listed on the card, add items to a card, construct a contact list, and accept or reject ideas. By generating a systematic workflow, the flow variable feature aids in solving the higher-dimensional data. Additionally, it supports the development of sophisticated rollups and business logic to give numerous data dimensions and to match the appropriate business logic without requiring any special actions.
The Employee Centre will be made available through the ServiceNow Store starting with the Rome release of ServiceNow. This will provide more rapid access to new features than ever before.
For the delivery of services by several departments (IT, Legal, Workplace, HR, Procurement, etc.), Employee Centre Pro offers a centralized site. Employees may now quickly locate information, seek assistance, and request whatever services they require.
The Pro version enhances the portal experience beyond the delivery of services with capabilities for employee communication and engagement, such as content creation and campaigns, content activities, and employee communities.
Companies can use 24/7 AI-powered modules to swiftly detect and address IT incidents when ITSM is integrated into a ServiceNow platform. The longer the AI-enabled tools are utilized on the business network, the better they get at spotting problems.
The efficiency and cost savings of an IT project or service are increased when automated workflows are visually tracked to monitor progress. Additionally, ServiceNow ITSM uses the available automated workflow capabilities designed to identify actions that are out of compliance to help ensure that any regulatory compliance needs are satisfied.
Any email sent from an organizational mailbox (OMB) that transmits an unsecured email containing HIPAA data, for instance, can be flagged by an automated procedure.
By examining data on more than 180 areas, Automation Discovery determines the optimum processes for automation. By intelligently automating procedures, ServiceNow services like Virtual Agents and Agent Assist may drastically cut the amount of time needed to address incidents. The information on possibilities for automation and historical incidents that might have been resolved through automation are listed in an Automation Discovery Report, which can be produced. The top 10 automation opportunities are determined by determining the mean time to repair (MTTR) through automation.
Incident and Problem Management
ServiceNow's incident and problem management capabilities ensure efficient handling of incidents and proactive identification and resolution of underlying problems. The platform enables organizations to capture, track, and manage incidents, facilitating timely communication and collaboration among stakeholders. Problem management features empower organizations to investigate the root causes of recurring incidents and implement long-term solutions, reducing the impact on services and improving overall stability.
Integration and API Management
ServiceNow supports seamless integration with other systems and applications through its robust API framework. This enables organizations to connect ServiceNow with third-party tools, databases, and services, facilitating data exchange and process automation. The platform also provides an API management framework, allowing organizations to securely expose their own APIs and manage access and usage.
ServiceNow's performance analytics feature provides advanced data visualization and reporting capabilities. Organizations can define and track key performance indicators (KPIs) and metrics related to service management processes. With real-time insights and customizable dashboards, organizations gain a deeper understanding of their service performance, identify areas for improvement, and make data-driven decisions. Performance analytics enables organizations to measure the effectiveness of their service management initiatives, optimize processes, and drive continuous service improvement.
ServiceNow's knowledge management capabilities enable organizations to create, capture, and share knowledge articles and documentation. The platform provides a centralized knowledge base where organizations can store information such as troubleshooting guides, FAQs, best practices, and standard operating procedures. Users can easily search for relevant knowledge articles using keywords or browse through categorized content. ServiceNow's knowledge management empowers employees and customers to find answers to their questions and resolve issues independently, reducing the need for manual intervention and improving productivity.
The manual duties and other time-consuming activities have prevented information technology from growing to its maximum potential.  ServiceNow Orchestration is a fantastic platform that automates all the time-consuming and repetitive chores and gives IT professionals plenty of time to focus on creative projects. By implementing ServiceNow Orchestration, you can promote innovation and get rid of work that no longer needs to be done by humans.